Last updated on May 6th, 2022
One of the challenges most homeowners have is figuring out what to do with their outdoor furniture during winter. Pack it up, move it to the storeroom, and cover it. That may sound like you.  You're probably wondering if there are other options, like using outdoor furniture indoors. 
Well, blurring the lines between outdoor and indoor furniture is easier than you think. In fact, using outdoor furniture indoors has become a trend in recent years. However, it's not exactly obvious which outdoor furniture to use or how to incorporate it into your existing décor. 
Today, we will be looking at how to use your outdoor furniture indoors, so you don't end up overdoing it. 
Reasons for Using Outdoor Furniture Indoors
Make the Most of Your Investment 
Most outdoor furniture is quite expensive, and to think that you would use them for a fraction of the year is even heartbreaking. That's obviously not the most efficient use of your money.
Well, storing it isn't a bad idea, but sometimes, the furniture might end up collecting dust or mildew. Or even become a warm shelter for animals during winter. A better move is to transition them indoors and continue using them. That way, the furniture keeps serving you all year round. That's more like making the most of your investment.
Outdoor Furniture Pieces are Child Proof
Another reason for using outdoor furniture inside is that they are childproof.  If you've got kids around, then you need no education on how mighty hard they can be on things. Toys, electronics, utensils, and yes, even furniture – nothing is spared!
Sadly, it is almost as if your hands are tied. Well, that's why they are kids.
Using your outdoor furniture instead of your existing upholstery may be a better defence plan because outdoor furniture are generally sturdier and tougher than their indoor counterparts. So they may be a better match for your kids' wrath.
Low Maintenance
Besides handling pets and kids, outdoor furniture is also much easier to clean, especially when compared to indoor furniture. This is because they are usually made from materials that require low maintenance. These include aluminum and rattan, which can be cleaned with a soft sponge and water. 
Key Features to look out for before using outdoor furniture indoors
Prioritize Comfort 
Since you're going to be spending a great deal of time in the living room, it makes sense to have a furniture fitting that is comfortable and relaxing. 
We recommend wicker furniture or cushioned aluminum sets. And this also applies to your dining set. Sling furniture is great, but they are not very comfortable. So using them indoors might not be a good move. Also, avoid plain metal furniture such as steel or wrought iron. Even when used with cushions, they are not suitable for sitting for long hours. 
Choose a Matching Style
Of course, using outdoor furniture indoors exposes you to a lot of design choices and styles. But you don't want to overdo it. Ideally, you should choose something that looks much like your indoor furniture. That way, when you swap it, it won't look out of place. 
But don't limit yourself; you can always try something new as long as it fits. Just don't overdo it. What you shouldn't use is something that is exclusive or belongs to a particular outdoor location. For example – beach patio furniture, table umbrellas, sling sets for pools, metal furniture without cushion, and so on. These sets are great for specific outdoor areas but might look tacky inside the house. 
For me, anything wicker doesn't go out of style in any setting. MPG and cushioned aluminum are also great options as long as the colors match.
Mind the Color Schemes
Color and texture are the main things when it comes to design. So choosing the right color scheme to match your décor is very important. 
The key is to use the color in a way that is innovative and adds a vibe to the room.
Avoid using too much of one color except you're keeping to a theme.  For instance, think about a room painted blue with a blue door and a blue porch.
That will look unpleasant, and anyone walking into the room will probably think it's too much blue.  So instead of using blue all through, why not balance with other colors, so it stands out without being overbearing. 
Here are some ideas:
For retro style, wicker or faux fur with a little color here and there will work fine. For a mid-mod look or something consistent with the seasons, neutral tones with pops of color are great. For a coastal vibe, also consider neutrals. 
To get an eccentric look, you can mix-matching bright patterns. For a farmhouse base, consider natural or wood-like tones with a touch of white marble. 
We could go on and on. Ideas are nearly limitless. 
Choose the right size and shape When planning where to place your indoor furniture, scale and size are usually taken into consideration. Using outdoor furniture should be no different.
Ideally, the furniture piece should be able to fit into your existing space. If you're swapping an indoor furniture piece for an outdoor piece, then it makes sense if they have a similar dimension. 
Avoid using outdoor furniture that overpowers the available space, or it can limit movement. In the same way, using something that is too narrow or small for a particular space may leave you trying to cover the area with some other furniture you don't need.
Benefits of Using Outdoor Furniture Indoors
Long-lasting
When it comes to durability, outdoor furniture generally does better than indoor furniture. And this is simply because they are built to survive tougher conditions like rain, sunlight, and wind. 
On the flip side, your indoor furniture sets don't face this kind of condition. So they are built differently, which is understandable.  This simply implies that your outdoor furniture will last longer inside the house than your normal upholstery. This ultimately makes them a worthier investment.
Less expensive than indoor furniture
Outdoor furniture are not only sturdier but also cheaper than their indoor counterparts. This makes them a more convenient option for frugal shoppers or anyone on a budget.  That said, swapping them indoors can help extend the lifespan of your existing indoor furniture. If you ask me, I would say it's a win-win!
Multi-functional
Think about your indoor furniture. How many of them can stay outside for a few days without getting wrecked? Even if there's no rain, you still have to worry about the sun. I bet the color will fade, and the fabric will get ruined within the shortest time.
On the other hand, your outdoor lounge faces the same conditions every day, and it still looks as cool as ever. And more so, you can also use them indoors. That's being multi-functional for you!
Stylish and Beautiful
Gone are the days when outdoor furniture looked old and crude. What we have nowadays are stylish designs with a modern twist. Even the retro designs are a blend of traditional and modern fashion. I personally love the pastel and earthy colors because of how transformative they can be.
But there are other colors and designs to choose from. In fact, the options are endless.  If you're still looking for ideas, consider your patio furniture. They are one thing that never goes out of style, even when used indoors. 
Save Money
You don't need to swap the existing furniture in your living room for your outdoor furniture. If you have other rooms that lack furnishing, consider filling them with your outdoor furniture. 
This way, you won't need to spend money purchasing excess furniture, and your outdoor furniture will be put to maximum use.
Space Saving
Another good thing about outdoor furniture is that they are space-efficient. In fact, some patio furniture can take up less space than their indoor counterparts. They are also less bulky and more compact.  So you can use them in place of large pieces of furniture to decongest the area and create more free space.  Tips for Using Outdoor Furniture Indoors
Use the Pillows
Bringing the outdoor pillows inside is a great way to keep the summer memory alive, especially when you're not opting for fall décor. Having these around can help brighten up the room.
Feel free to use them in any part of the home – sofa, bed, dining chairs, kid's playroom, or anywhere that can use a little touch-up. Don't limit yourself to a specific design or style. Get creative. 
Another thing you could do if you have oversized pillows is to create a meditation spot. Don't worry about messing up the fabric; it's likely stain resistant.
That said, don't forget to give the pillows a good wash before using them inside.
Replace Your Sofas
Outdoor sofas today are far better than what they used to look like ten years ago.  The cushions are nicer, and the materials are better for indoor use. So instead of storing away, why not switch up with your love seat or sofa to repurpose your current space. 
And if you will not have them in the living room, what about the basement, playroom, or any other place that could use some fluffing like wicker sectional indoor.
Use the rug for your kitchen
Outdoor rugs are super durable and are likely to get wet easily, which makes them perfect for high-traffic areas inside the house. My number one recommendation here would be to use it in the kitchen. They will likely outlast your normal indoor rugs.
Target Unused Corners
With a pillow and accent chair, you can easily create a nook from unused space. You can use your nook as a reading place, conversation area, or for meditation. Consider adding some blankets for even better comfort.
Try Coastal
Not everyone fancies a colorful indoor décor. If you're one of such people, then you probably love neutrals. In this case, I'm guessing you have your money on wicker furniture or anything wood-like. 
It's even easier as you don't have too many things to match. Just bring the coastal furniture indoors, and have some coral and anchors positioned in strategic places. Do it gently and see the peace and serenity it brings to your home.
Give the Furniture a Good Wipe before Bringing Indoors
Don't just haul your outdoor furniture indoors. Make sure you clean them up thoroughly first. This applies to chairs, tables, sectional sets, and others. Turn them over and clean the bottom and legs thoroughly. Check tight spots for infestations, cobwebs, mildews, and so on.  The idea is to do a holistic clean-up. You don't want to introduce pests into your home when you bring the furniture in.
Outdoor Furniture that Works Great Indoors
If you're looking for ideas, here are three examples of outdoor furniture that are great for indoor use. These ones are very easy to move around, which makes transitioning a lot simpler.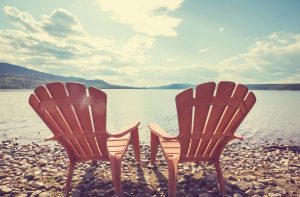 Acapulco
Acapulco chairs are some of the best options available when it comes to creating comfort and adventure in your patio area. But the excitement doesn't have to end outside. You can also bring them indoors and literally create an adventure in relaxation. 
Their unique classic style has worked beautifully over the ages, and it's not about to change for you. They can become the perfect distraction or distinguishing element in any room you find solace. Of course, there are many replicas in the market. One of the best ones we've found so far is the Design Tree Acapulco Lounge Chair which comes in a mix of yellow and white color. 
We find the color choice fun and funky, and it works great for virtually any style. We love how the unique look is balanced with great comfort. That's virtually all you need from an Acapulco chair. The construction consists of high-quality materials (vinyl and steel), which ensure it stands the test of time. Cleaning is also easy and straightforward.  The wrapping of the vinyl material (polyethylene) around the frame gives the chair a distinctive look and adds a powerful accent to the room.
Wicker Patio Sectionals
Wicker sectionals are another outdoor set that works beautifully indoors. Luckily, the modern resin wicker sectional comes in different assortments and styles, so there will always be something to match your décor.  They are super configurable and can be used almost anywhere – recording room, playroom, living room, name it! 
Also, unlike traditional full-sized chairs, they are very easy to move around. So if you get tired of seeing them in one room, you can always move it to a new location. 
There are many great wicker patio sectionals out there, but our favorite is the rattan sectional sofa lounge set by Amazon Basics.
This three-piece sectional sofa lounge features a two-seat sofa, a lounger, an ottoman, and cushions to keep you comfortable. The grey color looks nice in any décor. They can be used as standard seats in the living room, or you can use them in some other room for rewinding.
Garden Stools
Garden stools have become one of the most promoted home furnishings. They are everywhere – websites, design magazines, retail furniture stores, and so on. The good thing is that you can use them in various ways – as side tables, ottomans, plant stands, casual seats, etc.
For the best wicker garden stool, I highly recommend the Safevieh Lattice Petal Ceramic Garden Stool.  This one comes in a white finish with a lattice petal design that adds a beautiful accent to your room. Great for your sunroom, greenhouse, laundry area, or anywhere that can benefit from a classic wicker accent.
Final Words
We will draw the curtains here. By now, you should have a good idea of what it takes to incorporate your outdoor furniture indoors. Get started today and create a more dynamic environment in your home while saving money.
Let us know if you have any more questions about using outdoor furniture indoors. Till then, go ahead and start creating those refreshing rooms!
FAQs
Can indoor wicker furniture be used outdoors?
While there are various factors you need to consider, such as the material of wicker used, it is definitely possible to use indoor wicker furniture outdoors.
Can you use outdoor fabric on indoor furniture?
Yes. Outdoor fabrics can be used on indoor furniture. Generally, outdoor fabrics are durable and made to resist different weather conditions and this makes them ideal for indoor furniture materials.
Are outdoor furniture sturdier than indoor furniture?
Basically, outdoor furniture are made studied than indoor furniture because they are needed to resist a lot of bad weather conditions such as sun, rain, or snow.
Can you make indoor furniture safe for outdoors?
Yes, this is possible as long as you select materials made that are outdoor-friendly. After picking the relevant materials, you can go ahead and protect it by painting, sealing, or coating the top.
Why is my outdoor furniture more expensive than indoor furniture?
There are a lot of reasons outdoor furniture is expensive compared to indoor furniture. First, the materials for making them are required to meet set standards like durability, ability to resist weather elements, etc. this increases their prices a little higher.
Can you use outdoor watco for indoor furniture?
Yes. Watco is an excellent product for both interior and exterior wood furniture.