Last updated on June 14th, 2022
Whether made using wrought iron or cast iron, metal furniture is always a stylish addition to any outdoor space. However, outdoor metal furniture is susceptible to outdoor elements like humidity, moisture, and extreme weather that can cause rust so there's a need for regular maintenance to keep them looking spanking new. Painting outdoor furniture is one such maintenance method, and using the best paint for outdoor metal furniture is a great way to ensure your furniture hold up beautifully for years to come.
The best paint for metal outdoor furniture serves a dual purpose as they protect outdoor metal furniture from rust while adding pops of color. You can be sure of neatly looking furniture in your patio, terrace, deck, or garden that set an elegant tone for the rest of your home.
In this article, we answer the question 'what is the best paint for outdoor metal furniture?' The paints are rated by various features, including varying paint bases, type, and available color options. They are also rated by user reviews. Let us take a close look at each one of them.
Top 10 Best Paint For Outdoor Metal Furniture – Reviews and Buyer Guide
Rust-Oleum 7798502, 320z Quart Semi-Gloss Stops Rust Brush on Enamel Paint
 The Rust-Oleum Protective Enamel is our first pick for the best paint for outdoor metal furniture paint because it is highly rated by users for its thickness, durability, and value for money. The paint is weather and corrosion-resistant, giving your outdoor metal furniture optimal protection.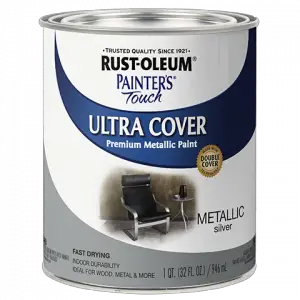 The Rust-Oleum paint features an oil-based formula. Oil-based paints are tough and durable, hence, ideal for outdoor application. They have several advantages, including; superior adherence to metal surfaces, smooth application, rich color, and great coverage. A 0.25 gallon or one-quart can of this Rust-Oleum paint covers 100 square feet.
The paint dries to touch in just two to four hours. The relatively quick dry time is convenient, especially if you live in cold weather or when the weather becomes unpredictable. One reviewer was pleasantly surprised to learn that the paint also self-levels. The self-leveling feature reduces the appearance of brush strokes and roller stripes and results in an even and polished look.
The paint is quite thick, but it can be thinned out by up to 15% using acetone. You can, therefore, apply it using an air gun if you prefer. The paint is also resistant to abrasion, fading, and chipping. It delivers a semi-gloss finish with just enough shine to stand out without being overbearing to the eyes.
The paint also eases maintenance for your outdoor furniture because it wipes off beautifully. The short of it is that the Rust-Oleum protective enamel paint will pay for itself in dividends. It is available in 19 color options.
Pros
Superior durability
Self-leveling feature
Oil-based formula
Requires little maintenance after application
Can be thinned, hence versatile in terms of application tools and methods like spray paint.
Cons
Some users feel it is too thick and sticky, making application difficult when spray painting outdoor furniture.
POR-15 45801 Top Coat Gloss Black Paint 128. Fluid_Ounces.
The best paint for outdoor metal furniture should be able to save you money, and the POR -15 topcoat being a direct to metal (DTM) paint, it does just that. DTM paints can be applied directly to a metal surface without any need to prepare or use a metallic paint primer. Another beneficial characteristic of DTM paints is their self-curing capability. Self-curing paints are like self-modulating smart devices in that they sense damage, such as cracking to their surface and self-repair.
The POR-15 topcoat metal paint is also UV-resistant. Regarding aesthetics, the paint offers long-term shine and exceptional color retention. Cover your outdoor furniture with this paint, and it will lengthen their lifespan significantly while retaining their original look and luster. It dries up to a rock-solid protective coating.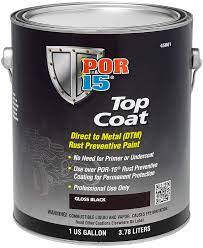 The protective coating barrier mentioned above acts as a permanent corrosion protection barrier because it locks moisture out completely. The POR-15 liquid DTM paint can be applied using a paintbrush, a roller, or a spray gun. Whichever application tool you choose, the application will be fun.
The paint cures or dries to touch within 30-60 minutes. However, if you want to apply a second coat, you need to wait between 2-72 hours. Factors like humidity levels and prevailing weather conditions also affect how long it takes the paint to dry. It takes three to four days to achieve the rock-solid protective finish mentioned above.
For best results with the best paint for metal outdoor furniture, you better not be in a hurry to use that outdoor furniture set.
The paint is available in ten color options. It is also available in the safety colors authorized by the Occupational Safety and Health Administration (OSHA).
Pros
Saves you money spent on buying primers
Saves you time spent prepping the furniture surface for painting
Forms a corrosion-resistant coating
Preserves both furniture structural integrity and aesthetics
Its self-curing feature means less maintenance
Cons
Keeps flowing for a considerable time after application on the outdoor furniture.
Hammerite 5084836 Metal Paint Hammered White 250ml.
The Hammernite 5084836 metal paint for outdoor furniture is yet another money saver. It features a 3-in-1 formula that allows it to function as a primer, an undercoat, and a topcoat. It ranks among the best paint for outdoor metal furniture because it saves one the hassle, time, and monetary cost of applying a primer and an undercoat to the metal surface. However, one still gets better protection and stronger adhesion that accrue from using both the primer and the undercoat.
As the name suggests, Hammerite metal paint features a sub-hammered finishing effect. The sub-hammered effect also features a metallic shine finish. The paint, therefore, adds a world of texture with an eye-popping shine to your outdoor metal furniture. With a single coat of paint, your metallic outdoor furniture is transformed into the crowning jewel of your outdoor space.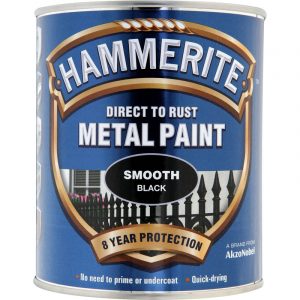 Apart from its enticing finish, Hammerite metal paint also offers supreme protection. According to the manufacturer, the paint provides up to eight years of rust protection. Most people don't mind waiting eight years before they have to think about weatherproofing their outdoor furniture again. You could paint and repaint your furniture more frequently if you prefer.
The Hammerite liquid paint can be painted directly onto a rusty surface. It saves you even more time on outdoor furniture preparation. You can apply it with a paintbrush, a roller, or even with a spray gun if the paint is thinned. It remains workable for some time so you can level out any thick spots before they dry up.
According to reviewers, a single coat is enough for a beautiful finish.
Pros
Works as a primer and an undercoat too
Durable finish
Rich finish that blends texture and sheen
Great coverage
Cons
Expensive
Complaints about ridiculous delays in delivery
Rust-Oleum 249061 Painter's Touch Multi-Purpose Spray Paint, 12 Ounces.
Aerosol paints have many benefits over liquid paints, including easier application, no wastage, and a better finish. The Rust-Oleum 249061 Multi-purpose spray paint has all the above to offer and more. It can be used to paint various surfaces, including metal.

The spray paint has an oil-based formula that gives it better adhesion properties, especially to metal surfaces. It is also quite good at hiding imperfections and gives a more color-rich finish. Oil-based spray paints are also better for outdoor applications.
The spray paint is quite easy to use and offers a smooth and neat application. It also offers good coverage as there is no wastage of paint. One can of this 12oz can of paint covers up to 12 square feet of space. The Rust-Oleum spray paint dries to touch in just 20 minutes, you can apply the next coat in just 30 minutes.
The spray paint offers durable protection. It also has an excellent glossy finish. Other benefits that this spray paint has to offer include chip-resistant properties and an odor-free application.
If you have a metal outdoor bistro set, this is the best paint for metal outdoor furniture paint you can use to spruce it up. The spray paint is available in 34 color options. You can either purchase a single can or a six-pack.
Pros
Odor-free
34 color options available
UV-resistance
Chip-resistance
Oil-based formula
Cons
The paint peels off if applied to a surface where sanding and priming were not done.
Hammerite Direct to Rust Metal Paint Aerosol Smooth Finish, 400ml.
If you want to revive and protect the metal surfaces in your outdoor space, this is the best paint for metal outdoor furniture you can put your money on. The Hammerite Direct to Rust metal paint features a unique three in one formula. It functions as a primer, an undercoat, and a top coat all-in-one. It saves you time and money spent buying and applying a primer and an undercoat.
Since it is direct to rust paint, you also do not need to sand out your metal surface's rusty parts. The fact that its application is not labor-intensive is another bonus. Its manufacturer recommends it for application on metal garden furniture, metallic rails, a metallic gate, or a metallic door. It will offer beautiful protection to any of these surfaces.
Whether you are a newbie to painting or a professional, the Hammerite spray paint will not disappoint. It delivers a professional finish with a smooth gloss and a flawless high sheen.
However, note that the paint is quite light, so avoid painting a thick coat over one spot because it will run. Use several thin coats for a desirable finish. The paint dries quickly, approximately15 minutes. You can proceed with subsequent coats every 15 minutes to achieve a rigid and even protective coating.
Pros
Requires no prepping for the surface
Easy to use
Saves you the money you would have had to spend on a primer and an undercoat
Rated for outdoor use on metal surfaces
Works on aluminum alloys
Available in 10 color options
Cons
Its limited coverage makes it pricy in the long run.
Rustins Quick Dry Satin Black; 250ml
The Rustins Satin Black metal and wood paint bags five stars for its sheer purity and perfection. It gives a polished look, yet it is not all up in your face. The paint is rated for both indoor and outdoor use on metal furniture and surfaces.
The water-based paint features a matt finish. Matt finishes offer a subtle, grown look with little to no sheen. One of the benefits of a matt paint finish is that it is easier to achieve than glossy finishes. It is also outstanding when it comes to covering imperfections. Matt finish surfaces are also easy to clean with simple household cleaners like soap and water.
The Rustins paint also features low volatile organic compound (VOC) levels. VOCs are solvents within a paint that are released into the atmosphere while the paint dries. They can cause short-term symptoms like headache and nausea to people and are also harmful to the environment. Water-based paints like Rustins have lower VOC levels than oil-based paints.
The paint also dries to the touch in no time, just a few minutes and re-coat time in less than an hour. The paint has a tough and durable finish. It will leave your outdoor furniture looking good and protect it from the elements for a long time to come.
Pros
Eco-friendly paint
Low-maintenance
Covers imperfections
Dries quickly
Adheres well to metal surfaces
Cons
Blackfriar BKFSB250 Satin Black Paint 250ml.
The Blackfriar satin black paint offers beautiful protection to metal surfaces, especially wrought iron. If you have a wrought iron dining set or garden furniture, this liquid paint is the best paint for outdoor metal furniture that will serve the purpose. It delivers an attractive satin finish with just enough shine.
Satin finishes have some special characteristics. A satin paint finish is midway between matt and glossy; therefore, it offers the best of both finishes. Satin finishes also hold up well to repeated washing and rigorous scrubbing. If you have kids or love to entertain during the summer, this paint would be great on your outdoor furniture.
The paint has a good consistency and can be applied using a brush, a spray gun, or a roller. It dries to touch in two to four hours and is hard dry in 16 hours. You can re-coat the painted surface in 16 hours. The paint covers well and does not drip; unless you put too much of it on your brush or roller.
Not only is this paint easy to use, but it also offers solid, durable protection. According to one user review, it holds up pretty well against harsh weather. It also comes with all the eco-friendly benefits of a water-based formula.
Pros
It is easy to use and covers well
Fair price and its outstanding coverage gives value for money
Gives a fantastic finish
Low maintenance even with high traffic and frequent use
Durable finish
Cons
There are no color options; only black.
Ronseal NRSMWH250 No Rust Metal Paint 250ml Smooth White
If you have rusty outdoor metal furniture, pipes, or other surfaces, this metal-dedicated paint is your saving grace. Ronseal No Rust metal paint makes a world of difference to rust-riddled metal surfaces. It transforms them into spanking new with little effort from you. The paint can be applied directly to rust, so it saves you the time and energy otherwise expended on prepping.
But this paint is not for lost causes alone; you can also use it as a treatment for rust-free metal furniture. It features a unique formula that offers up to six years of protection against rust. The formula works by locking out moisture from the vulnerable metal surface.
The metal-dedicated paint features a high gloss finish. High gloss finishes serve a dual purpose; the finish is attractive aesthetic-wise, but it also offers high moisture resistance.
As previously stated, the paint can be applied directly to a rusty surface. It requires no prepping and will save you money on a primer too. Application is by brush only; the paint is quite thick, so a spray gun will not do. It, however, goes on smoothly and has commendable coverage. It dries to touch in approximately 45 minutes.
This is one of the best paint for metal outdoor furniture that will deliver a nice smooth finish on your outdoor furniture or any other metal surface.
Pros
Up to six years of rust damage protection
Quite easy to apply
Does not require a primer or substrate prepping
Covers well
Pocket-friendly price tag
Cons
Complaints that it is borderline impossible to clean brushes after use
Rust-Oleum 7213502 Hammered Metal Finish, 1-Quart
The Rust-Oleum hammered liquid paint protects metal surfaces from weather elements and corrosion. It forms a weatherproof and corrosion-resistant coating on the metal's surface. The coating is also resistant to abrasion, fading, and chipping. The paint offers protection to metal surfaces while preserving their look.
As the name suggests, the paint gives a hammered finish to the painted surface. Hammered metal finishes are excellent for hiding flaws on surfaces. The paint has an oil-based formula, so it adheres well to metal. It forms a tough and durable coating over the painted surface.
Priming on the substrate's surface before applying this paint is not necessary. You will need to use at least two coats to achieve the perfect finish. The paint is dry to touch in two to four hours. One reviewer recommends applying the second coat 30 minutes after the first one so that they dry out together.
The paint has good coverage. This one-quart container covers approximately 100 square feet. The rust-preventive paint offers long-lasting protection and a superb finish. You do not have to compromise on one to get the other. The liquid rust-protective paint is available in eight color options.
Pros
Offers a unique hammered metal finish.
Available in eight color options.
Preserves both the structural integrity and the aesthetic features of your outdoor furniture.
No priming is needed before painting.
Good coverage.
Cons
Quite viscous hence difficult to apply with a spray gun.
Rustins MBPK250 250ml Quick Dry Metal Paint
A single layer of Rustins quick-dry dedicated metal paint is enough to make your metal outdoor furniture look spanking new. The paint dries in a smooth satin finish. Satin paints are ideal for applying on metal surfaces without the need for a separate primer. They are also moisture resistant and easier to clean.
The metal-dedicated paint is quite easy to apply. There is no recommended tool of application written in the instructions, so it's a matter of preference. Its consistency lies on the thinner side, so a spray gun just might work.
The paint has good coverage. Better still, you only need one layer to achieve a lustrous semi-gloss finish. The paint dries up quickly. You will achieve the semi-gloss finish in just two hours.
The paint has low odors, ensuring your comfort as you work. It also has low VOC levels hence safe for you to use and for the environment. It also features anti-corrosion additives that protect the metal surface underneath from moisture that causes rust. It is also ideal4ew for use on both bare and galvanized metal.
If you want to save time and get real value for your money, this paint can deliver on both.
Pros
Has anti-corrosion properties
Eliminates the need for a primer
Easy to clean your hands and the tools of applications with a simple soap solution
Eco-friendly
Good coverage
Only requires a single coat for a good finish
Cons
Buyers' Guide: Factors to Consider When Buying the Best Paint for Outdoor Metal Furniture.
What is the best paint for outdoor metal furniture, you ask?  Well, the ideal can of paint for your outdoor metal furniture should offer protection while giving a facelift. However, due to variable differences in the state and quality of outdoor metal furniture, there are specific factors to consider. As a discerning buyer, look at the following factors relative to your outdoor metal furniture.
There are specific paints for specific surfaces. Some paints are rated for application on wood surfaces, others for metal, and others for both. Paint that is ideal for use on metal surfaces has a unique adhesion property that allows it to give the metal a clean finish. Ensure the paint you select is rated for use on metal surfaces.
Some outdoor metal furniture have a simplistic design, while others feature a more intricate mesh design. Furniture with simplistic designs is easier to paint evenly using a brush. However, for more intricate designs like a wrought iron mesh, a spray can is a more practical option.
Some paints are more agreeable to certain metal types than to others. For instance, aluminum forms an anti-corrosive layer of aluminum oxide on its surface that inhibits the adhesive power of most paints. Galvanized metals feature a layer of oil with the same adhesive inhibition. Ensure the paint you select will stick to the type of metal your furniture is made from.
There are oil-based paints and water-based paints. Each type of base has its pros and cons. They influence the adhesion capacity of the paint to metal, the finish, maintenance, and durability. Look at each base type's pros, and cons relate to your situation to help you make practical choices.
State of the Substrate Surface
Paints for metal surfaces protect surfaces from rust damage and be used to restore damaged surfaces. If you are tackling a restoration project, ensure you select paint that can be painted over rust. It will save you money for buying a separate primer and the labor of priming the furniture before painting it.
There are a variety of paint finishes for metal available in the market. You can go for a glossy finish, a matt or flat finish, a satin finish, and a hammered finish. Each finish has its pros and cons relative to metal application. The finishes also have different sheens.
Ensure you select the sheen and features that work for you.
Conclusion
Most outdoor metal furniture has wonderful eye-catching designs. However, a pop of color wouldn't hurt. Also, painting a metal surface is not just about aesthetics; it is about protecting the furniture from moisture and rust. A protective coat of paint over your outdoor metal outdoor furniture will give you peace of mind.
We have highlighted the top 10 best paint for outdoor metal furniture surfaces in the market. Each has its unique features, pros, and cons. We hope that you will identify the can of paint that is most suitable for your project. We also hope that our detailed buyers' guide will make shopping for paint that much easier.
Frequently Asked Questions.
Do I need to Prime metal outdoor furniture before painting?
Yes. You can prime outdoor furniture if there is a significant amount of rust or exposed metal areas before painting.  Apply the primer using a roller or a brush to give the needed protection.
Is it better to spray paint or brush paint outdoor metal furniture?
While they both give good results when done correctly, spraying painting is much faster compared to brush painting. Also, you can use spray paint on almost all surfaces such as metal, wicker, wood, resin, and plastics.
What is the best kind of paint to use on outdoor metal chairs?
Oil paint is the most ideal kind of paint for outdoor metal chairs. This is because it does not have water and is therefore not prone to rust.
Is enamel paint ideal for outdoor metal furniture?
Yes. As long as it is primer-coated exterior grade, then it is good for outdoor metal furniture.