Last updated on May 17th, 2023
If you're a passionate DIYer looking to renovate your outdoor patio, a pergola will make a great addition to your outdoor living space. While freestanding pergolas are the most popular option for most people, you can get more creative than that. For example, can you put a pergola on a raised deck if your patio has an existing deck?
As long as your deck is low elevated and has steady support with stable banisters, you can easily and safely install a pergola on it. The banisters should be around 2-3 feet deep in the ground and held down by concrete. If you live in an area with a colder climate, increase the depth by digging 3-4 feet to ensure maximum support.
There are many ways you can put a pergola on a raised deck. For example, using lightweight wood for the pergola roof, you can install support directly to the deck by attaching the deck to the joists.
The goal is to ensure that your deck is as steady as possible to support the extra weight and withstand windy weather. Therefore the focus of this guide is to tell you everything you need to know about installing a pergola on a raised deck and the steps to get it done. Read on for more.
What Is a Pergola Deck?
Pergolas are not a new phenomenon. These stylish outdoor living spaces have been around for centuries, their origin tracing far back to the earliest Latin civilizations.
Previously pergolas served as walkways and garden spaces for growing fruits like grapes. Today they're best known as shaded outdoor passageways, walkways, or lounging areas. It's a structure built with vertical pillars supporting a crossbeam structure with a sturdy open framework.
Today's pergolas serve as outdoor decks and patios for lounging in the backyard. They're often built in such a way as to "frame in" an area and provide a sense of height to create an architectural impression. Pergola decks can be designed after the original design of an existing deck or patio.
Why Should I Buy a Pergola for My Deck?
There are several reasons why building a pergola on your deck makes a lot of sense. Some of the reasons are highlighted in this guide, for example:
1. Provides a Cool Shade For Relaxing During Hot Summer Months
Summer is undoubtedly the best time to relax outdoors and enjoy the comfort and beauty of your backyard spaces.
However, some days the temperatures can become insanely unbearable, and the only practical thing to do is relax under a cool shade. And that's where pergolas come in to provide the much-needed cooling space for a siesta or afternoon bonding moments with loved ones.
2. Improve The Aesthetics Of Your Outdoor Living Space
A nicely done pergola on your patio or deck will improve the overall curb appeal of your home's outdoor setting. In addition, pergolas come in different designs, colors, and materials that can fit any home's architectural style.
And the thing about pergolas is that they're so easy to make than any avid DIYer can get it done with the suitable materials and instructions. Still, if you prefer to get help, a local contractor can get it done in a day, or you can even purchase a pre-designed kit from your local manufacturer.
3. Provides The Ultimate Entertainment Space
Pergolas are great for hosting outdoor parties or luncheons since they're a great dining and seating spot. Besides, you can arrange and design them to add more style and ambiance to your home. If you enjoy hosting parties and creating an impression, you'll never go wrong with pergolas.
4. Pergolas Are Multipurpose And Usable In Any Weather
Pergolas aren't just for summer. You can lounge outdoors comfortably even during snow and rainy days, something you can do otherwise. Coverable pergolas are specifically recommended for those looking for an outdoor space that they can use during summer, winter, and rainy seasons or just about any type of weather.
Can You Put A Pergola On A Raised Deck?
Pergolas have different weights: some can be a few hundred pounds while others can be as heavy as several thousand pounds. So while you can put a pergola on a raised deck, you need to factor in the weight and the type of wood you use.
Different types of wood can take in different load limits, so you research which wood is the sturdiest and ideal for a pergola.
Depending on the wood used, you should determine how much weight your deck can support per square foot. You can then multiply that weight by the square foot of your deck to find the total amount of weight your existing deck can support.
For example, if your deck is 8-12 feet from the ground, it cannot adequately support a taller pergola, and there's a possibility of the pergola collapsing due to wind. Similarly, installing a shorter pergola on such a deck can be a fire hazard.
Another factor to consider is the posts. They should be sturdy and stable enough to allow comfortable leaning otherwise, your guests will topple the whole pergola over.
But if you want to know how strong the deck and pergola area is, consider installing a freestanding pergola on a different spot in your backyard away from the house.
With the right tools and instructions, these simple pergolas are easily DIYable. Finally, ensure your pergola stays within your property boundaries and doesn't require a legal installation permit.
Can I Build A Pergola On Top Of An 8'x12′ Deck?
This depends on the structural details of your deck. For example, the weight of the pergola must fit into the deck's weight.
The pergola weight must exceed the existing joints or the deck's foundation. In addition, the railing posts should adequately support the rest of the structure to resist lateral loads.
Think of your pergola on an 8'×12 deck as a parachute where you must tie all the connections to avoid it being blown by the wind or storm.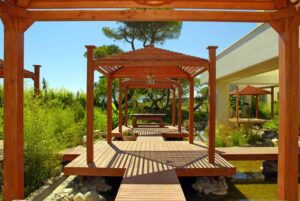 All these ties or connections must be able to transfer all uplift loads from the roof and down into the foundation. Otherwise, ensure they're reinforced, or you can securely bolt new 4×4 posts to your existing posts. The new posts must start from the floor of the existing deck, and you can choose your preferred height from there.
Can I Build A Pergola On An Existing Deck Without Digging More Footers?
While it's not completely impossible, building a pergola on an existing deck without footers can be tricky. Obviously, the deck will not support the pergola if the pergola is heavier. This is yet another scenario where you'll need to determine the additional #' s/sq ft of your pergola.
For example, a swimming pool typically has a clear footage area where the weight of the water is evenly distributed.
That's not the case with a deck without footers. So the best way to ensure you approach it properly is by consulting an engineer who can look at your structural plans and advise you on the safety and feasibility of the project.
How to Put a Pergola on Raised Deck?
Here is a step-by-step guide on how to put a pergola on a raised deck:
Determine who will do the job: Will you hire a contractor or DIY? If you're a great DIYer, you can easily hack it and save around  $500 to $1,000 on labor costs. If you prefer to have it done professionally, you may pay more for more elaborate structures.
Get the tools: This isn't the typical DIY project. You'll need several advanced tools like a power drill, sockets, safety gear, goggles, and someone to give you a hand.
Measure the place: A Pergola requires a minimum of 2-4 support, so you need to measure each. If you plan to connect it to the side of the house, measure the support for cross beams. If you are using four support beams, measure four equal spots for attaching the deck joists.
Determine the size: The size of your pergola depends on the intended purpose and usage. A few factors to consider are the placement of support joists that hold the deck floor and the maximum weight it can support.
Select the materials: Typically, pergolas are made of light rafters and light materials with at least four supporting cross beams to hold the rafters in place. Support with sturdy beams of at least 8×8 is recommended, and the beams should be made of pressure-treated wood or cedar to curb pests and rotting.
Fasteners: The fasteners you use should be proportional to the weight and thickness of your support beams and joists. For this, we recommend lag screws and carriage bolts, especially those used for wood with matching washers.
Attach the supports beams: The supports should be installed on the joists, not the deck. Let whoever is helping you hold the beam in place as you mark it up, then cut the hole out and fit the beam in place.
Connect the beams:  Let someone hold the beam in place as you drill two holes in it. Use  (2) 1/2″ x 6″ lag screws and washers to connect the support beam to the joist and repeat the process for all the support beams.
Add to the cross beams: The cross beams must be able to support the weight of rafters, therefore ensuring they're correctly connected to the support beam. To achieve this, cut an indent the same size as the crossbeam into the top of the support beams. Connect the crossbeam into the indent, then drill, and screw the crossbeam firmly in position.
Joining Pergola To The  House
Follow these steps to attach the pergola to the house:
Measure a ledger board and mount it to the house with wall studs.
Use joist hangers the same size as the rafters to connect the ledger board.
Screw the rafters into the joist hanger allowing it to overhang the crossbeam between two support beams.
Connect rafters to the support beams using 18-gauge hurricane ties and x 1-1/2 in lag screws.
Connect the rafters: Although the pergola rafters will naturally overhang the crossbeams, you must ensure they're appropriately centered. Therefore ensure they're firmly held in place before fixing them, starting with the central rafter till you're done.
Wrap up: You may want the style of your pergola to blend with the architectural style and decor of your deck. Pick a color theme that matches the overall decor of your patio or house to create a unique look.
What is the Best Way to Attach Pergola Posts to the Deck?
You can install a pergola if your patio has a low raised deck with solid support. The banisters should run at least three feet deeper into the ground to support the pergola's weight.
Another great way to install the pergola is to attach the supports directly to the deck joists so long as they can support the weight of the pergola. The roof should always be made of lightweight wood.
What Kind of Deck Can Support a Pergola?
Can your deck support a pergola? That's a question we are asked often, and the answer is yes. Only in a few instances are pergolas hard to install. So here are a few deck types ideal for building a pergola.
1. Traditional Wood Decks
These types of decks typically have the same height as the back doors and allow for attaching a pergola to the roof or existing deck. Still, the ideal deck should be medium in size: not too high or too low, and must be sturdy enough. Working with these types of decks can be a little complicated, so unless you're quite the expert, you might want to consult a contractor for guidance.
 2. Concrete Or Stone Decks
These are the sturdiest and ideal for supporting any type of pergola, and it works just as fine as a wooden deck built on concrete or cement slab.
To install your pergola, you can cut through the concrete to create banisters or expand it beyond the patio parameters. Again depending on your expertise, you may or may not need to work with a contractor.
What Kind of Deck Cannot Support a Pergola?
A deck built on soft ground or water cannot support a pergola, regardless of size or weight. It would require a lot of work and a delicate balancing act to ensure that the supports are sturdy enough to hold the weight of your pergola. In addition, the water and weather elements can wear down the supports quickly, and they'll soon collapse.
When installing a pergola on a tall elevated deck exercise, utmost caution since the height makes it susceptible to wind and harsh weather.
Otherwise, if one side of the pergola is attached to the house, the height doesn't matter since the home provides additional support.
Ensure the combined height of the deck and pergola do not exceed 12 feet if you want to maintain stability and stay within your area's building codes.
FAQs: Can You Put A Pergola On A Raised Deck?
Q1. Can you add a pergola to an existing raised deck?
Yes, you can. Just get the dimensions and the materials right. Next, get the necessary tools and expert tips, and you'll be ready to go.
Q2. Do pergolas need footing?
Not necessarily, though the posts will need to be anchored with heavy concrete bolts or be placed deep in the ground to hold them in place and safeguard against strong winds, the depth of the banisters depends on the type of soil and weather in your area.
Q3. Can you screw a pergola to the decking?
Yes. You can safely anchor any type of pergola to a wooden surface using 90-degree strap brackets. To do this, ensure you screw directly to the deck beams.
Q4. Can you build a pergola on a floating deck?
Of course, you can add a pergola to a floating deck. Whether you need an extra shade or want to hang some twinkling lights, it's the way to go.
Content Summary – Pergola On a Raised Deck
Putting a pergola on a raised deck can improve the function and aesthetics of your yard. Pergolas offer the much-needed shade during hot summer days, a place you can relax and admire your outdoor setting.
There are a few factors to consider when adding it to your deck. These factors include weight height and the size of the deck.
Also, ensure the Pergola isn't strategically placed somewhere where it will block the view of fresh air.
Finally, ensure you use the proper materials that can withstand the weather. With all that said, pergolas on raised decks provide multiple benefits that make them worth it.
Always seek professional advice and guidance when installing one to get everything right and ensure safe installation.