Last updated on September 14th, 2023
Buying kids chaise lounge is a great way to encourage them to spend more time outdoors. But even more, it provides a comfortable spot to relax or play. This brings us to the topic for today – the best outdoor chaise lounge for kids.
The best kids chaise lounge is just like the adult version, except that it's way smaller. It offers kids the chance to enjoy the outdoors with their parents while sitting upright with their legs and feet comfortably stretched out. A great position for watching a movie, reading a book, and enjoying other outdoor amusements.
Unlike the adult-sized version, kids' chaise lounges don't take up much space. And they are easier to hurl around, so besides using them in the yard, you can also take them to the beach or camp.
In this article, we review the top five outdoor chaise lounges for kids. These are the comfiest and stylish options you will find out there!
What to look for when shopping for chaise lounge chairs for kids
Comfort Level
Children are not resistant to back pain and fatigue, so it's important to get them chairs that are comfortable.
In determining kids longe chair overall comfort, you should pay attention to the cushion and padding, how well it fits the lad, and the presence of back support and armrests.
Some outdoor chaise loungers may also come with an umbrella or some other form of shade to provide direct protection from the sun.
Make sure everything is in place to ensure the comfort of your child, even if it means paying extra for the chair.
Sizing
Chaise lounges are available in different sizes and heights. You want to make your selection based on the age of your kid.
One of the first things to check when buying kids chaise lounge is the back height and the seat height (i.e., the distance between the seat and the ground). There's no ideal back height for a kid's chair; as long as there's back support, it should do.
However, for the seat height, we have some recommendations depending on the age of the kid:
Toddlers: 10-12 inches

5-7 years: 12-14 inches

8-10 years: 13-17 inches
For families with two or more kids, go with the age of the eldest. Children grow fast. So, you don't want a situation where all your kids outgrow the chaise before they get to relish it. That wouldn't be the best use of your money.
Safety 
Similar to adult size chaise, kids' safety is a big deal when it comes to children's outdoor furniture. In fact, kids' chaise lounges should meet higher standards than those for grown-ups. 
All moving parts need to be covered or sealed to prevent probing fingers and toes from getting nipped.
Similarly, for slatted chaises, the spacing in-between should be narrow.
Also, the base of the chair should be wide enough to prevent it from tipping over.
If the chair comes already assembled, make sure you examine it for protruding nails, loose screws, and other potential defects that could expose your kid to injury or accident.
Style/Design
If you prefer a kids chaise lounge that consists of a chair (or bench) and a table, then you might want to go for a set. Buying the items separately makes it harder to match their color, style, and size.
Even while purchasing a set, make sure the same fabric color and style is used on the chairs and table. If the set includes an umbrella, then it should have the same color or pattern.
For individual items, make sure the color is appealing. Ideally, you should choose something "bright" as kids are easily attracted to colorful things.
Durability
Durability in outdoor furniture is important for two reasons – it determines how long the chaise will last and how well it can withstand the conditions outside. Each of these depends on the type of material the chair is made from.
Considering how much chaise lounges generally cost, it's always advisable to go for something that will last longer even if you have to pay extra.
Choose a material that is weather-resistant or UV-protected. Some of the common options are powder-coated aluminum or iron, teak, HDPE, and maybe, wicker. If you opt for a wicker, make sure you place it in an enclosed area. 
Our Top 5 Best Outdoor Chaise Lounge for Kids
The KidKraft child chaise lounge outdoor provides a comfy place where kids can relax in style and get a little relief from the sun. It offers all the benefits of a standard lounger – cute, durable, not difficult to assemble, and more. For the price, it's a steal.
The chaise is crafted with sanmu durable wood – a strong hardwood without splinters or cracks. The wood is treated to withstand the weather, which makes it perfect for outdoor use.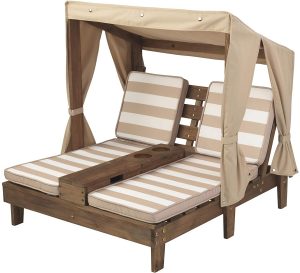 It also features a 3-sided canopy which consists of two vertical sides and a horizontal shade made of sturdy canvas. The vertical sides serve as mesh windows with tie-back curtains, while the horizontal side provides protection from direct sunlight.
This is a double kids lounge chair outdoor, so it will require a little more room for storage. But the extra chaise means two kids can use it, which is even more fun. If you have only one kid, then another seat can be used as a storage space for toys.
The chairs also feature two cup holders for keeping drinks close and a hidden compartment for stashing toys.
There are no moving parts in the lounge, so you can have a rest of mind.
Each seat is covered with cushions and a sturdy canvas with beige stripes of mocha and white. The tasteful color patterns seem to go well with any backyard decor. Your child is definitely going to love it!
Besides the beige pattern, this chaise kids lounger is also available in a grey color and navy stripes. 
According to the manufacturer, the chaise is suitable for 3-8-year-olds. However, we think it might be too small for a tall 7/8-year-old. To be on the safe side, you can compare the dimensions with your kid's height. But we generally recommend it for 3-6-year-olds if you want it to fit comfortably.
Assembling this children's outdoor furniture is easy though it might take some time – say 45 minutes to an hour and a half, depending on how fast you are. The instructions are pretty clear, so even a newbie can fix it up. Be careful if you're using power tools to avoid cracking the wood.
The dimension of the lounger is 36.5″ x 33.4″ x 35.1″, and it can hold up to 180 pounds. 
Pros
Easy to assemble

Very stylish

Available in different colors

Comes with a cup holder and storage

Reasonably priced

Durable construction

Wide shade
Cons
Fasteners tend to rust after a while

Takes time to put together. 
This single wooden chaise lounge from KidKraft is easily the most budget-friendly option out there. But despite having a low price tag, it is one of the cutest loungers with nice construction and an easy installation process.
It is crafted with durable hardwood and offers an umbrella for sun protection. While the umbrella doesn't tilt like a patio table umbrella, it still provides good shade. The outdoors umbrella stays open with the inserted pin and folds when you remove it.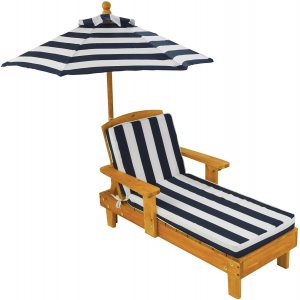 The chaise includes soft cushions and wooden armrests for additional comfort. The cushions are covered with sturdy canvas and tightly secured to the base to minimize sliding.
We love the black and white stripe on the pad and umbrella; it looks a lot like zebra skin and goes well with the lightly stained wooden frame – very stylish. When in use outdoor umbrella stays open.
The dimension of the chaise is 36″ x 19.5″ x 20.28″, which is the right size for toddlers, up to a six-year-old. A tall 8-year old would probably look like a giant in it, although the chair is sturdy enough to hold much more weight.
Kids are not the only ones that can use the chaise. It is also great for small dogs and cats.
The chair also got a wide base (for increased stability) and no moving parts. So, it will make a safe haven for your kid.
The recommended weight (maximum) is 81 pounds.
To keep it looking its best, it's advised to store it indoors or cover it when it's not in use. You can also paint or stain the frame for additional protection. The chair should last a few years as long as it's not exposed to sun and rain.
Overall the chaise lounge gets our vote as the most affordable kids chaise lounge with the best quality. So, if you have a limited budget but don't want to compromise on quality, then this will make an excellent choice. It has the perfect size for children and is great for a patio or poolside.
Pros
Easy to clean

Matching umbrella and cushion

Very affordable

Sturdy and built to last

Cute design

No moving parts
Cons
Other Outdoor Chairs for Kids
The Ehomexpert Kid's Adirondack Chairs is another wonderful outdoor furniture for kids. Available in three colors (white, yellow, and green), the chair has the perfect size and height for kids of different ages – from toddlers to 8-year-olds.
It looks adorable – thanks to the beautiful color combination on the back (for the white option).
The chair is lightweight and built with recyclable material making it safe for your kid's health.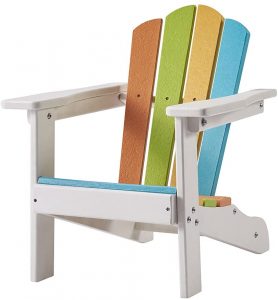 Specifically, it's made of HPDE (high-density polyethylene), which offers high durability and soft, comfortable seating. The material is recyclable and looks a lot like real lumber. So, it maintains the same classic look common with wooden chairs. 
You can use this outdoor furniture for as long as you want, and it won't splinter or fade. Likewise, unlike wood, it doesn't crack or rot when exposed to a lot of water.
The chaise features four backs and a solid chassis to provide adequate support to your kid, while the seat is tilted downwards and made in a sliding sizes design to create a more relaxing experience.
Though it's designed for outdoor use, the chair can also be used indoors.
The weight is 15.6 pounds, so you can hurl it around without any hassle. You can use it anywhere outside your home (backyard, lawn, porch, etc.) or tote it to the beach or camp.
It can support up to 88 pounds in weight.
Assembly is relatively easy, though a lot of screwing is required. Just follow the included instructions, and you should do just fine. The whole process should take you 10 or 20 minutes if you understand the procedure.
Just like outdoor furniture without cushions, we like that the unit is easy to maintain, which is understandable since it's plastic. It cleans easily with soap, water, and a soft brush. You can even delegate the job to your kids.
Overall, we are impressed with the quality of the chaise. For an Adirondack chair, it has one of the cutest designs you will find. We can't recommend it enough!
Pros
Cute classic look (resembles real lumber, exquisite)

Ergonomic design

Low maintenance (very easy to clean)

Suitable for indoor and outdoor use

Lightweight design

Doesn't rot or crack

Has inserted pin to allow you to fold arm rests when storing.
Cons
Not the easiest to put together
 The Wooden Table & Bench Set by KidKraft is a miniature version of adult outdoor furniture built with your growing kids in mind. It includes a sturdy table, two benches with fabric, and a folding umbrella to match.
The cushions on the benches look great and provide comfy seating for your little ones. They are tightly secured to the bench with ties and don't come loose after a while.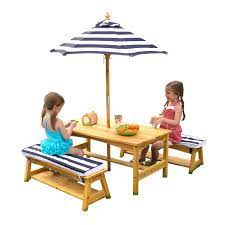 The fabric on the cushion is brightly colored (navy and white stripe), thick, and of good quality. However, it's not "sunbrella" fabric, so it's not 100% weatherproof. Thus, exposing it to a lot of sunlight (especially in hot temperate regions) can result in fading.
We recommend storing the benches indoors when they're not in use.
The included umbrella was a nice addition and works just like the adult ones. It's somewhat thin, but that's not a deal-breaker. The beautiful stripe on it matches that of the cushion fabric, making the whole set very appealing. Trust me; your kids are going to love it when you buy them these lounge chairs!
We wish the umbrella was slightly bigger as it doesn't give much shade from the sun.
Assembly is pretty straightforward. The panels are partially assembled, which cuts down the work. The average assembly time is 1.5-2 hours, but you can do it in 30-45 minutes if you're fast.
The entire set weighs 46.7 pounds, which means the individual items are lightweight and easy to move about.
The wood is treated with natural seed oil (flax) to make it weather-resistant. However, users are also advised to reseal it at least once every year to make a more durable wood. You can also stain or paint it to your taste.
Store indoors when not in use to prevent the bench covers from getting dirty.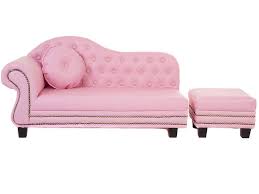 The set is great for 2-8-year-olds.
Pros
Perfect for picnics

Neutral wood color to brighten any space

Sturdy construction

Comfortable cushion

Easy to assemble

Lightweight
Cons
Wood is thin (needs to be sealed to prevent weathering)

Umbrella doesn't provide much shade
Rounding up the list is another quality Adirondack chair by KidKraft. Made with weather-resistant wood, this chaise is just the perfect size for toddlers and younger kids. And can support up to 81 pounds weight.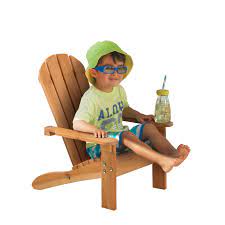 It is easy to assemble and has a beautiful honey stain color that seems to blend into any outdoor setting.
The seat is tilted downwards to make it more ergonomic. Getting in and out is fairly easy, and it never tips.
The assembly process is straightforward, and the parts fit well.
The backrest and seat are pre-assembled, which makes things a lot easier. Just attach these with the armrests, back brace support, and front legs, and the chair is ready. A step-by-step instruction manual is included.
NOTE: The wood is a bit soft, so don't overtighten the screws.
The whole assembly process should take about an hour.
Once properly assembled, the chaise dimension is 21.5″ x 19.25″ x 24.5″, while the seat height is 8.88″. The weight is about 7.5 pounds, so it's very easy to carry around. 
Overall, this is a nice little outdoor lounger chair for kids. Though the manufacturer says it's suitable for 3-8 years, we think it might be a bit too small for an eight-year-old.
We wish the price of the chair was lower, but it's still a good deal given the quality. You get a lot more usage from it than the cheap plastic counterparts.
To keep the chair in pristine condition, we recommend covering it or taking it inside the house. You can also paint or stain as needed.  
Pros
Durable construction (well-made)

Easy to assemble

Lightweight

Comfortable seating

Classic design
Cons
Maintenance tips for kids Adirondack chairs
Even though these lounge chairs are built to withstand outdoor conditions, they are not indestructible. They still need to be cared for to maintain their strength and keep them looking their best.
With this in mind, here are some maintenance tips for kids Adirondack chairs.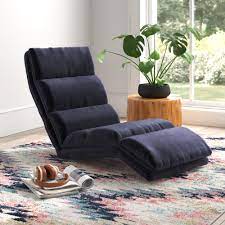 Cover the lounge chair when not in use
Preventive maintenance is the best form of maintenance. Even if a chair is weather-resistant, it can bulge from prolonged exposure to sunlight and rain. Thus, the best form of defense is to prevent this, and this can be done by getting a cover for the chair using a sturdy canvas. Cover the chair whenever it's not in use and store it away during the colder months (winter).
Clean regularly
Regular cleaning will help maintain the color and beauty of wood. You can use soap and water. You can also use a power washer but make sure the pressure doesn't exceed 1500 PSI, and keep the tip at least 8 to 12 inches away from the chair. This is important in order not to damage the structure. 
The extent of cleaning highly depends on the color of the lounge chair. A white chair will need to be cleaned more frequently than a brown chair. Remember not to use or store away the chair until it has fully air-dried. This is necessary to prevent mold and mildew growth.
Keep away from heat
Wood will sear when exposed to high temperatures. So, make sure you locate the chair away from a direct heat source such as a patio heater. Also, use a heat barrier when placing hot plates or mugs on the surface. 
Paint/Stain wood periodically
For optimum protection, some Adirondack lounge chairs can be stained or painted periodically. You can do this as many times as you like depending on the climate in your area and how good the chair looks. Some people prefer to wait till the chair is faded, while others do it as a routine to keep the lounge chair in top shape whether or not it's faded.
Clean stains as soon as they appear
Clean spills or stains as soon as they appear. Use a soft brush or cloth with water. Don't allow them to settle to avoid discoloration and rot (for wooden chairs). Once cleaned, air dry the chair.
Sand down fragments
Allowing wood to splinter can be dangerous to kids. Sand it down once you notice it. Also, when installing the lounge chair, don't overtighten the screws; just keep them snugged. 
FAQs – Outdoor Chaise Lounge for Kids
What is the best material for an outdoor kids chaise lounge?
Some of the best materials for a kid's chaise lounge include wood (teak), plastic (HDPE), metal (aluminum), and synthetic resin. You can choose any of these depending on your personal preference and the weather in your area.
What angle is best for an Adirondack chaise lounge
?
Most kids' lounge chairs with the Adirondack style are inclined between 40 to 60 degrees.
Can I make my own kid's outdoor chaise lounge
?
Yes, you can. But it will take a lot of time and skill, which most people don't have. The best advice is to buy from a good brand. It's so much better and worth it. However, if you decide to make your own lounge chair, then there are various videos online that can help you.
Can I use my kids' chaise lounge indoors?
Yes, you can. Some of these chairs also serve as good seating options for a living room – giving the room a chic touch.
Where can I get these lounge chairs
?
Just click on the corresponding link to go to the product page.