Last updated on February 17th, 2022
Outdoor chaise lounges are more than just aesthetic objects that add style to your patio. They can also serve as the perfect resting place outdoor, especially for seniors.
With feet up and back rested, this could be all you need to enjoy a sun-kissed siesta or unwind till sundown.
The long length of the chairs and the soft and luxurious cushioning make them extremely comfortable, which can help deal with body aches and joint problems seniors normally experience.
The best outdoor chaise lounge for seniors should not only be comfortable to sit on but also practical enough for easy access. Seniors should be able to sit on it and get up with little or no assistance.
Given the huge size of the market, finding such lounges might not always be straightforward.
Luckily, we've done all the hard work for you and came up with a list of the top 10 outdoor chaise lounges currently available for the elderly. Read on to discover them.
The Devoko Patio Chaise Lounge chair is well-known for the superior comfort it provides and how super easy it is to move around, which makes it an excellent choice for seniors. So it's no surprise it comes off as a top contender for the best outdoor chaise lounge.
So what are the major highlights?
Let's start with the build quality. Like most premium seniors deck lounge chairs, this one has a solid structure made of high-grade steel and rattan.
The chair is pretty sturdy, and this can be largely attributed to the steel material. On the other hand, the use of rattan makes it a bit lightweight compared to many similar models; this, combined with its foldable design, makes it convenient to carry around, which can be a great advantage for an older person.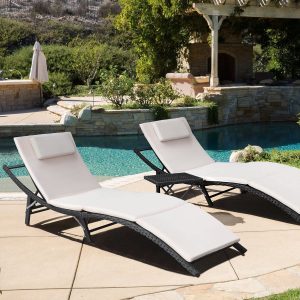 It will also interest you to know that the load capacity is about 350 pounds so it's suitable for most people.
The amount of cushioning used in this chaise lounge is impressive (three pieces and sponge padded), which makes it a comfortable outdoor chair for elderly. Like I said earlier, the black rattan is designed to last a lifetime, so you can expect a lot of value for your money.
There's no assembly required with this unit, so you can unbox and start using it immediately. The only setup needed is to tie the cushions to the chair, and you're all set to relish your comfortable lounge. A manual is provided with all the information you need to start using the chair.
The back of the chair (or head part) can be adjusted to incline at various angles, though it doesn't lay flat. You can nap on it or just relax and enjoy the cool breeze.
Overall, a wonderful chaise lounge with a great price offering. Great for couples and works in every outdoor space – pool, patio, beach, balcony, and so on.
Key Features
Adjustable Back Position
Dimension: 77 x 24 x 21 inches
350 Pounds Maximum Weight Capacity
Folding Table Included
Overall Weight: 53.7 Pounds
Material – Steel Frame & Rattan
Foldable Design
Pros
Easy to store and transport
Beautiful mesh texture
Long-lasting materials
Super easy to setup
Easy to fold
Soft, stylish cushion
Cons
Not fully water-resistant
Not the best tall folks (6ft. and up)
CHECK PRICE
The Flamaker Patio Lounge is another option to consider if you want a chaise lounge to slouch out near the pool or patio for long periods of time. Despite its simple design, it packs a good number of smart features that provide so much value for your money.
Like the previous lounge, this one doesn't require assembly, which removes all the guesswork that might come up. Just pop the handles and leg into position and start using them right away.
It is also foldable, so you shouldn't have any issues with moving or storing it. You can use it anywhere outdoor – at the yard, poolside, or beach.
The chair material consists of stylish Textilene fabric and a solid steel frame, which all hold up well in any weather. The back is elegantly curved and can be adjusted to your needs. You can set it to a sitting position or adjust to lay flat when you want to nap. This undoubtedly makes a comfortable lawn chair for elderly.
Another thing we like about this chair is the price. This is one of those few chaise lounges that offer certain features only found in high-end models without being costly. So if you want a quality and functional chaise lounge that won't cost your arm and leg, then definitely consider this one.
The lounge comes in a set of two, which makes it great for elderly couples.
The cushion is included and has ample padding that covers the entire chaise. It comes in simple colors such as the grey shade which easily blends with any outdoor setting.
Key Features
Material – Steel Frame & Textilene Fabric
Set of 2 Chairs
Maximum Weight Capacity: Around 250 Pounds
Adjustable Back
Foldable Design
Dimension: (Not Available)
Overall Weight: (Not Specified But Lightweight)
Pros
Weather-resistant fabric
Adjustable back support
Durable construction
Affordable price
Sleek and modern design
Very comfortable
Cons
Not suitable for too much weight (above 250 pounds)
CHECK PRICE
The adjustable outdoor chaise lounge from Best Choice is another wonderful option that can easily blend with any outdoor décor. It's great for relaxing near the pool, beach, patio, or any other suitable location. We personally prefer the beautiful beige shade, but you also have the option of choosing the rustic red if you think it will be a better match for your patio.
One of the major highlights of this chaise lounge is its comfortable design, which includes an adjustable backrest that you can set to five different recline positions. This is also complemented by its ergonomic armrests, which work together to ensure you get the best comfort.
For the construction, the chair is made of a rust-resistant steel frame and polyester fabric that works well in any weather. So you can expect it to serve you for a long time.
The maximum weight capacity is rated around 250 pounds, which is quite decent and should work well for most seniors.
Zipped cushions made of polyester are also included for the lounge seat and backrest. They come with Velcro straps, which are used to secure them on the chair. You can easily wash with water and mild soap.
Unlike the first two chaise lounges, this one requires assembly; however, it's very easy and shouldn't take more than 15 minutes if you know what you're doing. The overall dimension is 77 x 26 x 45 inches.
The overall weight of the chair is 38 pounds. There are five recline settings, so the back can be adjusted to your preferred height for maximum comfort.
Key Features
Adjustable Backrests (5 Recline Settings)
Dimension: 77 x 26 x 45 inches
Maximum Weight Capacity of 250 Pounds
Overall Weight: 38 Pounds
Material: Steel Frame & Polyester Fabric
Up to Five Color Options
Zipped Cushion Cover
Pros
Ergonomic armrests
Durable construction
Can be folded for easy storage and transport
UV-resistant cushions
Very easy to put together
Stylish design
Cons
Plastic straps might break sooner.
CHECK PRICE
This set of 2 lounge chairs from Tusy is another chaise lounge that is built with comfort and durability in mind. It has a solid construction featuring a high-grade steel frame and all-weather PE rattan material. These materials make this lounge set sturdy and durable assuring you of long time service.
The set also has a stylish look that adds a nice touch to your patio or anywhere you wish to use it outdoor.
We also found the lounge to be very comfortable, and much of this can be attributed to the rattan material, which keeps you feeling cool even under hot weather.
You also have the option of adding the fully padded cushion provided for a more comfortable patio chair, especially during those cold winter nights. Bound inside the cushion is high-density sponge foam up to 2.4 inches thick.
In addition, the cushion cover is zippered and waterproof so splashes of water cannot penetrate to the cushion. Additionally, the covers are easy to maintain, simply remove and wash them. The canvas is also UV-resistant, so it will take a while before the color starts fading. Ensure you wash the cover and sponge separately.
Each one of the chaise lounges can support up to 330 pounds of weight and has five adjustable backrest positions, which allows you to set it to any angle and height you find most convenient.
Key Features
Premium PE Rattan Wicker (All-weather and Hand-Woven)
Zippered Cushion Cover with Sponge Foam
Dimension: 8″ (L) x 26.8″ (W) x 12.9″ (H)
Tempered Glass Coffee table
Max Weight Capacity: 330 Pounds
Material: PE Rattan & Steel frame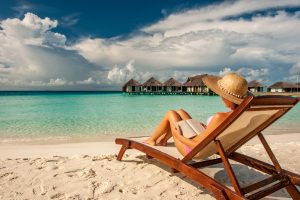 Pros
Weather-resistant wicker
Highly durable construction
Great flexibility (you can add and remove cushions depending on the weather)
Cover and sponge are very easy to clean.
Set of 2 Patio Loungers
It comes with a coffee table with tempered glass.
Cons
Lots of hardware and screws (can be a hassle to assemble)
CHECK PRICE
The GOLDSUN Ergonomic Chaise Lounge Chair is one of the excellent outdoord chairs for seniors as it's built with comfort and durability in mind. The chair has an ergonomic design that includes a comfortable seat and adjustable backrest that has up to 7 recline settings. So you can set it for a nap or just relax. The seat used here is made of heavy-duty Textilene mesh material that is not only comfortable but also breathable.
The chair also comes with a cushion and an adjustable pillow that accentuates the comfort. We found the cushion to be most useful during cooler days or nights, so you may not need it during those hot afternoons.
Luckily, the fabric doesn't absorb water, which makes it suitable for use near the pool and at the beach. It also has a special coating for UV protection. This can be a big plus for people with sensitive skin.
Furthermore, the lounge comes with a pretty solid aluminum frame that is designed to serve you for a very long time. The choice of aluminum makes it lightweight (weighs under 17 pounds), probably one of the best lightweight models out there.
A detachable utility tray is included in this package, which can be used to hold your drinks and food. However, we found the cup holder a bit shallow, so it's not uncommon for things to tip over, especially if it's a long cup.
Also, there's no way to lock the tray, so you might want to avoid placing breakables on it.
Key Features
Material: Heavy-duty Textilene Fabric & Aluminum Frame
Dimension: 71.6″ L x 23.6″ W x 14.8″ H
7 Reclining Backrest Positions
Detachable Side Table
Foldable Design
Available in Single & Set of 2
Overall Weight: 16.96 Pounds
Four Color Options Available\
Removable cushion and pillow
Pros
Great for indoor and outdoor use
Easy to maintain
Lightweight design
Very comfortable
Fairly sturdy
No assembly required
Cons
Not the best for tall folks (over 6ft.)
CHECK PRICE
This is another chaise lounge that excels in comfort and strength. It has a solid construction that consists of a wrought iron frame that can hold up to 250 pounds of weight. Even though wrought iron is usually heavy, this chair doesn't weigh more than 31 pounds.
The frame is also powder-coated to make it resistant to rust and moisture, so it should survive the weather elements. That said, it's better to always cover the chair when not in use or when it's raining. This will greatly preserve the shine and colour.
With a height of 32-45 inches, the chair is never too low, which is a big plus for seniors who have a problem getting up from high lounge chairs. You can adjust the back to several levels depending on your needs. Specifically, there are five recline settings ranging from upright to flat.
Furthermore, the chair is supplied with three soft super-comfortable cushions, which can also be removed.
There are two color options – Tan and Terracotta – which both work great with any outdoor décor.
Overall, this is a nice lounger with decent quality and great functionality. For its price, it's easily the best outdoor chaise lounge for seniors.
Key Features
Material: Solid Steel frame & Polyester Fabric
Dimension: 64-77(L) x 26(W) x 32-45″(H)
Maximum Weight Capacity of 250 Pounds
All-Weather Removable Cushions
5 Recline Settings Adjustable Backrest
2 Color Options Available
Overall Weight: 31 Pounds
Pros
Easy to setup
Offers a super comfortable experience
Nice looking colors (Tan and Terracotta)
Cushions are water repellant
Solid support
Great pricing
Cons
Too much exposure to moisture can cause the frame to rust
CHECK PRICE
This set of two lounge chairs from B BAIJIEWEI is exactly what you need to add a modern touch to your patio or outdoor space. We particularly find the khaki shade to blend with most settings; however, you also have the option to choose the orange-red color if you want something bolder.
The lounge construction includes an all-weather rattan material supported by a powder-coated steel frame. This combination ensures the set is suitable for outside use all through the year. Besides being suitable for all weather types, the handwoven wicker is also super easy to clean and resistant to moisture, crack and stain.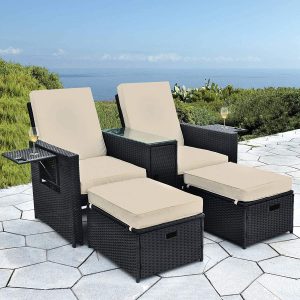 It is worth noting that even though the entire furniture is waterproof, constant exposure to rain will result in the accumulation of moisture in the pipe, which will ultimately result in rust. So it's advisable to use a waterproof cover.
On top of the black rattan wicker are thick padded cushions and pillows, which are very comfy and also easy to clean. The cover used here is made of polyester, and it is stain-resistant.
You will also love the ottoman design, which includes the super-comfortable loveseat and another under-seat ottoman for storing small items like toys and linen for relaxing your legs when using with the cushion. You can also serve drinks and snacks on the side table.
The ottoman and seat cushion cover is also zipped, making it easy to remove for washing.
Overall, this is a nice-looking lounger set with a reasonable price point. It comes highly recommended for senior couples.
Key Features
Material: Steel Frame & Black PE Rattan
Dimension: L 56.6" x W 27.7" x H 23.7
Zipped Cushions Included With Velcro Straps
Slide-out Drink Tray
2 Color Options (Khaki & Orange Red)
Multi-level Adjustable Backrests (6 Positions)
Pros
Very comfortable
Looks very nice in any outdoor décor
Easy to wash
Strong ottoman storage
Comfortable Armrest
Space-saving design
Cons
Not completely waterproof
CHECK PRICE
It's hard not to love the hot beautiful chaise lounge from WAROOM. The chair comes in three color options – khaki, royal blue, and turquoise – which all make great compliments for any outdoor setting or patio. The overall dimension is about 78 (L) by 25.5 (W) X 15 (H), which should be adequate for most people.
In terms of the build quality, you can expect more than average from this chaise lounge.
It has a solid construction, which consists of PE rattan woven around an iron pipe frame. The wicker is completely UV-resistant, while the frame is also coated with UV-resistant powder. This makes the lounge chair suitable for all weather types and may be used anywhere outside the home, such as the beach or pool.
The cushions provided are filled with soft sponge up to 2.3" inches thick, which is quite impressive. Of course, this makes them extremely comfortable and relaxing, which can make a huge difference for an elderly person. They are also UV-resistant and machine washable.
In addition, there are five reclining angles you can set the chair to depending on your need. There's a shelving board on the right side, which is great for holding drinks, books, and other small items.
You will need to set up the loungers, but everything you need is provided. Just follow the instruction, and you shouldn't have any problem.
We advise using a waterproof cover for the furniture when not in use. This will greatly help in extending its service life.
Key Features
Requires Assembly
Five Recline Positions
Shelving Board on the Right Side
3 Color Options (Turquoise, Royal Blue & Khaki)
Material: Rattan & Steel Frame
Maximum Weight Capacity: 300 Pounds
Dimension: 78″L X 25.5″W X 15″H
Set of 2 Lounge Chairs & Cushions
Pros
Sponge padding for extra comfort
Great price
Water repellent polyester fabric
Decent quality
Very attractive
Cons
Set up can be a hassle for beginners
CHECK PRICE
This Tangkula chaise lounge is another great option that works incredibly well for the elderly when it comes to providing superior comfort while beautifying your outdoor space.
The 330 pounds capacity chair has an adjustable backrest that features up to seven reclined positions to allow you to achieve a custom height. Its ergonomic curved design with a contemporary interpretation creates a comfortable haven while adding a nice touch to your patio.
We also love the fact that it has a locking system that firmly secures the backrest when set to any reclined position. The handles also allow you to relax your arms, so no part of your body is left without support.
The chair is outfitted with a solid steel frame with reinforced legs and non-slip pads that help to enhance its stability and safety.
With its overall weight around 21 pounds, portability won't be an issue. It also folds pretty quickly and doesn't take a lot of space for storage.
A removable cushion is also provided with the lounge with up to 2.5-inches thick, high-density sponge that ensures it remains soft and firm. You can use straps to secure the cushion to the chair to prevent any movement. A headrest is also included for additional comfort.
Overall, this chair impresses us with its simple design that is very practical for the elderly. To create a more personalized experience, choose from any one of the three color options – turquoise, black, and grey.
Key Features
330 Pounds Maximum Weight Capacity
Foldable Design
Overall Weight: 17 Pounds
Material: Steel Frame & Wicker
3 Color Options (Grey, Black & Turquoise)
Dimension: 70 x 25 x 28.5 inches
No Assembly Required
Adjustable Backrest (7 Positions)
Pros
Solid construction
Cushion and pillow included
Lightweight
It comes with anti-slip pads for additional stability
Breathable surface
Easy to clean and maintain
Cons
CHECK PRICE
Last but definitely not least on our list of the best outdoor chaise lounge for seniors is the Esright lounge chair. If you've not had luck with other types of chaises, then you should consider this one.
The chair has up to 7 adjustable back positions, which makes it super comfortable. So whether you want to sit and read or just lay back and relax, you can find a sweet spot every time.
You can also choose from two footrest positions, which allow you to achieve various postures. Interestingly, this is one of the few chaise lounges that can lay nearly flat (specifically, up to 170 degrees).
The chair has a height of 13 inches, so it's just high enough to make getting up easy and makes a great outdoor chair for the disabled. It is even outfitted with arms.
For its construction, the chair uses rust-resistant metal for its frame and breathable Textilene mesh fabrics that are very easy to maintain.
The fabric is also waterproof and UV-resistant, which makes it suitable for all weather types. It dries pretty fast after a downpour, but we strongly advise against leaving it outside or uncovered under the rain.
For the weight capacity, the chair promises to hold up to 370 pounds weight, which is quite impressive. Despise this, it weighs only 20 pounds and thus is still portable. You can also fold it for easy storage and transport.
Key Features
7 Adjustable Backrest Positions
Material: Steel Frame Construction & Textilene Mesh Fabric
370 Pounds Maximum Weight Capacity
Comes Fully Assembled
2 Color Options (Black & Grey)
Dimension: 71″ L x 21.3″ W x 14.2″ H
Foldable Design
Pros
Great pricing
Sturdy construction
Easy to wash and maintain
Great for indoor and outdoor use
Lightweight
Cons
Not as comfortable as the other options
CHECK PRICE
What to Look for When Choosing the Best Outdoor Chaise Lounge Chair
Here are the things to take into account in order to find a chaise lounge that will best suit your needs.
Soft and Comfortable Cushioning
A chaise lounge chair without enough cushions will be of little or no help to use. And the reason is not far-fetched.
Seniors generally experience a lot of fatigue and muscle pain, and as such, usually need a lot of relaxation. A chaise lounge chair with soft cushioning can go a long way in helping relieve them of the stress and strain.
Thus, the best outdoor chaise lounge for seniors should come with thick and soft cushions that provide superior comfort. Some models might also have pillows added for additional comfort. This is not a must but can be helpful if you need it.
Material                            
This is probably the most important factor to consider when choosing a chaise lounge, as it goes a long way to determine the overall comfort and durability of the chair. Here you want to focus on the type of mesh material as well as the frame.
For a senior, you want something lightweight but also sturdy and durable. Solid steel frames tend to do well, especially when powder-coated to prevent rust. For the mesh fabric, rattan (wicker) is pretty common. It is easy to clean and maintain and tends to last long, especially when UV-treated and waterproof.
Resin and teak are other fabric materials that tend to be less expensive than wicker but also durable. They also require less maintenance.
Plastic chaise loungers are less common. They usually require almost no maintenance and have higher weight capacities. However, they can be a bit bulky.
Weight & Compactness
Some people may be fine with having their chaise lounge in one place, while others may need something they can easily move about.
Whichever category you belong to, it's always a good idea to go for something you can "bear." Most of the time, this will depend on the type of material used on the frame and the fabric.
Having a foldable design will also make the chaise lounge more portable, which is important if you intend to use it in more than one place.
Price
Another factor you might want to take into consideration when shopping for a chaise lounge is the price. Like most items, these chairs have a wide price range; there are some that cost around 100 bucks or less, while there others with prices over 300.
Whichever category you choose to go for will largely depend on how much you are willing to spend. However, we always recommend prioritizing quality, as most ridiculously low-priced lounges tend not to do well.
High-end models often have higher price tags, and this is primarily because they tend to be more convenient. However, there are still many affordable models that still promise some of the features found in the more expensive models.
As you can see, our list is made up of both affordable and premium chaise lounges. Our goal is simple – to ensure you get the best model that suits your budget.
Additional Features
When purchasing an outdoor chaise lounge for a senior, it's usually a good idea to target models that offer additional features that help to make life a lot easier. However, this shouldn't come at the expense of quality.
Some of these features of an outdoor chaise lounge include a tray table, double capacity seating, canopy, adjustable back support, armrest, and so on.
In most cases, your purpose for getting an outdoor chaise lounge chair will largely determine which features you want or don't want to see.
For instance, if you're going to be doing a lot of reading, then you will want a model with comfy armrests.
In the same manner, some models (especially the longer ones) usually come with an adjustable backrest, which can help to enhance their compactness and ease of storage. It also allows you to recline the chair to any angle you're most comfortable with, which sounds like more fun.
Generally, having these features can make your chair more comfortable and versatile.
To wrap it up
The best outdoor chaise lounge for seniors should not only be comfortable but also attractive, easy to use, and strong enough to survive the changing weather.
Luckily, all the products reviewed above have all these and even more. So you will be saving yourself a lot of time and money by investing in one of them.
Let us know if you have any more questions or suggestions.
Frequently Asked Questions.
What is the length of a chaise lounge chair?
There's no specific answer. It all depends on the make and model. Some chaise lounge can be 55 inches long or even less, while others can be up to 75 inches long or more. Choosing the right length for your height makes it easier to be able to relax or sleep on the chair.
Can people with back problems use these chairs?
Yes, absolutely! In fact, chaise lounges are often recommended by doctors for seniors who need therapy. And this is mainly because these chairs let you get a full stretch, which makes them very relaxing.
How do I clean the lounge?
If your chaise lounge is made of Textilene fabric or something similar, then sponge and detergent (or cleaner) will do the job. Scrub gently, rinse and then dry with a clean fabric. Wax could also be applied to the mesh surface to give it a shiny look. When choosing a cleaner, avoid anything abrasive.
What is the best outdoor chaise lounge for seniors?
It is difficult to say without sounding bias. However, you won't go wrong with any one of the chairs above, depending on your individual needs. That said, our overall favorite is the Devoko patio chaise lounge. For the best budget-friendly model, the unit from Best Choice is the winner for us.
Where can I buy these chairs?
Simple! Just click on the corresponding product link ad you'll be taking to the sales page of each product. There you will find the price of the chaise lounge chair.
What does deep seating patio furniture mean?
Deep seating in patio furniture refers to the extended seating space on the bottom of the seat. It means that there is more sitting space which allows the entire upper leg to be on the sectional. Usually, it is ideal for persons who are six feet and above.