Last updated on May 26th, 2022
Outdoor ceiling speakers create an immersive surround sound experience without cluttering your floor space. Whether you prefer music, movies, sports, or simulated white noises, you can install the best outdoor ceiling speakers to complete your outdoor space. Ceiling speakers cannot be obstructed hence offer flexible installation options.
While tallboy speakers and woofers are awesome, they are rather clumsy with wires running everywhere. Most of them are also not rated for outdoor use and may get damaged from exposure to humidity and moisture.
Ceiling speakers create an immersive sound experience because of their overhead placement. The best outdoor ceiling speakers also feature minimalist unobtrusive designs that blend into your ceiling; some are even paintable.
With the growing popularity of outdoor ceiling speakers, there are plenty of them to be found in the market. They come with varying features and specifications like stereo separation, full-range sound, and stereo imaging. Whether you prefer booming bass or crisp acoustic sound, there is something for you. Below are the best outdoor ceiling speakers in the market.
4 New PYLE PWRC84 400W 8" 1600W 2 Way Indoor/Outdoor Waterproof Ceiling Speakers
The Pyle indoor/outdoor speaker delivers high-quality bass and treble response at a steal price. That means both low frequency and high frequency sounds stream from these outdoor overhead speakers undistorted. Besides New Pyle is one of the best in ceiling speakers producers.
You can listen to upbeat music or acoustic music with pristine clarity. Apart from the high-quality audio, the speakers are also reasonably loud.
The outdoor overhead speakers feature a dual-channel coupled with a dual half-inch polycarbonate tweeter. The benefit of a dual voice coil over a single channel is the flexibility during wiring.
A dual voice coil has three hookup options; parallel, series, and independent. You can utilize these installation options to optimize the amplifier.
The Pyle overhead speaker is one of the best outdoor ceiling speakers because of its weather-resistant properties. It is particularly resistant to moisture and high humidity, therefore, would be ideal for your patio, pool area, or pergola. It is, however, not clear how the outdoor ceiling speaker will fare against direct exposure to rain and UV rays.
The outdoor ceiling speaker is compatible with both a Bluetooth receiver and an A/V receiver. You can link it with an A/V receiver to connect to your outdoor TV and catch a football match by the pool. Note, however, that while the speaker set is compatible with Bluetooth receivers the speaker itself is not Bluetooth ready.
The speakers are controlled remotely which makes it easier to switch to whichever audio content you want.
The outdoor ceiling speaker is also quite easy to install. It comes with pre-construction speaker brackets and has a mounting depth of 3.666 inches. The speaker's grill fits quite snugly into the frame without using any putty or silicone.
Key Features
8-Inch speakers
1600Watt total power consumption
Dual-channel speaker
Dual 0.5-inch tweeter
Remote-Controlled
55Hz 22Khz frequency response
66 mounting depth
Pre-construction speaker brackets included
Pros
Easy installation
Weatherproof construction
Pocket-friendly price
Excellent frequency response for both bass and treble audio
Aesthetically appealing
Cons
Weatherproof rating not listed.
Acoustic Audio R191 In Ceiling/ In Wall 5 Speaker Set 2 Way Home Theatre 1000 Watt
The Goldwood 5-pack speaker reproduces crisp rich sound on all frequency ranges. The speaker set features wide sound dispersion.
Wide sound dispersion enhances stereophonic illusion or the feeling that the sound produced by a speaker is multi-directional. That is why this is the best outdoor ceiling speaker for a surround-sound experience.
The outdoor ceiling speaker set also features two-way full-range sound with a woofer and a 12mm soft dome tweeter. The woofer drives the low to medium frequency sound while the tweeter drives the high-frequency sounds.
The outdoor overhead speaker has a frequency response of 45Hz to 22KHz. While the low-frequency spectrum may seem wanting, the speakers produce a decent bass. Note, however, that with ceiling speakers the bass produced is somewhat dependent on the receiver/ amplifier and the ceiling material.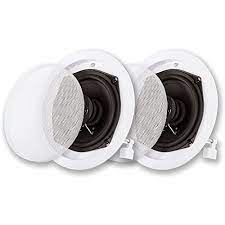 Overall, the speakers are pretty loud with 95decibels at 8ohms impedance. The range of impedance for speakers is 4-8ohms. The higher the impedance figure, the less power the speaker draws from the receiver or amplifier.
The outdoor ceiling speakers are constructed to support the dispersion of high-quality acoustic audio. Each speaker features a polypropylene cone with butyl rubber surrounds. Polypropylene has low sound distortion and enhances high-frequency roll-off.
The outdoor speakers are recommended for installation on sheetrock and other types of drywall. They can be installed on either outdoor ceilings or walls.
This system can easily integrate with new and existing audio systems. They are also compatible with raw speaker wire outputs with a power range from 10-200Watts per channel. Note that CL3 wires are recommended.
When it comes to installation, the pressure lock system makes it very easy to install these speakers. Simply use the provided cutout to make a hole as instructed and the locking system will clamp each speaker to the ceiling.
Aesthetic-wise, the speakers feature a low profile design. They also feature ABS housing and grills that are easily paintable, hence it is among the best in ceiling speakers manufacturers.
Key Features
5 speakers
25-inch high-rigidity polypropylene cone woofers
45Hz-22KHz frequency range
95dB at 8ohm per speaker
625" diameter mounting hole, 3" deep
ABS housing
CL3-rated wire recommended
Pros
Full-range sound
Affordable price
Easy installation
Compatible with most receivers and amplifiers
Versatile installation options; on walls and ceiling
Wide sound dispersion for surround sound feeling
Sufficiently loud
Cons
If your ceiling is not sheetrock or drywall, you may need installation brackets; which are not provided
Cannot be chained, each needs to be linked to the receiver/amplifier during installation
Polk Audio RC80i 2-Way Premium In-Ceiling 8 Round Speakers, Set of 2 Perfect for Damp and Humid
If you want to complete the Dolby atmos setup with ceiling speakers, these are the best outdoor ceiling speakers for that. The Polk RC80i outdoor ceiling speakers are tested and fitted with a variety of features to reproduce authentic sound.
First, the outdoor speaker pair is timbre-matched. Timbre is audio-speak for the distinction between different instruments and voices at the same note and volume.
The best example of timbre is in an orchestra where instruments represent different characters; producing distinct sounds on the same key. Timbre-matched speakers reproduce defined distinct sounds at the same time in the same way for a truly sterling listening experience.
The other factor that makes the Polk AudioRC80i the best outdoor ceiling speaker is its construction. The speaker set features mineral-filled polymer cones that prevent the occurrence of false vibrations. False vibrations distort mid-range and low-range notes causing annoyances that corrupt the audio.
The speakers' design features an eight-inch dynamic balanced woofer coupled with a one-inch tweeter. The tweeter is aimable and features a 15◦ swivel mount.
Unidirectional tweeters limit the reproduction of mid-range and high-frequency notes. Polk's aimable tweeter projects medium and high-frequency notes in your preferred direction. The tweeter also features a level switch that balances out high notes.
The speakers feature strong composite driver baskets that facilitate wider sound dispersion. This ensures you get authentic sound even when away from the speaker's "sweet spot".
The speakers also utilize Klippel motor optimization to produce sounds that project depth and detail on all three frequencies. It also ensures uniform performance with both high and low volume.
The Klippel distortion analyzer is used to optimize audio equipment during their design stage. It does so by eliminating undesirable effects that distort the sound signal.
The Polk speakers are made from rust-resistant and moisture-resistant hardware. This makes them the best outdoor ceiling speakers for humid areas like the kitchen, bathroom, sauna, and a covered porch.
Installing these outdoor ceiling speakers is quite easy as it involves three simple steps. It features paintable aluminum grills for easy customization.
Buyer reviews suggest that the speaker is insulation contact rated (IC-rated). However, they are polarized on whether blown or loose ceiling insulation will affect the speaker's performance.
If you have blown ceiling insulation, you may want to put a cardboard shell around the speaker as a precaution.
Key Features
8" speakers with mineral-filled polymer cones
1" aimable tweeter with 15◦ swivel mount
Timbre-matched speakers
Klippel distortion analyzer tested
20-100 watts RMS
8 ohms
Pros
Outstanding medium-range to high-frequency audio
Decent bass
Moisture and rust-resistant construction
Aimable tweeter optimizes high-frequency sound
Paintable grills for a custom look
Easy installation
Cons
Not chainable
Not ideal for single speaker stereo application
OSD Weatherproof In-Ceiling Audio Speaker Pair-Indoor/Outdoor Stereo-ICE800WRS
The OSD weatherproof ceiling speakers deliver top-range audio quality at a budget. The outdoor speaker delivers pristine high-frequency audio and rich bass.
The ceiling speakers are constructed from durable weatherproof material that also enhances quality audio production.
The OSD ICE800WRS speaker design features an eight-inch polypropylene woofer paired with a polycarbonate tweeter. Polypropylene construction in speakers almost eliminates sound distortion as sound waves pass over it. Polycarbonate is also extremely strong, durable, and flexible.
The speakers also feature Santoprene surround material. Santoprene is weather-resistant and possesses an outstanding flex fatigue capacity; it can withstand sound vibrations without incurring damage for years. Santoprene also experiences low sound distortion, particularly for mid-range and bass audio.
The speakers also feature adjustable tweeters to direct high-frequency sound. If you just want soothing acoustics in your outdoor space, this is the best outdoor ceiling speaker for you.
The speakers have a frequency response range of 38Hz to 20Khz, an impedance of 8ohms, and a power-handling capacity of 150 watts. The speakers are also pretty loud and can reproduce sounds of up to 89dB.
Installing these speakers is quite easy thanks to the dog-ear clamps fitted on them. Note, however, that the manufacturer recommends wiring these speakers with their OSD CL-3 cable.
Key Features
2 8" speakers
Polypropylene woofer
Polycarbonate tweeter
38Hz to 20Khz frequency response
150 watts per speaker
89dB, 8ohms
Santoprene surround
Pros
Fair price
The high-quality sound reproduction on all frequencies
Easy to install
Low profile design that complements outdoor aesthetics
Adjustable tweeters allow for adjustment of high-frequency sound direction
Weatherproof
Cons
The manufacturer does not stock spare parts
8" Ceiling Wall Mount Speakers-2 Way, Weatherproof, Full Range Woofer Speaker System
The Pyle pair of outdoor ceiling speakers deliver an enhanced audio experience to your outdoor space. According to the manufacturer, the speakers feature marine-grade construction for outstanding weather resistance.
You can install these ceiling speakers in a covered porch, bathroom, steam shower, sauna, or under eaves. They should not be affected by humidity.
Apart from durability, the speakers' design and construction material also enhance their audio output. The speakers feature polypropylene woofers that help enhance high-frequency notes.
They also feature a Santoprene surround that is also durable and prevents audio distortion. 0.5-inch polycarbonate tweeters enhance mid-range and high-frequency sound reproduction.
The speakers have a frequency response of 55Hz to 22Khz. They may not have a home-theater-quality bass, but they have adequate bass. The high-frequency notes, on the other hand, are amply taken care of.
If you want cost-effective outdoor ceiling speakers with commendable sound, these are the best outdoor ceiling speakers to purchase.
The outdoor speakers have an 8ohms impedance rating and can handle 400 watts of power. It features a heavy-duty voice coil to handle the power output and to reproduce impeccable voice signals.
The speakers feature a flush mount design and push-type speaker terminals for easy wiring. Even amateurs can take on the installation of these outdoor ceiling speakers as a DIY project. All the mounting hardware is included in the package.
While the speakers feature a sleek and subtle design, they can be painted over to match your outdoor aesthetics. Spray painting is a better option than painting with a brush.
Key Features
Set of 2 outdoor ceiling speakers
Polypropylene woofers
Santoprene surround
5" polycarbonate tweeters
Marine-grade construction
55Hz-22Khz frequency response
400Watts power-handling capability
Heavy-duty voice coil
Pros
Affordable price
Full and rich sound
Decent bass
Paintable
Easy wiring and installation
Cons
Complaints that it degrades within a short period; even forms rust
Herdio 5.25 Inch Bluetooth Flush Mount In-Ceiling 2-Way Universal Home Speaker System
Most in-ceiling outdoor speakers are not Bluetooth enabled. However, this speaker is Bluetooth-enabled with Bluetooth 5.0 technology; the latest Bluetooth version. Bluetooth 5.0 gives the Herdio in-ceiling speaker greater speed and range.
The speaker has a connectivity range of 15-20meters thanks to Bluetooth 5.0. You can now listen to all the custom playlists on your mobile device as you barbecue, get a tan, or relax outdoors.
The speakers deliver stereo sound effects at your convenience. You can also pair it with useful apps like Alexa. If you are more of a tech-savvy person, this is the best outdoor ceiling speaker to try your geeky stuff on.
The speakers will double as a sound-processing digital amplifier.
The speakers come with a Bluetooth amplifier box and connection wires for easy installation. Note that although the speakers are Bluetooth-enabled, they have to be connected to the amplifier box before connecting to devices. Wiring is still necessary for these speakers.
Speaking of wiring, the speakers feature a flush mount design for easy in-ceiling wiring and installation. The design also serves aesthetic purposes.
The speakers are compatible with high humidity and heat conditions. They are ideal for outdoor installation.
Besides the steal price at which this speaker is sold, it also comes with a one-year warranty.
Key Features
Bluetooth 5.0 enabled
300 watts total power output
Bluetooth amplifier box included
Power adapter included in the package
Connection wires included
46 inches diameter
AUX input
Pros
Affordable price
Bluetooth connectivity
1-year warranty
Easy wiring and installation
Resists humidity
High-quality stereo sound
Cons
Klipsch CDT-5650-C II-In-Ceiling Speaker-White (Each)
Knock-off products are the worst. However, with Klipsch speakers, you do not run the risk of buying knock-offs because they are only sold by authorized dealers.
The speakers have tons of features to enrich your listening experience. They deliver versatility and quality on steroids.
For starters, the speakers feature the unique Klipsch loaded horn speaker technology. Loaded horn technology utilizes a larger cone surface area to increase the conversion of mechanical energy to acoustic energy tenfold.
The result is a loud and rich sound with negligible distortion.
The Klipsch CDT-5650-C speaker is designed with top-range material for durability and enhanced sound reproduction. The speaker features Klipsch's signature cerametallic woofer that exhibits a high stiffness-to-mass ratio and outstanding damping. These features prevent the production of muddy low-frequency audio.
The speaker also has a 1" titanium tweeter with a 360◦ swivel aim. Titanium is the best material for speaker tweeters. It can handle high power and reproduce high-frequency notes with resounding accuracy and without harsh edges.
The whole Klipsch speaker is also rotatable at 360◦ for that 3D sound effect. Even audiophiles can appreciate the power of this in-ceiling speaker.
If you want to complete your Dolby atmos setting, this is the best outdoor ceiling speaker for the job.
Other outstanding and convenient features of this speaker are the treble and midbass attenuation switches. These allow you to toggle with the high frequencies and upper bass to lower mid-range frequencies.
You can set these frequencies according to your preferences or the tonal quality of your outdoor space. The speaker delivers an immersive nuanced and detailed listening experience.
The speaker is easy to install, especially if you have pre-existing in-ceiling speaker installation holes. The pre-installed sheetrock brackets on the speaker simplify installation. You can use one speaker for both left and right channels.
The speaker comes with a five-year manufacturer's warranty.
Key Features
6" cerametallic woofer
1" titanium 360 ◦ aimable tweeter
360◦ aimable speaker unit
Loaded horn speaker technology
Treble and mid-bass attenuation switches
50watts RMS
200watts peak at 8ohms
Pros
Ideal for Dolby atmos setting
Flexible audio features for surround sound experience
Sold by authorized dealers only
Easy to install
Paintable grills for a custom look
Outstanding sound on both high-frequency and low-frequency audio
5-year manufacturer's warranty
Cons
Micca 2-Way in Ceiling in Wall Outdoor Speaker, 8" Woofer, 1" Pivoting Silk Dome Tweeter
The Micca M-82 two-way speaker produces a smooth and natural sound. Being a two-way speaker, it delivers fully on both low-frequency and high-frequency audio content.
The speaker's design features a butyl rubber surround and a soft dome tweeter. Butyl is more durable than other types of woofer surrounds while the soft tweeter has better damping to handle high power.
The purposefully selected materials enhance the speaker's audio performance and lengthen its lifespan.
The Micca M-82 outdoor ceiling speaker is of a high excursion variety. High excursion speakers have a more accurate sound reproduction capability than their high-sensitivity speaker counterparts.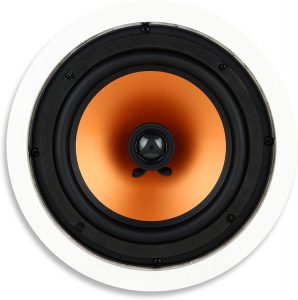 The Micca M-82 speakers reproduce an exceptional deep bass and are quite lively in the midbass. That is due to the high excursion characteristic. High excursion speakers like these also have less resonance.
The speaker features a 6dB crossover network for perfect audio filtration. Crossover networks divert audio to various segments of the speaker according to the audio frequency. It directs low-frequency sounds to the woofer, mid-range frequency sounds to the speaker, and high-frequency sound to the tweeter.
The crossover network in this speaker facilitates the connection between the woofer and the tweeter for exceptionally smooth natural sound.
The speaker is designed to create a broadened listening sweet spot. Its tweeter is also pivoted allowing it to be adjusted for the ultimate surround sound experience.
If you desire more than just background music, this is the best outdoor ceiling speaker for you to purchase.
The speaker unit features mounting tabs that are built in to make the installation process easy. It also features a paintable finish that you can easily customize to match your outdoor décor.
Note that the price listed is for a single speaker unit. But given how affordable it is and the audio quality of the speaker, you can purchase multiple units.
Key Features
40Hz-20KHz frequency response
8Ohms impedance
100watts power handling capacity
90dB sensitivity
Large excursion speaker
Butyl rubber surround
1" soft dome tweeter
Pros
Pristine sound on all frequencies
Robust bass
Less likely to cause hearing fatigue
Installation is a breeze
Pivoting tweeter for surround sound experience
Paintable
Cons
Only one speaker for the price.
Niles CM7SI FG01659 7-Inch 2-Way Stereo Input In-Ceiling Loudspeaker (Each)
Outdoor ceiling speakers are a worthwhile investment. If you strongly believe that you get what you pay for, here are outdoor ceiling speakers worth splurging on.
The Niles CM7SI outdoor ceiling speakers deliver consistent optimal performance. Whether you are using them to play laid-back background noise or upbeat party music, you will enjoy the audio. The speaker delivers stereo imaging that will teleport you to an extraordinary musical zone.
The speaker is constructed from high-quality material that is durable and supports its audio reproduction function. It features a 7" glass fiber cone coupled with two one-inch fluid-cooled ultra-silk tweeters.
Glass fiber is a superb material for making woofer cones because its rigidity reduces resonance and produces resounding low-frequency notes. The speaker's dual tweeters cooling mechanism enables them to handle high power while its ultra-soft dome accurately filters high-frequency audio.
Multiple twitters on a speaker ensure outstanding power-handling, lower impedance, and wide audio dispersion. The woofer and tweeter features above enable this speaker to reproduce audio accurately and deliver a surround-sound experience.
Installing this speaker is a breeze. The speaker features three patent-pending spring-tensioned mounting clamps that ease the process. The sleek speakers almost disappear into the ceiling thanks to their low-profile design.
Saving best for last, the speaker comes with a lifetime limited warranty.
Key Features
7" glass fiber woofer cone
Two 1" tweeters
Ultra-silk, fluid-cooled tweeters
Patent-pending mounting clamps
Stereo imaging features
Pros
Easy to install
Low-profile design
High-quality sound on both ends of the audio spectrum
Delivers surround-sound experience
Weather-resistant construction
Lifetime limited warranty
Cons
10" Ceiling Wall Mounting Speakers- Pair of 2-Way Full Range Sound Stereo Speaker Audio
The Pyle PDIC106 outdoor ceiling/wall speakers have the specifications and features to reproduce sound with outstanding responsiveness.
The pair is a set of full-range speakers with a frequency response range of 35Hz-20 kHz. They can reproduce low-frequency, mid-range, and high-frequency audio with little to no distortion.
The pair of speakers are made from high-quality material that enhances audio reproduction. For starters, it features a 0.5″ tweeter made from high-compliance polymer for quality high-frequency audio reproduction.
The speaker also features an electronic crossover network that directs frequency waves to the appropriate channel for reproduction. The crossover network sends low-frequency audio waves to the woofer, mid-range frequencies to the speaker, and high-frequency waves to the tweeter.
The speaker's housing itself is made from high-quality ABS material that is also stain-resistant. It also features spring-loaded clips for easy installation.
One unique aesthetic factor with this speaker is set is that it comes with interchangeable circular and square grills. The varying shapes give you options for aesthetics.
If you are after Ok bass, good treble, and clear voices, this is the best outdoor ceiling speaker for you to purchase.
Key Features
35hz-20KHz frequency response
5" polymer tweeter
250watts power-handling capacity
8 Ohms impedance rating
89dB sensitivity rating
ABS material housing
Flush design with spring-loaded clips
Electronic crossover network
Pros
Can be mounted on either the ceiling or walls
Easy to install
Affordable price for a pair of speakers
Decent bass, good treble
High-performance specifications
Loud enough
Clean look with different shape grills
Cons
The plastic grill is quite flimsy and vibrates with the beat
Buyers' Guide: What to Consider When Shopping for the Best Outdoor Ceiling Speakers
Outdoor ceiling speakers are quite diverse in terms of features and specifications. One can get lost in the technicalities when trying to identify the best outdoor ceiling speakers to purchase.
Below is a simple buyers' guide to help you establish what you need when shopping for the best outdoor ceiling speaker.
Sound quality encompasses a lot of things starting with your preferred frequency range. Some people like a robust bass while others are okay with good bass and outstanding treble.
Different types of ceiling speakers also reproduce sound differently. You can opt for either a two-way ceiling speaker or a three-way speaker. The former generates high and low-frequency audio while the latter generates midrange audio frequency too.
Features that allow for the attenuation of sound and swivel motion of the speaker also enhance sound quality.
The kind of sound quality you prefer will determine the best outdoor ceiling speaker for you.
Sound quality and the amount you are willing to spend on a ceiling speaker go hand-in-hand. High-performance speakers may cost a little bit more.
Speaker layout in your outdoor space
The number of outdoor ceiling speakers you will need is determined by the space where you want to place them. Ceiling speakers should be placed at least two meters apart from each other for excellent stereo separation and audio dispersal.
If you need more than one ceiling speaker, buying the speakers in sets is often more cost-effective than buying single pieces. However, if the area you intend to install is small, a single piece would do.
The ease of installing the outdoor ceiling speaker may not matter much if you are paying for the service. However, if you intend to install the unit yourself, ensure it has features that will make the whole process as smooth as possible.
Other buyer reviews are your best source of information here.
Marine-grade outdoor ceiling speakers are quite difficult to find. While most outdoor ceiling speakers may not be waterproof, they should at least be weather-resistant.
Look for outdoor ceiling speakers that at the very least are rated for use in high-humidity areas. Ensure you adhere to the installation instructions; if they say under-covered outdoor spaces only, do not install in exposed areas.
Conclusion
Outdoor Ceiling speakers enrich your space with high-quality audio without cluttering your space. We have reviewed the ten best outdoor ceiling speakers with varying features, sound quality, and budgets.
We hope at least one of them appeals to your preferred sound quality and needs. You can also refer to the nuggets of wisdom in our buyers' guide for some clarity as you shop.