Last updated on June 16th, 2022
Nothing spruces up an outdoor space better than versatile seating. When selecting outdoor patio seating, there are two main options. The first option is choosing one of the following; a standard bench, a swinging bench, or a rocking chair. The second option is buying an outdoor glider. The best outdoor glider combines the features of a bench, a rocker, and a swing into one versatile seating option.
An outdoor glider or platform rocker seats more than one adult; just like a bench. The best patio outdoor glider also simulates the rocking chair motion but moves more gently and smoothly. Unlike swings, the base of an outdoor glider is fixed hence it requires less room to move back and forth. Grown-ups, children, and even pets enjoy the smooth movement of an outdoor glider while resting and taking in their surroundings.
Now that we have established that gliders rank top for your outdoor space, the next thing is to find the best outdoor glider. Patio outdoor gliders come in different styles, colors, materials, and budgets. So, which is the best outdoor glider for you?
We have highlighted a variety of the best outdoor gliders along with a detailed buyers' guide to help make this easier.
Here are some of our top picks
1. Outsunny two-person double outdoor glider
Outsunny 2-Person Outdoor Glider Bench Patio Double Swing Rocking Chair Loveseat w/Power Coated Steel Frame for Backyard Garden Porch, Black
COMFORTABLE SLING FABRIC: The ventilating sling fabric surface of this porch rocking chair offers a wonderful lounging experience. It'water-resistant, quick-drying, and UV-resistant, which provides fantastic comfort in the summertime.
STURDY DURABLE FRAME: This double rocking chair has a wide seat and backrest that is plenty enough to comfortably seat two people. Constructed of a rust-resistant steel frame, this glider chair supports up to 440 lbs while weighing only 31 lbs.
CURVED ROCKER ARMS: Attached to the seat frame, the curved rocker arms of this glider chair are heat-resistant, wear-resistant, and provide a smooth feel, which brings increased comfort when lounging and relaxing.
IDEAL FOR DIFFERENT PLACES: Our weather-resistant swinging chair is perfect for your garden, porch, or front yard area. Wherever it's set up and placed, it provides superior comfort and coziness.
PRODUCT INFORMATION: 47.25"L x 27.5"W x 33.5"H, Seat Size: 45" L x 18.5" W, Seat Height: 15.75"
The Outsunny two-person double outdoor glider has a contemporary minimalistic design. It comes in natural tones with a brown frame and a grey sitting area that will blend well with diverse backgrounds.
The patio outdoor glider is built to last. Its frame is made using durable steel while the sitting and backrest areas are made using steel sling mesh fabric.
Steel is a popular material for making outdoor furniture because it is heavy, strong, waterproof, and easy to clean. Steel sling mesh fabric also has a host of features that make it ideal for outdoor furniture. It is abrasion-resistant, quick-dry, ventilated, and is flexible with a large weight-bearing surface for good grip on any load.
Each chair in this outdoor glider set has a weight-bearing capacity of 350lbs. The chairs can safely hold heavy-set individuals and withstand the aggressive handling of a rambunctious child at play.
Both chairs rock back and forth with a smooth gliding motion. You can, however, just rock one chair at a time if you are alone.
The glider requires little space to accommodate the rocking motion – placing it four inches away from a wall is good enough.
The two-person outdoor glider is quite comfortable even without cushions. Some people, however, feel that the backrest has a limited lean. You can solve that little issue by adding a cushion to the back.
The Outsunny glider is the best outdoor glider regarding versatility. You can add cushions to the back and bottom of the chair, or add a head pillow to make it comfier. You can also use it without the diving table.
The patio outdoor glider is weather-resistant and can withstand rain and sunshine. It is also lightweight in case you need to move it during extreme weather. While there seems to be no outdoor cover compatible with this outdoor glider yet, you can just cover it with a tarp.
Pros                                                                     
Outstanding weight capacity
Weather-resistant
Versatile accessory options
The design includes a convenient center table
Low maintenance
Can be placed by the poolside or on an uncovered deck or patio during any weather
Pocket-friendly price
Cons
The instruction manual contains pictures only with no written directions.
A few complaints of squeaking noise as the glider rocks.
2. Giantex Patio Glider Stable Steel Frame for Outdoor Backyard Beside Pool, Lawn
Giantex Patio Glider Benches for Outside, Swing Glider Chair with Steel Frame, 400 LBS Capacity, Patio Swing Rocker, 2-Person Loveseat for Backyard, Poolside, Lawn, Balcony, Porch Glider Bench(Brown)
【Sturdy And Durable】Our this outdoor glider bench use heavy duty steel frame to ensure the sturdiness and durability of the patio bench. You don't have to worry about the warp or damage after using for a period of time and it could support 400lbs weight.
【Steel Frame with Superior Coating】The steel surface of this patio glider bench has powder coating finish to make sure the good good quality of the bench. Besides, this glider could let you have comfortable rocking feeling. Notice: In order to let this glider serve for longer time. Please don't place it outside in rainy days.
【Ergonomically Designed Back Support】-The curved back support offers extra comfort and relaxation for your body. This outdoor glider loveseat can ergonomically fit your back spine at the perfect angle. You won't feel tired or uncomfortable sitting on the bench the all afternoon. It is a good companion of your leisure time.
【Superior Bench Seat Material】-The bench has carefully selected the Texilene as seat part fabric, considering this material has high tensile strength and perfectly fits the human body. It is ideal for your leisure time relaxation purpose. In addition, it does not tear easily and has good ventilation. You will feel extremely comfortable sitting on this bench.
【Super Casual and Natural Style】-The simple and natural style is ideal for any garden, patio or outdoors. It can easily blends into the background and brings casual and chic look to your outdoor garden or patio.
The Giantex patio outdoor glider delivers both comfort and elegance bang on budget. The glider features beautiful dark brown tones that blend well in a natural or nature-inspired outdoor setting.
The outdoor glider consists of a metal frame supporting a sling fabric sitting area. The glider's frame is made from stainless steel that features a powder-coated finish. Powder-coating lengthens the lifespan of the steel frame by preventing it from peeling and chipping.
The sitting area and backrest on this patio outdoor glider are made using Textilene sling fabric. Textilene is the same fabric that is used for making sun shades. It is strong, dries quickly, well-ventilated, tear, and mold-resistant; hence ideal for making outdoor furniture.
Textilene fabric also features a beautiful, natural rattan weave pattern. The dark brown tones of this outdoor glider accentuate the weave pattern on the Textilene sling fabric.
Despite having weather-resistant features, the manufacturers of this outdoor glider recommend that it should not be left outside during rainfall. Constant exposure to rainfall will cause it to wear out fast and shorten its lifespan.
While the glider itself does not come with an outdoor cover, there are recommended outdoor furniture covers you can purchase separately.
The outdoor glider is lightweight hence easy to move away from bad weather. The flip side to being so lightweight is that this is not the best outdoor glider for areas with gusty winds.
The patio outdoor glider also features an ergonomic design and curved back support to offer maximum comfort. You can sit on it for extended periods without feeling a strain on your back. It features a lean back and a comfy, breathable fabric.
Views on the ease of assembling this outdoor glider are quite polarized. However, the scale tips towards the easy assembly side.
The glider can seat two average-sized adults; it is a tad too small for two heavy-set adults. The rocking motion, however, can be used by one person with ease.
Pros
Affordable price
Easy assembly
Comfortable without cushions
Lightweight for enhanced mobility
Cons
Has to be kept away from rain
3. JACK-POT CG-30Z Country Garden Glider Tete-a-Tete, Bronze
JACK-POST CG-30Z Country Garden Glider Tete-a-Tete, Bronze
QUALITY: Our tete-a-tete is made from quality hardwood from Indonesia; A tight grained hardwood free of knots. Sturdy, strong and naturally resistant to warping and rotting; The steel is powder coated to provide corrosion resistance; This product is engineered and marketed by a US based corporation since 1964; Our chairs are best used inside or under a covered area or porch away from direct weather
TESTED FOR YOUR SAFETY: We double check our paint supplier with a third party to ensure our paint is free from toxins; We also perform tests to ensure we provide accurate weight restrictions; This item can hold 250 lbs in each seat
COMFORT: We provide a comfortable product so your child can safely and comfortably sit; We sand the parts for scratch free surfaces and the smooth finish provides easy clean up
2 Chairs connected with a small table
As its name suggests, this outdoor glider is designed to hold two people having a fun and friendly conversation. The tete-a-tete outdoor glider has a total weight-bearing capacity of 500lbs.
The outdoor glider's design comprises a powder-coated steel frame holding wooden slats made from hardwood. Its traditional design will add some rustic charm to any porch, patio, or deck. It may even match your wooden floor.
The wooden slats are made from hardwood fruit trees grown in Indonesia that are tight-grained and knot-free. Finding knot-free wood is almost impossible; you have to acknowledge the manufacturer's effort in finding quality material.
The wooden slats make up the seating area and the backrest.
Most online reviews suggest that the powder-coated stainless steel frame does not rust even when exposed to harsh weather. Plenty of reviews also suggests that the whole outdoor glider holds up well against outdoor elements.
Note, however, that the manufacturer does not recommend direct exposure to the elements for this outdoor glider. It is, however, the best outdoor glider for a screened porch or covered deck.
The manufacturer also includes maintenance instructions to preserve the lustrous clear wood finish.
The wooden outdoor glider is ergonomically designed with a comfortable incline angle. It also rocks smoothly and has a reasonable range of motion; not too wobbly and not stiff.
The glider chairs are comfortable to sit on without cushions. You can still accessorize them with cushions or throw pillows for a pop of color.
This is the best patio outdoor glider to sit with a friend, partner, spouse, or pet and relax. The thoughtful dividing tray can also hold a beverage, reading material, or hand-held devices
Pros
Assembly directions are categorically spelled out
Rust-free powder-coated steel frame
Wood slats are sanded down to remove all splinters that may harm children
Wood slats are painted with toxin-free pain
Comfortable without cushions
Good range of rocker motion
Cons
Assembly is quite tasking
Limited placement areas since it should not be placed directly under the elements
4. Aoxun Patio Loveseat Outdoor Patio Glider Rocking Bench, Porch Furniture Glider
No products found.
If you have back problems or difficulty rising from low seating areas, this is the best outdoor glider for you. The cute patio loveseat outdoor glider features one bottom cushion and two back cushions.
Other comfort features on this outdoor glider include ergonomically curved armrests and a smooth rocker motion. The soothing range-of-motion in this glider will melt all your worries away and allow you to relax.
The glider love seat has a total weight-bearing capacity of 500lbs. It can, therefore comfortably seat two adults.
The outdoor glider is also built to last. Its frame is cast from wrought iron; which is extremely strong and resists dents, bending, and shock damage. The wrought iron frame features an elegant black finish.
The cushions on this outdoor patio glider are available in two color options; peacock blue and beige. Both colors are subtle but elegant and will complement any outdoor space.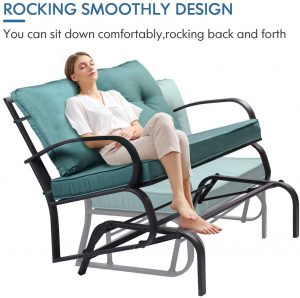 The cushions are 3.4″ thick and are made from a high-quality sponge. They are covered with durable cushion covers that are water-resistant, colorfast, breathable, and stain-resistant.
Note, however, that the weatherproof features are only for cushion covers and not for the stuffed foam. You should keep the cushions away from heavy rain to prevent seepage of excess water into the foam that could cause damage.
Assembling this outdoor glider loveseat is a breeze; it helps that the instruction manual is clear. Once assembled, this piece of outdoor furniture is a gem.
There are a few complaints of squeaking sounds during rocking motion. Reviews, however, suggest that a little lubricant will tackle the squeaking.
The manufacturer offers a 30-day window to handle issues like freight damage on the purchase, missing parts, and other defects on the product.
Key Features
Wrought iron frame with black finish
4" thick high-quality sponge cushions for sitting area and backrest
Loveseat design
Weather-resistant cushion covers
Assembly required
Post assembly measurement: 46"x26.2"x44.8"
500lbs weight capacity
Pros
Enhanced comfort with cushions
Cushions included in the package saves you money
Easy assembly
Features straps to secure the back cushions
Assembly tools included in the package
Durable construction
Cons
The cushions get indentation from sitting quite fast.
Some complaints of squeaky noises from the glider.
5. Giantex Loveseat Outdoor Patio Rocking Glider Cushioned Two Seats Steel Frame Furniture
The Giantex loveseat patio rocking glider combines simplicity, elegance, and a pop of color for the ultimate outdoor seating. It is ideal for placement on a porch, patio, deck, balcony, garden, or backyard and will garner you compliments.
The outdoor glider loveseat features a steel frame that holds seat and backrest cushions. The steel backrest features an elegant interlocking circles pattern that's beautiful to the eyes. You do not have to place the glider against the wall to hide an ugly backside.
The outdoor glider has a weight capacity of 500lbs. It can seat two adults of average weight without getting into each other's' space. And each of them can rock freely without interfering with the other person's comfort. The rocker motion on this chair is so soothing it can rock you to sleep.
While there are ties to hold down the seat cushion, there is no fastening mechanism for the backrest cushions. The backrest cushions can get blown away by the wind; this not the best outdoor glider for windy weather.
All the assembly tools for this outdoor glider are included in the package and the process is rather simple.
Key Features
Steel frame
Backrest and seat cushions included
Straps for fastening seat cushion
500lbs weight capacity
Assembly hardware included
Pros
Durable construction
Easy to assemble
Elegant design
Enhanced comfort with cushions
Ergonomic design
Cons
No straps for holding backrest cushion; they get blown by the wind
Poorly written assembly instruction.
Amish Heavy Duty 800Lb Mission Pressure Treated Porch Glider (4 Foot Cedar Stain)
This traditional style outdoor rocker will lend rustic charm to your patio, deck, porch, pergola, garden, yard, or veranda. It features a timeless design with horizontal-running slats on the sitting area and vertical slats on the backrest.
It quite resembles traditional park benches; except it glides. According to buyer reviews, you can get six to eight inches of gliding motion from this outdoor glider.
That should help you estimate how much floor space can accommodate full gliding motion. Some buyers wish it had more gliding motion though.
The craftsmanship of this outdoor glider is outstanding. The outdoor patio glider is built like a tank; sturdy and solid. It is undoubtedly the best outdoor glider made from wood in the market.
The outdoor glider is made using pine wood. Pine is a softwood bearing the closest features to hardwood. Pine is naturally strong, durable, decay-resistant, shock-resistant, resists shrinking and swelling, and has a distinct beautiful color and grain.
The pine is pressure-treated to enhance its moisture resistance and make it fungi and insect resistant. The pressure treatment helps lengthen the pine wood's lifespan.
And if that is not all; the pinewood is still treated for UV protection and stained with an eco-friendly soy-based stainer. If you prefer eco-friendly purchases, this is the best patio outdoor glider for you.
The bench is available in three natural stunning stains of cedar, dark walnut, and semi-solid black. It is also available in an unfinished version; this one requires sealing at the very least to protect from weathering.
If you do not fancy the ready stains, you can buy the unfinished version and finish it to your liking.
The outdoor glider holds up well against all types of weather. Reviews suggest it can withstand desert sun, Colorado winters, and heavy rain, and still look new at the end of it. Just treat it from time to time for preservation.
The outdoor glider has a staggering weight capacity of 800lbs. Since the seating area is four feet wide, it can seat three average build people.
It is very comfortable even without cushions. You can, however, throw on a seat cushion and some pillows for a pop of color.
Key Features
Pinewood bench glider.
Available in cedar, dark walnut, semi-solid black stains, and an unstained version
Pressure-treated pine wood.
Floor space dimensions: 51″x26″x36″.
Seating area dimensions: 46"x19"x22".
800lbs weight-bearing capacity.
Pros
Sturdy and solid construction
Greed building compliant
UV-treated wood
Outstanding weather resistance
Requires little maintenance for wood
Has a smooth and quiet gliding motion
Eco-friendly.
Easy assembly.
Cons
Poor assembly instruction
Quite heavy to move.
The Esright outdoor swing glider delivers casual-chic vibes and comfort bang on budget. If you have a small space and a limited budget, this is the best outdoor glider for you.
The outdoor glider features a powder-coated stainless steel frame with Textilene mesh sling fabric edged into it. The steel frame is rust-resistant and does not warp with repeated use.
The curved arms on this outdoor glider are heat-resistant hence comfortable under extreme temperature.
The Textilene sling fabric is on the sitting area and the backrest. The advantage of sling fabric is that it is flexible and morphs with the shape of your body to support your weight. The result is unparalleled comfort.
The glider also features a curved back for added support to your spine.
Textilene fabric is ideal for outdoor furniture because of its tensile strength, outstanding ventilation, tear-resistance, and weight-bearing capacity. The Textilene fabric on this outdoor patio glider is also UV-treated for durability and features quick-drying properties.
This outdoor glider holds up well against the sun, rain, and even snow. The frame does not rust while water just rolls off the quick-dry textiline fabric. You can just wipe the water off after it rains and sit on the glider immediately.
Note, however, that the manufacturer does not recommend exposing this outdoor glider to direct rain. You can cover it with an outdoor furniture cover or move it away from the elements since it is lightweight.
Key Features:
Powder-coated steel frame
Textilene mesh sling fabric on seat and backrest
440lbs weight-bearing capacity
5ft glide
Curved back
UV-protected textilene fabric
Anti-slip feet
Assembly tools included in the package
16"H from the ground to the sitting area
Pros
Good weather-resistance
Lightweight for mobility
Easy assembly
Comfortable without cushions (if you must use cushions, use them in cool seasons, not summer)
Lightweight for mobility
Pocket-friendly price
Cons
Limited placement options since it should not be exposed to direct rain.
Outdoor Patio Swing Glider Bench Loveseat Mesh Seating and Smooth Glide Rocker 2 Person Chair
This Outdoor Swing Glider Bench will weather any weather. With a sturdy metal frame and strong mesh fabric, the outdoor glider provides comfort all season round.
It has ergonomic features to keep you comfortable. For starters, it features textilene mesh fabric on the seat and the backrest.
The Textilene fabric has outstanding ventilation properties. As a result, it can keep your body cool in hot weather and warm in cold weather.
The outdoor glider also features an ergonomically curved back that rests your upper back while the mesh fabric relaxes your lower back. It also features curved arms that do not edge into your skin.
Combine all the above comfort features with the smooth, gentle, and quiet back-and-forth glider motion and you have a winner.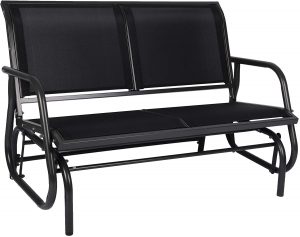 The outdoor patio glider has a weight-bearing capacity of 440lbs. It can safely seat two average-sized adults.
Apart from the good looks and comfort features, this outdoor glider is also quite durable. It features a rust-resistant, powder-coated steel frame.
The Textilene mesh fabric on the chair is also UV-treated to protect it from sun damage. The fabric is also quick-drying to protect it from damage caused by moisture and water.
Not only is the outdoor sturdy and durable, but it is also designed to preserve its aesthetic appeal too.
The outdoor glider requires a bit of assembly but all the assembly tools are included. If you are on a tight budget, this is the best outdoor glider to liven up your space. Although it is quite comfortable without cushions, you can throw on some cushions for aesthetic purposes.
Key Features
Powder-coated metal frame
UV-treated Textilene fabric on seat and backrest
440lbs weight capacity
Assembly recommended for two adults
Assembly tools included in the package
Pros
Sturdy construction
High-quality material
Breathable fabric
Comfortable without cushions
Weather-resistant features
Cons
Terrible assembly instructions make assembly frustrating.
Patio Glider Bench Loveseat Outdoor Cushioned 2 Person Rocking Seating Patio Swing Chair
The Patio Glider loveseat bench features a simple yet elegant design. It has all curves in all the right places for aesthetic appeal and user comfort.
The outdoor glider features a powder-coated alloy steel frame with a rich bronze finish. The bronze finish glimmers when sunlight hits it just right.
The glider comes with a set of three cushions, one for the seat and two for the backrest. The four-inch cushions are stuffed with cotton and are plush and comfortable.
The glider also features curved armrests that are wide enough to place your hand on comfortably. You can, however, add some throw pillows to the arms for added comfort while catching a snooze or reading.
The outdoor patio glider isn't just a looker; it has durability features that make it resilient to outdoor elements. The alloy steel frame is powder-coated to protect it from rust and peeling.
The cushion covers are made from 100% olefin fabric. Olefin fabric is strong, waterproof, and colorfast and resists abrasion, UV-damage, stains, and mildew.
The Olefin fabric cushion covers that come with this outdoor glider are UV-treated to withstand 1500 hours of exposure to direct sunlight. Cleaning the cushion covers is also quite easy; just wipe them down.
Although the outdoor glider has weather-resistant features, the manufacturer recommends keeping it away from the rain. Good thing, the glider is cute and comfy hence can be used both indoors and outdoors.
This is undoubtedly the best indoor outdoor glider for indoor-outdoor living. It has a 500lbs weight-bearing capacity for you and a loved one to sit and enjoy the soothing gliding movement.
Key Features
Powder-coated steel alloy frame
Has a bronze finish on the metal frame
Accessories: 3 cushions, 1 for seat and 2 for the backrest
Three color options for cushions; beige, brick red, and navy
Cushions are stuffed with cotton and cushion covers are made from 100% olefin fabric
500lbs glider weight-bearing capacity
Cushion covers are UV-protected
Pros
Comfortable ergonomic design
Thick and comfy cushions
Weather-resistant features
Durable construction
Cons
No ties to fasten backrest cushions
Misleading mixed up assembly instructions.
Best Choice Products 2-Person Outdoor Swing Glider, Patio Loveseat, Steel Bench Rocker for Deck
If you love minimalist contemporary designs, this is the best outdoor glider to compliment your outdoor space. The outdoor glider features a simple design with clean lines.
The outdoor glider's design features steel frames supporting textilene sling fabric. The steel frame is powder-coated to protect it from rust damage and features a clean black or brown finish.
The advantage of textilene on seating furniture is its textile strength, flexibility, and breathability. Since it is strong and flexible it adjusts to one's body shape and supports the upper and lower back.
The thoughtful design allows you to let go of all the tension in the body and relax. The outdoor patio glider also features a steel spring pivot system that lifts the glider seat and induces the rocking motion.
While the glider is not a swing, it offers enough gliding motion to induce relaxation. The outdoor glider has a weight-bearing capacity of 440lbs. It can seat two average-sized adults comfortably.
The glider is comfortable enough to sit on without a cushion.
The outdoor glider can be placed on a patio, deck, garden, backyard, front yard, balcony, or porch. It has weather-resistant features such as a rust-resistant metal frame and fade-resistant textilene fabric.
It holds up well in any weather. The glider is also lightweight so you can move it about as you please.
The outdoor patio glider is available in two muted color options; grey and brown. At its price point, you can even get two of them and create a little outdoor oasis.
Key Features
Powder-coated steel frame
Textilene mesh sling fabric with a rattan weave pattern
Assembly tools included
Available in brown and grey color options
440lbs weight-bearing capacity
Footprint: 41.3"x23"x36"
Pros
Weather-resistant
Stain-resistant for easy maintenance
Lightweight for mobility
Fair price point
Comfortable even without cushions
Easy assembly
Cons
A few complaints about the quality of some parts
Buyers' Guide: What to Consider When Buying the Best Outdoor Glider
So, how do you go about choosing the best outdoor glider for you? Below are some vital factors you should consider.
Consider the footprint of the outdoor glider after assembly and ensure it will fit in your allotted outdoor space. Second, remember that a glider is only partly stationary.
Consider the gliding range-of-motion and how much more room it will take up. You should be able to get up from the glider without bumping into things.
Some gliders are stiffer and require more effort to activate the rocker motion. Inquire on the length of the glide motion and ensure it is something you can live with.
Buyer reviews are your best friend here. You can also inquire for video footage to see the glider in action.
Comfort is a primary consideration when shopping for furniture. The level of comfort is influenced by the design and material of any piece of furniture.
Look for a glider with an ergonomic design; something with an angled backrest, wide armrests, and maybe cushions or upholstery. Also, consider the comfort level of the material from which the glider is made
Apart from comfort, the material will influence the durability of the outdoor glider. Gliders are made from wood, metal, and different kinds of fabric.
Consider the material that can naturally withstand outdoor elements. Materials that have been treated for rust-resistance, water-resistance, and UV-resistance are the best.
The material also dictates the maintenance process. A wooden glider, for starters, will require more maintenance than a cast aluminum glider. Select an outdoor glider that will be easy for you to maintain
Different outdoor gliders have different weight-bearing capacities. Some can only bear 350lbs while others carry up to 800lbs. Consider who will be sitting on the glider and ensure they do not have to sit with caution.
Kids can also be aggressive with furniture. If you have kids, consider a glider that can withstand their creativity and energy.
The skill that goes into making an outdoor glider defines its sturdiness and durability. Good craftsmanship also makes assembly easy.
Assessing craftsmanship is close to impossible when shopping online. Check buyer reviews on the quality of the outdoor glider
Conclusion
When shopping for the best outdoor glider your needs are primary considerations. The outdoor gliders we have listed above have different features, pros, and cons. However, they are the best in the market.
We hope one of them meets your needs. If you would rather keep shopping, you can refer to our comprehensive buyers' guide for insightful tips. Happy shopping for the best outdoor glider.
Frequently Asked Questions.
What does a glider chair do?
A glider chair is a special type of rocking chair that is made to work as a swing seat. Also, with their non-parallel suspension arms, glider chairs can imitate rocker chairs swinging movement or motion when gliding back and forth.
What is the difference between a glider chair and a rocker?
A notable difference between a glider and a rocker is their movement mechanism. Rockers have curved legs that create swaying motion and a generally stronger movement. On the contrary, gliders are stationary, swinging on a mechanism providing quiet and smooth rides.
How does a glider rocking chair work?
A glider is a kind of rocking chair with a swing set seat type of movement. The whole frame is designed as a seat and is held to the base using a double-rocker bar linkage.
Why do glider rocking chairs make you sleepy?
Glider rocking chairs have the characteristic of creating a rocking movement that synchronizes and stimulates brain wave motion. This rocking and gliding motion helps in producing endorphins which are happy hormones and are responsible for reducing stress and improving sleep