Last updated on September 14th, 2023
When it comes to furnishing your outdoor space four things come to mind; durability, cost, maintenance, and aesthetic appeal. The best outdoor furniture should tick all the boxes above. Wood is high-maintenance, iron is bulky and rusts, and resin gets blown by the wind. That leaves only one option, cast aluminum.
The best cast aluminum patio furniture has a projected lifespan upward of 20 years. Cast aluminum is lightweight, rust-proof, corrosion-resistant, and requires little maintenance. All cast aluminum outdoor furniture; aluminum outdoor dining sets to benches have exquisite intricate designs. They add a bit of color to your outdoor space where your family and friends can relax.
In this guide, we have come up with our best cast aluminum patio furniture picks for various spaces, uses, and budgets. We highlight the best cast aluminum outdoor dining sets in various styles and give tips on how to personalize each set. We also have a kick-ass buyers' guide to help you shop for the best aluminum patio furniture for your space. Without further ado, let us jump into it.
Top 10 Best Cast Aluminum Furniture
Darlee 201603-9PC- 30SLD Cast Aluminum 9 Piece Rectangle Dining Set & Cushions
If you have a large household or love to entertain, this cast aluminum outdoor dining set is perfect for you. The 9-piece patio furniture set includes eight dining chairs, a table, and a cushion for each chair.
The table is long enough for eight adults to sit without rubbing elbows while the chairs are slightly inclined enhancing comfort.
It comes in a remarkable basketweave design.  Cast aluminum, just like cast or wrought iron, is melted and poured into a mold to form stunning intricate designs.
The cast aluminum patio dining has an attractive antique bronze deep brown color and comes with sesame-colored cushions to match. The antique bronze color glimmers when light hits it just right and can be great for mood dining.
The included cushions are covered with 100% polyester which is ideal for outdoor cushions for the following reasons. 100% polyester can withstand exposure to sunlight, is non-permeable to water and moisture, is stain-resistant, and is machine-washable. It is also so strong that it does not get worn or stretched out from constant use and repeated washing.
This best cast aluminum patio furniture is durable and weather-resistant. Aluminum is naturally rust-proof and corrosion-resistant but this set is also powder-coated for scratch-resistance and enhanced durability.
Another thing we love about cast aluminum is that it is lightweight but sturdy. It is easy for you to move this outdoor patio dining set but impossible for the wind to blow away.
All you need to clean this set is to hose it down and away goes grime and dust. If you are the type that doesn't like hosing, wiping with warm soapy water will also do.
We would also recommend that you periodically apply a special wax formulated for powder-coated products on this set. The special wax helps preserve the look and color and enhance durability.
Key Features
92" Lx42" Wx29" H table
The table includes an umbrella hole and a cap for the hole
Powder-coated finish set
8 slightly inclined chairs
8 sesame-colored cushions
100% polyester cushion covers
Only the table requires assembly
Pros
The set is sturdy, light, and durable
Weatherproof material
Comes packaged exceptionally well to protect from damage while in transit
Easy assembly
The furniture has no cushions but is comfortable.
Chairs are stackable to save space when stored away
Commendable customer service
Can be painted if its surface is primed with etching primer
Cons
Christopher Knight Home Exuma Outdoor Expandable Cast Aluminum Rectangular Dining Table
The Christopher Knight expandable cast aluminum dining table redefines versatility and convenience. The full cast aluminum table features an extendable leaf to allow for extra sitting.
The extendable leaf is stored underneath the table and conveniently pulls out and slides back as necessary. Retracting the leaf is a one- person job that requires minimal effort.
The convenient leaf is not the only notable factor about this table; it also has an elegant modern contemporary design. The design features a slatted tabletop, a pair of crossed legs, and a stunning black finish.
Both the table-top and the extendable leaf have a two-inch umbrella hole. The umbrella hole comes in handy with some shade on hot sunny days.
You can seat four to six people on this table if the leaf is not extended.  The cast aluminum outdoor dining table can also seat six to ten people if the leaf is extended.
The number of people you can seat on this table is largely dependent on the size of your dining chairs. Chairs with armrests seat the least number of people while benches can seat the largest number.
Being made from cast aluminum, this outdoor dining table is naturally sturdy, stable, and rust-resistant. It is also powder-coated to enhance its weather resistance.
One downside to this table is that it may not do so well under too much exposure to direct sunlight, heavy snow and heavy rain. You may need to store it away when the weather conditions get extreme.
If you need an outdoor dining table, this is the best cast aluminum patio furniture to complete your dining set.
Key Features
Table measures 63.75"x37.7"x28.75" without extendable leaf
Measures 80.75"x37.7"x28.75" with extendable leaf
The extendable leaf is included in the purchase and stored under the table
Powder-coated finish
Slatted tabletop design
2" umbrella hole on both tabletop and leaf extension
Pros
Affordable price
Expandable on demand
Sturdy and durable construction
Low-maintenance
Easy to clean
Easy assembly; necessary assembly tools are included
Cons
The table does not fold for storage
Umbrella hole cover not included
Hanover TRADITIONS7PCSW 4Stationery 2 Swivel Rocker Chairs and 38"x72"
Between the beautiful bronze color and the intricate patterns, this cast aluminum patio dining set oozes with rustic charm. It is the best cast aluminum patio furniture that will awaken any dead looking outdoor space.
The 7-piece outdoor dining set includes four stationary chairs, two swivel rocker chairs, six two-inch cushions, and a rectangular table. All the chairs have armrests and are slightly inclined to add comfort.
From the high-quality construction material, meticulous craftsmanship, and splendid finish, this aluminum cast outdoor dining set is built to last.
Both the table and the chairs are molded from heavy-gauge rust-resistant aluminum coated with a weather-protective coating. The Weather-protective coating resists moisture and protects the aluminum from UV damage.
The dining set has also undergone high-performance powder coating to prevent peeling and enhance its weather-resistant properties.
Each chair has a 250lbs weight-bearing capacity and is fitted with a two-inch cushion. The cushions are a dream in terms of comfort, quality, and the low maintenance they require.
They are made from polyurethane foam that resists water, oil, grease, mold, mildew, and fungi. The resilient foam also maintains its shape despite constant use.
The high-quality foam cushions are covered with high-Quality 100% polyester fabric that is treated for quick drying. The high-quality cushion covers are also soft to touch, stain-resistant, UV-resistant, and colorfast.
Only the table and the two swivel rocker chairs in the dining set require assembly. For some it may be a breeze to set up but if you are not a handy person it may take a bit of effort but nothing too complex.
All necessary assembly tools are, however, provided in the package.
Key Features
Heavy-duty aluminum frames
Table dimensions: 72"x38"
Chair dimensions:18.11"Dx21.65"Wx16.06"H
Cushion dimensions: 18"Dx20.5"Wx2.5"H
250lbs weight capacity for each chair
Brushed bronze finish
Natural oat color cushion covers with Velcro fastener
Assembly tools included
Pros
Rust-resistant frame
UV-resistant frame and cushion covers
Sturdy construction
Weather resistance
High-quality materials
Rocker chairs give added comfort
Cons
The seats are uncomfortable without the cushions
No umbrella hole
Laurel Canyon Outdoor Dining Set 5 Piece Cast Aluminum Furniture, 4 Patio Swivel Chairs
If you have a tight outdoor space, we have the best cast aluminum patio furniture for your home. This wrought iron outdoor dining set will transform your outdoor space into a covert oasis.
The set comes with four 360-degree swivel chairs and a round dining table. The chairs have an intricate pattern on the backrest, curved armrests, a sturdy circular base, and each has a cushion.
Apart from the 360◦ swivel motion, each chair also rocks back and forth up to a 15◦ angle. You can comfortably sit facing any direction and rock back and forth leisurely.
Each chair has a weight-bearing capacity of 300lbs while the dining table has a 200lbs maximum weight capacity. The chairs are wide and roomy to accommodate even heavy-set people comfortably.
The dining table in this cast aluminum patio dining set is a thing of beauty. It has a basket weave design tabletop and attractive curved legs. Each table leg is fitted with a protective rubber cap tip to keep it from scratching and damaging your floors.
The outdoor dining table also has a 1.97" umbrella hole for versatile use.
Just like every other cast aluminum patio furniture, this dining set is also powder-coated to prevent chipping, cracking, and peeling. The cushions on this dining set's chairs also have fade-resistant cushion covers.
Cleaning this cast aluminum patio dining set is just a matter of hosing it down.
Key Features
4 360◦ swivel rocker chairs with a heavy circular base
Dark brown color cast patio aluminum furniture set
Powder-coated finish
4 fade-resistant cushions included
All assembly hardware included
Pros
The patio dining set is easy to assemble
High weight-bearing capacity chairs
Rocking motion enhances comfort
Easy to clean
Easy assembly
Cons
Very limited and polarized buyer reviews
Hanover MANDN7PCSW-6 Chairs and Rectangle Cast Aluminum Table Brushed Bronze Manor
Covering or removing cushions from your outdoor patio set each time the weather gets rough can be tedious. If this routine has gotten old for you, you should consider buying this cast aluminum outdoor dining set.
The set includes a dining table with a basketweave design tabletop and a centrally-placed umbrella hole. It also includes six 360◦ swivel rocker chairs with a sling-back backrest.
The patio dining set's chairs have a modern, yet ergonomic design that will have you dining in luxury. It combines the leisure of a beach lounger with the practicality of a standard chair.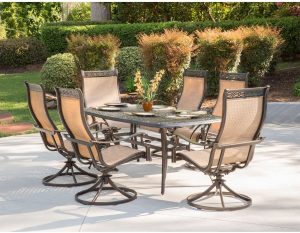 The sling-back fabric on the chairs is made from 100% PVC fabric that is resistant to weathering and abrasion. It is also soft to touch, dries quickly, and is fade-resistant.
Comfort was key in designing the seats in this cast aluminum patio dining set. The sling-back backrest supports both the upper and lower back while the swivel and rocker motion induces laxity.
The arm rests also ensure your arms are comfortable. Weight wise, the chairs can each hold between 250 and 280lbs which is a lot.
If you rate durability in furniture highly, this is the best cast aluminum patio furniture for you. All the cast iron elements on the dining set are covered with a protective bronze coating to slow down wear.
They have also undergone high-performance powder coating to prevent rust, scratching damage, and UV-damage. The cast aluminum outdoor dining set is lightweight yet it can also withstand the gustiest of winds.
Key Features
Table measurements: 72"x38"x28"
Set includes 6 swivel rocker chairs with contoured sling-back backrests
Chair weight capacity: 250lbs-280lbs
Umbrella hole included on the table
Assembly required; assembly tools provided
Protective bronze coating
High-performance powder coating
Brown/bronze color cast aluminum frame
PVC fabric sling-back backrest
Pros
Easy assembly
Comfortable ergonomic design
Durable thanks to protective bronze coating and powder-coated finish
Weather-resistant
Requires little maintenance, especially because it has no cushion
Lightweight for easy mobility
Looks expensive
Cons
Some issues with alignment during assembly suggesting poor quality control
Laurel Canyon Outdoor Dining Set 7 Piece Cast Aluminum Patio Furniture 6 Patio Swivel Chairs
Comfort and style can coexist on the same furniture set as demonstrated by this cast aluminum patio furniture set. The 7-piece cast aluminum outdoor dining set is designed to be a sight for sore eyes and haven for sore limbs.
Design-wise, the dining set features a high-quality cast aluminum frame molded into intricate patterns. It also has a swing-back fabric backrest. The workmanship that went into molding the intricate patterns is phenomenal.
Once you see this dining set, you will automatically want to sit on it; but how comfortable is it?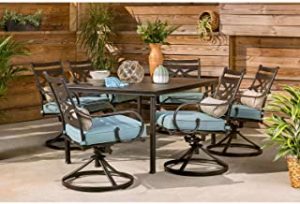 The set has swivel rocker chairs with a sturdy circular cast iron base. The 360◦ movement allows you to sit facing any direction while the rocking motion is soothing.
The sling-back backrest provides support to both the upper back and the lower back enhancing comfort. It is also made from breathable fabric preventing that annoying back sweat.
The ventilation feature makes this the best cast aluminum patio furniture for hot and humid weather. You can sit on its chairs for hours without your skin getting clammy.
The durability features on this 7-piece outdoor dining set include a powder-coated finish and sturdy construction. It can also withstand different climates all year round.
However, if you would rather store this dining set away during turbulent weather, both the seats and the table are lightweight. The chairs are also stackable to minimize storage space.
The dining set is a breeze to assemble thanks to the clear assembly instructions. The Laurel Canyon dining set is also available in 5-piece sets; you can check these out if you prefer something smaller.
Key Features
Set includes a table and 6 swivel rocker chairs with sling-back backrest
Dark brown color
Powder-coated finish
Seats have 250lbs weight capacity
Table 200lbs weight capacity
97" Umbrella hole
Assembly required
Pros
Clear assembly instructions make assembly easy
Comfortable hence no need for cushions but compatible with cushions
Lightweight, yet wind-resistant
Rubber tips on table's legs to prevent floor damage
Sling-back backrest is made using breathable fabric
Stackable chairs for easy storage
Cons
Complaints of a few assembly parts missing
Christopher Knight Home Hallandale Outdoor Cast Aluminum Dining Set for Patio or Deck, 5 Pcs
If you need elegant furniture for your poolside area, consider checking out this Christopher Knight cast aluminum patio set. The five-piece cast aluminum dining set seamlessly combines looks and durability.
The set includes one round table and four stationary chairs with armrests. Both the dining table and the seats feature stunning intricate patterns and elegantly curved legs.
While the furniture set appears black, it is a dark bronze color. The bronze color pops when the cast aluminum furniture set is hit by light.
The cast aluminum outdoor dining set's durability features include powder-coating, all-weather resistance, and rust resistance. Aluminum is also naturally corrosion-resistant hence why this is the best cast aluminum patio furniture for a poolside; chlorine has nothing on it.
The dining set is roomy and up to four people can comfortably sit around the table without rubbing elbows. The intricate patterns on the seats support ventilation so that one is comfortable on the seats in hot or humid weather.
The elegantly crafted armrests on the seats also support the arms without painfully cutting into the skin. An umbrella hole on the table allows you to install an umbrella for shelter on hot summer days.
The seats are comfortable without cushions even when sat on for extended periods. You can, however, fit them with outdoor cushions if you prefer.
The cast aluminum outdoor dining set is evenly smoothened out hence has no potentially hazardous rough edges. It is also lightweight hence easy to move around in case you need to.
Assembling the dining set is also a breeze. Note, however, that you may have to use your wrench or buy one because the one provided in the package is flimsy.
Key Features
Table Measurements: 47.65" diameter and 22.95" height
Seat measurements: 22.45"L x 26.35"W x 34.65"H
97″ Umbrella hole on the table
Made from rust-resistant cast aluminum
Assembly tools included
Pros
Pocket-friendly price
Low maintenance
All-weather-resistant
Easy assembly
Lightweight but sturdy
Comfortable without cushions
Resistant to pool water damage
Cons
Warranty is only valid for 30 days
If one piece arrives while defective, you have to return the entire set
Hanover Traditions 9 –Piece Cast Aluminum Outdoor Dining Set, 8 Swivel Rocker Chairs, and Rectangular Table
The Hannover 9-piece cast aluminum dining set is a worthy centerpiece for any outdoor space. The dining set is elegant and cozy.
The dining set is made from heavy-duty, rust-resistant cast aluminum and features an attractive brushed bronze finish. It comes with eight swivel rocker chairs and an extra-long dining table (84"x42").
While the dining set consists of eight chairs, the extra-long dining table can seat up to 10 people. If you have kids, this is the best cast aluminum patio furniture for you because you can add feeding chairs.
The table is also perfect for hosting a large party of guests in a garden, backyard, or poolside.
There is a 360◦ swivel motion on the dining set's chairs that allows you to turn in any direction and give guests undivided attention. The gentle rocking motion, on the other hand, is quite relaxing and can easily lull you to sleep if you need it.
To add to the above comfort features, the swivel rocker dining chairs also have UV-protected 2.5" cushions. The cushions are an elegant tan color that compliments the dining set's metal frame brushed bronze finish.
The cushion covers are made of polyester and are weather-resistant, stain-resistant, UV-protected, and easy to clean. The cast aluminum frame is also powder-coated for durability.
This outdoor dining set has intricate patterns that will get you plenty of compliments. The dining table also has an elegant lattice border while the chairs have scrollwork detail on the backrest.
Assembly is straightforward, but if you can have more hands to help, the process can be faster. Pro tip! A torque wrench would be more-handy than the provided wrench.
Key Features
Heavy-duty cast aluminum mold with powder-coated finish
Dining table measurements: 84"x42"
The table features an umbrella hole
8 swivel rocker chairs
8" cushions 2.5 inches thick
Cushions are covered by tan-colored UV-treated polyester cushion covers
Cushion covers feature Velcro closure
Pros
Easy assembly
Sturdy workmanship
Durable powder-coated finish
Weather-resistance
Requires little maintenance
Fair price
Cons
Alignment issues in some products and other issues overlooked during quality control
The cushions are thin and quite uncomfortable
Theworldofpatio Elizabeth Cast Aluminum Powder-coated 9-Piece Dining Set
This wonderful antique cast aluminum outdoor dining set delivers class, durability, and comfort on a budget. The dining set features two swivel rocker chairs, six standard dining chairs, and a long dining table.
Both the dining table and chairs feature wonderful pattern details. The dining seats come with plush cushions for a world of comfort while dining.
However, they are ergonomically designed to offer maximum comfort, even without the cushions. They also conduct heat quite well so that they do not overheat and burn the skin on hot summer days.
You can also just relax on the chairs and enjoy watching your kids, grandkids, or pets run around.
The cast iron dining set is powder-coated to prevent peeling and rust. It is also rust-proof and weather-proof for durability.
If you are looking for a weather resistant cast aluminum patio dining set, this is the one to consider. It shows zero signs of wear and tear.
Only the two rocker chairs and the dining table require assembly and you may need to get some help to ease and hasten the process.
Key Features
9-piece set includes 2 swivel rocker chairs, 6 stationary chairs, and one rectangular table
Table measures 84" by 44"
Antique bronze finish
Only rocker chairs and table require assembly
Set includes seat cushions
Cast aluminum set with powder-coated finish
Pros
Easy assembly
Weatherproof dining set
Ergonomically designed seats are comfortable without cushions
Include plush cushy cushions
Lightweight for easy mobility
Sold at a bargain price
Cons
Some reviewers suggest the cushion covers cannot withstand extreme heat
Nassau Cast Aluminum Powder-Coated 8-person Patio Dining Set with Lazy Susan-Antique Bronze
The Nassau 9-piece cast aluminum patio dining set has a cozier feel compared to other 9-piece dining sets with rectangular tables. That is because with a square table everyone is seated equally close to the table's center.
The unique 9-piece outdoor dining set features eight swivel rocker chairs and a 64"x64" square table. The table also has a removable lazy Susan at its center that makes food dishes accessible to everyone.
The dining set only takes up 8 square feet if the chairs are tucked in and 10 square feet if the chairs are pulled out.
You can enjoy your meal without having to pause and pass food around every other second. Both the lazy susan and the dining table have a two-inch umbrella hole that has a cover for when it is not in use.
Apart from the above thoughtful features, the outdoor dining set is also designed for optimum comfort. Each swivel chair can make a 360◦ rotation and also gently rock back and forth.
The set also includes eight 20″x21″ comfy cushions with polyester cushion covers for the chairs. Polyester fabric is ideal for outdoor cushion covers because it is easy-to-clean, stain-resistant and does not wick moisture.
The dining chairs are, however, ergonomically designed hence comfortable to use even without the cushions. The chairs also have ergonomic armrests for the ultimate lounging experience.
The outdoor dining set is powder coated for a durable finish. The expertise that went into creating the basket weave patterns on the entire cast aluminum outdoor dining set is commendable.
The only issue we have with this table is that its design creates bumps on the surface. It will be a great idea to have placemats to prevent glasses from toppling over.
Key Features
9-Piece set with 8 swivel rocker chairs and 1 64-square inch square dining table
Dining chairs include cushions with 100% polyester walnut-colored cushion covers
Assembly required
30" removable lazy susan on table-top
Desert bronze finish
Powder-coated finish
The table features a 2″ umbrella hole with a cover for when not in use
Umbrella hole is on both the tabletop and the lazy susan
280lbs-300lbs weight capacity for the seats
Adjustable plastic levelers
20"x21" cushions
Pros
Easy assembly
Both dining table and chair feature plastic levelers to stabilize and prevent damage to floors
Breathable polyester cushion covers and chair design for comfort
Lightweight set, each seat only weighs 50lbs
Comfortable with or without cushions
Features a convenient lazy susan
Chairs have a high weight-bearing capacity
Cons
Assembly requires a bit of muscle
Buyers' Guide: What to Consider When Shopping For the Best Cast Aluminum Patio Furniture
Cast aluminum is arguably the best material for outdoor furniture. Its general characteristics include strength, durability, lightweight, and weather-resistance.
However, there are specific factors that will make a cast aluminum patio set work for you, your space, and your environment. Let us look at these make-or-break factors below.
Your outdoor space; bet it the deck, garden, patio, balcony, or poolside deck, determines the size and type of outdoor furniture you will buy. Your space has to rhyme with the shape, size, and patterns of the patio dining set.
Ensure people can come to and leave the table without bumping into each other and other objects.
Although cast aluminum patio furniture is made through more or less the same process, the design elements vary. There are contemporary, rustic, classic, and traditional styles of cast aluminum outdoor furniture.
Some outdoor dining sets include swivel rocker chairs, others include standard chairs and others chairs with sling-back backrests. Some also include extendable tables.
Consider the best cast aluminum patio furniture style to match both your home aesthetics and your practical needs.
Most cast aluminum patio furniture chairs are generally comfortable without cushions. However, some people prefer to have their cast aluminum furniture with cushions anyway.
Consider purchasing a cast aluminum patio dining set that comes with cushions so that you are comfortable either way. Purchasing cushions separately is rather costly.
Second, ensure the cushions that come with the outdoor furniture set, or that you will purchase, are weather-resistant.
A cast aluminum outdoor dining set can seat anywhere between 4 and 10 people. Some dining sets have a table that can seat more people than the number of chairs included in the set.
This option might be ideal if you only entertain large numbers of people occasionally. That means the dining table remains warm and cozy when you are not entertaining. You can also opt for an extendable cast aluminum table such as the Christopher Knight Exuma highlighted above.
Cast aluminum naturally has plenty going for it regarding weather resistance. However, there are a few features that could make it even more durable.
Look for cast aluminum outdoor furniture that is powder-coated and UV-treated to ensure durability. A bronze coating also helps protect the cast aluminum from environmental damage.
Cast aluminum outdoor dining furniture often comes in bronze brown or black. If these two colors do not speak to your artistic side, you could customize the set with some paint.
However, ensure that the set you are about to purchase is paintable. Inquire with the seller or the manufacturer on whether the set is paintable.
Have them recommend the best primers and outdoor paints you can use for your painting project.
Although cast aluminum is naturally durable, it is the craftsmanship that makes or breaks a piece of furniture. Strong metals bonded with a weak link do not stand a chance.
Confirming craftsmanship quality can be tricky when shopping online. You will need to rely quite heavily on buyer reviews.
If reviews suggest poor assembly and quality control, walk away.
Cast aluminum furniture has an estimated lifespan of 15 years. It, therefore, only makes sense to have a warranty that corresponds with that duration.
If the warranty seems unreasonable, you may want to walk away.
Return and Exchange Policy
Furniture is a bulky purchase that also requires assembly. If you unbox your cast aluminum dining set and find it dented or defective, disassembling and returning the product is daunting and costly.
Ensure you understand the sellers' return policy and that it is reasonable to you even before purchasing.
Conclusion
Shopping for any kind of furniture can be a daunting task. There are so many options and sometimes things look really good but do not last that long.
We hope that using this guide you will find not only what you are looking for but will also be pleased by the quality and will be coming round for more comprehensive reviews.
Happy shopping!
Frequently Asked Questions.
Is cast aluminum outdoor furniture rust-resistant?
Yes. unlike iron cast outdoor furniture, cast aluminum outdoor furniture does not rust. This, therefore, means that it does not need repainting or refinishing to cover the unsightly stuff.
Which one is better between aluminum and cast aluminum?
While there is no major difference between the two, cast aluminum is much stronger than extruded aluminum owing to the casting process.
Does cast aluminum outdoor furniture gets hot in the sun?
Cast aluminum can get really hot when exposed to direct sunlight. However, unlike most metals, cast aluminum cools down faster when the sun reduces. Also, it does not keep heat like wrought iron and steel furniture.
Can cast aluminum be left outside?
Yes. Cast aluminum is rustproof meaning it can be left outside regardless of where it is used -in humid areas, by the coast, or places that receive high rainfalls.
Is cast aluminum heavy or light?
Mostly, aluminum metals are lightweight and you'll find cast aluminum to be heavier than tubular versions but lighter than wrought iron.