Last updated on February 18th, 2022
If you like spending time outdoors during warmer months like most people, you'll want to make it as livable as possible. Shopping for outdoor furniture requires intelligent and careful planning to get the best bang for your bucks. To succeed in this regard, you must ask yourself, what is the best time to buy outdoor furniture? 
Consider buying outdoor sets soon after Labor Day to get the best pieces at the best prices. This is when most outdoor furniture suppliers put their wares on sale as they prepare for winter and newer models. Prices typically keep dropping far into the season when merchants stop allocating floor space to outdoor furniture. While prices may take a significant nosedive by late October or early spring, you don't want to wait that long because the finest pieces may already be sold out by that time. 
What Is The Best Time to Buy Outdoor Furniture?
It is tempting to think that patio furniture will be cheaper in winter, but it may not be a good idea to target that season for your purchase. 
Immediately after Labor Day, patio furniture suppliers typically start clearing their outdoor stock in preparation for winter. They will put their items on sale through the season and stop devoting any floor space to patio furniture as the winter approaches.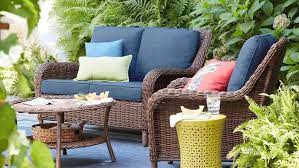 While the low demand for outdoor items during winter should cause the prices to drop, the furniture may be out of stock in most stores at that time. Some sellers will stop stocking outdoor furniture in late fall, while others may continue into early winter. 
Therefore, the best time to buy patio furniture is autumn, right around Labor Day. From late August to October, you'll find patio furniture on sale in nearly every store. Vendors mark down several items with up to 70% off in prices to help offload their current year's inventory. 
As winter approaches, most furniture stores start bringing in new models for the coming season. If you have not bought your patio furniture by this time, you may have to wait till the coming year.  
What should I look for when buying outdoor furniture?
Several factors come into play when you are shopping for furniture. Ideally, you'll look for comfort, functionality, and material. You will also often pay attention to the cost, color, shape, and size of the chair or table.
The considerations are the same when it comes to outdoor furniture, albeit with a few things specific to the outdoor space. Not all furniture is suitable for the outdoor living space, even though most outdoor furniture can be used indoors. Let's go into detail. 
Weather-resistant material 
Is your area hot and dry, or does it experience heavy storms? Do you live at the seashore, or are you somewhere with frequent strong winds?
How you respond to these questions will influence the choice of furniture you buy. For instance, if you live near the coast, where the midday sun is scorching throughout summer, you'll want to buy patio furniture with the best possible UV resistance. 
Sunlight will have little effect on metal. Rubber and plastic, on the other hand, are always vulnerable to UV damage.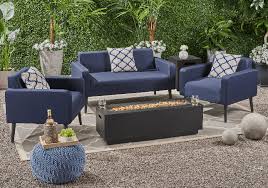 If it often rains in your location, it will help you prioritize waterproof materials when shopping for outdoor furniture. 
A place that is notorious for frequent strong winds may benefit from heavy patio furniture materials. Aluminum or wicker furniture can go flying in strong wind. It would be a good idea to opt for wrought iron or teak in such an environment. Both of these are heavy enough to withstand the wind. 
While wrought iron will stand up to strong winds, it is prone to corrosion. The salty, humid ocean air can cause the metal to rust ten times faster than normal air. It may be disastrous to invest in chairs made of wrought iron if you are living near the ocean. 
If chairs are resting on the grass and soft ground, soft wooden frames may not be a good match. Much as you may find them tempting, softwoods like pine will give in to the moisture from the ground and rot. 
When buying patio furniture for your home, it will help to be realistic about the climate in your region. Pay attention to the inherent properties of the material you're choosing, and buy something that will last in that weather.
Care and maintenance factor 
How much effort are you willing to put in to keep your table looking good? Every outdoor furniture needs proper care and maintenance to keep it presentable and functional.
Cushions may need washing from time to time, while wooden parts will be fine with occasional dusting and wiping. 
The smooth metallic and wooden surfaces may trap less dust compared to fabric. So, while deciding on the type of material to put on your outdoor living space, keep these considerations in mind. 
Fabrics and upholstery will stay looking their best if you keep them indoors away from the elements when not in use. Bringing the cushions and pillows indoors will be part of the care and maintenance your outdoor sets require. 
Go for something that you do not find too hard to care for. Materials that are easy to clean will go a long way in making your life easier and stress-free. 
It will not help to buy patio furniture that is too large for the space you have outdoors. And if you have a large patio, a small set will appear like a drop of water in the ocean. Be sure to measure your outdoor space before deciding on the furniture to put in it. 
While deciding on the size, don't forget to leave sufficient space around the furniture where you can walk comfortably. The same rule of traffic flow you use indoors should apply outside.
A regular dining set may serve you better if you have a large patio. On the other hand, a small yard would be better suited with a bar table set instead. 
Other than the size, the shape of your outdoor space should be something you keep in mind when you decide to buy patio furniture.
Be sure to make a mental sketch of the patio and spatial arrangement that can work for it. Based on this picture, it should be easier to figure out the shape and design of chairs and tables that will fit in. 
In terms of design and color, you need to make a choice that will seamlessly blend in with your existing design and theme. Don't be random. Instead, go for a set that will harmonize with the exterior as well as the interior of your home. 
Not all outdoor furniture is available in natural shades. With a bit of homework, you will be surprised to find out just how bright the outdoor furniture color can be. Whatever you want, from yellows to bold reds and bright blues; it is available in today's market.
Do not skimp on comfort because you will be using your outdoor furniture to unwind and relax. You can buy chaise lounges and chairs with cushions already, or go instead for options that don't come with cushions.
The latter is a good alternative if you prefer to make your own pillows and cushions. In any case, ensure the material is good quality and resistant to fade, mold, and mildew.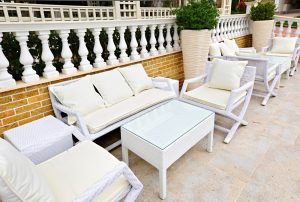 There is a wide variety to choose from as far as comfort goes. Aside from chaise lounges, sofa sets, and daybeds, you can also consider rockers and recliners for your outdoor living space. 
We all want to save on our purchases. When buying your outdoor furniture, you want to consider an option that falls within your budget. 
From high-end teaks to low-budget wickers, there is a chair for every budget. How much do you want to spend? Once you have answered this question, choosing your outdoor pieces will be a breeze. 
Always go for the very best furniture you can afford based on your budget. You can always get a good quality option within your price range. Good quality provides value for money, unlike cheap products that do not last. 
How do I get the best deal on patio furniture?
The secret to getting the best deal on patio furniture is in proper timing. You want to shop for the items when prices are low and before the fine pieces are sold out. 
You should begin to scout the market whether online or brick and mortar stores around mid-August to know when does patio furniture go on sale or the best time of the year to buy patio furniture. If you find the exact piece you want at a reasonable price at this time, buy it straight away rather than wait for the price to go down further.
By the time it is Labor Day, most stores should have reduced their prices enough to give you the best deal on your purchase. If you come across something you like around this time, it would be time to buy.   
Shop for your furniture before the beginning of fall. If you wait till late autumn, you might end up with a much slimmer selection. 
The downside of waiting for prices to drop deeper in the fall is, buyers will be scrambling for the discounted gems. The more you wait, the slimmer the selection gets. This trend continues until sellers stop designating floor space to outdoor items (often towards the end of fall).
Of course, you will not find any sales in winter. So you should have grabbed your pieces by the time the snow starts falling. 
Buying patio items right before summer is unideal. The prices are usually high at the time because people use patio furniture during the hot season. It only makes sense that people start making much of their preparation in the spring, making it a wrong time to buy. 
In the spring and early in summer, you can assume that any outdoor furniture is in top demand, driving the prices through the roof. 
That leaves you with late summer and very early in autumn. This is the time for clearance and close-out sales when outdoor furniture prices are at rock bottom in nearly every store. Take advantage of the low prices and buy your most sought-after sets. 
Buy durable but inexpensive materials. 
Next, you can get the best deal on your purchase by practicing smart shopping. One way is to go for materials that are durable but less expensive. Heavy-duty resin and such as aluminum fall in this category. Also, you can save money by looking for low-priced woods instead of teak.
Consider thrift sales and yard sales.
Also called garage sales, yard sales are informal events where owners sell all sorts of furniture. Since these are usually private individuals selling mainly used items without paying sales tax, you can get high-quality items at throw-away prices compared to the brick and mortar stores. 
Try checking out thrift stores near you, and buy the best furniture pieces or sets you can find. Remember that you can always transform a worn piece of furniture by painting and refinishing it. So, if the price is reasonable and the quality is right, don't hesitate to close the deal on it.  
How long does outdoor furniture last?
There is no standard timeline for outdoor furniture. How much time they last will largely depend on the materials, climate, and the maintenance and care they get.  
Good outdoor furniture can last about 15 years and more. Less durable materials will last less, while the more durable ones will last more than 15 years. 
Depending on the environment, the elements in your climate may cause your patio furniture to weather quickly. You can expect the item to work well until the elements break it down.
What kind of outdoor furniture lasts the longest?
Outdoor furniture made of wrought iron tends to last the longest unless exposed to salty humid air. The salty condition causes the metal to rust about ten times faster than usual. 
Under optimum conditions, however, wrought iron outdoor furniture can last for decades without breaking down. 
Conclusion
Shopping for your outdoor furniture at the right time can help you save a substantial amount of money from your purchase. It can also help you get functional and durable furniture without having to break the bank. 
We hope that the tips in this write-up will help you get an excellent choice of outdoor furniture at the least possible cost. 
Frequently Asked Questions.
What is the best month to buy outdoor furniture?
Although there are other great opportunities during the year if you can get a good deal, most people recommend towards the end of August and October, or early spring to be the best time to buy outdoor furniture.
When does lawn furniture go on sale?
Typically, lawn furniture sales are high during the months of August and October when most stores are clearing their stock for new inventory. Usually, the further from the summer season, the more savings you can make on patio furniture.
What tile is best for outdoor furniture?
The best tile for deck and patio areas is the porcelain tiles. They are durable, non-porous, and fade-resistant. They are clay-based and are baked in a hot furnace, making them crack-resistant in extreme weather.
What is the best time of year to buy a couch?
Basically, the prices of outdoor furniture couches are lowest in stores before stores unveil new stocks, therefore, the best time of the year to buy a couch falls towards the end of the summer and early winter seasons. These two seasons fall within two major U.S holidays-the president's day which comes towards the end of February and Labour day within the first week of September. This gives a steeper discount opportunity for buying outdoor furniture, or couches.