Last updated on September 11th, 2023
An outdoor storage bench is an ingenious piece of furniture that redefines functionality. It offers an ideal sitting area that compliments your patio, deck, or pool area aesthetic, and also offers extra storage space outdoors. The best outdoor storage bench can hold anything from gardening tools, toys, pool equipment, outdoor cushions, furniture covers, and more.
Convenient access to what you need for your outdoor activities without rummaging through your garage or basement is another goodie of these benches. Better still, you can lounge on the bench and enjoy the ambiance of nature once done.
If you are reading this piece, you are already sold on the idea of an outdoor storage bench. We have simplified the process of purchasing one for you by listing the best outdoor storage bench in the market.
They come in different materials, capacities, and finishes. Let us get started.
Lifetime 60254 Heavy-Duty Outdoor Storage Deck Box
For its price and quality, this sturdy outdoor storage bench is a steal. The Lifetime 60254 storage box is constructed from dual-wall, high-density polyethylene. The sturdy material is what qualifies it as a storage bench; it won't warp or crash when sat on. Its design features a 150-gallon (20.45 cubic feet) storage box topped by a chest-style lid.
The lid features a controlled spring-loaded hinge mechanism and automatically opens up to at least 90◦. The lid is lockable, although the purchase does not include a padlock. The two pieces are held together by rust-resistant stainless steel hinges. This outdoor storage bench also comes with a pair of molded handles for enhanced mobility.
Both the lid and the storage box on this storage bench are UV-treated for protection against fading, cracking, and peeling. However, for further protection, it's recommended that you use a UV protection spray on the storage unit.
Weather-resistance is a crucial element in any piece of outdoor furniture and this storage bench is not left out. It is waterproof hence provides a dry and well-ventilated storage compartment. However, to aid its waterproofing capabilities, casing its interior base with silicone caulking is recommended.
Its sturdy construction also ensures that the outdoor storage bench can withstand the gustiest of winds. You can rest assured that all the essentials you store in this outdoor storage bench will be 100% safe.
To further sweeten the deal, the seller also includes a ten-year limited warranty.
Pros
Large storage capacity
Sturdy construction qualifies it as a bench for two adults
Weather-resistant features
Includes a ten-year warranty
Cons
Assembly requires a bit of muscle
Has neither a backrest nor armrests.
Keter City 30 Gallon Resin Deck Box for Patio Furniture
The Keter City 220 storage box takes versatility to a whole new level. The outdoor storage box's practical design makes it fit for use as a coffee table, side table, or an ottoman.It also has a 220lbs weight capacity hence can also be used for sitting.
The storage box comes in a beautiful color and features an elegant natural wood design. It, however, has a greater life projection than actual wood and does not require half as much maintenance.
You can match it to your deck floor or siding to complement your outdoor space.
If you have limited outdoor space, this outdoor storage bench's compact design will work for you. It has a 30-gallon storage capacity and requires little effort to assemble.
The outdoor storage box is crafted from a mixture of polypropylene and resin. Both plastics are known for their high structural strength, impact strength, and moisture resistance.
The material is also treated for UV protection hence it does not dent, fade, or peel. The storage box's interior is also well ventilated to keep your items dry and fresh.
You can use it to store anything from pillows, toys, swimming gear, equipment, and tools, just to name a few.
The outdoor storage box's design features a pair of inbuilt handles for mobility. It is also lockable with a padlock.
Pros
Crafted using strong material
Fits in small spaces
Can be used as sitting
Weather-resistant
Easy to assemble
Cons
Complaints that the parts are flimsy
It is not wind-resistant; unless weighted down.
Rubbermaid Extra Large Resin Weather-Resistant Outdoor Storage Box
The subtle and elegant storage box is constructed from sturdy resin material. Resin is popular for its impact strength, moisture resistance, and temperature resistance.
The outdoor storage box bench also features double-walled construction that generates a strong cushioning effect. If you want a storage bench that will last ages on your porch, deck, or yard, this one is worth trying.
It is a breeze to assemble because no tools are required.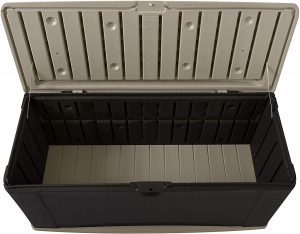 The versatile Rubbermaid outdoor storage box serves multiple purposes. Apart from storage, it can also function as extra seating, an outdoor coffee table, or storing package deliveries.
It has a weight capacity of 300lbs hence can hold two adults without the slightest dent.
The outdoor storage bench has a massive storage space; its internal compartment measures 39.5" by 14.5" by 12". One buyer said that they store six chair cushions in the box without any qualms.
The outdoor storage box is also equipped with weather-resistant features to protect it from rust, leaks, and dents. It in turn protects all its contents from harsh weather conditions. You can lock it too!
You can find it in two subtle and grown colors; sandstone and roughneck. You can also opt to accessorize it with 42" outdoor cushions to enhance your outdoor aesthetics, and to increase comfort.
Pros
2 cubic feet of storage space
Weather-resistant
Sturdy constructions
Can also be used as seating
The lid opens and closes easily
Cons
Complaints that the pieces do not snap into place easily
Assembly instructions are quite vague.
Suncast 50 Gallon Patio Bench with Storage-Decorative Resin Outdoor Patio Bench for Deck
The Suncast 50 Gallon patio bench is comfortable and also comes with the added convenience of storage space. And it's also pretty to look at.
The outdoor storage bench has a cozy traditional bench design that includes a backrest and armrests. It also makes an excellent addition to any garden, patio, deck, or backyard.
It includes a sitting area that measures 54 inches by 21 inches by 34.5 inches. The storage area is 50-gallons and measures 47.75′ by 17.5″ by 16.5″.
We love that the box is hinged making it easy to access your items.
The makers of this bench used poly-resin material. It is weatherproof and will not fade, rust, or wrap.
Picture this, the bench can withstand the heaviest of rain showers and snow. Water tends to just roll off it and all your belongings remain dry.
The outdoor Suncast 50 gallon storage bench features snap-in-place construction, hence no tools are required for assembly. It's great if you are into DIY but not the hardcore stuff.
The storage bench is available in a taupe color. The color is great for hot summers because it reflects heat waves and prevents burns from contact when sat on.
However, if taupe is not your color you can spray paint the outdoor storage bench and achieve splendid results. The bench requires no prep before painting and also has good adhesion properties so once the paint is on, it stays on!
Pros
Quick, easy, and tool-free assembly
Can be upholstered or fitted with cushions for aesthetics and added comfort
Practical and comfortable design
Weatherproof
Sturdy construction
Cons
No inbuilt lock for security
Water pools on it when it after heavy rain.
The Keter Westwood 150 Gallon Outdoor storage box is stunning. It has a natural wood panel finish with an uncanny resemblance to actual wood; including the grain.
It is made from a mixture of polypropylene and resin; both of which all-weather proof. This means there will be no rust, peeling, or dents in the near future.
Apart from offering a much-desired storage solution, the storage bench will also accentuate your outdoor space.
With a storage capacity of 56 gallons, this bench is larger than most storage benches within its price range. Its storage compartment interior measures 56" by 24.6" by 22.8".
You can store almost anything in this outdoor storage bench; from pillows and cushions, to pool covers, and small kids' bikes.
It can also function as seating for up to three adults thanks to its 660lbs weight capacity.
The storage box also has an easy-lift soft close mechanism for easy packing and retrieval of stored items. This is a safety measure that helps prevent smashing of body parts when in use, especially where kids are involved.
The hinged lid is also flat to prevent items put on it from rolling off it to the ground. You can also lock the box to protect the items inside the storage compartment from pets, rodents, and bugs.
Even if you are averse to handy jobs you will find assembling this outdoor storage box quite easy. It requires no tools and takes very little time.
Pros
UV-protected
Has a dry and ventilated interior prevents the development of mold and mildew
Easy assembly
Easy to close and open
Massive storage capacity
Sturdy construction
Cons
Rather high hence does not make the most comfortable seat
Complaints of the lid wrapping
6. Keter Eden 70 Gallon Storage Bench Deck Box for Patio Furniture
If you fancy some rustic charm then this 70-gallon storage box will be an ideal addition to your outdoor space. The Keter Eden 70-Gallon storage box has an elegant, minimalist modern look with a charming wood-like texture finish.
It carries all the character of natural wood save for the high maintenance required to preserve real wooden furniture. All the maintenance this bench requires is wiping with a damp cloth once in a while.
The outdoor storage bench is also weather-resistant and comes with UV protection and waterproof construction. These features prevent the storage box from peeling, rusting, and denting and protect its contents from damage.
It is advisable to wipe off the top of the box after heavy rainfall for the protection of your items
The storage compartment's interior measures 54.6"L by 23.4"W by 32"H. And you can store anything from outdoor toys, to pool equipment in it.
The sturdy outdoor storage bench has a weight capacity of 771lbs. Two adults weighing over 300lbs each can sit on at the same time.
This one is great if you are looking for great aesthetics. It has a backrest and armrests just like a traditional bench. You can also add cushions and upholstery to the bench for comfort.
The best part about it, is that putting it together is a breeze.
Pros
Waterproof construction
UV protection
Requires little maintenance
Quick assembly
Sturdy enough to double as sitting
Cons
Quite flimsy
Only ideal for light-duty storage
Tangkula 47 Gallon Acacia Wood Deck Box
If you have a screwed-in porch or deck, this storage box is the perfect accessory for that space. The rustic storage box is made using real acacia wood and coated with teak oil for a teak-colored finish.
The teak oil also functions to protect the wood from rot, denting, warping, bugs, and weather elements. But the teak oil only makes it weather resistant but not weatherproof.
You may need to re-coat the storage bench with teak oil to help preserve the teak finish and prolong the bench's lifespan.
The storage bench's design has overlapping acacia wood panels on a large wooden frame. It may appear delicate but it is sturdy and can carry up to 355lbs.
The outdoor storage box is also designed for easy use. It has a flexible hinged flip lid that has a round handle for easy closure.
Its storage compartment interior measures 45"L by 16"W by 15"H. You can store tons of stuff in it to keep them safe from the elements.
The acacia wood outdoor storage box is quite easy to assemble. You will have it up in less than an hour even if you are very bad with tools.
Pros
Can seat two adults
Easy-to-use lid
Easy assembly
Elegant design
Cons
It is not weatherproof
Requires plenty of maintenance
Keter Glenwood Plastic Deck Storage Container Box
The Keter Glenwood container box has a contemporary-style natural wood panel design with a brown finish. If you are looking for a touch of modern elegance, this is the piece you have been missing in your outdoor space.
The outdoor storage bench has 101 gallons of ventilated storage space. Its interior measures 48"L by 23.1"W by 22.8"H; you can store anything from garden tools to beach towels in there.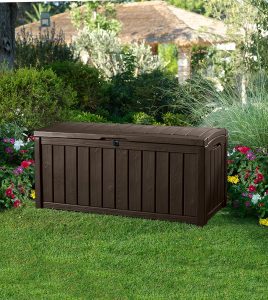 The spacious bench is molded from sturdy and durable polypropylene resin plastic. It has structural integrity and its lid can also hold up to 530lbs.
Since this bench has a flat top, it can also double up as a table if you don't need the extra seating.
The storage box has a pair of hydraulic pistons that help lift its lid with minimum effort. The easy-lift and soft-close mechanism also double as a safety mechanism that prevents users from bumping their fingers with the lid.
The Keter Glenwood 101 Gallon outdoor storage bench is also a breeze to assemble. All you need is a screwdriver and you will be done in an hour tops.
The storage box bench is also weather-resistant but not weatherproof. It may be a great idea to line it with waterproof paper to provide better protection for the items you are storing.
Pros
Lockable with a padlock
Easy to assemble
Easy to pack and retrieve items due to the lid's hydraulic mechanism
Weather-resistant
Built-in handles for mobility
Cons
Complaints that the bottom panel is quite thin hence cannot hold heavy stuff
The actual storage box color is darker than advertised
Lifetime 60298 Heavy Duty Outdoor Storage Deck Box
If durability is the primary feature you seek in an outdoor storage box, then you need not look any further. The Lifetime 60298 heavy-duty outdoor storage box was built to defy any weather conditions.
It is made using dual-wall high-density polypropylene. Polypropylene is sturdy, but a dual wall doubles the storage box's structural integrity.
The polypropylene used to make this piece is also UV-treated to protect it from wrapping and fading. The manufacturers of this Lifetime heavy-duty outdoor storage box stand by their product with a ten-year warranty on every purchase.
The box's interior compartment has a massive storage space of 130 gallons. You can store all types of items in there with room to spare.
Apart from extra storage, the outdoor storage bench can also be used to create extra outdoor seating. The lid has a staggering weight-bearing capacity of 900lbs.
It can hold two adults of any body size without caving in. The lid's top is flat and can be made more comfortable with a set of cushions.
The outdoor storage bench has a pair of molded handles on the sides for easy mobility. Another fantastic feature of this box is a controlled spring-hinge lid that makes it easy to close and open.
The box is also lockable for extra security.
Pros
Easy and quick assembly as
All the necessary assembly tools are categorically listed in the manual
Includes a 10-year limited warranty
UV-protected
Water-resistant
Rust-resistant and sturdy metal joints
Cons
Poor customer service by seller
No backrest or armrests
Keter Novel 90 Gallon Resin Deck Box Organization and Storage for Patio
The Keter Novel 90 Gallon outdoor storage box has an exquisite wood panel design. It has a hidden storage compartment that has a 90-gallon storage capacity.
You can store anything from outdoor cooking gear to outdoor toys in there. The interior cavity is dry and ventilated to protect your belongings from mold and mildew.
You can also lock the lid either for security or to prevent animals from destroying your stuff.
The massive storage bench is made from sturdy polypropylene resin plastic for durability. Even better, the resin is UV-treated to prevent the box from damage like wrapping, fading, peeling, and dents.
The storage unit/bench is super quick and easy to assemble. You should be able to wrap it up in less than an hour. And you do not even need tools!
Apart from convenient outdoor storage, the box doubles as outdoor seating. It has a weight-bearing capacity of 485lbs and can safely hold two adults.
You can place a cushion pad on top of the storage bench's lid for added comfort.
The multi-purpose outdoor storage bench is available in three color options; brown, grey, and taupe. You can pick the one that best compliments your outdoor space décor.
Pros
Weatherproof
Has a lockable lid
Straightforward assembly
UV-protected
Cons
The product does not have a warranty
Buyers' Guide: What to Consider When Shopping For the Best Outdoor Storage Bench
There are plenty of outdoor storage benches in the market. The vast number of brands, sizes, and designs can make shopping for one overwhelming.
To prevent you from drowning in sales pitches, we have compiled a simple and clear buyers' guide for you. Below are some factors to consider when shopping for the best outdoor storage bench online.
The measurement and capacity of the ideal outdoor storage bench are determined by your storage needs and your floor space. If you live in a tight space, avoid bulky furniture pieces that will hog the entire floor space.
The aim of storage is the intensive use of space; not space misuse.
Just like with any other piece of outdoor furniture, aesthetics also matter with outdoor storage benches. Ensure you select a design that compliments your outdoor space rather than standing out for the wrong reasons.
If the outdoor bench is not available in your preferred color, you can paint it after purchasing. However, ensure that the material and the color in which the storage bench comes can be seamlessly painted over.
Multiple functions/versatility
The best thing about an outdoor storage bench is that it serves at least two purposes; storage and seating. Note, however, some products are described as multi-functional yet their limited weight capacity cannot withstand being sat on.
Ensure that the product description and the specifications corroborate.
The material from which an outdoor storage bench is constructed often determines its durability, weather-resistance, and sturdiness. Most outdoor storage benches are made from either some form of plastic or wood.
Ensure the material you select is sturdy, well-constructed, weather-proof, and requires minimum maintenance.
Comb through the reviews and ensure the product you settle on will not frustrate you while assembling. It should also not force you to buy new equipment you may probably never use again.
Read through the customer reviews to get a glimpse of how the seller handles complaints and returns. You may buy a defective product and need guidance with replacement or processing a warranty.
Summary
One factor that sets outdoor storage benches apart from other types of furniture is their multi-functionality.  They create more space than they take up and also bring order to your outdoor space.
Now that you know how to identify the best outdoor storage bench, it is time to spruce up your outdoor space. We hope one of the ten best outdoor storage benches we have highlighted above will work for you.