Last updated on February 18th, 2022
Having a convertible bench is a great way to elevate your outdoor space. Besides simplifying your existing arrangement, it also makes the place much more comfortable.
Picture yourself with a book, coffee by the side, getting knocked by the cool summer breeze – believe me, it doesn't get better than this. It's no wonder more homes are getting populated with these benches today.
If you're looking for the best outdoor convertible bench on the shelf, then you've come to the right place.
While the market is filled with many of these benches, finding the right one that will meet your needs can be quite overwhelming, especially if it's your first time.
Without paying attention to crucial factors such as design, comfort, strength, and aesthetics, you're most likely to end up with a squeaky bench that looks unattractive and uncomfortable.
So how exactly do you identify the right model? Well, that's why we are here!
Our Best Outdoor Convertible Bench Review
Our goal with this review is simple – to make it easier to find a lifetime convertible bench of your dream. Our selection comes after a lot of research and testing. In the next section, we provide a detailed guide on choosing the best outdoor convertible bench so you understand how the process works.
Let's delve in…
Premiere Products 5RCAT Resin Convert-A-Bench, White
There's no better way to start the list than with an excellent conversion bench that speaks volumes both in quality and performance. Premium Products 5RCAT is one of the best outdoor convertible benches in the market today.
Is it sturdy? Yes. Is it easy to clean? Yes. Does it readily convert to a table? Obviously!
Of course, any good standard convertible bench should have all these. So how does the 5RCAT stand out?
First, we will start with the appearance. The bench comes in three color options – White, Tan, and Sierra timber – which are all attractive and make great additions to your patio or outdoor space. Though not particularly loud, it would be very difficult for it to go unnoticed.
Next, let's look at the build quality.
Like most premium models, the 5RCATConvert-A-Bench is made from high-quality materials that guarantee its strength and durability. Specifically, it is made from maintenance-free resin and vinyl, making it super easy to clean.
With the right kind of care, the bench maintains its shine for a very long time. In other words, you won't have to worry about rot or need to repaint again after a few months.
In addition, the bench converts easily to a table using just one hand. With only 37.1 pounds overall weight, this may not be the easiest furniture to move around, but it's nothing you can't handle. You can always get help if required.
Overall, this is a nice looking bench that works well for both indoor and outdoor use. For its price, you will hardly find a better alternative.
Key Specs
Dimension: 59 x 21 x 7 inches
Weight Capacity – 1000 lbs
2-in-1 Convertible Bench (Backbench & Tabletop/w bench)
Weighs 1 pound
Made from maintenance-free resin and vinyl
Pros
Very sturdy
Reliable quality (made in the USA)
Easy to maintain
Elegant design
Easy to assemble (takes only 10-20 minutes)
Cons
The tabletop bench is somewhat small (not best for more than two persons)
2x4basics 90110ONLMI Custom Flip Top Bench to Table
The Hopkins 2×4 Basics Custom Flip Top Bench is a great solution if you're looking for something to simplify your garage organization. It comes with virtually everything you need to make a convertible bench that is both sturdy and comfortable.
So what can you expect?
The package comes included with brackets and screws for making the bench.
Set is relatively easy, especially if you have some DIY experience. It can take anywhere between 1 – 2 hours to assemble the two benches.
The instructions provided are clear and straight to the point. So anyone can do it with a little bit of courage.
We highly recommend applying paint or varnish to your wood before you start building the bench. In most cases, you want to use something shiny and weather resistant. This can greatly help in improving its overall visual appearance and also ensuring it survives the winter.
Treated lumber generally works fine. Though it might make the bench a little heavier, it will guarantee it lasts for a very long time giving you a lifetime convertible bench.
The ability to select your own wood makes it possible to customize the bench as you want. However, finding the right wood may not always be easy.
To ensure easy conversion, the bench utilizes a patented slide-lock. The table conversion gives you two benches that can seat up to eight people.
Overall, we think this is easily the best outdoor convertible bench out there for less than a hundred bucks. It comes highly recommended.
Key Features
2-in-1 Convertible (Bench & Table)
Heavy gauge brackets
Wood material
Dimension: 25 x 6 x 25.5 inches
Weighs 13.2 pounds
Pros
Space-saving storage
Lightweight
Highly customizable
Easily bench to table conversion
Stable construction
Cons
Lumber not included
Not very easy to put together
Lifetime 60253 Outdoor Convertible Bench
It is difficult not to love a furniture piece that is connected to Lifetime. So it's no surprise the Lifetime 60253 comes off as one of the best convertible outdoor benches out there.
One of the first things you will notice about the bench is its wood-like appearance. But it's not actually wood but composite plastic. Specifically, what you see is polystyrene simulated wood.
The use of polystyrene means the bench will not warp or splinter, which is a common problem with wooden benches. In addition, the Lifetime 60253 also comes with UV protection, so you don't have to worry about it peeling or fading sooner.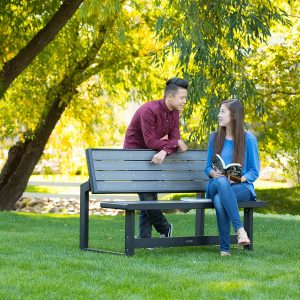 For the frame, powder-coated steel is used, which makes it rust-resistant and thus long-lasting.
Ordinary, "plastic wood" benches tend to be quite expensive, but the Lifetime convertible bench comes at a more reasonable price, which makes it attractive even for budget buyers.
The quality of the material used makes it great for outdoor use and all-weather types.
However, sitting on the surface for a long period of time can be a little hard. So you might want to add a seat pad.
Also, even though the bench construction is all-weather, we still advise putting a cover over it during winter or generally when not in use for a long time. This makes cleaning a lot easier when you eventually start using the bench again.
To create a full-size picnic table, you will need to purchase two of the benches.
Key Features
Dimension: 5 x 14.2 x 34.9 inches
Material – Polystyrene
Weighs 77Pounds
Alloy Steel, Wood Frame
Pros
Easy to clean
Features slats for quick water drainage
Instant release conversion from bench to table
Solid quality
Relatively easy to setup
Cons
It can get a little hot on high sunny days.
Quality control can be an issue.
Best Choice Products 2-in-1 Transforming Interchangeable Outdoor Bench
Best Choice is undeniably one of the most reputable brands in the world of crafts and furniture, so you would expect a convertible bench from the company to be in the top class. This is exactly what you get with the 2-in-1 Transforming Interchangeable Outdoor Bench.
If you're looking for something "magnificent" and long enough to comfortably support up to four adults, then you won't go wrong with this bench. It is made from natural wood which is sturdy enough to hold up to 4 adults when used as a picnic table and 2 when converted to a bench.
As expected, the bench has a simple setup procedure. You will find an instruction manual in the package for this purpose. You can also lookup online if you need further help. The whole setup shouldn't take you more than 30 minutes if you know what you're doing. Having another person around to assist you can make things a lot easier. You can do the screwing while the other person holds the pieces together.
We recommend applying stain and varnish to the wood material to keep it safe from the weather.
It's designed with an inbuilt umbrella hole at the center of the tabletop/backrest. The hole is standard that can hold modern design umbrellas so you are protected from the UV sun rays whenever you're using it outdoors.
Having this around will help you save space on your deck or patio. You can also use it indoors.
Overall, this is easily the best convertible outdoor bench out there for its price. We highly recommend it if it fits into your budget.
Key Features
Dimension: 57 x 54 x 30.25 inches
Material – Fir Wood
Weighs 5 Pounds
Built-in Umbrella Hole
Weight Capacity – 380 pounds
Pros
Nice looking natural wood design (can also be painted to any color)
Super sturdy
Great sizing
Space-saving
Reasonable pricing
Cons
The Merry Garden Picnic Bench Table is an excellent choice if you're looking for something to optimize a small patio. It doesn't only look nice but also comes with a reasonable price tag.
As expected, the piece doubles as a picnic garden bench seat and a patio dining table big enough to accommodate up to four adults or kids. And yes, it has a simple transformation.
For the construction, the bench uses high-quality kiln-dried Canadian hemlock furnished with an oil-based stain for better performance and durability.
The installation also appears to be easy. All the instructions and hardware required are included. So it's just a matter of following the steps. But even without the instructions, an experienced DIYer would still do a good job.
Even though the bench is sturdy, I wouldn't advise plopping yourself down in the middle for too long. You're better off on the side, even when sitting with someone. As earlier indicated, you can have up to four kids on it at a time.
You can paint or prime the bench if you wish, but it still looks good as it is.
There's an umbrella hole that enables you to fit an umbrella for additional shade. This can be quite useful on very sunny days.
Thankfully, the bench doesn't weigh much, so moving it around the home shouldn't be a problem.
Key Features
Asian Fir Wood Material
Dimension – 57 x 54 x 30 inches
2-in-1 Convertible Bench
Weight Capacity – 500 pounds on each side
Overall Weight – 27.9 pounds
Pros
Versatile (can be used both indoor and outdoor)
Optional shade
Sturdy construction
Easy to switch between backbench and table
Nice looking
Cons
This convertible garden bench and a picnic table from Leisure Season is another option to consider if you need extra seating in your yard or just want something to spice up the place.
The unit offers two seating option, which works for both big and small groups. In other words, with just one unit, you get two garden benches and a picnic table.
Another thing we like about this unit is that it's built to last. Like many premium models, it features high-quality materials that guarantee its strength and durability.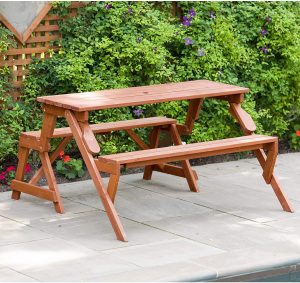 Specifically, it is made of cedar and cypress wood and furnished with a protective coating to prevent fade and decay. Thus unlike many wooden constructions, this holds up well against the elements and will last for a very long time, making it the ideal outdoor bench for all-year-round use.
It weighs 46 lbs which we consider lightweight considering the amount of space it offers. Compared with other outdoor convertible benches, it ranks well on the portability scale. This unit is stained with mid-brown color to blend well with your patio, backyard, or garden décor.
Putting the bench together can be a bit of a hassle for some people as the manual provided contains only picture instructions. But you can always check online if you need more help.
Key Features
2-in-1 (Bench and Table)
Dimension: 58 x 30 x 55 inches
Material: Cypress
Overall Weight: 44 pounds
Pros
Dual functionality
Great value for your money
Sits up to four persons
Easy to fold and store
Easy to maintain
Cons
Not the easiest to assemble
7.    Safavieh PAT6753B Collection Ruben Grey Outdoor Bench
The Safevieh PAT6753B is another lifetime convertible bench that can add a fresh look to the existing style you have in your backyard or patio. It offers a good number of features that separate it from many standard outdoor benches out there.
Of course, the most obvious highlight is the dark grey finish, which can bring a perfect accent to your space. The use of acacia wood also guarantees the longevity of the bench. Safevieh PAT6753B generally makes some of the best quality craft products in the market, and this bench is no different.
Another thing we like about this unit is its versatility. It takes only a matter of seconds to easily convert from bench to a picnic table, and vice versa. And this is done by folding the top portion. This can be handy when you're looking to create some extra space for a table in your balcony or yard.
The entire unit weighs about 26.4 pounds, so you should be able to move it around without issues when the need arises.
Overall, this bench will make a great addition to any outdoor space. Its table option, which also features a lower seating bench, makes it a good choice for anyone desiring more out of a bench than just sitting to relax. Having two of these will give you a complete picnic table with more space for sitting.
Key Features
2 Color Options (Gray & Natural)
Dimension: 28.7 x 45.3 x 33.5 inches
Overall Weight: 26.4 pounds
Acacia Wood Material
Pros
Nice looking bench
Solid build
Good value for your money
Easy to assemble
Compact size
Cons
It might fade sooner (consider applying some protectant)
Ashgrove Folding Table Convertible Bench – 2-in-1 Indoor/Outdoor Bench
The Ashgrove outdoor 2-in-1 bench is another model that excels highly in quality and function. It is one of the few convertible units that feature both metal and solid wood in its construction, making it highly durable and thus suitable for everyday use.
Overall, if you're tired of using rickety benches that do not live up to their expected lifespan, then investing in a high-quality unit like Ashgrove is a great move.
Like the other benches on the list, this one is also easy to assemble. In fact, it comes partially assembled, making it possible to set up at a go. This alone is a huge plus, considering the fact some benches can take a whole weekend to assemble.
You will find detailed instructions in the package. Just follow the steps, and you should have your bench ready in no time.
Another thing we like about this bench is how easily it transits from bench to table (and vice versa) in just one smooth movement. One arrangement is a high-backed bench seat, while the other is a picnic-style table with two slat benches.
With the table set up, each seat can hold up to 440 pounds, while for the backbench, it's up to 650 pounds.
Key Features
2-in-1 Foldable Convertible Bench/Table
Solid Wood Material
Heavy-duty Metal Frame
Dimension: 51.5 x 61 x 31 inches
Overall Weight – 99 pounds
Pros
Sturdy metal frames
Quick conversion
Reliable quality
Great for both indoor and outdoor
Space-saving folding design
Cons
Buying Guide – How to Choose the Best Outdoor Convertible Bench
Whether you're looking to upgrade your backyard or add extra sitting to your patio, the guide below will help you find a convertible bench that will serve you well.
Material
Like any other furniture, the type of material used for the construction of a convertible bench goes a long way in determining the strength and whether it will last or not.
Some of the more common materials you will find are wood, plastic, and metal. While all these materials work great, quality is often what separates a good piece from a less durable one.
Wood is commonly used by most brands, and this is largely due to its all-natural style and feel. Some of the best options include teak, pine, and natural cedar. All these can last for years; however, benches made of cedar and teak may cost a bit more. Natural wood is also another good option, but it doesn't do so well against weather elements.
When looking for quality, lumber is often the best choice, especially when treated.
Convertible benches made of plastic or resin are also pretty popular. Such benches tend to be very easy to maintain, budget-friendly, lightweight, and long-lasting. They may also come in various color options, which in most cases, are bolder than their wooden counterparts.
Metal convertible benches are less popular and may be made of aluminum, iron, or alloy.
Size
Size is another variable that must not be overlooked when searching for the best convertible outdoor bench to suit your needs.
Some of the factors that can influence your choice include your family size, amount of available space, and purpose.
If you're looking for something to replace a full patio dining set or sit the whole family, then a longer or larger bench may be a preferred option. However, if you're just trying the spice up the place, then you will likely focus more on style, and thus size may not matter much.
Whatever your reason is, you should get a bench that can fit into your available space. So you need to examine the dimensions before making a purchase decision.
Another feature that is nice to have is a foldable design, as this makes storage easier, even with a large bench.
Weight Capacity
The last thing you want is a bench that is not "strong enough." While you may be able to get away overloading it for the first few months, it will eventually lose its structural integrity and break down before you know it. Things can get out of hand, and injuries may follow.
For this purpose, you should check the bench weight capacity and make sure it's adequate to comfortably support the intended users. A bench primarily meant for adults will likely have a greater weight capacity than one to be used by little kids.
Capacity is largely influenced by the build quality of the bench. This is why the type of construction materials used is such a big deal. A stronger material will ultimately result in a stronger bench.
Style
While quality and performance should always be your top priority when purchasing any piece of furniture, it is also a good idea to go for something "befitting." In other words, you should choose an outdoor bench that will easily blend into your garden space.
The market is filled with various convertible bench styles. Some of the more common ones include wooden, traditional English, classic porch, amongst others.
Any one of these styles would do as long as it fits your outdoor décor and preference.
Budget
How much do you plan to spend on the bench?
Like many other items, the price range for convertible benches is pretty wide. So you will find both cheap and expensive models. It is important to note that a cheap product doesn't mean poor quality. In the same manner, not all expensive models do well.
We always recommend prioritizing quality over every other thing. Luckily, most of the items we have on the list are affordable, so price shouldn't be much of an issue.
Final Words
There you have it – the best outdoor convertible bench 2021.
Now, you are armed with all the knowledge you need to find the right bench. It's time to shoot!
While there are other good models out there, the ones here have been thoroughly researched and tested. So whichever one you choose, you can be rest assured you are getting quality and functionality in one place.
We hope you enjoyed the read, and we were able to solve your problem. Let us know if you have any more questions.
Frequently Asked Questions.
What is the best outdoor convertible bench?
It's difficult to say without sounding biased but generally speaking, the best outdoor convertible bench for you is the one that best aligns with your needs and preference. While we may have favorites like the Lifetime 60253 and 2x4Basics, all the items on the list are potential winners that give you a great picnic table and a bench depending on the number of people you'd love to occupy it.
What kind of maintenance is required for an outdoor bench?
This largely depends on the type of construction material used for the bench. However, generally, normal wood furniture usually requires more maintenance and protection as they tend to be most vulnerable. This often involves applying oil and sometimes sealant finishes. Metal benches should be covered or taken inside during rain or strong winds. Plastic usually requires the least maintenance. This also applies to other synthetic materials.
How can I restore an old convertible bench?
Again, the type of material used will play a huge role. But the general process involves checking for damages, repairing those damages, cleaning the bench, and finishing. This often requires some level of DIY skills. You can also find many helpful videos online.