Last updated on September 22nd, 2023
Spending time in the sun is a great way of acquiring vitamin D and getting tan on the skin. And there's no better way to go about it than with a lounge chair.
The best outdoor lounge chair for sunbathing and tanning should not only look great but also be comfortable and weather-resistant. Our top picks are perfect for pool, patio, and beach. They also excel in design, comfort, and durability.
So if you're looking to get a tan treat on a new lounger, then you should start the list. Our recommendations come after a lot of testing and research. 
[amalinkspro_table id="6230″ new-window="on" nofollow="off" addtocart="off" /]
We've also included a buying guide section that highlights the key things to consider before making your final selection.
But before we hit the meat of the review, let's start with the basics.
What is Sunbathing?
Sunbathing is an act of sitting or lying under the sun. This is mostly done for the purpose of tanning.
Tanning can be helpful in situations where the use of moisturizers and sunscreen are simply not enough to achieve a healthy skin glow.
However, beyond the skin benefits, sunbathing is also an excellent way to get more natural vitamin D, which cannot be supplied by your diet. With more vitamin D in your bloodstream, you can benefit from stronger bones and healthy brain function.
Sunbathing is also used as a form of therapy to reduce depression, replenish loss energy, boost your immune system, and induce better sleep.
During longer sunny days, it can also help to boost your mood to the point you feel focused and calm.
The old-fashioned way of sunbathing is to lie in the sun, on the beach sand. Nowadays, most people use outdoor lounge chairs or tanning beds.
While sunbathing is highly beneficial, it can also come with health risks such as sunburn. To play it safe, try not to spend too much time out, especially when the sun is too hot.
What is Tanning?
Tanning is the act of exposing one's skin to UV rays from the sun to achieve a darker color or brown complexion.
There are three major layers of the skin. The innermost layer, the middle layer ( dermis) and the outermost layer ( epidermis). It's the outermost layer that we see. 
When you expose your skin to the sun, the UV light tries to get through the epidermis. The body responds by producing a brown pigment known as melanin. It is this melanin that tries to block off the UVA rays, so it doesn't cause damage to the skin.
Tanning occurs as the skin produces more melanin to protect itself from UV light.
People with darker skin can tan to a deeper tone because their skin produces more melanin.
What to look for in Tanning and Sunbathing outdoor lounge chairs
Here are the key things to consider when shopping for an outdoor lounge chair.
Lounge chairs are typically built on top of metal frames which provide the basis for support.
These frames are commonly made of steel, aluminum, and cast iron.
For sunbathing, cast iron isn't recommended due to its weight and robustness. This leaves us with the other two options – aluminum and steel frame.
Both materials are sturdy and make excellent choices depending on your needs.
In terms of strength and durability, steel frame has the upper hand, but it can also be more expensive. 
On the other hand, aluminum is lighter, making it the most convenient option to carry about.
Having a sturdy frame is not enough. It needs to be complemented with the right fabric.
When choosing a fabric material for sunbathing, you need to consider its durability and maintenance. Specifically, the material should be washable and tolerant to certain chemicals such as lotions, body oils, and sunscreen creams. 
Some good examples of such materials are those based on polyester or Textilene. Besides having water resistance, these materials are quick to wash and tend to last very long.
If you're going to enjoy your time outside using outdoor furniture, then your chaise lounge needs to be comfortable.
Most loungers commonly feature thick cushions, especially a massage chair that needs comfort. While this is great, if the fabric is not breathable, then the seat would end up being hot and uncomfortable to sit on.
So make sure the outdoor seating area on your chosen lounger is both soft and breathable. That's the only way you're going to be comfortable.
Some cushions may also feature an adjustable pillow for headrest or extra padding at the lumbar region. All these are meant to increase your comfort and experience on the lounger.
Some chairs may not come with a cushion, but that doesn't make them less comfortable. They may feature an ergonomic design with a curved seat and backrest, which also provide a comfy experience.
Another thing that can affect comfort is the width of the chair. For instance, a tanning and massage chair needs a space wide enough to guarantee comfort.
Chairs with wider seat sections and higher back support are usually more comfortable. However, you need to be careful here as the chair can become bulky if the dimensions are too large.
The goal is to choose something comfortable without compromising portability if you plan to move the chair around.
Except you plan to use your lounge chair in one place, you will want a portable chair that you can move around with.
Besides the net weight of the chair, other factors that influence portability include the dimensions of the chair and whether it can be folded or not. 
You want a chair that folds down to a smaller dimension than its full size. Some chaise lounges like the one from Pacific Breeze can even fold down to a backpack. It doesn't get easier than that!
In order to use an outdoor furniture lounge chair, it needs to be resistant to certain external factors. These include: 
Moisture: having water resistance helps to prevent rust and enhances the lifespan of the chair
UV rays: having UV resistance helps to keep the chair in a good-looking condition by minimizing fading.
Stains: stains from body oils, lotions, and sunscreens shouldn't affect the chair too much and should be easy to clean.
Best Outdoor Lounge Chair for Sunbathing and Tanning – Reviews
 Here's our review of the best outdoor loungers to use for tanning and sunbathing.
MOPHOTO might not be the most popular name in the world of lounge chairs, but their adjustable folding cot stands out when it comes to quality. If you're looking for a reliable outdoor furniture with reclining abilities to take to your next beach adventure, then this is the ideal choice. 
The lounge chair features a locking system that allows you to adjust the chair to five different positions to suit your needs. This ensures you achieve a comfortable position every time, whether you choose to lay flat or recline.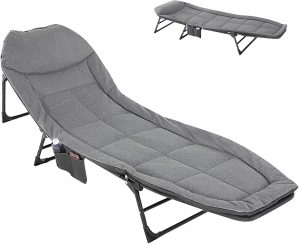 For the construction, the chair features a sturdy ellipse tube and durable textile material. The frame is made of alloy steel and aluminum, while the textile material is made of high-quality 1200D Oxford.
Although the entire chair weighs only 13 pounds, it's still able to support up to 400 pounds weight, which is one the highest you can find out there.
Besides being lightweight, the chair has a highly portable size. When unfolded, it has a dimension of 78.7″(L) x 25.2″(W) x 12.6″(H), and when folded this reduces to 33.1″x25.2″x7.1″. This makes it the perfect carry tanning chair at the beach.
You can also use it for relaxation at home (ideally, close to the backyard pool) or as a resting place while camping. It can even serve as a temporary bed for guests.
The chair also comes with a removable mattress with breathable mesh and a comfortable cushion. It also features anti-slip foot pads for stability. The cot's side pocket can be used to store small valuables or as a resting place for your head and neck.
Pros
Suitable for a wide range of applications

Can serve as a temporary bed for relaxation in the outdoor space.

Breathable nylon mesh

Removable mattress

Easy to clean

Ergonomic design
Cons
BUY ON AMAZON
The Crestive outdoor chaise lounge chair comes in a set of two, which makes it the perfect choice for couples who wish to tan in the sun. Like MOPHOTO, it can be adjusted to five recline positions, allowing you to relax and sunbathe in different postures.
The ergonomic sling seat and back are built for maximum comfort. It comes outfitted with a breathable Textilene fabric that is UV-resistant, oil and waterproof and dries quickly when washed.
A removable pillow is also included for relaxing head support, while both armrests are padded for optimum comfort.
This tanning chair frame is made of rust-free aluminum, which comes in a brown coating. There are end caps at the bottom which help to protect your floor from scratches when using the chairs on leveled concrete or wooden floors. They help to protect your floor from scratches.
For the weight capacity, each lounge chair comfortably supports up to 270 pounds. It is sturdy so it won't wobble even when it nears the weight limit.
Each chair weighs only 14 pounds and has a smart folding mechanism that requires a two-step setup. Just attach them with the armrests and tighten the screws, and you're ready to tan. Optionally, you can fold it into your desired positions. 
The entire assembly shouldn't take more than 10 minutes. You will find all the necessary information you need in the installation manual. Hardware is also included.
The only downside with this unit is that all its five recline settings are for laying down. It doesn't have a sit-up option. This shouldn't be a big deal if you're mainly purchasing as a tanning chair since you're less likely going to need to sit upright.
Pros
Beautiful, sleek, and modern design

Built for optimal comfort while sunbathing

Easy to assemble

Suitable for various occasions

The chair folds easily for compact storage

Lightweight but durable
Cons 
Goplus tanning chair is another sturdy lounge furniture built with comfort and performance in mind. This chair is specifically designed for anyone who wants a chair they could use to tan in the sun. This is evident in the design – the face downhole allows you to lie on your stomach with your face down and your back fully exposed to the sun.
Altogether, there are three pillows on the bed, which are meant to provide support for your neck and both shoulders. You can also use them for other support purposes as you deem fit. Each one of the pillows has a different shape and is fixed with Velcro, which makes it easy to remove for cleaning.
The chair has five adjustable recline angles which include positions for leaning, sitting, and lying down.
For the construction, it uses a sturdy iron frame, while the fabric material is made of 600D oxford cloth.
Since the Oxford fabric is waterproof, it makes cleaning simpler and a lot easier. In the same vein, the premium iron frame is extremely sturdy with a high load-bearing capacity (up to 330 pounds).
Each chair weighs about 16 pounds and can be folded for easy transport. So, they are not only meant for your patio or poolside at home. You can also carry them to the beach or park to sunbathe or just enjoy a good resting time.
Given the high load-bearing capacity of the chair, it is practically suitable for all age groups, including seniors and teenagers.
Pros
Ergonomic design helps to relieve muscle tension

Long-lasting construction

Simple cleaning process

Easy to fold and transport

Soft pillow and cushions for increased comfort

Waterproof fabric
Cons
Iron can rust when left in the rain
BUY ON AMAZON
The KingCamp combines comfort ergonomics to provide a lounge chair that is perfect for sunbathing. Very easy to set up and fold, the chair comes at a price that makes it an attractive option for budget buyers.
Like most high-end models, the chair is made of an anodized steel frame and has a full dimension of 74.9″(L)x23.2″(W)x14.6″(H). It weighs only 14 pounds which makes it convenient to transport.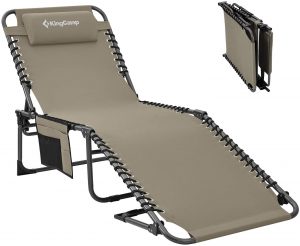 Setup is a breeze and takes less than a minute. The foldable design also allows for compact storage. You can easily store the chair on your balcony.
 Altogether, the chair has 4 adjustable positions, which include sitting, lying down, and reclining postures. This, combined with its firm, soft surface, makes it a comfortable haven. Given the size of the chair, it can fit people up to 6.2 feet.
Despite being heavy-duty, the chair folds nicely and compact and can support people with up to 265 pounds weight.
 Another thing we like about the chaise lounge is its ergonomic design and the level of comfort it provides. Not only does it prop up, but it can also be laid completely flat.
A removable pillow is included for additional comfort. You can use this as a headrest for lumbar support or other purposes. 
 The cot isn't very tight, so it tends to sink down lower than one would normally expect. While this makes it more comfortable, it can be a little challenging to get out of. I wouldn't bother about this, except if I were in my late 60s or over.
A side pocket is included for storing small personal items like water bottles, keys, cell phones, toys, and so on.
The chaise lounge works anywhere – beach, lake, camp, patio, poolside, and so on. You can even use it as a temporary bed space for sleeping at home.
Pros
This outdoor furniture comes with a side pocket

Adjustable padded pillow for increased comfort

Lightweight (weighs only 14.1 pounds)

Sturdy steel frame

Suitable for people up to 6.2 feet

Space-saving storage
Cons
Cot may be a little narrow and tough to get out of for some people
BUY ON AMAZON
Coastrail outdoor chaise lounge is the perfect sitting solution for people with extra body width who want to tan in the sun. The chair has a whopping width of 28 inches, which makes it suitable for both large and small users. You can use this at the pool, patio, or as one of the best beach chairs in your outdoor furniture collections..
One of the major highlights of this outdoor furniture is that it comes assembled and ready to use. Just unfold it and start relaxing.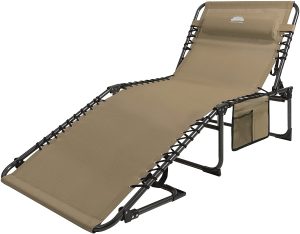 In addition, it folds very nicely and can even be added to your beach cart. It's also lightweight, the chair weighs just above 16 pounds, so it's definitely not the chair to cause you stress when you intend to move around. 
There are four recline angles you can set the chair to for a relaxing experience. These include a flat position that allows you to lie on your belly for tanning or a nap.
 The chair also features an elastic suspension system which helps to relieve pressure points and muscle tension. This ensures you're comfortable regardless of what position you choose.
For the frame construction, it uses powder-coated steel, which is suitable for all outdoor conditions. However, we highly recommend bringing the chair indoors or covering it when it's not in use. After all, it's still metal!
The frame can support up to 400 pounds weight and provides four adjustable recline positions.
 Other notable features of the chair include weatherproof Textilene fabric, an adjustable pillow for head and neck support, and an organizer pocket to store valuables.
 Pros 
Very easy to change positions

Easy to fold

Provides long-lasting comfort

Wide seat area

High weight limit

UV-resistant textilene fabric
Cons 
No carrying strap or handle
BUY ON AMAZON
The Purple Leaf Chaise Lounge Set consists of two lounge chairs and one side table. The whole set weighs about 32 pounds, so each chair is very light. The chairs are not foldable but can be stacked for easy storage.  
Purple Leaf sunbathing chaise lounge features a high-quality Textilene material and a powder-coated aluminum frame. The textilene material is breathable and is weather resistant. So, it's not one to easily get deformed. Cleaning is quite easy and can be done with soapy water.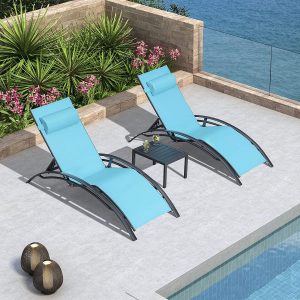 It is advisable to keep fabric away from direct exposure to a heat source. Also, if you want the fabric to retain its shine for a longer time, try not to use the chairs near a pool because frequent contact with chemicals from the pool water can cause the fabric to fade over time.
The cast aluminum frame on both chairs is weather-resistant, so rust shouldn't be a problem. Each chair has a weight limit of 265 pounds, which makes them more suitable for average-sized people. This is not an oversized chair!
The chair offers four reclining positions, which are designed to meet different needs; these include sleeping and lying posture. 
However, due to the curved design of the chaise lounge, it doesn't lay flat. So if you're looking for a chair to lie on your stomach, other options in this list would be ideal. 
The major complaint we have about the chaise lounge is that it sits very low to the ground. While this increases its comfort when lying on it, it makes it a bit challenging to get out of.
The total seat width is about 24 inches, which is quite impressive.
Overall, the Purple Leaf is a quality chaise lounge and is great for enjoying sunbathing on your patio, deck, or poolside.
Pros 
Quick to dry

Lightweight

Simple and stylish design

Comes in multiple color options

Suitable for all weather conditions

Comes with a side table
Cons
BUY ON AMAZON
The Kozyzard Cozy Chaise Lounge Chair is best known for its sling seating arrangement and seven adjustable recline positions. This allows you to choose different postures for maximum comfort. Besides enjoying the sun, the chair is also perfect for napping and just relaxing.
One of the things we like about the chairs is that despite being lightweight, they still provide very sturdy support. They don't feel frail like most hollow aluminum loungers. So, they're ideal for beach trips.
The chair material is strictly Textilene, while the frame is aluminum.
The fabric is UV-resistant and has excellent breathability. It's easy to clean and maintain and not easily affected by water. So even when left in the rain, it still does time and doesn't fray over time.
This is because the fabric is mesh and doesn't absorb water. And since no cushions are added, there's practically nothing to hold water.
However, while the chair is suitable for outdoor use, we still advise taking it indoors when not in use, or at least cover it. Also, avoid exposing the frame to salt water since it's made of aluminum.
As earlier indicated, the chair can be set to different recline angles. These include lying and regular sitting positions. It's also easy to fold for transport and compact storage.
The overall weight capacity is about 15 pounds, so you should find it easy to move around. The chair's weight limit is 260 pounds, so it should be suitable for most people.
It is also available in different color options, so you can choose the one that suits your style and preference.
No setup is required, which removes any guesswork.
Depending on your needs, you can purchase a single chair or pair (2 chairs).  
Pros
Lightweight and highly portable

Foldable design and compact storage

Quite comfortable

Multiple-use

Built to last

Reasonable pricing
Cons
The arms can get warm when the sun gets too hot
BUY ON AMAZON
Blumfeldt is a name that is synonymous with quality in the world of lounge chairs. The Amalfi Vitello is arguably their best offering for sunbathing.
The outdoor lounger is built upon robust frame support that consists of 0.5-inches thick powder-coated steel pipes with a wall thickness of 0.05-inches.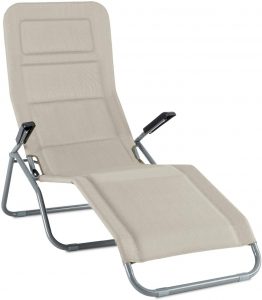 For the reclining surface, the chair uses a breathable plastic fabric that provides enough cushioning. A little pillow is also provided for neck support.
The fabric is water-resistant and super easy to clean. You can remove dirt by simply wiping it with a damp cloth.
In the same way, the choice of quick-dry foam for the chair upholstery ensures it doesn't retain water from rain or bathing.
You have the option of adding extra cushions, but the chair is already comfortable as it is.
 Another thing we were impressed with is the wide sitting area. The chair provides a 28-inches wide lying area, which is plenty of space to relax.
 Also, when folded, the chair reduces to a compact unit that takes up little storage space.
With 22 pounds of weight, the lounger may appear a little heavy for some people. However, the built-in handles make things a lot easier.
The backrest can be adjusted to different recline angles. But our favorite position is the flat position, which allows you to lay on your stomach with your head down. This is a good position to be in when trying to tan the other side (back) of your body.
The maximum load capacity is rated at 330 pounds, which makes it suitable for most people. We've even seen people who are slightly over this weight use the chair with no problems. However, we strongly advise not to go beyond the weight capacity.
Overall, we're impressed with the performance of this lounger and highly recommend it for sunbathing. For the price, it doesn't get better than this.
 Note: The chair is also available in a sunshade version
 Pros
Weather-resistant frame

No assembly required

Fabric doesn't fade easily

Easy to fold up

Ideal for use as the best beach chairs for your vacation.

Durable construction

Roomy size (works for everyone regardless of their size)
Cons
Doesn't convert to an upright sitting position

A little bulky to hawk around
BUY ON AMAZON
 The Wostore Chaise Lounger has a zero-gravity design that allows you to experience a weightless sensation by lying in a neutral posture. This helps your body to relax deeply and release tension as you enjoy the smooth rocking motion of the chair.
 If comfort is top on your list of priorities, then this is the chair to go for.
 Given its zero-gravity design, this is more suitable for lounging on a patio. Its weight and dimension make it less of a mobile solution for beach trips.
 This gravity lounge chair feels a little low to the ground, which makes it very easy to fall asleep in.
 You can remove the pillow (headrest) or adjust it to different positions to suit different heights. As a result, almost anyone can use the chair regardless of their height.
 As earlier indicated, we find the chair to be extremely comfortable despite not having a separate cushion. The seat fabric is made of textilene, which is resistant to both water and oil. It is also very breathable, so it doesn't heat up when the sun gets hot.
 For the frame construction, the chair uses steel material with a non-rust gray coating. So, no need to worry about getting flimsy aluminum. The maximum weight capacity is rated at 265 pounds, while the chair itself weighs around 25 pounds.
A storage hanging bag is also added to hold your small items. It consists of three pockets with a mesh.
Overall, Wostore combines comfort and flexibility to offer a chair that creates an incredibly relaxing experience while you sunbathe. For its price, it comes highly recommended.
Pros
Easy to clean and dries quickly

Removable pillow

Versatile (can be used almost anywhere)

Easy to operate

Very comfortable to sit on

Sturdy construction

Suitable for different heights
Cons
A bit heavy

Setup can be a hassle for newbies
BUY ON AMAZON
The Pacific Breeze Lounger is a modern, minimalist alternative to a traditional beach or camping chair. It comes as a set of two, so you're not the only one who's going to be sitting on the sand.
The concept behind the lounger is simple – create something anyone can use. So, whether you're a senior, a young adult, or a teen, you will find it very convenient to use.
Unlike the other chairs we've reviewed, this one sits flat on the ground and only features a back steel frame. The frame helps to provide full support to your back without mounting any pressure on your muscles or joints.
With the unit being fully adjustable, you can use it in an upright or recline position.
 This gravity lounge chair comes fully padded with a cushion that is about 1+ inches thick of firm foam. This is quite comfortable and does really well on sand.
You could use it on smaller rocks like pebbles, but we won't recommend it for anything larger as it would feel really bumpy and uncomfortable.
 We can't tell the exact material used for the fabric, but we think it's a mix of canvas and polyester. It wipes off easily with spills.
 When set up, the chair measures 74.8-inches for the length and 21-inches for the width. But when packed, it reduces to 27.5 inches tall and 21 inches width.
 The overall weight capacity is rated to be about 6 pounds, which makes it the lightest option on the list. This, combined with its compact design, makes it the ideal travel companion.
 You have the option of stowing it in the trunk of your car or simply folding it into a backpack. The integrated adjustable straps make it very easy to carry. These features make it a full portable chair that can be easily moved around!
 Overall, we are satisfied with the quality and performance of this lounger. It might not offer the most comfortable outdoor seating experience, but it's far better than throwing a towel on the sand.
 Pros
Best for portability (easy backpack-style adjustable straps)

Adjustable backrest

Comes with a large zipper pocket for holding personal items

Beautiful colorful fabric

Sturdy steel frame

Compact storage
Cons
Not for overweight people
BUY ON AMAZON
FAQs – Best Outdoor Lounge Chair for Sunbathing and Tanning
Why are most chaise lounges low to the ground?
Outdoor lounge chairs typically have an ergonomic design that is low to the ground to enhance comfort and ensure the chair is stable. A low-profile design enables you to get your legs out completely and drop most of your weight capacity.
How can I remove sweat stains on the chair?
Some fabric can be cleaned with just soap and water. If this doesn't work, then consider using a mixture of borax and soap.
Mix 1 teaspoon of liquid soap and one teaspoon of borax in 1 quart of warm water. Then soak a clean cloth in the solution and use it on the stain. Leave it for 8-10 minutes, then wipe with another damp cloth soaked in clean water.
Always be in a hurry to remove stains; the more you delay, the harder it becomes to remove.
When is the best time to sunbathe and tan?
Summer is the hottest season, so it's undeniably the best time to tan. However, the sun can get very hot and scorching.
For a more relaxing sunbathing experience, autumn and spring are great, especially during the mornings and afternoons.
Ultimately, everything depends on the surrounding weather conditions.
What is the best outdoor lounge chair for sunbathing and tanning?
Unfortunately, we don't have any favorites today. All the options on the list are tempting and are potential contenders for the best lounge chair. The best chair for you largely depends on your needs
Where can I get these loungers?
Just click on the corresponding product link to get taken to the product page.
Conclusion
A modern-day lounger can be a great motivation for spending time outdoors. But even more, it allows you to sunbathe and get nourished with more vitamin D as you tan your skin.
Hopefully, with our top product review, the best outdoor lounge chair for sunbathing and tanning is not far away. Add this to your beach bag and towel to make the perfect gear trio for your next trip
Let us know if you have any more questions. Till then, happy sunbathing and tanning!