Last updated on June 21st, 2021
If you're like most people, then you probably think wicker is some other kind of material. Not true! 
Wicker is a term used to refer to a weaving process rather than a material. Thus, wicker furniture is any piece of "woven" furniture, which can be made from natural sources such as bamboo, rattan, and synthetic materials like resin. 
Can Wicker Furniture Be Used Indoors? Yes, the same way they're used to adorn your backyard and patio, you can also use them to pop up your indoor space. They can serve as a great casual replacement for your traditional upholstery furniture, bringing a pleasing textural contrast and dimension to the room.
Also, the woven pattern of wicker furniture means you can find them in various sizes, styles, and shapes.
Types of Wicker Furniture
Here's a list of the common types of wicker furniture available:
Wicker Chairs
Gone are the days when wicker chairs were limited to flimsy house fittings with stiff arms and jumbo curved backs. Today's designs are a lot better, offering better comfort, style, and support. 
They are available in all manner of shapes and sizes, including low and large backs. So it's much easier to find a perfect match for your décor. 
The most common models are contoured designs that feature wide sturdy arms and comfy round back and seat.
Sectional Wicker Sofas
Sectional wicker sofas are perfect for sitting many guests in a small space. Most of them can comfortably sit up to eight people, making them great for entertaining guests and family gatherings. They are quick and easy to clean, and you can use them for most of the year. 
Consider adding a few deluxe cushions and throw pillows for a more comfortable seating experience and glamour. 
Wicker Bars
Wicker bars provide a great place to entertain guests or spend time with your family outdoors. They are commonly used to add a vibe to the poolside or deck, but they may also be used indoors as focal points where you can discuss or share a drink with folks.
Wicker Daybeds
If you spend a lot of time outside, then having a wicker daybed can be very helpful. They are great for reading outside during the day or just taking short naps under the sunshade. They can also be used indoors as emergency beds when you have more guests staying overnight.
The beds come with cozy cushions, which are so comfy that you can easily fall asleep even when you don't plan to. Their canopies help to protect you from the sun as you sit to unwind and refuel your body.
Wicker Dining Tables
With stoves, grills, and even outdoor refrigerators now available, cooking outside has never been more fun. And having some wicker dining tables around will save you the hassle of carrying your food in and outside the house. This will also ensure you don't create a mess from food droppings, which can be hard to clean later.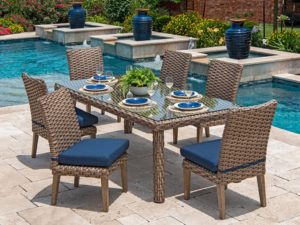 These dining tables come in different shapes and sizes to fit into any outdoor space. You can also set them on your patio or balcony.
Wicker Chaise Lounges
Wicker chaise lounge is great for poolside or lounging near your hot tub. They are also compact enough for your balcony. 
If you're going to use it near the pool, consider using a cushion, side table, and canopy to create a whole lounge space. Don't worry about them getting wet. They are built to withstand such conditions.
Wicker Tables & Accessories
We also have wicker tables which can also be used to add an accent to your room. These are perfect for holding your coffee, drinks, foods, etc. 
Difference between natural wicker and synthetic resin wicker
The major difference between natural wicker and synthetic resin wicker is the material. Natural or traditional wicker is made from natural materials (usually plants) such as bamboo, willow, rattan, and reed while synthetic resin wicker is made from resins sucked out from plant matter. Some of the more common types of synthetic resin wicker include nylon, polyethylene, HPDE (high-density polyethylene) wicker, and PVC wicker.
Natural wicker materials can be subject to damage by rain, insects, pests, moisture, and other harsh conditions. This is why natural wicker is best used indoors. On the other hand, synthetic resin wicker is usually built upon aluminum or steel frames and tends to last longer than natural wicker. They also hold up well against the elements and are suitable for both outdoor and indoor use. 
How to Use Wicker Furniture Indoors
Here are some ideas to help you incorporate wicker into your indoor space.
Don't Use Too Much Furniture
Wicker furniture works better when used as an accent. So instead of filling the whole room with different wicker furniture pieces, consider using one large or medium-sized piece of furniture. 
So, you can use a wicker sofa or some other furniture in the living room. In another room, you can fit in a chair or coffee table. In another room, a dining set. You get the idea. 
The key is keeping things low enough to remain in the accent territory. 
Consider Using Wicker Decorations
It is still possible to add a wicker accent to a room without using wicker furniture. If you don't have rattan or bamboo wicker furniture, consider using wicker décor accessories to achieve the same purpose. 
Some good examples of these accessories include hampers, rugs, lampshades, baskets, vases, and so on. These are great for adding subtle wicker accents to your dining and bedroom. 
As earlier indicated, wicker furniture isn't limited to tan coloring or neutral tone. They are also available in different hues and accents. So you can think beyond neutral.
You can also use bold and vibrant pieces in a way that doesn't overpower the room. Vary the wicker colors but keep it simple and welcoming. The key is to make them stand out without making the room look too "wicker-rich."
Use Wicker Baskets or Containers for Storage
Baskets are a great compliment to wicker furniture. You can scatter them in every room as decorative pieces or use them to hold things like cookbooks, remote control, small pieces of fabric, or some other item you need in the room. 
Another good idea is to fill the containers or baskets with artificial flowers and use them as centerpieces for your shelves or tables. They also look great near windowsills or entrances.
Identify an unused space and transform it into a nook. All you need is a wicker accent chair and a pillow. You can also throw in a blanket for more cover and comfort. Nooks are perfect as conversation areas, meditation spots, or a reading place.
Key Things When Using Wicker Furniture Indoors
Here are some things to consider when using wicker furniture indoors.
Choosing the right color scheme can bring more life to your existing décor.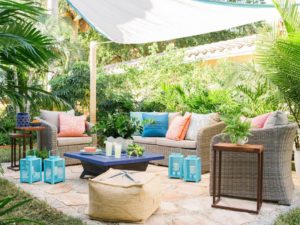 For a classic or traditional look, natural wicker is perfect. In this case, the color scheme is less important, as most traditional furniture has a wood-like appearance. 
For a more colorful interior, you will get more options with resin wicker. The good thing about the coloring on resin wicker furniture is that it doesn't flake or peel off, which is usually the case with the paint used in many natural wicker. 
If you're not satisfied with the current color of the wicker furniture, you can always repaint it after applying a plastic primer. 
When it comes to maintenance, synthetic resin wicker has the upper hand over natural wicker. 
However, even though they don't require much care, you still need to clean them occasionally. The process is pretty straightforward. 
Just wash with warm water and liquid dish soap. You can apply a little elbow grease to give it some shine. Please, don't use abrasive cleaners! 
If you're going to be moving the furniture to different rooms, then it's a good idea to consider the weight before bringing it inside. 
Wicker furniture is generally light. But there are some units that are built upon a heavy metal frame or come as a combination of hardwood and metal. These ones may be a bit heavier than normal. 
Conclusion
We will draw the curtains here. It's now your turn to incorporate your outdoor wicker furniture into your indoor décor. 
We will love to hear your story!