Outdoor storage boxes provide a stylish way to store outdoor supplies, tools, and toys. However, they are consistently exposed to the elements, which makes them vulnerable to sun and water damage. To prevent rot or degradation, they need to be waterproofed. So, today, we will look at how to waterproof an outdoor storage box.
There are various ways to waterproof a storage box; these include using a sealer, applying wax or varnish, spraying the box, etc. The method you choose will ultimately depend on the type of material your box is made of.
Meanwhile, all the methods discussed here are not difficult and can be achieved with a few supplies which are probably already in your garage. Otherwise, you can get them at local hardware or home improvement store.
Why Waterproof an Outdoor Storage Box
The main purpose for waterproofing a storage box is to protect items from weather damage, specifically moisture.
Outdoor storage boxes are primarily designed to hold items in one place. However, since they are kept outside most of the time, it's also important to ensure their safety from harsh weather conditions.
By waterproofing a deck box, you can use it all year round, in and out of seasons. Most models will come with a security lock and panels for extra protection. However, if these features are not already present, it is your job to make sure the box has them as part of your waterproofing efforts.
The level of water resistance of any storage box depends on the type of material it's made from. For this reason, plastic boxes are often regarded as the best option because of their ability to repel water completely without rotting or rusting. On the other hand, metal and wooden outdoor boxes can be damaged by rust and insects, respectively.
How to waterproof a wooden storage box ( Different types of boxes)
Most outdoor storage boxes are made of wood, which means they cannot withstand water for long. There are other boxes made of wicker, metal, and resin plastic. It's essential you apply the right waterproofing method for your storage box.
How to Waterproof wooden outdoor storage box ( step by step)
Follow any of the methods below to waterproof your wooden box.
Use Oil
If your deck box isn't painted already, consider rubbing it with oil. Oil creates a protective layer over the wood that repels moisture. You can use Tung oil or Linseed.
Besides offering protection, another good thing about using oil is that it adds shine to the wood without affecting the color. You can apply it with a soft cloth or sponge (and your little fingers).
Apply Sealant
Another way to waterproof a wooden box is to apply a sealer over it. A sealer is used to create a clear waterproof coating, and it's suitable for painted storage boxes. The most common options are lacquer, varnish, and polyurethane. You can choose from any of these.
Make sure you follow the instructions on the sealant to mix it properly. In most cases, you will need a roller or paintbrush to apply it.
Like any other type of coating, sealers are best applied when the weather is dry. Like oil, they won't alter the look or color of your wooden box.
Paint the Box
Painting a storage box can also make it waterproof if you use waterproof paint. For instance, if your box is made of plywood, you can use elastic or rubberized paint.
The good thing about this method is that it also adds color and texture to the wood. Most paints can be applied using a paintbrush or roller.
For wood boxes that are old or rotten in some areas, you may need to sand them with a fine-grit sandpaper before painting it.
How to waterproof metal outdoor storage box ( step by step)
Metal storage boxes need to be protected from moisture to avoid rust and corrosion. Most times, this will involve treating and waterproofing the box regularly. Follow the steps below to waterproof your outdoor metal deck box.
Paint the Box
One way to waterproof a metal outdoor box is to paint. Of course, not every paint will do; you need to use the best paints for metal outdoor furniture – they are water-resistant and are designed specifically for outdoor use. This is important to prevent water damage.
Don't just paint the box once and forget about it. The paint will wear off, and the box will become vulnerable again. Instead, painting should be done at least twice a year to keep the box in good condition just like your walls.
Lubricate the Box
Lubrication is another important step to take to waterproof an outdoor metal box. This is usually done using a rust-resistant spray, which is easy to use and doesn't require a brush.
Just spray the box, and you're good to go!
How to waterproof wicker outdoor storage box ( Step by Step)
Wicker is another material that needs protection from moisture. Apply the methods below to waterproof a wicker outdoor storage box.
Apply Liquid Wax
Liquid wax will also form a waterproof coating and give your wicker box more shine. Like painting, it needs to be applied regularly. When buying wax, make sure you choose one that is specifically designed for outdoor furniture. Follow the instructions on the product to apply the wax to your wicker box.
Use Marine Varnish
Marine varnish is another chemical that offers protection from moisture. So, you can use it to waterproof your wicker storage box.
One of the main benefits of using Marin varnish is that it won't affect the color of your wicker box. Apart from your storage box, you can also apply it to other furniture pieces made of wicker such as a table, chair, benches, and other long pieces.
Use a Sealant
Like wood, you can also seal natural wicker using a wicker spray. It's important you use the right type of sealer, and one we find to work really well is clear lacquer. Once applied, it will repel water from your wicker box.
Tips to Maintain an outdoor storage box
Waterproofing your storage is not a one-time job. There are still things you need to do to keep it in the best condition. Here are some maintenance tips for caring for your storage box.
Seal and Lock the Box
Even waterproofed outdoor boxes can still be penetrated. This is why it's important to seal and lock the box for extra protection.
Not locking the box properly might allow some water to get in and soak your cushions. To prevent this, seal the top of the box and lock it securely. We recommend covering the top with a plastic sheet.
Cover the Box
If you don't have a plastic sheet, you can use an outdoor storage box cover. Deck covers work for both waterproof and non-waterproof storage boxes. They help to keep moisture away from the box.
Make sure the cover you're using is water-resistant. Some options come with a zipper to cover everything. The best time to use a deck cover is when you're not using the storage box.
Keep Storage Under a Shade
Sealing your storage box doesn't mean you should leave it in the open or exposed. Instead, you want to keep it under a shade to protect it from water and the elements. There are different kinds of shade you can use – tent, pergola, tarp cover, make-shift shade, etc.
Once again, don't leave your deck box without shade, especially for long periods or during inclement weather. Using a shade is a great way to ensure the box last longer.
Avoid putting the box directly on the floor.
Choosing the right placement for your patio storage box is also essential. Don't just place the box anywhere. Rather, put it on a raised surface.
Most people have a concrete patio or deck. So, when it rains, it tends to get wet, making it unsuitable for a storage box to sit on it. By raising the box, it will ensure the moisture from the floor doesn't reach the box.
If you can't find any raised area to place the box, you can use a deck box stand. This way, during long periods of rainfall or flood, you will be sure your box is safe from water.
Line the Interior
Using an interior liner helps to protect the items inside a storage box. So, even if water gets into the box, it won't affect the items. A good example of an interior liner is a plastic sheet.
Whatever liner you decide to use, make sure it's lined the proper way in the box.
Best waterproof outdoor storage box
What if you didn't want to waterproof your existing outdoor storage box? Well, you can purchase a new one. The following are our top picks for the best weather-resistant outdoor boxes based on extensive research, testing, and reviews by customers.
The Suncast Deck Storage Box will make an excellent choice for homeowners with limited free space.
With a dimension of 50″ x 25.5″ x 25.5″, the box can fit into any living space or room. So, you can place it on your porch, deck, patio, or garage. You can even use it for shed storage. The storage capacity is about 99-gallon, which should accommodate most standard-sized cushions as well as garden and pool supplies.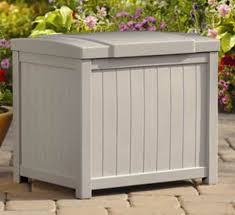 The box is made from poly resin material, which makes it resistant to water, rust, and fading. In other words, it doesn't lose its shine for a long time. The lid is held by hinges that flip open to provide easy access to the box interior.
The top of the box is hinged and round, which ensures water falls off it whenever there's a downpour. There's also space for a lock.
In terms of aesthetics, the brown natural wicker color seems to go well with most outdoor decor.
Pros
Compact design (perfect for limited spaces)
The rounded top rarely warps
Easy to lock
Holds up well against the weather
Easy to open and close
Cons
Getting it assembled might be a bit difficult
Keter Rockwood Deck Box 150-Gallon
The Keter Rockwood Deck Bench doubles as a seat and a storage box. It provides an extra-large storage capacity for your large cushions and other outdoor supplies.
It is also one of the most stylish options. It makes a beautiful conversation piece and can add flair to your space or room outdoors.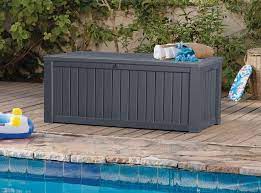 The bench is quite comfortable and seats two adults, while the massive box with about 150-gallon capacity can be used to store almost all your essentials.
In addition to being spacious, the box interior is designed to keep things dry and ventilated.
The box also features a hydraulic opening mechanism that operates automatically, making it easy to access the interior.
For the construction, the box is made of polypropylene resin which makes it highly durable, waterproof, and UV-resistant. Also, the contemporary design seems to blend in with any space outdoors.
Pros
Can serve as a box and bench for two people
Weatherproof construction
Attractive design
Automatic opening mechanism
Easy to assemble
Doesn't fade, peel or rust
Cons
CASARIA Support Box, poly rattan stainless aluminum
With a storage capacity of about 416 liters, the Casaria Support Box is one of the more spacious storage boxes out there. This makes it a safe haven for your tools, toys, pillows, cushions, etc.
However, the large storage capacity means it will be heavy and thus difficult to shift. To solve this, the box is outfitted with rollers and a handle, each on one side, making it easy to move around. It also has a lifting lid with an automatic stroke that makes it easier to open and close.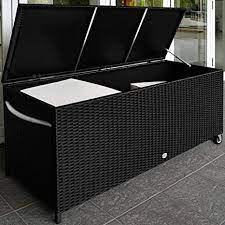 When it comes to the build quality, the box features an aluminum and poly rattan construction which is robust, steadfast, and, more importantly, durable.
The poly rattan sides are UV-resistant, which means they retain their natural color for a long time. The material is also easy to care for and maintain. To clean the box or remove dust or stains, dab it with warm soapy water and a soft sponge.
Likewise, the box frame is made of powder-coated aluminum and stainless steel screws. It also has a powder coating to make it rustproof.
Overall, we are impressed with the large storage the Casaria Support Box provides. For its price, it is by far one of the best waterproof boxes in the market right now.
Pros
Rust free and durable construction
Large storage capacity
Doesn't fade
Comes with transport wheels and a handle
Easy to clean
Cons
Requires considerably space for storage
Not the easiest to put together
FAQs: How to Waterproof an Outdoor storage box
What's the best way to store outdoor cushions?
If you're not planning to store your cushions for long, using a storage box is usually the best way to go. It is also a great alternative for people who don't have much space indoors. Apart from cushions, you can also put other outdoor items inside the box.
The good thing about deck boxes compared to other storage options is that they are breathable. This helps to keep the cushions dry and thus prevent the growth of mold and mildew. With boxes, it's also hard for pests and bugs to reach your cushions.
Before storing patio cushions in your storage box, make sure to clean and dry them.
What is the best material for an outdoor storage box?
Plastic or resin is the only material that truly repels water in an outdoor setting. This makes it the best choice for an outdoor storage box. You don't need to paint or seal it. In fact, you can leave it outside uncovered throughout the year, with minimal care.
On the other hand, wood needs to be treated to extend its useful life. Metal storage boxes, especially those made from steel, tend to be more durable but not as resin.
Are resin storage boxes waterproof?
Yes, outdoor storage boxes made of resin are usually waterproof. In fact, resin tops the list when it comes to the best materials for outdoor storage boxes and even decks. In addition to being waterproof, a resin build doesn't fade in the sun. So, if you live in a place with harsh weather, a resin storage box is the way to go.
How do you make a watertight box?
To make a watertight outdoor box, you will need to waterproof it. This can be done using any of the methods described above. You can also follow the same process when looking for how to waterproof an outdoor storage bench. After waterproofing, we also recommend sealing and locking the box for extra protection.