Last updated on October 11th, 2022
Sitting on your patio furniture after a long day is usually pretty satisfying. It allows you to relax as you meditate on that day's achievements and your future plans. However, doing so during winter can be quite tricky due to extreme weather conditions such as freezing temperatures and heavy snow. Even worse, these conditions can also damage your patio furniture, making it weak and less comfortable.
If you are here, you have probably been wondering, "can I use a tarp to cover patio furniture during winter?", or how to cover outdoor furniture with tarp. Using a tarp is among the best ways to protect outdoor furniture from the elements. A tarp ensures your furniture remains in excellent condition despite the weather outside.
What Is a Tarp for Outdoor Furniture Cover?
A tarpaulin or tarp is a large cloth or plastic that is often used to protect outdoor furniture from damage and dirt. Most patio furniture has pillows, so it's easier to cover them with a tarp instead of moving them inside.
Tarps for outdoor furniture are readily available in the market, so you can easily get a reliable one. However, you would have to browse through many options to find one that best suits your specific needs.
They are available in different qualities – basic, standard, or contractor-grade specifications. Therefore, always check a tarp's strengths and weaknesses before purchasing to ensure it matches your specific requirements.
Why Use a Tarp to Cover Patio Furniture?
There are many reasons why you should consider covering your outdoor patio furniture with a tarp. Here are some of the major ones:
1. It Offers UV Protection
UV rays are among the main reasons why outdoor furniture does not last for long. When outdoor furniture is exposed to these rays for long, its fabric and coating gets damaged quickly. This shortens its lifespan, forcing you to replace it every few years. Luckily, using quality tarps can help protect your furniture's fabric from UV rays and other destructive elements.
2. Keeps Your Furniture Clean and Dry
Covering your patio furniture with a tarp ensures it stays clean for long, even during winter when there is snow and rain. So, if you cover your furniture with a tarp during the winter and travel, you won't find dirt and mountains of snow all over it. All you will have to do is uncover the furniture, rub it and continue using it as before.
3. Protects Furniture from Mold and Mildew
The formation of mildew and mold is also a huge concern among many homeowners today. This is likely to happen in the winter when your outdoor patio furniture cushions absorb moisture from the snow or rain.
Covering your patio furniture with quality tarps significantly reduces the chances of finding mold once winter ends. Note that using a waterproof tarp that does not allow enough air circulation can also accumulate moisture, causing mold and mildew. 
To ensure enough airflow, use a tarp that is made of about 60 percent or 90 percent mesh material. Any of these two options can work perfectly, provided they are resistant to rain and dust.
Mildew and mold-resistant tarps are a must for fabric and any material that absorbs moisture but not so much for wooden furniture. Therefore, if you own unpadded chairs, outdoor tables, and wooden furniture, you can just use the regular solid vinyl tarps.
How to Tarp Outdoor Furniture for Winter?
Although a tarp is not usually difficult to install, you still need to understand how to do it correctly. Proper installation guarantees your tarp will last for the whole winter without letting any snow, rain, or dust damage your patio furniture.
Before we get started, here are the things you might need during the installation:
Utility knife

1/2-inch eye-bolt screws

Scrap wood

Electric drill

Scissors

Grommet kit

Gloves

1/4-inch cotton or nylon cord

Ladder

Tape measure

Hammer

Earplugs or earmuffs

Permanent marker
Below are cheap ways to cover patio furniture, so follow them keenly:
Prepare the Tarp
You first need to prepare the tarp to ensure it has the right measurements and plan on how to install it. So, measure the exact distance between your tarp's existing grommets (round metals with holes in the middle). The distance is usually about 3 or 4 feet, depending on your tarp. With your permanent marker, indicate where you will put new grommets. The distance between the new and old grommets should be around 8 inches.
Place the marked area on a rough surface like wood and use a utility knife to cut a circle or an X at all the marks. Make every cut about ½ inch long. Carefully remove the corners of those marks to form holes for your grommets.
Wear gloves and earmuffs or earplugs, and then place your grommet kit's die under one of the holes. A grommet usually has two parts; a flat washer and another with a center post. Set the latter on your die and place your tarp on it. Do so while pushing your tarp over and down the center post.
Now place a washer over your grommet's center post and tarp. Center the grommet tool on your washer and then repeatedly tap it with your hammer. Make sure your flat washer and grommet attach properly.
Once done, repeat these steps for all the holes you made for grommets.
2. Install the Tarp
Next, measure the exact space between your grommets. Then mark the halfway points between the grommet locations on your house eaves or any support structure using a marker.
Use the electric drill to make a reasonable hole on the marks you made and firmly screw in a 1/2-inch screw on every hole. 
Now tightly tie a ¼ inch nylon cord or cotton to one bolt screw that is placed on the house eaves. Thread your cord through every grommet and screws, making sure they zigzag, and lashing your tarp to a support structure.
Wrap your cord around your final screw and then tie it to distribute the pressure around the whole tarp evenly. Lastly, Use a utility knife or scissors to cut the excess cord.
Are Outdoor Tarps for Furniture Waterproof?
This usually depends on the type of tarp, as some can be waterproof while others are water-resistant. Also, some outdoor tarps for furniture can't be exposed to water. So, you must understand the different types to ensure you buy one that matches its purpose.
Water-resistant tarps usually keep out sprays and splashes of water but can't handle big pools and puddles. On the other hand, waterproof tarps keep water out entirely even if it pools up.
The tarp's material is what determines whether a tarp is waterproof. Polypropylene (poly) and canvas tarps are usually water-resistant, while heavy-duty PVC (vinyl) ones are waterproof.
Best Tarps for Outdoor Patio Furniture During Winter?
To simplify the process of finding a reliable tarp for you, we looked for the best options in the market today. This will help you make a faster and wiser buying decision. We have also included their prices, so you can pick one that matches your budget.
This tarp is waterproof, making it excellent for covering patio furniture over a long period. It has an oxford fabric and UV-stabilized waterproof coating that prevents any water from passing through and wetting your patio furniture. The strong fabric also excellently protects your fabric from the snow, dirt, and sun, which guarantees more lifetime.
The Vailge waterproof patio furniture set cover also has an adjustable hem cord to ensure it fits properly. So, you don't have to worry about it being blown away by the wind provided it is fitted tightly.
It also has large padded handles that make it easier to install and remove. Also, its air vents ensure sufficient airflow, thus minimizing wind lofting and inside condensation.
This heavy-duty tarp is waterproof, weather-resistant, and dust-proof due to its PVC layer and 600D polyester. These features provide great protection for your patio furniture against the rain, winds, hailstorms, bird droppings, and the sun. It is also UV-stabilized and has a waterproof laminated backing to maximize the protection and keep your outdoor furniture dry during the winter.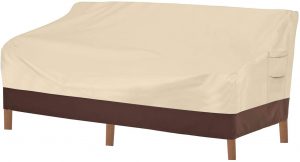 These outdoor furniture covers are available in different sizes, so make sure to measure your outdoor furniture before buying. The wide padded handles enable you to fit and remove this tarp quickly, and you can also use them for hanging during storage. Additionally, this heavy-duty patio sofa cover has two fastening straps that help to fit it perfectly to ensure it doesn't get blown away by the wind.
It has air vents that provide constant airflow in the tarp while still keeping away water and dirt.
This outdoor furniture tarp can easily cover a patio table and about six standard patio chairs, making it one of the best fit among outdoor furniture covers for your dining area. Its tough fabric can efficiently protect your furniture from snow, sun, rain, and dirt. Also, it has strong elastic loops that allow you to fit it in every corner and keep it tight despite outside weather conditions.
The tarp is also water-resistant and has air vents to ensure your patio furniture does not get wet and has enough airflow. However, this tarp is not designed to cover the legs or wheels of your furniture. 
This tarp is made for standard patio shade chairs, and it does not entirely cover the feet or wheels of your outdoor furniture. It has a heavy-duty material that effectively shields your furniture from destructive elements.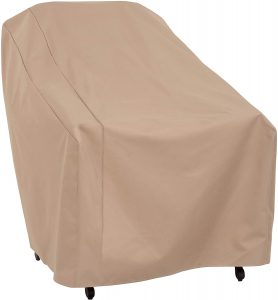 The strong material also protects your furniture's fabric from harsh weather conditions, thus enabling it to last longer without fading. It is also water-resistant, which ensures no water reaches your furniture.
This waterproof patio tarp is all-season, so you can also use it even after the winter. It's one of the most budget-friendly options out there. 
5. ESSORT Patio Furniture Covers
This unique tarp has hoops and loops to facilitate a seamless fitting and removal process. It is also double-needle stitched to minimize the chances of it tearing even during windy days.
It is also super large, making it excellent for covering garden patio tables and chairs. It can cover a dozen of outdoor seats.
Its cover is made of PVC inner surface and 190T high-density fabric, making it an excellent waterproof and UV-resistant choice. You can also adjust its size if you don't have many chairs and tables to cover to ensure it fits tightly.
This ESSORT patio furniture cover for winter is also pretty smooth. Therefore, it is easy to clean, dry, fold, and store.
Verdict – Can I Use a Tarp to Cover Patio Furniture During Winter?
Absolutely. Tarps are excellent patio furniture covers during winter as they effectively keep away rain, dust, snow, and other elements. They are also a great investment as you can use them all season long. Outdoor tarp cover for patio fit tightly around furniture, so you don't have to keep adjusting them, even during windy days.
Covering patio furniture without water getting in is usually a major challenge to many people. Luckily, outdoor tarps solve this issue as they are water-resistant, waterproof, and allow you to tightly fit them around your furniture for excellent results. However, ensure you first research before purchasing a tarp, to help pick the best size and type for your outdoor furniture. Also, if you have been asking yourself, "can I use a tarp to cover patio furniture during winter?" we hope this article has answered your question.
FAQS – How to use tarp to cover patio furniture
Is it OK to leave patio furniture out in the winter?
Yes. Patio furniture is made to be used outdoors. However, winter and fall weather can ruin your furniture if proper precautions are not taken.
Can you leave metal patio furniture outside in winter?
While it is common that metals and precipitation do not mix well, experts say some steel and aluminum pieces are more durable alternatives that can be left out in winter. So, unless your metal patio furniture is made of these metals, they will probably get ruined by rust.
Can you attach a tarp to a house?
Yes. You can attach a tarp to your house from a close fence or a pole to cover your patio area. So long as you tightly lash the tarp so that its grommets cannot be teared by wind, the shade can last for the whole season.
What is the best way to cover outdoor furniture?
The best way to cover outdoor furniture depends on several factors. For instance,  if you have wood furniture, the most perfect way to protect it from sunlight defects is by painting it using oil paint. On the other hand, for plastic or metallic furniture, you can paint it smoothly using an outdoor patio furniture protector.
Can I use tarp to cover patio furniture?
Yes. Traps are a great way to cover patio furniture during winter since they are made to prevent rain, snow, dust, and other elements. They are also cost-effective and a good investment because they can be used throughout the season.