Last updated on May 6th, 2022
Outdoor patio furniture is essential for lounging, recuperation, relaxing, and other fun activities during fine summer or spring weather. Outdoor cushions are the X-factor that elevates the whole relaxation experience by enhancing comfort. The eye-catching prints, patterns, and colors on outdoor cushions also help accentuate the outdoor space. However, the cushions are the first casualties when outdoor furniture is exposed to weather elements. In this article, we will discuss how to protect outdoor cushions from the elements. 
The methods of protecting outdoor cushions vary based on the weather element but the most effective ones are waterproof acrylic fabrics currently used as cushion covers, UV treatment processes, waterproof sprays, vinyl adhesive, and rearticulated foam and fill. 
To enjoy the comfort that outdoor cushions offer, we have to put in quite a bit of work to protect them from extreme weather damage. In this write-up, we highlight simple tips on how to protect outdoor cushions from weather damage.
Why Protect Outdoor Cushions
There are plenty of reasons why one needs to learn how to protect outdoor cushions. Below are some of the top reasons.
High-quality outdoor cushions are not worth pocket change. Most people do not have the luxury of splurging on new outdoor cushions every summer.
Learning some essential maintenance tips and routines will help lengthen the lifespan of your outdoor cushions. The time and tools invested in protecting your outdoor cushions are worth it in the long run.
Mold, mildew, and other microbes thrive in filthy soggy outdoor cushions. Some of these microorganisms pose a health risk when inhaled or when they come into contact with the skin.
Poorly-maintained outdoor cushions also reflect poorly on the owner's image. No guest will feel at home or manage to relax while seated on patio furniture with filthy cushions. 
Stain-filled outdoor cushions covered with debris and mold are worse than no cushions at all. Weather-beaten faded outdoor cushions are also a ghastly sight; hence no better.
The weather resistance features of an outdoor cushion tend to wear out with continued exposure to the elements. Routine maintenance on your outdoor cushions helps restore weather resistance.
It may take just a few days of constant exposure to harsh weather to ruin outdoor cushions completely. Regulated exposure to the elements also helps lengthen outdoor cushions' lifespan.
Tips to Protect Outdoor Cushions
When it comes to protecting your patio cushions, there are two crucial factors to consider. 
The material from which your outdoor cushions are made (fabric type and tuft)

The weather element you intend to protect your outdoor cushions from.
How to protect outdoor cushions from water and rain
Most waterproofing sprays have a unique formula that allows them to enhance the water repellency of a fabric. The coat of waterproof spray does not affect the texture, color, flexibility, or breathability of the material.
It also enhances the stain resistance of outdoor cushion fabrics. Most outdoor cushion fabrics respond well to waterproofing sprays.
Place them in a covered area
You can opt to place your outdoor furniture with patio cushions in a roofed space rather than in an open space. For instance, you could put them under a porch or a pergola with a canopy instead of an uncovered deck or balcony.
You can also add shade to your outdoor space using an outdoor umbrella, a retractable awning, or a retractable canopy.
Use outdoor furniture covers to cover your patio cushions and the rest of your furniture when the weather report predicts rain. If you do not have outdoor furniture covers, you can modify and use a tarp.
However, outdoor covers are more presentable and secure than a tarp.
Wrap them in clear plastic
You can also wrap your outdoor cushions all around with clear plastic. While clear plastic is not the best look, it will protect your outdoor cushions from moisture, fluids, and stains.
Cleaning them will also be an easy wiping down. 
Vinyl adhesives are a form of a laminate coating that creates a protective barrier on your outdoor cushions. The barrier protects your outdoor cushions from water and moisture.
The advantage of vinyl adhesives is that they do not affect your outdoor cushion cover fabric's flexibility and texture. Vinyl adhesives for fabrics are available in clear and glossy color options.
Vinyl adhesives may work better for cotton and polyester fabrics than acrylic fabrics.
How to protect outdoor cushions from mold and mildew
Antimicrobial sprays form a barrier on your outdoor cushions that kills and slows down the growth of mold and mildew. Use it routinely to restore the antimicrobial properties of your outdoor cushion.
Apart from getting soggy from fluids, getting soiled from sweat, sunscreen, hairspray, or bug spray also promotes mold and mildew growth. It would help if you cleaned your outdoor cushions regularly to prevent mold and mildew growth from soiling.
Cleaning methods vary according to each manufacturer's instructions. Follow these instructions to the letter to avoid damaging your outdoor cushions.
While some outdoor cushion covers are labeled machine-washable, machine washing and drying outdoor cushion covers weakens weather-resistant treatments.
Even the outdoor furniture cushions that are labeled waterproof can get wet if exposed to heavy rain or snow. Second, the water-repellent properties of outdoor cushions wear down with time.
If your outdoor patio cushions get wet or soggy, shake it out rigorously to eliminate as much water as possible. Leave it out to dry in direct sunlight and ample air for up to three hours.
You can open the closure and tilt the cushion towards the opening for better water drainage. 
During the off-season, store your outdoor furniture cushions in a breathable cushion box. If you do not have a cushion storage box, you can cover them properly and keep them in a room with ample airflow.
Musty basements and high-humidity garages will cause mold and mildew to thrive on your outdoor cushions. Also, ensure the cushions are completely dry and clean before storing them away.
How to protect outdoor cushions from UV damage
Use Fabric protection spray
Consider using a non-toxic UV fabric protection spray to protect your outdoor furniture cushions from UV degradation. The most common sign of UV degradation in outdoor cushions is when the cushion covers begin to fade.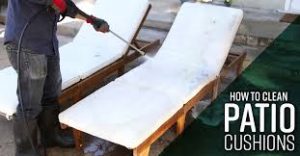 Fading results from a process called photodegradation that occurs when a fabric is continually exposed to UV rays. Photodegradation also causes outdoor cushion covers to change color or become chalky on the surface.
Other effects of UV degradation of outdoor fabrics include loss of strength, loss of flexibility, and unraveling.
A UV fabric protection spray creates a protective barrier on your outdoor cushions that make the fabric UV-stable. UV-stable materials are less susceptible to UV degradation.
You can also cover the area where you have placed your outdoor furniture to create some shade. Shade options include an outdoor umbrella, a retractable awning, or a retractable canopy.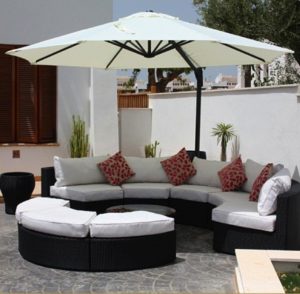 Apart from protecting your outdoor furniture cushions from degradation, a bit of shade will also protect you from harmful sun rays. 
Consider rotating the cushions from chair to chair so that all cushions have even exposure to the sun's rays. You can also flip the top of the cushions to the bottom or front to back for even exposure and even wear.
That way, all your outdoor cushions will retain the same color tone even after exposure to sun rays.
There are also vinyl adhesives that have UV inhibitors. Put a film of vinyl adhesive on your outdoor cushion for protection against both UV damage and liquids.
Methods of Protecting Outdoor Cushions
We have established that the most effective way to weather-proof your outdoor cushions across the board is by using a weather-proofing spray. There are even some weather protection sprays that have both waterproofing and UV protection capabilities in one can. 
If you are wondering how to get started weather-proofing your outdoor cushions, here are the simple steps. Below are simple instructions on how to waterproof your outdoor cushions using protective sprays.
Establish the fabric that your cushion covers are made from to know whether it is compatible with the protective spray you intend to purchase

Identify the protective spray brand that works for you (has waterproofing capacities, UV inhibitors, and or antimicrobial properties).

Place the cushion down on a tarp or cardboard box

Spray a small section to ensure the spray will not damage your cushion

Spay the aerosol evenly on both sides of the cushion but be careful not to drench the cushion with the spray

Keep the aerosol can at least 10 inches away from you to avoid inhaling fumes

Let the sprayed cushion dry for 3-4 hours. The dry time may vary depending on the brand you use.

Repeat the process and add a second coat after the first one dries. 

Its weather-proof capacity afterward to be sure it works
Bottom Line
When purchasing outdoor cushions, always go for the weather-proof options. Note, however, that that is not enough; you need to establish a maintenance routine for protecting and caring for your outdoor cushions.
The alternative is buying new outdoor cushions every summer or enduring discomfort on seats without upholstery. The above tips are simple, cost-effective, and achievable for everyone. You have no excuse for leaving your outdoor cushions at the mercy of outdoor elements.
Frequently Asked Questions.
What to put on outdoor cushions to protect them?
The best way to protect outdoor furniture fabrics is to wash them first using warm water and mild soap. Then spray them with a fabric protector after they are completely dry.
Is it okay to leave outdoor patio furniture cushions in the rain?
Although outdoor fabrics like Sunbrella are mildew, fade, and moisture resistant, meaning they can be left uncovered in the rain, it is not okay to do that for long as this will speed up wearing out.
Can you use Scotchguard on outdoor furniture cushions?
Yes. Scotchgard can be used in any outdoor furniture and its materials such as cushions. However, if you are in doubt, test a small area first to confirm if it maintains its color.
Should you keep outdoor cushions inside?
Yes. Putting outdoor cushions outside for so long means too much exposure to warmth and heat which can increase the wear. therefore, for long-term storage, keep the cushions indoors or in a place with constant temperature and humidity.
Do outdoor cushions get moldy?
Yes. Molds can grow on outdoor cushions and even the underside of umbrellas. On furniture essentials like patio fabrics, they can cause health problems such breathing issues, allergies, migraines, and even inflammation on the joints.