Last updated on February 14th, 2022
Most of us love convenience, which is why a "normal" stand might not be enough to create the perfect shade for our deck or patio. We want something we can ferry around effortlessly, something like a wheeled umbrella base.
Of course, even a wheeled base is not good enough if it's not sturdy or lacks the weight to support your umbrella comfortably.
Finding such a base might not be straightforward, given the vast number of options out there. Luckily, we've done all the research and removed the guesswork.  And today, we've come up with the best outdoor umbrella base with wheels.
Review of the Best Outdoor Umbrella Base with Wheels
Here are our top picks for the best patio umbrella base with wheels
If you own a large, bulky patio umbrella, then you will need a heavy-duty base like the Shademobile Stand to secure it in place and keep it from tipping over. With up to 120 pounds weight capacity, this is undeniably one of the toughest umbrella bases out there, making it great for domestic and commercial use.
The stable support provided by the stand can be attributed to its flexibility in the choice of filler material. You can either fill it with sand, pebble, or bricks.
With 75 pounds of sand, you get a weight capacity of 95 pounds; with 90 pounds of pebbles, you get 110 pounds; and with 12 bricks and 35 pounds of sand, you get up to 125 pounds weight capacity. So you can customize the base to match the size of any umbrella you wish to use. You can use poles from 1-3/8 inches to 2-1/6 inches.
Interestingly, the entire stand is made in the US using high-quality, aerospace-grade resin. So it's not only sturdy but also weatherproof and easy to clean.
In addition, the base is available in 3 elegant décor-matching colors – black, bronze, and sandstone.  You can also purchase the optional tabletop to create a more refined rolling shade.
The base is outfitted with wheels that glide smoothly over your deck or patio with a little push. The wheels also feature a lock to secure it in a place where you need it. Also, they are non-marking, and so leave no trail or marks on your deck.
Overall, we are impressed with this unit and have no doubt you will enjoy having it around.
Key Features
Construction Material: Heavy-duty Polyurethane Wheels
Color: Bronze/Black/Sandstone
Filler: Brick/Pebbles/Sand
Overall dimension: 20 x 22 x 22 inches
Weight: 21.5 Pounds
Maximum Weight: 125 Pounds
Hidden Wheels
Umbrella Pole Diameter: 1-3/8 – 2-1/6 inches
Pros
Sturdy plastic construction
Easy to setup
Great for home and business
Variable weight
Looks nice on any patio or outdoor décor
Adjustable diameter for poles
Reliable quality (made in the US)
Cons
Expensive
The wheels roll in one direction
The Sunnyglade Patio Umbrella Base is another top contender for the best outdoor umbrella base with wheels. It is outfitted with wheels at the bottom and features a two-plate sturdy construction that provides a reliable hold for your offset patio umbrella.
Specifically, the base is made of HPDE plastic, which is hard and weather resistant. It also has sun protection which ensures the color doesn't fade after a few months.
Besides providing stable support for your umbrella, the stand can also be a nice upgrade to your patio, bringing beauty and accent. It weighs about 34.4 pounds and features an adjustable piston, so you can always tweak it to accommodate the thickness of your umbrella column.
The base can be filled with water to make it more stable for larger canopies. Specifically, you can fill with water up to 220 pounds. Two fill spouts are included in the design for easy filling, storage, and cleaning.
This unit is easy to assemble. However, you may need to change the hole pattern to align with your umbrella. In this case, it could take longer to set up, and you may need to get extra bolts.
Overall, if you have a cross-arm style umbrella that needs support for a rolling shade, you should consider the Sunnyglade Patio Umbrella base. It might not have the smoothest wheels, but it will certainly get the job done.
Key Features
Color: Black
Filler: Sand/Water
Base Material: HPDE Plastic
Maximum Weight: 220 Pounds
Overall dimension: 33x 33 x 6.7(L x W x H) – inches
Weight: 34.4 Pounds
Pros
Long-lasting sturdy base
A classic style that blends into any outdoor setting
Comes with three alignment options
Easy to use
Reasonable pricing
UV protection and weather-resistant
Cons
Doesn't come with parts (bolts) for alternative alignment
The Abba Patio Umbrella Base is a nice-looking base that can serve as a planter stand and an umbrella base at the same time.
Made of heavy-duty steel material, the base provides sturdy support for large umbrellas and works well for residential and commercial use. It also features a powder coating that makes it water, fade, and UV resistant. So you can expect it to last for a very long time.
The base weighs about 31.9 pounds; however, this quickly adds up to 150 pounds as you fill it with sand or soil.
If you don't want to use it as a planter stand, you can ditch the sand for rocks or bricks. That way, you can get a higher weight suitable for windier conditions without the need for a table. But we think it looks better with beautiful plants.
You can use with large umbrellas, up to 6-11 inches.
The base also features two lockable wheels as well as an adjustable tube. The tube fits umbrella poles up to 2 inches in diameter. There's a knob on the tube, which allows you to tighten the pole in position and also loosen it when required.
Overall, we're impressed with the quality of this unit and highly recommend it. For its price, it certainly deserves a place among the best outdoor umbrella base with wheels.
Key Features
Base Material: Heavy-duty Steel
Filler: Sand/Soil/Rocks
Umbrella Pole Diameter: Up to 2 inches
Number of wheels: 2
Weight: 26.4 Pounds
Maximum Weight: 150 Pounds
Dimension: 20.8" x 20.8" x 11.42"
Pros
Lockable wheels
Easy to use knobs for securing pole position
Rust-resistant material
Adjustable base tube
Solid construction that promises to last for many years
Elegant design
Cons
Not very easy to move when filled
If you're looking for a robust anchor that can withstand windy conditions, then you will not be disappointed with the Hayward Louise Concrete Base. You can use this as a stand-alone piece (comes with a steel holder), or you can secure it below your patio table for more reliable support.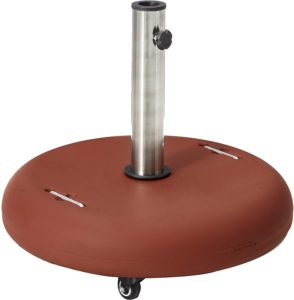 The circular base features a neutral finish that consists of a stylish red color that easily blends with any outdoor décor. It is made of concrete and weighs over 85 pounds, which is very heavy compared to many similar stands. This makes it suitable for large umbrellas. Specifically, you can use it with canopies with diameters up to 11 feet and not worry about them tipping over.
Another thing we like about this unit is that it's effortless to move around – thanks to its smooth small wheels. Even with one hand, the operation is hassle-free. The wheels are lockable, so it holds up well in windy condition.
You can fit the base with up to 11 feet umbrellas, which is quite impressive. There's a knob on the stainless steel holder, which you can adjust to accommodate poles from 1.6-2.2 inches in diameter.
Key Features
Umbrella Pole Diameter: 1.6-2.2 inches
Dimension: 21.6 x 21.6 x 17.0 inches
Color: Red
Umbrella Pole Diameter: 1.6 – 2 inches
Base Material: Concrete (core) & Stainless Steel (holder)
Weight: 88.6 Pounds
No filler
Pros
Solid stand
Comes with an adjustable knob
Easy movement and operation
Great for windy conditions
Lockable wheels
Very attractive and colorful
Cons
5.    California Umbrella Round Umbrella Base
This freestanding base from California umbrellas has a steady weight of 75 pounds which provides enough support to keep your umbrella from wobbling or tipping over. It is specifically designed for California umbrellas and works for any outdoor setting.
The base is outfitted with wheels at the bottom for easy movement. It is made of solid concrete and features a powder-coated steel frame that holds your umbrella. The powder coating ensures it survives in all weather conditions.
The base is available in different color options – white, bronze, black, and champagne so you can choose the perfect match for your existing outdoor décor. The pole opening is 1.75 inches, so it perfectly fits umbrellas up to 1.5 inches in diameter. There's a security screw on the frame to lock the umbrella in place.
The base also has a 50 pounds version, which you may consider if you need something for lighter applications.
Overall, we think this is a pretty decent unit for the price. You can use with a table if you want additional support for your shade.
Key Features
Color: Bronze/Black
Weight: 75 Pounds
Pole Umbrella Diameter: 1.5 inches
Dimension: 19 x 19 x 18 inches
Pros
Available in different color options
Freestanding design
Sturdy construction
UV and rain protection
Budget-friendly
Cons
Not the easiest to move around
If you're looking for a sturdy wheeled base, and price is no object, then you should consider this option from Best Choice. When it comes to mobility, you will hardly find a better outdoor umbrella stand with wheels.
The base has some of the best quality wheels that are very easy to use. There are four of them altogether, with two sets of wheel locks for additional security.
Although the construction is plastic, it is very stable and will survive some windy conditions. The stand itself weighs about 14.3 pounds, but you can quickly fill it up to 137 pounds capacity.
The filler material can be water or sand. With sand, it adds up to 123.2 pounds of weight. With 36 liters of water, you can get more weight and stability. To fill the base, simply remove the wide spout cap.
There are two knobs on the receiver pole, which you can adjust to obtain a secure fit for your umbrella against heavy winds. The overall dimension of the base is rated at 22″(L) x 22″(W) x 7″(H).
It will also interest you to know that the unit is quite easy to assemble. Just follow the provided instructions, and you should be done in no time. You can use with market-sized umbrellas, anywhere from 6 to 12 ft.
Overall, this is easily the best patio umbrella base with wheels. It may be a bit expensive, but you get value for money.
Key Features
Umbrella Pole Size: 1.5-1.9 inches
Weight: 14.3 Pounds
Dimension: 22 x 22 x 7 inches
Material: Plastic
Color: Black
Number of Wheels: 4
Maximum Weight: 137 Pounds
Pros
Adjustable knobs for a secure fit
Smooth running wheels
Comes with a refillable reservoir
Perfect for both home and business use
Solid build quality
Cons
The TangkulaPatio Umbrella Base is an excellent solution for cantilever offset umbrellas that are wobbly or difficult to move. It is one of the heavier options available and features a cool, engaging wheel mechanism you will rarely find, even in more expensive models.
The first that will impress you is the heavy-duty construction. The base is made of high-quality iron and plastic material which makes it incredibly durable.
So you can use it for any compatible canopy without worries. The finish is also weather resistant and won't fade due to sun or rain.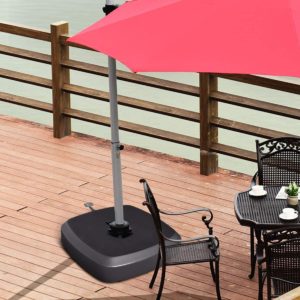 In terms of mobility, the base has the smoothest wheels out there. There are four of them at the bottom, which move freely in any direction. The base also features a foot pedal that you can use to raise it for easy movement or lock it in place.
It appears the wheels are made of polyurethane material. This can be a big plus if you have a composite deck, as it ensures no trail is left behind anytime you move the base around.
The unit itself weighs around 60 pounds, but you can fill it with water or sand (or both) for extra stability. With wet sand, it can weigh up to 330 pounds, which is quite massive.
Key Features
Maximum weight (with wet sand): 330 Pounds
Net Weight: 66 Pounds
Dimension: 35" x 35" x 8" (L x W x H)
Color: Black
Base Material: Plastic & Iron
Pros
Easy to use wheels
Heavy-duty construction and sturdy support
Very easy to assemble
Great stability (up to 300 pounds capacity)
Easy to assemble and maintain
Large spout opening for easy filling
Cons
Not compatible with all cantilever umbrella
TheOutsunny Free Standing Base is another sturdy base to consider if you want to create a strong shade on your patio or deck. It has a simple design and works well for both offset and cantilever umbrellas. With an opening of 2-3/4 inches, it will fit most crossbar frames for large umbrellas.
The base has a durable construction made of weather-resistant HDPE plastic, which also comes with UV protection.
You can fill with either sand or water. With water, the base weighs about 130 pounds. With sand, the weight can be up to 177 pounds, which is enough weight to anchor down most umbrellas, even the largest ones. You may even mix both fillers to obtain heavier support.
The base is also one of the easiest to use, as it comes with a built-in spout on the top for easy filling with sand or water. There's also a side port for quick draining of the filler material.
In terms of mobility, the unit doesn't disappoint. The underside is outfitted with two wheels, which can be easily titled and moved to any location you need a shade.
Overall, we are impressed with the quality and price of this base. It comes highly recommended!
Key Features
Filler Material: Sand/Water
Construction Material: HPDE Plastic
Base opening: 2-3/4 inches
Net Weight: 11.9 lbs
Maximum Weight: 177 Pounds
Color: Black
Overall Dimension: 31.5″ L x 23.5″ W x 6.75″ H
Pros
Great for both commercial and residential use
Easy to use
Easy to move around on your deck or patio
Simple style and design that blends into any outdoor setting
Good weather resistance
Cons
The price might not go down well with some people.
The best outdoor umbrella base with wheels buyer guide
To find the perfect umbrella base for your needs, there're a few things you need to consider. We've listed them out below to make things a lot easier.
The first thing you should look at before deciding on a base is the umbrella size. Here, you should examine the canopy diameter and make sure it matches the specifications of the base.
Some umbrellas have a diameter of 6 feet when open, while some can be as wide as 12 feet. The right base is one that can bear the weight and hold the umbrella securely, so it doesn't tip over.
In essence, the umbrella shouldn't be too heavy for the base to carry.
When shopping for the best patio umbrella base with wheels, choose an umbrella base that can hold your particular pole size. Pole diameters range from 1.125" to 3".
It is not uncommon to find bases with adjustable pole diameters. Such bases are usually preferred since you can use them for different umbrellas.
An umbrella base may constantly tip over if it doesn't have enough weight to support the length of the canopy and its diameter.
So you must choose something that matches the weight of your umbrella.
Some base weights usually consist of a filler material which could be sand or water, while some have no filler, such as concrete bases. Both options work fine; however, bases with an option for filler materials have variable weight, so you can add more or less bulk (weight) depending on the size of the umbrella.
Generally, a 75-80 pounds umbrella base should securely hold an 11ft umbrella. A 50 pounds base should hold a 6-7.5 ft patio umbrella, while a 100 pounds base should be able to support virtually any umbrella. In other words, the larger the umbrella, the heavier the base that would be needed. If you live in a windy area, then a heavier base is non-negotiable.
Whether an umbrella base is durable or not largely depends on the type of construction material used. Choosing the right base material doesn't only guarantee the longevity of the unit but also superior performance.
Ideally, you want to go for something of good quality that is sturdy and well-protected from the weather (weatherproof coating). Some great examples are metals like concrete and steel and HDPE (high-density polyethylene).
Final Words
Nothing beats an umbrella when it comes to setting up the perfect poolside shade. And a sturdy wheeled base is the best solution if you're all about convenience.
Luckily, with our list of the best outdoor umbrella base with wheels, finding such a stand has never been easier. We encourage you to check the buying guide to help you make a more informed decision.