Last updated on September 28th, 2023
Adding a backless bench to your patio, porch, garden or backyard is a great way to furnish the area with character and comfort. You can use it as a decorative piece to add structure and energy, a storage platform for plants; a makeshift table for gardening; or just another spot for reading or relaxing.
Today, we are going to review ten of the best outdoor backless benches under $100. Each one of these models is finely crafted and represents the best quality out there, especially for budget buyers. They are built to last and can be put into several uses. We have also featured outdoor benches made from different weather-resistant materials. So by grabbing one, you can be sure you'll be getting a lot of value for your money.
Top 10 Reviews – Best Outdoor Backless Bench
Here is a review of our favorite budget-friendly outdoor backless benches. Take your time to go through each model, and choose one that will best suit your needs.
The Furinno Tioman is a simple backless bench that spices up your patio or garden area with the aura and tenderness of natural wood finish. Whether you need a plant stand or a seating place to relocate to during a hot afternoon, you will enjoy having this bench around.
With a dimension of 11.9 D x 18.5 H x 39.3 W, the bench should fit into any outdoor space. It has the perfect height for a table and can comfortably seat two adults (not more). The overall weight is rated at 330 pounds, which is quite impressive for its size.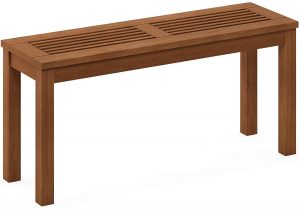 This bench is built using dark red meranti wood, meranti is one of the easiest hardwoods to handle. The wood is also spayed with teak oil to enhance its durability and make it water-resistant.
With only 15.4 pounds overall weight, the bench is fairly lightweight yet sturdy. This bench is flat and backless so it's comfortable as you would expect. However, if you plan to use it mainly for sitting, then you might consider sanding it to make it smoother.
Assembly can take up to ten minutes; it mainly involves fastening the four legs after unboxing. To preserve the color of the wood and prevent weathering, you're advised to oil it at least once a year. This makes sense since the bench will be used outdoor. You could also cover it when not in use so it can last even longer.
Overall, this is a sturdy outdoor bench with an elegant finish that looks nice in any outdoor setting. It definitely deserves its place among the best outdoor backless benches under $100.
Key Features
Construction Material: Hardwood (Meranti)
Overall Weight: 15.4 Pounds
Maximum Weight Capacity: 330 Pounds
Dimension: 3(W) x 11. 9(D) x 18. 5(H) inches
Seating Capacity: 2 Adults
Seat Type: Flat Top with Slats
Requires Assembly
Color: Natural
Pros
This Bench is very affordable
Easy to assemble
Water-resistant
Looks great on your patio or front porch
Decent quality
Cons
Not the sturdiest bench out there
BUY ON AMAZON
If you prefer metallic outdoor benches but want something that would be easy to move around, then you should consider the charcoal-colored Mango Steam Weave Bench.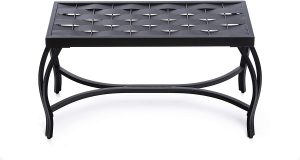 This bench is great as a round table and works well for outdoor areas where space is a premium. You can also use it on your patio, deck, or near your entryway.
It has an ebony furnished charcoal shade that adds a touch of elegance to any space, whether indoor or outdoor.
For the build quality, the bench uses powder-coated steel, which guarantees its sturdiness and durability. The woven pattern of the seat ensures it's more comfortable to sit on, while the curved legs and brace help to increase stability.
Despite having a metal construction, the bench weighs only 18.5 pounds, which puts it on the lightweight side and thus easy to move about.
It has a dimension of 32″ L x 13.5″ W x 18″ H and can comfortably sit up to two persons.
Key Features
Construction Material: Steel
Overall Weight Capacity: Not Specified
Dimension: 32″ L x 13.5″ W x 18″ H
Seating Capacity: 2 Persons
Color: Charcoal/Black
Seat Type: Woven Pattern
Overall Weight: 18.5 Pounds
Requires Assembly
Pros
Beautiful traditional look
Sturdy metal construction
Lightweight
Perfect for fire pits
Easy to assemble
BUY ON AMAZON
3. Achla Designs Backless Bench, 4-Foot – OFB-08
This cheap backless bench from Achla Designs is a perfect example of outdoor benches that combine quality and affordability. It has a refreshing dark natural finish that looks great on your porch, patio, garden, or balcony.
The bench has an eco-friendly body that doesn't only look good but also sturdy and comfortable.
To be more specific, it is made of sustainably harvested wood called Eucalyptus Grandis, which happens to be a cheap alternative to the original but also works great for outdoor use. Besides holding up well against weathering and rot, it is also quite dense and can support up to 350 pounds of weight.
The bench itself weighs about 25 pounds and has an overall dimension of 15.75 x 48 x 17 inches.
Like the previous model, you will need to apply some coats of natural oil yearly to retain its color and shine. Also, keep indoors when not in use, or you can cover with something waterproof, especially when the weather is harsh.
The curved slat seating also provides decent comfort; great for minimal sitting. You can use a cushion for extra comfort.
Furthermore, the bench is quite easy to set up. Just attach the detached legs. It should take about 5-10 minutes.
All the hardware you need is right inside the box.
Key Features
Color: Natural
Overall Weight: 25 Pounds
Dimension: 75 x 48 x 17 inches (L X W X H)
Seating Capacity: 2 Persons
Seat Type: Slatted
Construction Material: Eco-friendly Eucalyptus Grandis Wood
Weight Capacity: 350 Pounds
Assembly Required
Pros
Smooth and comfortable slat seat
Easy to put together
Solid construction
Beautiful, durable natural wood finish
Multiple-use
Attractive design
Cons
Sanding is not too great (you can fix this by sanding properly)
This Boraam Farmhouse Bench is an excellent choice if you want a backless bench that will not only serve as a seating space but also add a touch of luxury to your backyard. You also have the option to use it indoor as a dining chair or something similar.
Visually, this has got to be one of the most beautiful outdoor benches without back under $100. So it won't be surprising if you decide to use it as a decorative piece.
The 2-toned natural finish consists of a glossy wood seat, and antique white turned legs. These are beautifully mapped out to create an elegant design that stands out in any setting. If you want to get even more creative, you can sand down the finish and apply a different color.
But it's not only the visual side that makes this bench a nice product; it also has a durable construction. Specifically, it is made of hardwood (teak) and galvanized steel, which promises to endure a long time without losing its charm and radiance.
It is very easy to put together and can accommodate up to four persons.
The weight capacity is rated at 500 pounds, which makes it one of the largest options on the list.
Overall, this is easily the largest outdoor backless benches under $100, especially when size is involved. It comes highly recommended.
Key Features
Construction Material: Teak Hardwood & Galvanized Steel
Seating Capacity: 3/4 Persons
Assembly Required
Maximum Weight Capacity: 500 Pounds
Color: Antique White
Overall Weight: 24 Pounds
Dimension: 14 x 48 x 18 inches
Seat Type: Smooth Glossy Top
Pros
Weatherproof construction
Looks gorgeous in any setting
Multiple uses (can be used indoor or outdoor benches)
Easy to setup
Very affordable
Super easy to clean
Cons
Few customers complained about wobbling.
BUY ON AMAZON
Vifah is pretty popular in the furniture space, and the reason is not far-fetched. As a brand, they boost of a product line that offers a combination of quality and affordability. The 5-foot Baltic Wooden Backless Bench is no different.
It has a high-quality construction made up of Eucalyptus wood, which is very similar to teak. One of the biggest qualities of Eucalyptus is that it's very strong and thus highly resistant to wear and tear. The material is FSC-certified, which says a lot about its quality.
Though the bench is mostly targeted for outdoor use, you can also use indoors.
Like most outdoor benches we've reviewed so far, this one is also not affected by changes in the weather as well as moisture, so it holds up well against decay, rot, and insect attacks. However, like other wood types, it still requires occasional treatment (yearly) to retain its color and charm.
The bench has an overall weight capacity of 550 pounds and is capable of seating up to three persons. You will also find the curved slatted seat comfortable enough to sit on.
Assembly is quite simple and doesn't take much time. With a little experience, it shouldn't take you more than 30 minutes.
As always, we advise bringing the furniture inside or at least covering it when not in use. This will greatly help in increasing its useful life.
Key Features
Maximum Weight Capacity: 550 Pounds
Construction Material: Eucalyptus Wood
Overall Weight: 35 Pounds
Seat Type: Slatted (Contoured)
Color: Red Brown
Seating Capacity: 3 Persons
Dimension: 59 x 19 x 17.5 inches
Requires Assembly
Pros
Requires minimal maintenance
Clean, elegant backless design
Highly durable
Beautiful natural wood finish
Easy to clean
Reasonable pricing
Cons
Less practical as a plant stand due to contoured top
BUY ON AMAZON
The Caravan Highland is another example of durable outdoor benches to consider if you're spending on a budget. It is made from high-quality acacia hardwood with a classic "Americana" design that works great on your porch or patio.
Depending on your needs, you can choose from any one of the two size options available – 42-inches or 55-inches. However, the current 42-inches size bench can comfortably sit up to two persons.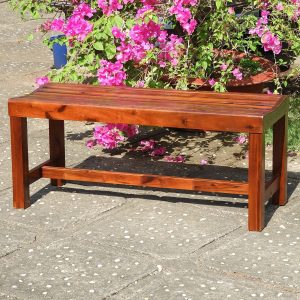 Besides its sturdy construction, the bench is also coated with a rustic brown wood stain finish that helps to protect from the weather and moisture. That said, to preserve its shine and color, avoid leaving in the rain. You can also use a good waterproof cover.
When it comes to comfort, the seat has a contoured design that seems to be quite comfortable.
Assembly is pretty easy and should take less than 10 minutes. All the hardware required are included in the box.
The bench has a dimension of 16 x 42 x 17.5 inches and can comfortably sit two adults. You can use it both indoors and outdoors.
Key Features
Overall Weight: 19 Pounds
Color: Brown
Construction Material: Acacia Hardwood
Dimension: 16 x 42 x 17.5 inches
Seating Capacity: 2
Assembly Required
Seat Type: Contoured
Weight Capacity: Not Available
Pros
Beautiful rustic brown color
Sturdy construction
Weather-resistant finish
Comfortable contoured seat
Lightweight design
Easy to assemble
Cons
Color fades when it rains.
BUY ON AMAZON
This 3-foot rustic primitive bench from Kenzie Kreations is an excellent choice for anyone who wants to add a piece of history with an antique touch to their garden or porch using outdoor benches without backrest. Even if you're not impressed with the design, it's hard not to love the price.
You will rarely find a cheaper outdoor backless bench that boasts of the same ancient landmark and quality.
So besides the rustic look, what other things can you expect from the bench?
It has a solid construction which ensures it survives many years of use. To be more specific, it is made from recycled barn wood that is over 100 years old.
The barn wood looks beautiful and rustic and adds a traditional accent to your space.
You can use it for sitting or as a table. However, from our examination, we think it's more of a decorative piece than a sitting place. So, ideally, you can use for holding your plants. It will last longer that way.
Luckily, unlike some of the outdoor benches we've reviewed so far, this one comes already assembled. So there's no need for any guesswork. Just start using it right away.
Key Features
Construction Material: Old Barn Wood
Comes Fully Assembled
Color: Varies
Dimension: 8-10" (L) x 36" (W) x 16" (H)
Overall Weight: Not Available
Maximum Weight Capacity: Not Available
Seating Capacity: 1/2 Persons
Seat Type: Smooth Top
Pros
Simple rustic and crude design
No need for assembly
Great price
Comfortable contoured seat
Reliable quality (Made in the US)
Cons
Not suitable for a heavyweight.
BUY ON AMAZON
Vinyl benches are normally expensive, usually up to $500 or more. So to get a good model for less than 100 bucks is definitely a big plus. I'm talking about the 6-feet backless bench from Dura-Trel.

This is one of the best wooden alternatives that is not only affordable but also of decent quality. It is also one of the longest benches on the list measuring over 72-inches in length. Thus, it can easily accommodate 3-4 persons and has a weight capacity of up to 700 pounds.
Made from vinyl means you don't have to worry about things like rot, discoloration, cracking, or peeling when using this bench. It also means maintenance is little or nothing, as vinyl planks are usually 100 percent maintenance-free.
However, it is worth noting that the bench is not entirely vinyl. Rather, it's actually vinyl sleeves reinforced with wood inserts for increased strength and stamina.
With a dimension of 72 x 11 x 16 inches, some people may find it a bit narrow. This can make it a little less comfortable for long-term sitting.
Overall, this is a decent backless bench with a fairly low price offering. It definitely deserves its place amongst the best outdoor backless benches under $100.
Key Features
Construction Material: PVC Vinyl & Wood Inserts
Dimension: 72 x 11 x 16 inches
Color: Dead White
Overall Weight: 31 Pounds
Seating Capacity: 3 Persons
Maximum Weight Capacity:
Assembly Required: Not Available
Seat Type: Smooth Top
Pros
Good structural integrity
Requires minimal maintenance
Very affordable
Great for plants
Simple and attractive design
UV resistant
Cons
Setup can be a bit of a hassle.
BUY ON AMAZON
The Office Star backless bench is a great choice if you need an outdoor bench that can hold up well against the elements when constantly exposed. It can also serve for indoor use for family or social gatherings.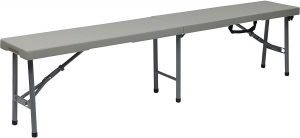 When it comes to durability, the construction of the 6-foot bench is meticulously executed. It features a heavy-duty light blow-mold resin top that is both durable and very easy to clean. This is supported by a solid powder-coated steel tube frame.
Both the resin surface and framing are waterproof and scratch-resistant. Thus, you can use the bench both inside and outside the house.
Also, both the frame and resin top are colored grey; however, the top has a lighter shade.  This simple color arrangement doesn't only look cool but also works well with any indoor or outdoor décor.
The bench weighs below 20 pounds, so it's not heavy.
In addition, it is outfitted with three sets of legs that can be folded for easy storage and portability. The legs also feature rubber end caps that help to protect your floor from damage, especially when using indoors.
The weight capacity is rated at 300 pounds, while the dimension is 12 x 72.5 x 17.5 inches.
Key Features
Construction Material: Resin
Seating Capacity: 6 Persons
Maximum Weight Capacity: 300 Pounds
Dimension: 12 x 72.5 x 17.5 inches
Seat Type: Smooth Resin Surface
Overall Weight: 20 Pounds
Comes Fully Assembled
Color: White
Foldable Design
Pros
Easy to clean
Lightweight
It comes with a carrying handle.
Foldable legs for easy transport and storage
Solid construction
Good for the price
Cons
It might be a little short for tall folks
BUY ON AMAZON
With a dimension of 23" (L) x13" (D) x 16" (H), the Sunnydaze Outdoor Pit bench is one of the smallest backless benches on the shelf. So, it works great as a single bench for seating around a fire pit or bonfire. Since it comes as a set of two and has a curved shape, you can purchase more sets to form a circle for a family or social gathering.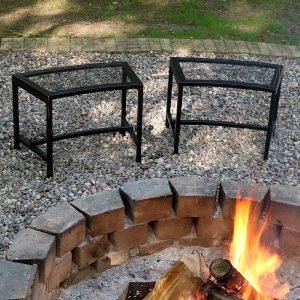 Interestingly, the bench can support up to 335 pounds of weight, which is quite impressive for its size. It weighs only 10 pounds and thus comes out as the lightest model on the list. So it's great as extra seating for your patio, deck, or porch.
Each bench can comfortably seat one adult, so it's two adults for one set.
Another thing we like about this unit is the build quality. Each bench is made of coated black metal and a mesh seat. We're not sure the exact type of metal used here, but we can tell the overall quality is decent. So you can count on it to serve you for a long time.
Assemble is also easy. You can spray with oil or paint to extend its service life, especially if you're going to be using it outside a lot.
Besides using for extra seating, the benches also work well as plant stands for holding a few small plants.
Key Features
Functional design that naturally fit into a round fireplace
Construction Material: Black Powder-coated Metal
Dimension: 23" (L) x13" (D) x 16" (H)
Maximum Weight Capacity: 335 Pounds
Overall Weight: 10 Pounds
Seating Capacity: 1 Person per bench
Color: Black
Seat Type: Mesh
Pros
Sturdy construction
Multiple uses
Lightweight and highly portable
Easy to put together
Cool rustic curved design
Cons
Rust can set in when exposed to extreme weather (you can spray to prevent this)
BUY ON AMAZON
Buying Guide: Best Outdoor Backless Benches Under $100
With so many options in the market, finding the best backless bench to match your outdoor needs can be a daunting task. To make things easier, here are the key things to consider before you make your final decision.
Material
When choosing an outdoor bench, it's very important you pay attention to the type of material. In most cases, the right material will depend on your location and the prevailing weather conditions.
The most common materials you will find for backless benches are wood, metal, and resin or plastic. Some models might combine two of these materials or more.
Wood backless benches are most popular. They usually have a rustic appearance that looks very attractive, especially in a traditional yard or garden. They generally last longer but often require occasional maintenance such as staining or oiling to keep them in shape.
However, they can also be expensive compared to other options, and some might soak in a lot of water after a heavy downpour. It's best to keep them out of the rain, even if it's waterproof.
Resin or plastic benches are also a good choice. They are weather-resistant and very easy to clean. However, they may not be as strong as their wooden counterparts.
Metal benches tend to be strong and long-lasting. However, some types of metal may do better than others. A good example is aluminum and cast iron. The latter is usually more durable and heavy-duty.
Size
Besides the construction material, size is another key factor to consider when choosing a backless bench for your yard. This is even more important if space is a premium in your home. Ideally, you want something that will easily fit into your existing space.
Some benches may be smaller or bigger than how they appear online or in pictures. So make sure you check the dimensions.
Also, consider the number of people that would be sitting on the bench.
Brand
It's usually easier to get a high-quality backless bench when you're spending $500 than when your budget is $100. And this is mainly because they're more cheap furniture with low quality than there are poor costly models.
When spending on a budget, it's usually safer to start shopping from the more reputable brands as this provides a better guarantee of quality.
As you can see, most of the products mentioned above are some of the best quality options available for their price.
Comfort
If you're mainly purchasing the bench for decorative purposes or just to hold plants, then comfort may not matter much. However, if you intend to use it for seating, then you might want to find a model that offers a balance between style and comfort.
In this case, you should look out for the type of material used for the benchtop, the design, and finishing, as well as the smoothness (especially for wooden models).
Resin, plastic, and vinyl benches are usually smooth by nature. However, some wooden models may need to be sanded before they are comfortable enough to sit on. A curved slat seat can also help to enhance comfort.
You can always use some cushion or pillow on the seat, especially if you plan to sit on the bench for long.
Price
One hundred bucks are just about the best you can get when looking for a cheap outdoor backless bench with good quality. All the models reviewed here are just around $100 and represent the best quality you can get for an affordable price.
The type of construction material for the bench will largely determine the price. Very low price benches are usually made of poor plastic material or just resin with no inserts. Even though they're weatherproof and maintenance-free, they usually have lesser weight capacity and may break easily.
Some backless benches may also cost between 300 to 500 bucks, or even more. These are also great if you can afford them.
Best Outdoor Backless Benches – FAQs
How long do these outdoor backless benches last?
With proper care and maintenance, you can expect the bench to serve you for up to five years or more. There are even bench models that can last well over ten years.
What kind of maintenance do these benches require?
Metal, vinyl, and resin-type outdoor backless benches usually require little to no maintenance. In most cases, this will involve wiping them down occasionally to remove dust and stains. Wooden models may require oil treatment from time to time to preserve their look and keep them protected from the elements. Whatever type of bench you're using, it is best to keep it covered when not in use or bring it inside the house, especially during extreme weather conditions.
What are the best outdoor backless benches under $100?
Any one of the products above is a potential winner depending on your specific needs. However, our favorite is the 6-foot vinyl bench from Dura-Trel. We found both very attractive and durable. They are also amongst the most budget-friendly options with decent quality. Vifa Baltic is also a great choice if you're concerned about strength and longevity.
Where can I place my bench?
Well, anywhere! You can place your bench on any surface, whether it's pavement, deck, or even grass. However, when placing on a wet surface such as the lawn, it's a good idea to cover the area with some wood chips or stones before placing the bench. This will help to prevent the bench from sinking and ensure a level surface.
Can I leave my bench out in the rain?
It is generally not advisable to leave any piece of furniture in the rain even if it is weatherproof, as this can significantly reduce its lifespan. So try not to leave your bench to the mercy of the rain. Take it inside whenever you can.
How can I get one of these benches?
To purchase any of the benches above, simply click on the corresponding link to go to the sales page. There you will find more information about the product such as the price and shipping information.
Conclusion.
So, there you have it – the best outdoor backless benches under $100. By now, we expect you to have found a suitable bench for your patio or yard.
Make sure you examine the factors discussed in the buying guide. This will greatly help in simplifying the process selecting a suitable outdoor backless bench.
Let us know if you have any more questions about choosing the best backless bench, and we will be glad to help.
We will like to hear your comments and suggestions in the box below.