Last updated on July 4th, 2022
Staining is a great way to change the color of wood or give it a facelift. However, the best exterior wood stains actually do more. They also provide protection against external elements such as rain, sunlight, snow, and mildew. 
With the best stain for outdoor wood furniture, you can achieve a natural wood grain hue not ordinarily possible with a paint finish. Luckily, they are available in multiple colors, which provides more flexibility in choosing a color that matches your outdoor decor.  
In this article, we will look at seven products that qualify as potential winners for the best wood stain for outdoor furniture. This list is a result of many hours and weeks of research and testing best exterior wood stains. They will help to protect your wooden structures while displaying your desired color and transparency. 
What are the types of stains?
Wood stains can be grouped into four categories based on their color and transparency. These include:
Solid stains have a lot of resemblance to flat paints. They have a solid color that hides the wood grain and obscures its original color, giving it a completely new appearance. 
Due to the high level of pigment in these exterior wood stains, they tend to outlast the other stain types and offer the most protection against external elements. A typical solid stain should last around 3-5 years before needing another coat. The best ones can last longer. 
The major downside with using solid stains is that they tend to form a film on the wood surface after several coats. This film can crack and peel just like regular paint. 
The typical use case for solid stains is old weathered wood furniture. They are not to be used whenever you want to maintain the natural beauty of wood or expose the grain, as in the case of a new furniture piece.
Semi-solid stains don't have as much pigment as solid stains, so they only partially hide the original wood grain. 
Since they're "semi-solid," they can produce a similar effect as solid stains when applying two or more coats of the stain. So, you may only need to use a single coat of stain to see the desired effect.
Semi-solid stains can last up to 3/4 years before needing a recoat. 
Semi-transparent stains contain just enough pigment to change the wood color but not enough to hide the grain. So, even though wood takes on a slightly different hue, the grain is still very much visible. 
This makes semi-transparent stains a top choice for showing off the natural beauty of the wood while protecting it against sunlight and water. 
Unlike solid exterior wood stains, they don't form any surface film and can't peel. 
They need to be reapplied every 2-3 years.
Also known as clear toner, transparent stains contain little to no pigment but consist of water repellents. They rarely alter the original color of the wood and allow all the grain to show through. 
This makes them the ideal choice for highlighting the natural beauty of wood. As a result, they come highly recommended for new wood or structures such as decks and tables.  
Since they have little or no pigment, transparent stains offer less protection than the other stain types. So they need to be reapplied earlier, usually once a year. 
Factors to consider when choosing the best stain for outdoor wood furniture
Here are a few things to keep in mind while in the market for a wood stain.
There are generally two ways wood stains act – they can form a protective film on the wood surface or penetrate the wood grain. In both cases, the goal is to protect the wood from environmental elements such as UV rays and moisture. Each of these methods has its advantages and disadvantages. 
Penetrating stains bore through the wood pores and protect it from the inside. Since they work from within, they are able to form stronger bonds that hold up for a longer time. However, they are not so great when it comes to concealing blemishes and irregularities. 
Film-forming stains form a protective cover on the wood surface – more like a shell. They are obviously more effective at hiding irregularities. However, the bonds they form are not as strong as those of penetrating stains, so they may need to be reapplied more frequently.
Besides their colors and opacities, wood stains are also classified based on the base liquid. This refers to the liquid used in mixing the compositions. So we have water-based stains and oil-based stains. 
Also known as acrylic stains, water-based stains have water as their base liquid. They offer more color options and dry faster than the oil-based stains (usually within a few hours). They are also easy to apply and clean up and have less odor. 
Oil-based stains penetrate deeper into the wood and thus offer longer-lasting protection. However, they take a longer time to dry and can be challenging to clean up. 
Once you decide on the amount of surface you want to cover, the next thing is to find a stain that provides that coverage. This is directly connected to the quantity of stain – the higher the quantity of stain, the larger the area it can cover. 
So, ideally, you should choose the maximum coverage for your project, or you might discover there's no more stain halfway through the work.
A single gallon of stain would cover at least 100 square feet area for the first coat. 
When in doubt, you can purchase the largest gallon available. You can always reuse it in the future. 
Just like paints, wood stains come in different color options. It's up to you as a user to decide which one would best suit your project. 
While aesthetics is important, that shouldn't be your only motivation for choosing a particular color. 
Also, consider where the furniture is placed and how much sun exposure it gets. 
Light colors are more reflective, making them uncomfortable to behold when the sun is up and bright. However, since they reflect most of the heat coming their way, they are usually cooler. 
Conversely, dark colors absorb most of the heat coming their way, so they feel hotter. However, they tend to last longer. 
If you're choosing a color based on aesthetics, then it should be similar to the wood you wish to stain or at least match a permanent feature in your yard.
Location and Age of the Wood
Horizontal surfaces usually get more sun exposure than vertical surfaces. For such areas, a penetrating stain or one with more pigment is generally recommended.
However, if you're applying the stain on a piece that's used under a pergola or some shade, then you can use something clearer. 
The age of the wood also plays a role in determining the best stain. For old weathered wood, solid stains work best at producing the required facelift. For new wood or recent furniture pieces, you may want to preserve the original color of the wood. In this case, you may want to use a transparent stain.  
Your choice of stain also depends on whether you want to preserve the original beauty of the wood or completely overhaul the look. If you're going to see more wood grain, then consider a stain with less pigment. In this case, a transparent or semi-transparent stain will work best.
However, if you want to give the furniture a completely new appearance, then you should use a solid or semi-solid stain depending on the age and location of the furniture.
Consider the type of wood you're going to apply the stain. Different strains work for different wood types – some perform well on hardwoods, while others are great on softwoods. 
For instance, softwoods readily absorb penetrating stains, but that's not always the case with hardwoods.  
So find out what type of wood you have, so you can decide on which stain to go for. 
The existing finish on the wood surface will also determine your choice of stain. If the wood is bare, then any kind of stain will work. However, if the wood has a previous coating, then it's best to use something similar. 
For instance, if the wood was previously coated with a transparent stain, then you can go with a transparent or semi-transparent stain. The same thing applies to the liquid base. A water-based stain can go over an oil-based finish but not in the direction. 
In any case, some sanding is usually required to get rid of the old finish.  
If you have a specific budget in mind, then it will reduce the number of options available to you. This helps to make things easier.
However, even though you want to save as much money as you can, avoid ridiculously cheap products.  Always prioritize quality before anything else.
Luckily, you don't need to walk around the park for too long. All the items on our list are not only affordable but also represent the best quality. So it's a win-win for you!
Our Top 7 Best Stain for Outdoor Wood Furniture
Here's a review of our top 7 wood stains for outdoor furniture and structure.
The DEFY Extreme is a premium quality water-based wood stain that promises optimum protection against harsh weather conditions, especially UV rays. It is formulated to be eco-friendly and has very low VOC. 
Being a semi-transparent stain, it doesn't obscure the wood grain. Instead, it conceals only a bit of it and allows most to show through, leaving behind a beautiful matte finish that doesn't peel or fade quickly.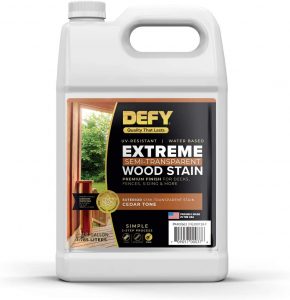 Interestingly, the stain uses high-quality resins that contain tiny zinc particles, the same type found in sunscreens. These zinc particles do not only deflect harmful UV rays but also help to prevent mold buildup and water damage. As a result, fading is minimal, and there's no significant color loss, even when the wood is constantly exposed to direct sunlight.
The stain is best used on wood decks, porches, fences, and any outdoor wood furniture. 
Before applying the stain, make sure you get rid of the old stain (if any) on the wood surface. Also, clean the wood thoroughly to remove dirt, mold, and mildew, and dry thoroughly. 
If you're applying two coats, make sure you don't wait longer than 20 minutes, or else the first coat might seal and make it difficult for the second coat to soak in. 
Depending on the age or type of wood, the color of the stain might appear reddish when you first apply it. Don't panic. Give it a few days, and it will distill down to brown as expected. 
Pros
Easy to maintain

Comes in multiple colors options

Durable quality (can last up to two years)

Eco-friendly formula 

UV and fade resistant

Contains sealants
Cons
Stains very quickly, which can be a problem if there's a spill
BUY ON AMAZON
The Ready Seal exterior stain and sealer is another top choice to consider when it comes to preserving outdoor wood furniture. However, it doesn't only protect but also beautifies. It gives the wood a slight tint while maintaining its natural tone and texture.
One of the key advantages of this formula is that it comes with a built-in sealant. As a result, it's able to serve both as a stain and a sealer. The sealant penetrates deep into the wood and provides protection against water, sunlight, mold, and mildew.
Unlike most stains, this one doesn't require a primer for it to stick. This makes it easier to use, which can be a plus for beginners. 
You can apply the stain at your desired temperature, and it won't leave behind any runs or streaks. There's no need for back brushing or wet-line application.
Since the stain is semi-transparent, it might not be able to hide all existing discoloration or blemishes. So it's best to strip the wood surface first to remove the previous stain, dirt, mildew, grease, and other defects. This is necessary to achieve a uniform finish. 
The stain can be used for all exterior wood projects. Make sure the wood is completely dry before applying stain. Wait time can be about 48 to 72 hours, depending on the local climate. 
After staining, the finish might appear darker initially. Don't worry. It can take up to two weeks for the true color to set in. 
You can apply the stain using a brush, roller, or sprayer. 
Pros 
Displays beautiful color tone that looks natural

Resistant to mold and mildew

Doesn't require a primer

No thinning or diluting is necessary

Easy to maintain

Repels water nicely

Both stain and sealer
Cons
Takes up to two weeks for true color to appear
BUY ON AMAZON
The Thompsons All-in-one Formula serves as both a stain and a sealer, which is a big plus, as it removes the need to purchase an additional sealer. This saves you both money and time, as you're able to accomplish much in a single project. You can use the formula for any type of outdoor wood.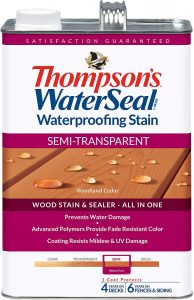 As the name suggests, this is a transparent stain, but that it still adds a little color to the wood. This is more noticeable if the wood is faded and needs to be restored to its original appearance. The color appears a bit reddish at first but gradually transforms to brown as the stain dries out. Despite the slight color tint, the wood maintains its natural look, and the grain is still very much visible. 
Once applied, it takes only 1-2 hours to dry, and after that, it repels water and provides protection from UV damage and mildew. 
You can apply the stain using a brush or roller. 
For the best result, we recommend you prep the wood by sanding it down and washing with soap. This is necessary to obtain an even finish and ensure it doesn't peel later on. 
Interestingly, the stain works on both dry and damp wood, so you can start painting straight away after preparing the wood or after a downpour. 
Although the formula is said to be transparent, it is available in 5 color options – cedar, maple brown, acorn brown, sequoia red, and harvest gold. Each of these displays a natural wood grain hue.  
Pros
Fade-resistant

Multiple colors available

Both stain and sealer

Very easy to apply

Prevent UV and water damage

Fast drying time
Cons
Not low-VOC (respirator is needed)

Wood preparation needed
BUY ON AMAZON
The KILZ Exterior Wood Stain is a 100-percent acrylic formula designed to preserve the integrity and beauty of outdoor wood in variable weather climates. It is mainly recommended for moderately weathered wood surfaces or those that are unsealed (not more than 10 years old). This includes but is not limited to decks, siding, fences, railings, and patio furniture.
To achieve the best results, make sure to shake thoroughly or stir before use. You can apply it with a paint pad, brush or pump sprayer. 
A light sanding can also help remove irregular fibers or blemishes on the wood surface. Once the wood is ready, wash thoroughly and give it at least 24 hours to dry before coating with stain. 
Once applied, the stain dries nicely, displaying both an attractive stain color and the natural wood grain.   
The stain was quite thicker than we expected for an acrylic formula, but it still settles deep in the wood, protecting it from within.
KILZ is available in a wide variety of colors, but cedar and redwood are the most popular options. With each color, the stain displays a hue very similar to the natural wood grain. 
Unfortunately, there's no indication as to what wood type to use the colors on. However, they all produce the same result – a color tint with some wood grain exposed. 
The stain comes in a 1-gallon can, which is enough to cover 150-250 square feet on the initial coat. You can get more gallons depending on the size of your project. 
Pros
Extensive coverage

100 percent acrylic formula (quick drying)

Reliable UV and water protection

Great for all types of outdoor furniture and structures

Mildew resistant

Easy to clean up (needs only water)
Cons
Wood preparation might be necessary to achieve the best results.
BUY ON AMAZON
The Deck Premium Semi-transparent Wood Stain is perfect for restoring old weathered wood decks, as well as those with previous coating of a transparent stain. It covers around 100-150 square feet for every single gallon. 
The package contains about 2.5 gallons of stain, which should be enough for most small projects. If you're staining a large piece such as a deck, then consider getting extra gallons. 
Since this is a water-based stain, it's very easy to apply using the included brush, or you can use your own brush, rollover, or stain stick. 
Interestingly, the formula works as both stain and sealer. So, you don't need to apply an extra sealer or wax when done. 
The product is meant for external use only. To preserve the potency of the sealer, avoid thinning with mineral spirit or similar chemicals.
Like the other stains on the list, this also provides protection against UV damage and moisture. It doesn't have a strong odor and is quite easy to clean up using soapy water. 
Overall, we will rate the #1 Deck Wood Stain as a decent quality product. It doesn't offer a lot of advantages but does what it promises, which is to give your deck a flat and natural look while providing protection from external elements. It is eco-friendly and has a reasonable price point. 
Pros
Easy to cleanup

Environmentally-friendly

Function as both sealer and stain

Beautiful color finish

Superfast dry time
Cons
Only suitable for outdoor use 
BUY ON AMAZON
If you want to achieve a distinct wood look and not just a cover-up, then the Old Masters Gel Stain will make an excellent choice. This wood stain provides a perfect tone that is great for restraining wood or displaying a warm antiqued look. 
It doesn't only darken wood but also evens out the tone while subtly displaying the grain. Even when used over a painted surface, it will display a form very much similar to natural wood grain. 
The stain is highly pigmented, which is likely responsible for intense coloring. And it's suitable for both indoor and outdoor wood. 
It is also super thick, which makes it the ideal choice for minimizing fading in exterior wood that gets a lot of sun exposure. 
Applying the formula is very easy, as it doesn't drip from your sponge brush. It is also easy to remove excess of it when the stain gets too dark. However, if you do encounter any mess or spills, you will need mineral spirit or a similar cleaning solvent to clean it up. 
Once fully applied, the stain takes 24 hours to cure; then, you can add a topcoat. We strongly recommend using a protective sealer over the stain as that would help increase its durability. 
To obtain the best results, we also recommend sanding the wood surface before applying the first stain layer. Make sure you wear gloves to protect your nails. 
Besides wood, the stain can also be used on composites, fiberglass, and even metals. For most applications, you will only need a single coating, but you can use two if you want to achieve a more intense finish. 
With each purchase, you get one quart of stain. 
Pros
Suitable for both interior and exterior wood

Doesn't require more than one cat to get the job done

Vibrant color options

Thick formula

Extremely easy to apply

Fast drying time (for an oil-based stain)

Minimal fading
Cons
Not up to a gallon

Can be hard to clean up if there are spills
BUY ON AMAZON
The Wolman Durastain might not be the most popular wood stain out there, but it's still a favorite for many. It's a semi-transparent and water-based stain and thus provides excellent color retention. 
With water as the base liquid, the stain is easy to apply and has a quick drying time. It also has adhesive properties, which help to minimize dripping. This makes it ideal for beginner DIYers. 
The stain has very low VOCs, so you don't need to wear a respirator when using it. However, we still recommend working in a ventilated area. 
Most of the time, you will need more than one coat to achieve the desired result. 
In terms of performance, the formula offers UV protection and uses hydrophobic technology to prevent water retention. It is also resistant to mildew. This greatly reduces the chances of common wood problems such as warping, cracking, and splitting.
While the stain adds a color tint to the wood, it doesn't change the original texture. So, the grain still shows through. It doesn't peel and can last up to 2 years before you need to apply it again. 
The stain is best used on previously coated wood with a transparent stain. These include structures such as siding, shingles, decks, shake, porches and fences.
Overall, the Wolman Durastain is a decent quality stain that offers a lot of benefits. It comes recommended for its price. 
Pros
Doesn't peel

Doesn't completely obscure the wood grain

Environmentally-friendly

Easy to apply

Provides UV protection

Good color retention
Cons
The odor might be offensive to some people.
BUY ON AMAZON
Best Stain for Outdoor Wood Furniture – FAQs
Do stains really protect exterior wood?
Yes, they do as long as you use the right product. The best exterior wood stains provide protection against harmful UV rays, water, and mildew.
Which stain type is most durable?
That would be solid stains. These stains typically stay up to 5 years before they need to be reapplied.
How many coats of stain do you need to apply?
This depends on the wood type, specifically the level of absorption. 
Softwoods like cedar and pine are usually more porous, so their level of absorption is high. This makes them better at retaining the stain color, so 
On the other hand, hardwoods have a lower absorption rate, so they usually require two or more coats to fully display the stain color. 
How do I prepare outdoor wood for staining?
When restoring old weathered wood, sanding may be required to remove loose painting or finishing before applying the stain.  
How long does it take for wood stains to dry?
This depends on the wood type and the prevailing weather. The stain texture also plays a role. 
Water-based stains usually take a few hours to dry (around 2-3 hours), while oil-based stains may take up to a day or two to dry fully. 
Do I need to apply a sealer after staining?
Not really, but it's recommended. While staining wood is enough to safeguard it, applying a sealer will help provide additional protection from outdoor elements. 
Unlike stains, sealers don't add any color tint to the wood. They are transparent and only add an extra layer of protection.
Where can I get the wood stains listed here?
To purchase any one of the products above, simply click on the corresponding link to go to the product page. 
Can I stain any furniture?
This depends on the current situation of the wood surface. If it's bare, then yes, you can stain it. However, if it has any previous finish, then the type of finish will determine whether or not it's appropriate to stain it. 
If it's going to be stained, then some preparation may be required. This usually involves sanding the wood to remove blemishes and stripped finishes. 
Final Words 
When using wood outdoors, it's essential to have the right kind of protection. Staining is one of the best ways to ensure your wood furniture and structures are conducive for outdoor use. 
Hopefully, this article has shown you what the best stain for outdoor wood furniture is or how to identify it among the myriads of options out there. All seven products reviewed here are potential winners, so you can't go wrong with any one of them. 
Make sure to choose a stain with the right color and transparency for your project. This will depend on how much of the wood grain you want to hide or expose. 
You can always refer to our buying guide if you need to clarify anything. Also, feel free to drop your questions and suggestions in the comment box. *9