Last updated on May 6th, 2022
Teak wood is notorious for being incredibly hard and dense, with a rich deposit of natural oils. It possesses resistive qualities not typically found in other wood types but it can still succumb to external factors and thus needs protection. This is where using the best teak sealer for outdoor furniture becomes necessary. 
Applying a sealer over teak helps to extend its peak condition while maintaining its radiant look. The best teak sealer for outdoor wood furniture is usually marine-grade suitable for marine wood and other hardwoods like oak, bamboo, mahogany, and others. However, teak sealer is not to be confused with teak oil which acts more as a beautifier.
In this article, we are going to review the best teak sealers currently available in the market. Our list comes after a lot of testing and research. We've also included a buying guide and answers to some frequently asked questions about teak sealers.
How to Choose the Best Teak Sealer for Outdoor Wood Furniture 
Even though we've narrowed down your options, it's still important to arm yourself with the right information in order to choose the perfect teak sealer for your needs. With this in mind, here are the key factors to consider when selecting a teak sealer for outdoor teak furniture.
Water Protection
A good sealer should be water-resistant. This is important because water is a major spoiler of any wood type. Teak Sealers without water protection will not be able to keep your teak furniture from getting damp or rotten.
So before putting out your money for any brand, make sure it has water resistance properties like the teak oil. This will keep your furniture protected from moisture and rain, no matter how long you leave it outside.
Quantity
Knowing the right amount of best teak wood sealer to purchase for your project might be difficult, especially if you are not a DIY maniac. This becomes even more apparent when you consider that these sealers take a long time to dry. Thus, not having enough to work with will likely prolong your project. 
So, make sure the teak sealer you buy comes in the right amount to cover the wooden surface where you wish to apply it. We recommend anything from a gallon. If you are not sure, consult with woodworkers or painters. 
It's common to find one teak sealer having one gallon to have the same price with another sealer that comes in 5 gallons. The latter adds more value since you can reuse the teak sealer a couple more times in the future. However, the gist is to choose a quality product that comes with the right amount of sealer for your project.
Color Finish
The primary function of a teak sealer is to protect outdoor teak wood from external factors. However, most manufacturers usually fall short because they don't pay much attention to aesthetics.
Making the right choice for the color finish is important because apart from protecting your furniture, you also want it to look good. There are a number of premium teak sealers in this guide with a good number of color shades – clear shades to dark brown. The darker colors usually offer the most UV protection. 
Ease of Use
Applying teak sealers to outdoor teak furniture can be a lengthy process, so choosing something easy to use will remove most of the stress.
In determining the ease of use for any teak sealer, there are three major things to look at; the coatings, whether or not it requires mixing, and the type of accessories it comes with. 
The last thing you want is a runny teak sealer as this can make the job more difficult. Instead, you want something that will seal into the teak wood once you apply it. 
Some teak sealers need to be mixed with other ingredients before applying them, while some can be used right away after unboxing. You will probably find the latter much quicker to work with. 
Additionally, having all you need (accessories and instructions) to apply the teak sealer can also make a difference. This way, you don't have to figure out which type of brush or rag to use. 
Budget
Having a specific budget in mind can reduce your options and help you focus on finding a product with the best perks at that price range. 
While most premium teak sealers will cost a little more, there are still affordable options that also produce outstanding results. The gist is to go for the best quality at whatever price you choose. 
Ingredients
The best teak sealer for outdoor furniture could be oil-based, teak oil, or water-based. Each of these will work well depending on your preference and what you wish to achieve. 
Oil-based sealers or teak oil can penetrate deeper into the wood piece, which provides longer-lasting protection. However, they can get really sticky, and most of them are not good for the environment. 
On the other hand, water-based sealers are eco-friendly and non-sticky. However, they require a little more coating to apply.
Review of the Best Teak Sealer Systems
Star Brite Teak Sealer Systems
The Star Brite Teak Sealer System is arguably the premium choice as far as teak restoration is concerned. It consists of three components – a cleaner, a brightener, and a sealer. Of course, you don't have to use all three. It all depends on what you wish to achieve – whether to give your teak wood furniture a facelift or protect it from a harsh climate. 
Let's examine all three products. 
The Starbrite Teak Cleaner makes it incredibly easy to restore your dingy old gray teak furniture. It is a single-step premium cleaner which means you can use it independently, but it's most often used together with the brightener and/or the sealer.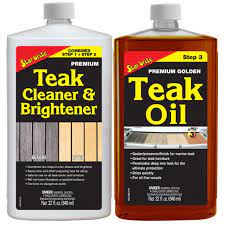 To use the cleaner, simply wet the wood you wish to clean, apply the cleaner, then scrub with a bristle brush or scrub pad. Make sure you wet the wood before applying the cleaner and use a moderate bristle brush.
After applying the cleaner, let it sit for two to three minutes before you scrub. Then try to direct your strokes towards the wood grain when scrubbing. This is important to ensure deep cleaning. 
Once you're done cleaning, you can rinse with fresh water. 
For scrubbing, Starbrite offers a separate scrub pad called the Starbrite Magic Scrub. You can purchase this separately or use any available medium bristle brush. In case you don't have any of this, you can use a cloth or sponge. Scrub gently to remove dirt and grime. The cleaner is safe to use and eliminates the need for sanding. 
Unless you are doing the routine clean-up, this is just the first step towards rejuvenating weathered wood outdoor furniture. After cleaning, you might need to apply the teak brightener or move on to the sealer.
It is worth noting that the Starbrite Teak Cleaner is made up of high-quality composite and is not limited to teak wood. It will also work for other fine woods.
Since this is a water-based cleaner, it is meant to be handled carefully. Ideally, you should wear your gloves and keep your eyes protected.
Overall, the Starbrite Teak Cleaner is an excellent choice for restoring, refreshing, and renewing dingy old gray teak furniture compared to teak oil. It might not be the most affordable teak cleaner, but it's definitely worth every penny. For full protection, use it together with the Starbrite brightener and sealer. 
Pros
Easy and safe to use

It doesn't require sanding after cleaning

Works for other wood types

Gentle on fiberglass and gel coat

Comes in a 16oz container (enough for two chairs)

Doesn't require a lot of muscle to apply (labor-saving)
Cons
On the pricey side

Starbrite Teak Brightener
After cleaning your teak furniture, the next step is to brighten it with the Starbrite Premium Brightener. Of course, you can skip this step, but it's not advisable, especially if your teak is in terrible shape. 
Like the Starbrite Teak Cleaner, this brightener is also very easy to use and produces amazing results. In fact, the restored furniture looks new after applying the brightener.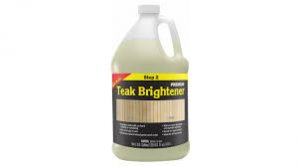 Besides using it for terribly looking teak outdoor furniture, the product can also be useful when you want to even out the tone of the wood grain and prepare it for sealing or oiling. The difference is clearly noticeable.
As earlier indicated, the brightener is meant to come after applying the Starbrite Teak Cleaner. But you can skip the cleaning step if your wood is not dirty or stained. 
To use the brightener, shake the bottle well, then apply to the wood surface using a soft cloth, brush, or sponge. Again, follow the direction of the wood grain. 
Once you've covered the entire area, give the solution some time to soak it into the wood. This should take about 5 minutes. Then, rinse with water and allow to dry. 
This is very important to avoid moisture buildup, especially if you plan on applying the sealer afterward. 
Note: There's no need to scrub the brightener to achieve the desired effect.
We recommend working at warm temperatures above 50 degrees Fahrenheit. Also, avoid skin contact with the product by wearing your gloves. 
Overall, we recommend the Starbrite Teak Brightener for bringing out the natural beauty of your teak furniture. It's easy to apply and requires little effort. We mainly recommend teak outdoor furniture that looks out of shape. Other than that, it might not be necessary. 
Pros
Great for an evening out wood-tone before sealing or oiling

Works better than steel wool for detailed cleaning

Simple application process 

Long-lasting effect

Doesn't require scrubbing or rubbing

Also works for other fine woods
Cons 
Stains quickly (use a cover or drop cloth on nearby)

Few quality-control complaints had to do with leaks or products arriving with no cap seals.

Starbrite Teak Sealer

 
Your teak wood restoration efforts will not be complete without applying an extra shade of a teak sealer. This is where the Starbrite Teak Sealer comes in. Once you've applied the cleaner (and brightener), the next step is to seal the wood for complete protection. 
With Starbrite, you only need to apply a single coat of sealer to lock in the oils in the wood and protect it from liquid spills, rain, and UV rays. Much of its action can be tied to the use of advanced polymers in the product formulation. This offers complete resistance from sunlight, water, and salt.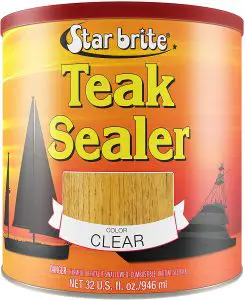 In fact, when you pour water on a teak surface furnished with the Starbrite Sealer, it turns into beads and never really soaks in. You can easily wipe these beads with a clean cloth. UV protection also helps to prevent grayness and fading.
Luckily, the gel formula ensures there's no flashing or dripping and allows for easy application. But we still advise you to cover all adjacent surfaces to prevent accidental spills that could result in a stain.
Also, make sure you have your gloves on while using the product. 
To obtain an even finish, you need to apply the sealer with a foam brush. Use short strokes and follow the direction of the wood grain. Before drying, examine the sealer for uneven spots and brush marks, and correct using a dry towel. Again, follow the wood grain. 
After everything, allow the wood to dry in the sun to remove all tackiness. This should take around 4-5 hours, which might be a little too long for some people. Once dried, you should be able to use the furniture in 24 hours. 
The sealer is available in 3 color options – classic, clear, and light. You can also choose from 3 volume packs – gallon, quart, and pint. 
Overall, this teak sealer from Starbrite is an excellent choice for keeping outdoor teak furniture safe from bad weather conditions. It stands out as the best teak sealer for outdoor wood. For its price, you will hardly find a better alternative. 
Pros
Water and rot-resistant

Leave behind an attractive lustrous finish

Marine-grade (popular among boaters)

Long-lasting (up to a year)

Easy to use

Contains UV inhibitors to prevent fading

With gel formula, there's no flashing or dripping.
Cons
2. Golden Care Teak Sealer System
Like the Starbrite teak care system, the Golden Care system is made up of three components – a cleaner, sealer, and protector. All three products are super easy to use and should be applied successively to get the best results.
Golden Care makes it a lot easier to achieve your desired color patina following their color guide. Let's explore each of the products in greater detail. 
The teak care system by Golden Care starts with the Golden Care Teak Cleaner. This works for restoring weathered wood and removing stains caused by mold and mildew. 
Unlike most regular cleaners, this one doesn't only clean but brightens as well, and it achieves this in just one step. This makes your job easier and saves you more time compared to using other products that involve a two-step process.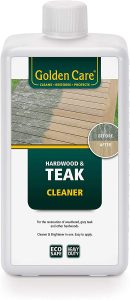 The cleaner is completely water-based and doesn't contain any of the harmful VOCs or chemicals normally present in many cleaners. It's neither toxic nor corrosive, which makes it safe to use. But that doesn't mean you should forget your gloves. You should always protect yourself when working with this type of product.
As earlier indicated, the cleaner does a pretty good job at removing dirt from teak while restoring it to its original honey brown color. However, if you're not satisfied with the color finish, you can move on to the Golden Care Teak Protector to achieve even better results.
It should be noted that this cleaner doesn't remove deep stains and oils. Deep stains can be said to be stains that have gone beyond the surface of the wood. In such cases, sanding will be required. 
Also included with the product is a scrubbing pad. This takes away the guesswork as to what abrasion level to use in order to achieve the best results. 
Being a water-based cleaner, the solution evaporates once it's been applied—no need to wipe it off. 
The 1-liter bottle should be enough to clean up to eight dining chairs and maybe four lounge chairs. 
The Golden Care Cleaner might not be the most preferred product for beautifying outdoor wood, but it does excel against grime and dirt. 
Pros
100 percent biodegradable (environmentally friendly)

Offers various color options

Great for removing surface dirt and grime

Restores teak to honey brown

Great for the environment

Quick to dry
Cons
Color finish is not so bright (best for just cleaning)

Golden Care Teak Protector
The Golden Care Teak Protector is an excellent choice when it comes to restoring dull and dingy teak wood surface to its original color and accent. It works for any teak furniture no matter how old and will last four times longer than normal teak oil. 
The application process is pretty straightforward, and drying is quick, so it shouldn't take much time, except you're dealing with a larger piece.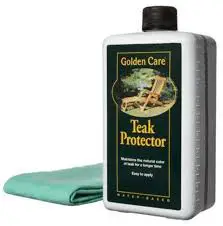 Being a water-based formula means the product is non-greasy and doesn't need to be wiped off after application, and comes out as the best teak protector. The texture is smooth and doesn't require any special equipment to use.
The color finish obtained from applying the protector is a honey-brown shade, which looks very much like natural teak wood.
The result is almost instantaneous, even on a worn-out ten-year-old piece, and you don't need to use more than a single coat.
Besides brightening teak furniture, this product also provides protection from water, UV rays, and mold buildup. This makes it incredibly helpful in preserving the grandeur of teak and preventing grayness.
As earlier indicated, you don't need a special brush or pad to apply the product. A towel or cloth will work just fine. 
The ingredients are eco-friendly and don't give off toxic fumes. You can use it anywhere in the home as it's non-flammable.
The entire solution is bottled in a 1-liter container, which is a decent quantity. This should be enough for most projects. 
You may find it a bit expensive compared to similar products. This is why you should be extra careful while handling the solution to avoid wastage. 
That said, the product is still worth the extra cost considering the grade and quantity. Believe me; it doesn't get better than this!
Pros
Eco-friendly and non-flammable

Doesn't give off toxic fumes

Last longer than teak oil

Bright, sharp honey brown color

Easy to apply and dries quickly
Cons
Somewhat expensive

Golden Care Teak Shield
Also available in 1-liter bottles, the Golden Care Teak Shield is specifically formulated to protect teak wood from food stains. 
It creates an invisible barrier on the teak surface that stops potential stain makers from penetrating into the wood. This can be really helpful in preventing deep-rooted stains in teak that are difficult to remove. 
Common stain makers include food items like butter, wine, oil, coffee, as well as grease, and mold.
The good thing about this product is that it does offset the natural color of your teak furniture. This is really important since it's most likely to be used on dining tables and chairs.
In addition, the sealer also inhibits the growth of mold and mildew, which is important in preventing fabric stains and ensuring your well-being. 
Liquid spills and water turn into beads on the surface of the wood, which you can easily wipe off. This way, potential stain makers don't have the chance to settle into the wood. 
The solution is completely water-based and doesn't come with any of the harsh VOCs many wood sealers and restorers are known for. The product also goes on easily and dries before you know it. 
A towel is included, so you have everything you need to start working. You can cut this into smaller pieces to make it easier to get to slats and other tight areas on the furniture. Make sure you have your gloves on (plastic is recommended).
Overall, the Golden Care Teak Shield is your best bet when it comes to protecting outdoor teak furniture from food stains and grime. It comes highly recommended!
Pros 
Doesn't contain harmful volatile organic compounds

Water-based (no need to wipe off after application)

Quick-drying time

100% biodegradable and non-corrosive

Comes with an application towel
Cons
3. TeakStation Semco Teak Sealer
Semco is one name that often pops up whenever the best teak sealer is being talked about. Not only does it provide protection for wooden structures but it also preserves their natural, earthly look. 
With just one coat of the sealer, you will see a noticeable improvement in the grain pattern of your teak. Being marine grade and non-slippery makes it not only suitable for outdoor wood but also for boats.
The sealer already has a reputation for being highly durable, which makes it even more endearing. 
Most average teak sealers will only last a few months before they are due for another coating. But this is not the case with the Semco Sealer. Once you apply it, it will remain intact for a whole year or the entire season. This saves you the drudgery of maintaining the furniture on a constant basis.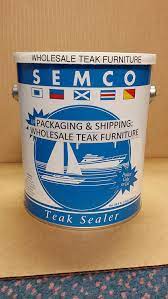 Make sure you prepare the teak surface before applying the sealer. 
Moving on, Semco is available in 4 color options. This includes classic brown, clear, gold, and natural. You can choose any one of these colors based on your preference; however, all four are attractive.
If you want the most natural teak appearance, choose the clear color. This version of the sealer doesn't contain any dye or colorant. As a result, it produces the most natural and traditional-looking teak surface.
However, since there's no color, it doesn't provide as much sun protection as the other colored versions. 
Likewise, the natural color produces an original teak finish that is lighter but not as waterproof as the clear color. 
Other notable highlights of the sealer include environmental friendliness, UV protection, easy application (with brush or rag), and non-toxicity.
It is available in different size packs – gallon, quart, and a pint.  
Pros
Long-lasting and low maintenance

Non-slippery (perfect for boats)

Quick-drying

Doesn't contain polymers, varnish, and silicone

Optimal water protection

Suitable for indoor and outdoor teak furniture

Water-based and eco-friendly

Available in different color options
Cons
Has a strong smell (can be managed in a well-ventilated area)

A bit pricey
4. Better Boat Teak Sealer for Teak, Woods, and Wood Furniture
To round off the list is another decent teak sealer from Better Boat that promises all-year protection for patio teak furniture and other fine woods. It is marine grade, which also makes it a popular choice for wooden boats and even indoor furniture. 
Like the Semco Teak Sealer, this one also provides long-lasting protection from rain and sunlight. It is very easy to apply and dries quickly, just like other premium sealers. You can apply it once or twice a year, depending on the climatic condition in your area.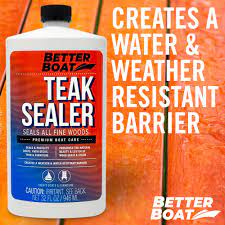 The sealer also does the job of a teak protector. In other words, besides repelling water and salt, it also helps to maintain the natural color and beauty of your wood furniture.
You don't have to worry about your teak getting weathered or faded as long as you apply it in time for the season. 
To apply the product, all you need is a brush (ideally, a sponge brush). This is important if you wish to get an even coating. Follow the wood grains to achieve the best possible finish.
Thankfully, the sealer is free of polyurethane and other harmful ingredients, which makes it safe to use. The level of shine you get out of it will depend on how much and how well you apply it. 
To prevent staining, don't allow it to drip, and use a drop cloth on your floor and other items around. 
Overall, the Better Boat Teak Sealer is everything you can expect from the best teak sealers. It is easy to apply, dries quickly, and provides complete protection from the elements. In fact, it does everything it says it will do.
Pros
Helps to prevent weathering and fading

Complete waterproof protection

Super easy to use

Consistent oil texture

Thinner smell (non-repulsive like some products)

Oil-based sealer (no streaking)
Cons
Can stain your floor or nearby surfaces if allowed to drip 
Conclusion
Given how expensive teak furniture is, it becomes imperative to seek out the best form of maintenance. Using a teak sealer has proven to be one of the most effective methods.
Unfortunately, finding the best teak sealer is never an easy process, given the myriad of options out there. Hopefully, our review of the best teak sealers will make your job a lot easier.
All the sealers reviewed here are marine grade and thus promise optimal protection for your teak furniture. Of course, there are other good sealers out there, but the ones listed here are a great place to start. 
Let us know if you have any questions about finding the right teak sealer. 
Have you used any one of the products above? We would love to hear about your experience. 
Till then, happy sealing!
Best Teak Sealers for Outdoor Wood Furniture – FAQs
Is sealing necessary for outdoor teak furniture?
Not really, but it does help to increase its longevity, especially when used outdoors.
Ordinarily, teak has a lot of natural oils that make it harder and more resistant than other wood types. However, in an outdoor setting, it can be affected by inclement weather conditions. 
Applying a sealer helps to provide an extra layer of protection that helps to repel water and UV rays. 
How often should I apply a teak sealer?
That depends on a number of factors, mainly the level of sun exposure, the quality of the product, and whether or not you cover the furniture when it's not in use. Under normal conditions, most sealers will last for up to a year on outdoor furniture. After which, you can reapply the sealer. 
Indoor teak furniture doesn't require that much care.
Is teak oil and teak sealer the same thing?
Although both terms are often used interchangeably, they do not refer to the same thing.  
Teak oil is a 100 percent organic product mainly consisting of tung oil and linseed. It is mostly used for the purpose of aesthetics – to beautify the wood.
On the other hand, teak sealers are made of artificial ingredients and used mainly to protect wood or improve its performance. 
How can I remove teak sealer from a wood surface?
There are more than one ways to go about this. You can sand off the sealer or simply wash it off if the coat of sealer isn't much (a teak cleaner might be required). 
Another option would be to purchase any one of the available teak sealer removals in the market.
Where can I get these teak sealers?
To get any of the products above, you can either visit a hardware store nearby or shop online. If you choose the latter (which we recommend), then click on the corresponding links to go to the product page. 
Can a teak sealer be applied over teak oil?
Yes, a teak sealer can be applied over teak oil as long you allow the oil to dry well before using the sealer. This is important because teak sealers and teak oil don't mix well, so matching them in a wet condition can suppress their protective qualities and even cause the wood to decay. 
So it's recommended to allow the teak wood to dry completely before you apply any sealer over it. Drying time normally takes up to a few weeks (or until there's no trace of oil on the wood).  
What is the best teak sealer?
When it comes to the best teak sealer, you can't go wrong with any of the products on the list. However, our favorites are Starbrite, Golden Care, and Semco. 
As you can see, it's tough to pinpoint one product as all of these truly deliver on their promises. You will be hard-pressed to find other teak sealers that clean, protect and rejuvenate outdoor teak furniture just as well.