Last updated on September 14th, 2023
Why a swivel rocker and not some other patio chair? Well, the best outdoor swivel rockers will provide extra comfort and convenience, especially when it comes to outdoor dining. 
Having a chair that rocks and swivels mean more freedom and versatility. You can watch the yard, rock back and forth, grab a drink at the other end of the table without moving from your chair.
But that's only part of the story. With the best swivel rockers, you get more. 
In today's article, we will look at everything you need to know about finding a good swivel rocker. This includes a comprehensive buying guide, our select list of the top products in the market right now, and frequently asked questions about swivel rockers. 
Best Outdoor Swivel Rockers Buyer Guide
Even when you have your options narrowed down, finding the best swivel rockers might still be a little confusing, even to those who have made purchases before. To find the perfect rocker chair, here are the key things to consider. 
As you would expect, swivel rocker chairs come in various sizes. To determine the right feat for your space, you need to consider the dimension of the chair. 
Ideally, it should fit into the area without taking up more space than necessary, as that would obstruct movement or get in the way of other pieces of furniture. 
To be on the safer side, measure the chosen area, and use it as a guide in selecting the proper dimension.
If you have ample space outdoors, then the patio swivel rocker's dimension might be less important to you.
Another thing you should consider when choosing patio chairs that swivel and rock is the type of material, precisely the frame material. 
You should go for something that will survive the weather conditions in your area. This is important because it will determine how long the chair will last. 
For instance, if you're going for a metal rocker, then you want to get something that is rust-resistant. Anything less would be a waste of money as the chair is less likely to last. For people who live in an area with a lot of rain, a "rustproof" chair would be ideal.
The most common frame materials include aluminum, wrought iron, stainless steel, wicker, and wood. 
Aluminum swivel rockers are usually lightweight and the least expensive option, so they are the most attractive for budget buyers. Wood offers natural beauty and comfort to your outdoor space but can be a hassle to maintain. 
Stainless steel is resistant to rust and will last longer than aluminum. This makes it a more excellent choice for outdoor swivel rockers.
A wicker is also a lightweight option that is very easy to move around. It adds natural beauty to your space but is not very durable.
Wrought iron frames are incredible as far as durability is concerned. However, they tend to be very heavy, making them less desirable for those who want something they can quickly move around. 
Cushion provides additional comfort for outdoor swivel rockers, which can be helpful when using the chair for a long time. All cushions will eventually wear out and need replacement. But this can be delayed if you choose the right fabric material. 
Some cushion fabrics are more resistant to tear than others and will take more time before they begin to fade. 
Since most people stay under the sun most of the time with these outdoor swivel rockers, it's also essential to go for something breathable and offer UV resistance. If you plan to use the chair near a pool, make sure the material is the type that won't easily get damaged by moisture.
Some of the most popular options include acrylic, polyester, and vinyl. One thing common with these materials is that they are made from synthetic fibers that are water-resistant. They may also be treated with UV protection. 
If your have a swivel rocker furniture without cushion, then you can skip this part. But seriously, it's better not to leave your patio chairs unprotected.
If you have any particular budget in mind, you will find fewer swivel rocker patio chair that meets that price range. 
As earlier indicated, these chairs are made from different materials, ultimately affecting their price and value. 
Some units may cost as much as $2000, while some may cost as little as $100. You should aim to spend at least $300 if you want to get something of reliable quality.
Best Outdoor Swivel Rockers
Now, on to the main thing – the top swivel rockers in the market right now. Our list comes after a lot of research, testing, and expert recommendation.
The Sienna patio swivel rocker chair is an excellent choice if you're on a budget but don't want to compromise on quality. It comes as a set of two, making it perfect for relaxing with your partner or hosting a friend outdoors. 
As the name suggests, this is a swivel chair with rocking/gliding functionality. So it's able to move in different directions and can fit in any type of seating arrangement.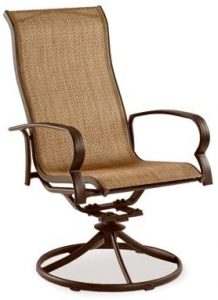 With a dimension of 36″x22″x16″, the chairs provide enough sitting space for most people but it's still compact enough to fit into a tiny space. The weight is rated at 39.6 pounds (for each chair), making it one of the lightest options in the world of swivel rockers.
The chair features a powder-coated steel frame and a comfortable sling fabric that is easy to clean for construction. The brown color of the structure and hues will work for any outdoor setting. 
Personally, we advocate storing the chairs indoors when not in use. However, the sling fabric dries quickly when left in the rain. It is also replaceable whenever you get tired of it. 
Each chair can support up to 250 pounds weight, which should be enough for most people.
The only issue we had with this chair is the arms. Although they are quite comfortable, they are a bit narrow and may not fit comfortably for heavy people. This is not really an issue if you're not a fat person. 
Pros 
Fabric is easy to clean

Beautiful heathered brown hues

Super comfortable armrests

Easy to put together

Very affordable price

It comes with installation hardware and tools

Clean, simple look that blends into any outdoor decor

Lightweight
Cons
Not suitable for individuals weighing above 250 pounds

Wide heavy people may find the arms a bit narrow
BUY ON AMAZON
The swivel rocker from Harlow & Stone is another outdoor piece of furniture built for comfort and durability. It combines both gliding and swivel functionality to provide you the ultimate relaxation experience. 
The wide, deep seat, high-quality wicker frame, comfortable armrests, and extra-thick olefin cushion are all superior features that make the chair a favorite for many.
It is hard not to notice the stylish neutral dark brown tones and beige, which help elevate your patio's look. Combined with the matching side table and maybe a beautiful flower vase, you can create the perfect lounging area outdoors.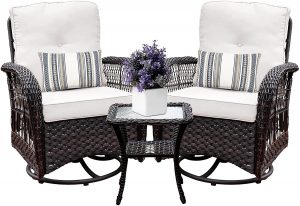 With these chairs, you get a complete 360 degrees swivel, which allows you to change directions while also moving back and forth easily. The swivel operates smoothly and doesn't snap back like most patio chairs. 
As earlier indicated, the cushion fabric is made of olefin and is up to 4 inches thick. In case you don't know, olefin offers water and fade resistance and thus tends to last longer than normal polyester fabric. It is also eco-friendly and a lot more comfortable. 
It will also interest you to know that this is a 3-piece set, which means it comes with two patio chairs (each weighs 50 pounds) and a side table. 
Also included with the set is a simple instruction manual containing everything you need to know about setting up the chairs. Luckily, the installation is fairly easy and doesn't take a lot of time. 
Overall, we find these outdoor swivel chairs to be a good bargain for the price. They are very comfortable and can hold large weights without breaking down. The fact that they are made in the US says a lot about the quality. 
Pros
Premium olefin cushion fabric

Comes with a side table

Nice rocking motion

Comfy armrests

Sturdy stainless steel swivel base

Great for your bar
Cons
Not the easiest to set up
BUY ON AMAZON
The metal swivel chairs from PHI VILLA are built for deep comfy seating with a loved one. And are perfect for lounging near a pool or relaxing on the patio with coffee in hand. 
Each chair has a full height of 35.04″ and a seat width of 21.45″, so it's able to comfortably seat individuals with different body sizes. Weight capacity is a little above 300 pounds, which makes it even more robust.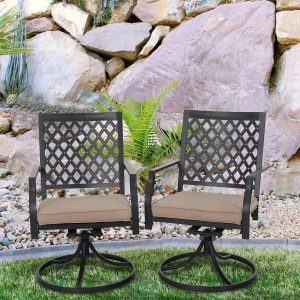 The frame is made of powder-coated steel metal, which is perfect for weathering the harsh conditions outdoors. The chair also has a simple arm design with curved armrests and a smooth back that makes it more enjoyable. 
On top of that, the seat panels are thick cushions made of high-density polyester fabric. To be more specific, the cushion on each chair is 2.7 inches thick yet soft and easy to maintain. You can detach them anytime for cleaning. 
Another thing you might take subtle notice of is the triangular structure of the chair. This is intentional as it helps to increase the stability of the chair.
The rated weight is 54.2 pounds, which is not too heavy.
Even if you're not a "handy" person, you will find the setup easy. Just follow the instructions step by step. Everything you need is provided. 
Try not to tighten the screw until you have all the parts ready. You can expect to spend 30 minutes on each chair. 
Pros
Ergonomic design 

Detachable seat cushion

Comfortable tight mesh plastic bottom

Reasonable pricing

Easy to assemble

All-weather protection
Cons
Not recommended for a big person
BUY ON AMAZON
The LOKATSE HOME outdoor swivel rocker is a set of two swivel chairs built for patio dining and comfortable backyard sitting. Its stylish design helps to add color and life to your outdoor space while providing a relaxing experience with family or friends.
Each chair has a sturdy construction made of a durable steel frame that is coated to make it rust-resistant, while the weight capacity is about 250 pounds.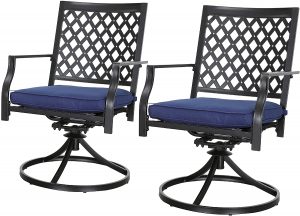 The swivel gives a 360-degree spin and doesn't snap back like many similar chairs. This, combined with the gentle rocking, makes it the perfect motion chair. You don't need to move the chairs to get things or chat with friends.
We also like the basket weave design of the backrest, which adds a modern look to the lawn or patio. This design is totally unique and works both outdoors and indoors. Perfect for your living space or dining.
The chair seat also features a soft thick cushion made of olefin fabric. 
With an overall dimension of 25.5″(L) x 22.5″(W) x 35.2″(H), the chair is able to accommodate most people.
You should also find it easy to assemble as it requires minimal DIY skills. 
Overall, we recommend the set from LOKATSE for anyone looking for a swivel rocker that doesn't compromise on quality. 
Pros
Weatherproof steel construction

Decent weight capacity

Curved smooth armrests

Comfortable back support

Easy to assemble
Cons
The quality of the cushion could be better
BUY ON AMAZON
The Bellevue Swivel Rocker is a lovable sling-style chair that offers all the comfort and functionality you can expect from a swivel rocker. 
Outfitted with a rust-resistant frame, this swivel chair is designed to totally transform your patio while protecting your floor from marks and scratches. The high contoured backing, lack of cushion, and swivel feature all work together to give you the perfect outdoor experience.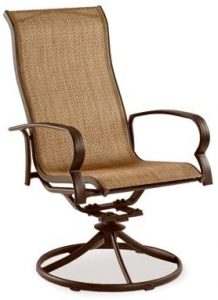 The frame is made of aluminum, which puts it on the lighter side (only 45.5 pounds weight). As a result, it is much easier to move around compared to a steel or iron model.
In terms of comfort, the chair does quite well even though it doesn't come with cushions. This also means you will have no wet cushion to deal with whenever it rains. However, if you like it squishy, then you can add thin cushions to make it more comfortable.
Installation is easy. The instructions are clear and should take about 45 minutes to an hour to complete if you're working alone. You can depend on the tools provided or just use yours. 
The seat height is over 17 inches, which makes it more comfortable for taller individuals. The extra inches also mean you can use the chair for dining. 
In terms of aesthetics, the choice of an espresso finish makes the chair easily fit into any patio setting. With each purchase, you get two patio chairs. You can also purchase the umbrella and tables if you want a more complete setup. 
Overall product dimension is 42″(L) x 23 "(D) x 19″(H) while the weight capacity is 250 pounds. 
Overall, we are impressed with the look and feel of this chair. While it may cost a little more than the average swivel rocker, the features it packs makes it worth every penny.
Pros
Comfortable backrest without cushion

Lightweight 

Modern espresso design

Weather-resistant steel frame

Breathable textile sling fabric (great for hot summer days)
Cons
BUY ON AMAZON
Moving on, we have the super classic Palm Harbor from Crosley Furniture. Add this swivel rocker to your garden, deck, or patio to make it more enjoyable. 
This chair is made of a high-grade steel frame and rattan wicker. The wicker material is fully UV resistant, so it doesn't fade easily – the same thing applies to cushions.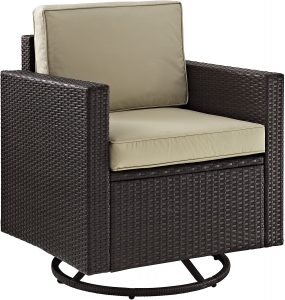 But beyond having sun protection, the cushions are also water-resistant. So, they can be used to lounge near the pool. We were also impressed with the feel and comfort they provide while bringing an element of style.
When it comes to the swivel function, the chair does a pretty good job. Like the other products on the list, the swivel base can go all-round (360 degrees). You can watch TV, admire the birds, and grab a bottle at the end of the dinner without leaving your seat or turning things over.
The chair weighs only 35 pounds, so it's more convenient to move around than most swivel rockers. 
The overall dimension is 36.5″ x 28.25″ x 29.25″. Which means the chair is only 29.25″ of the ground from the top of the back. As a result, it might not be the perfect match for taller people.
That said, we are impressed with the overall quality and performance of the chair, and can't recommend it enough. 
Pros
Multi-tone textured yarn 

Lightweight

Easy to setup

Ergonomic armrests

UV resistant brown wicker material

Solid construction
Cons
Cushions could use more foam.
BUY ON AMAZON
Morestar might not be the most popular brand as far as patio furniture is concerned, but their swivel rocker will give you a run for your money.
The Bistro Set comes complete – two patio chairs with swivel and rocking functionality and a side table to place drinks and other items. The gliding feature is fun and smooth, while swivel makes it even more convenient.
If you have an eye for aesthetics, then you will love the brown tone and frame. Keep the set anywhere and in any setting, and they would fit. The construction consists of PE rattan wicker woven over the steel frames. 
These materials offer the best quality and weather resistance. The same can be said of the cushions, which are spacious and provide a lot of padding for extra comfort and a deep seating experience. They are also easy to clean and maintain.
It will also interest you to know that the set also includes a tempered glass top side table to hold your coffee and wine.
Assembly is easy as long as you follow the instructions in the manual provided. You can always contact customer support if you run into any issues.
Overall chair size is 33.3″(L) x 29.5″(W) x 37″(H) while the side table is 17″(L) x 17″(W) x 19.8″(H). Each chair will support up to 350 pounds weight. 
Pros
Full swivel function (360 degrees turning)

Blends into any outdoor setting

Cushion is large and attractive

It comes with backrest cushions

Includes an elegant side table

Suitable for all-weather

Zipped cushion cover (easy to clean)

Rust-resistant frame
Cons
BUY ON AMAZON
Patio furniture sets often fall short of expectations in terms of quality and brand promise. But this is not so with this 3-Piece Bistro Set from Go Light. 
The set comes just as described – smooth gliding, ergonomic design, wide orange cushions, and sturdy steel frames. Seriously, you will be hard-pressed to find anything better for the price.
Starting with the most important feature – comfort. The swivel rocker has a dimension of 31.3″(L) x 33.3″(W) x 37″(H), which fulfills the size requirements for most people. This is complemented by spacious armrests and zipped cushions that are easy to remove and wash. 
The swivel feature works smoothly and turns 360 degrees. You can also rock the chair back and forth. 
For the frames, the chair uses powder-coated steel, which makes it sturdy and durable. It also features wicker material that works for all weather types. 
The seat height from the floor is 18.9″, which is higher than the standard 15″ of most swivel rockers. Consequently, the chair provides a more comfortable experience, especially for taller people. You will feel the difference!
Weight capacity is around 350 pounds, while the overall dimension is 31.3″(L) x 33.3″(W) x 37″(H). 
When you purchase the chair, you also get a side table for placing your coffee and other beverages. That's more value for the price!
Pros
Thickened cushions for extra comfort

Easy to assemble

All-weather wicker material

High weight capacity

Smooth glider rocker

Comes with a coffee table
Cons
Few customers complained about missing some parts.
BUY ON AMAZON
The Outsunny Swivel Rocker may be considered a bit different from the typical swivel rocker, like the ones on this list. It can be seen more as a recliner, except that it also offers swivel functionality. With such a combo, it's hard to find anything more comfortable as far as deep seating is concerned.
One of the major highlights of the chair is that it's super easy to assemble. It comes almost ready, so you finish everything in a snap. No additional requirements – all the instructions and hardware you need are right there in the box.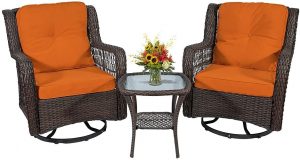 The choice of steel and PE Rattan for the frame makes it sturdy but without the extra weight of materials like wrought iron. The entire chair weighs about 67 pounds and can support up to 265 pounds load. To prevent rust, the steel frame is coated with powder. 
Also included with the chair are padded cushions made of soft foam with zipped covers that are easy to clean.
The overall chair dimension is 29″(L) x 28″(W) x 38″(H), while the recline size is 29.25″(L) x 20.5″(W) x 24.75″(H).
Other notable features include an adjustable footrest, reclining backrest, and of course, the swivel function.
Now talking about the swivel, the chair does pretty well; however, rocking is not so great. So if you're looking for something with a considerable rocking motion, then I would advise you to choose some other product on the list. 
That said, we are pleased with the chair and highly recommend it for its price. It is almost half the price of most lounge chairs, yet it works for both lounging and dining. 
Pros
UV-resistant wicker material

Easy to assemble

Beautiful cream white design 

Comfortable backrest and seating

Versatile (works both as a recliner and swivel chair)

Comfortable wide seat

Affordable price
Cons
Rattan could be thicker

It doesn't rock so well
BUY ON AMAZON
To round off the list is another top contender for the best outdoor swivel rocker – the 3-Piece Set from Better Homes and Gardens. A durable steel frame, weatherproof wicker, tempered glass, and simple installation steps are some of the pecks you get with this swivel rocker.
The entire construction is mildew, water, and stain-resistant. So, you don't have to worry much about the rain.
With the chairs, you can watch the yard or TV, get items at arm's length, or glide up and down without moving from your seat – all thanks to the swivel.
The color is also something to be excited about. Beautiful wood-like dark brown wicker with orange or green cushions fits into any outdoor setting. Perfect for your yard, deck, patio, and even indoors.
More so, these chairs don't sag at the center, which should come as a relief considering the fact that most swivel rockers with cushions do. 
Installation is pretty easy, even for a beginner or senior. I have heard many people say the opposite, but that's often because they tightened the screws before the entire hardware was in place. When you do this, it becomes harder to align the holes. Follow the instructions provided as given, and you won't run into such issues.
Each chair weighs about 150 pounds, which is quite massive compared to other options. So, you can forget about moving it around except you had extra help. 
For the weight capacity, it offers up to 225 pounds. So, it's not a chair for overweight people.
Overall, for the price, this set definitely a great deal. Not to mention the fact that you also get comfortable cushions and lumbar pillow for each chair. We can't recommend it any less. 
Pros
Heavy-duty construction

Affordable price

It comes with replaceable cushions and pillows

Easy to follow installation instructions

Attractive design

Very comfortable
Cons
BUY ON AMAZON
Frequently Asked Questions
Which material is best for a swivel chair frame?
Steel, rattan wicker, and aluminum are some of the best options. But generally, there's no single "best" frame material. What is best for you depends on variables such as individual preference, prevailing weather, and of course, budget. 
For instance, if the weather in your area is characterized by high wind gusts, an aluminum swivel rocker would not be ideal since it's lightweight. On the other hand, you can go for aluminum if the weather in your area is moderate. It can also be an excellent choice for budget buyers.
Does weight limit matter with a swivel chair?
Yes, it does. Every swivel chair usually has a weight capacity that is not meant to be exceeded. This can be anywhere between 200 to 350 pounds or more. 
Make sure your weight and that of anyone using the chair is not more than the designated capacity to avoid damaging the swivel base.
I am very tall. Can I use a swivel rocker?
Yes, you can, as long you select the right dimension. In this case, the height of the chair is extremely important. You should consider the length between the ground and the chair top, as well as the length between the seat and the top (the height of the back). By "top," I mean the top of the chair back.
Most swivel chairs have a height of around 15″, which is the height from the floor to the chair top. There are also brands that sit around 17″, which can be great for taller people. 
Where can I get these chairs?
To get any one of the swivel rockers above, simply click on the corresponding link on the product page to make the purchase.
Do the chairs have a full swivel?
Yes, they do. Except for the recliner chair, all the other chairs on the list have a 360-degree swivel function.
Conclusion
There you have it – the best outdoor swivel rockers for 2021. 
By now, I'm guessing you've made your pick or at least about to. Of course, we didn't mention other great swivel chairs, but the list above is an excellent place to start. 
These chairs are some of the best you will get in terms of price, comfort, and functionality. Besides doing our research, we've paid great attention to customer testimonials. So you can't go wrong with any one of the products above. 
Let us know if you have any more questions about choosing the best swivel rocker. Also, feel free to share your experience if you've used any chair on the list.