Last updated on July 27th, 2022
When spending time at the beach, having a comfortable chair or hammock can make all the difference. Unfortunately, most outdoor furniture are bulky and don't always deliver the level of comfort we need to relish the pleasant moment. This is where the best outdoor inflatable lounger comes in. 
Besides being lightweight, outdoor loungers are easy to set up and don't usually require a pump. They offer extreme comfort, perfect for lounging under the sun, and fold over easily for compact storage. This makes them the ideal choice for relaxing outdoors. Sometimes, all you need to do is locate a quick spot, blow up your lounger, and catch a nap. 
After much research, testing, and comparison, we've arrived at the best inflatable loungers in the market for 2021. 
Without wasting any more time, let's hit the meat of the review.
Our Top 10 Best Outdoor Inflatable Lounger Review
Here's our top pick for the best outdoor loungers in 2021
1. Wekapo Inflatable Lounger Air Sofa
The inflatable lounger from Wekapo packs many features that make it arguably the best air sofa for its price. It is easy to set up and offers exceptional comfort – the kind that keeps you out all day. 
This lounger weighs around 2 pounds, which removes any trouble you may have when transporting it. To makes things easier, it even includes a pouch to carry it.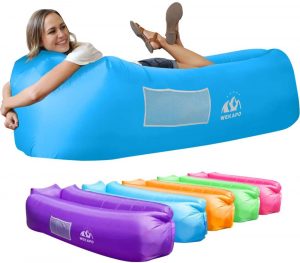 For the construction, Wekabo uses 100 percent 210-T Ripstop polyester material, which happens to be one the best fabrics for outdoor loungers as far as durability is concerned. It is sun-resistant and doesn't succumb to water, bugs, and dirt. 
We were also impressed with the unique headrest design that takes the shape of a pillow. This gives you ample space to rest your head and also makes the lounger more stable on the ground.
The lounger features two differently sized mesh pockets for accessories such as cell phones, tablets, and magazines, as well as a bottle holder to hold your beer. 
It is self-inflating, so you don't need a pump to blow it up. Simply unfold and sweep it through the air, and you're good to go. If you have doubts, check out the video instruction online. 
To hold in the air for longer hours, the lounger uses anti-deflation technology. Specifically, once filled, it can last for up to 6 hours before it needs to be re-inflated. 
In addition, the lounger comes in 5 color options and features a heart headrest for increased comfort.
Pros
Comfortable headrest pillow design

Comes with a carry bag and stack

Includes a bottle opener

Very comfortable

It doesn't require a pump

Inexpensive
Cons
Few customers complained that it was difficult to fill at first.
2. AlphaBeing Inflatable Lounger – Best Air Lounger
The AlphaBeing is another high-quality outdoor lounger that can serve different purposes – recliner chair, hammock, air puff, couch, and so on. This makes it perfect for relaxing on the beach, camping out with family, or just unwinding in the garden. 
With only 2.6 pounds weight, this lounger is light enough to be carried, even by a kid, yet it can support up to 500 pounds weight capacity.  
It is also made from polyester material which guarantees its durability. 
The fabric is multilayered and has a breathable design which prevents it from overheating while being used under the sun. It is odor-free, water-resistant, and easy to clean. You can use it on various terrains, including sand, grass, water, and even rocks.
It is best to use the lounger on windy days as this makes inflation easier. Stakes are provided to keep it secure on the ground, so it doesn't get blown off. Once filled, it stays inflated for up to 8 hours, which is incredible. Perfect for a nap or a good night's sleep!
When you're done using the sofa, you can deflate it and store it in the carry bag provided. The bottle opener might also come in handy during festivals or concerts. 
The only downside with the lounger is that it's a bit costly, but believe me, it is worth the extra penny. For its class and comfort, you will hardly find a better alternative. 
Overall, if you need something way cooler than your normal sofa for relaxing outdoors, then the AlphaBeing inflatable lounger is the way to go. 
Pros
Easy to set up (no need for an air pump)

Travel bag provided for easy transportation

Offers various color selections

Has side pockets for storing items

Comes with a bottle opener 

Long inflation time

Can be used as an aquatic lounger 
Cons
A bit expensive

Can be difficult to inflate at first
3. LUDTOM Inflatable Lounger Air Sofa Hammock
This lounger has one of the most pocket-friendly designs you will find out there. It weighs only 2.65 pounds and has a package dimension of 13.78″x8.66″x3.94″, making it convenient to take anywhere. 
You can use this as a couch, picnic blanket, camping hammock, air bed, or chair. It is leakproof and doesn't tear easily – thanks to its ripstone construction. 
A metal stake is provided to help you secure the lounger against strong winds. The weight capacity is rated at 440 pounds, which is enough to accommodate 2-3 persons depending on their individual weight. Once inflated, it can last up to 5-6 hours. 
Like many high-end models, LUDTOM also uses high-quality ripstone fabric for its construction. Despite being tough, it is also soft and breathable. As a result, it doesn't get hot like a typical hammock or sofa.
To increase your convenience, the lounger features two large pockets and an elastic strap. These are found on the sides and will enable you to store items within arms range. 
Overall, we are impressed with the class and price of this lounger. It comes highly recommended!
Pros
Comes with a carry bag

Comes with a strap for holding bottles

Decent pricing 

Includes a ground stake

Inflation is fairly easy

Very easy to wash 

Waterproof (can be used for floating)
Cons
The nylon sack could be more durable
4. KXLY Inflatable Couch Air Sofa Portable Inflatable Lounger Water
The KXLY inflatable lounger has the size and feel of a proper double bed, making it perfect for lounging with a partner or kid. It is super comfortable and can even replace a memory foam mattress. 
Like most designs, it comes with a ground stake. This is meant to increase the stability of the couch so it doesn't get blown away. 
We also love the unique headrest, which offers extra support for your neck and back. This can be a big plus for people with neck or back problems. 
To use the lounger, simply unfold it, scoop air, roll, and then secure it to the ground with the stake. Next, hop in, lay back, and unwind. It's that easy!
If correctly done, the whole setup shouldn't take more than a minute. All you need is just two scopes of air; no need for a pump or to blow with your mouth. Once filled, it will last for up to 5-6 hours or more, depending on the weight on top.
For inexperienced users, it might take a little practice to complete the inflation. But once you get the hang of things, it becomes possible to even fill the entire lounger in a single scoop. 
Other features to look out for are a carry bag for easy transportation, large mesh pockets for convenient storage, and a bottle holder made of an elastic strap. 
In addition, the lounger has a double-layered construction made of military-grade Ripstop nylon material. The weight capacity is about 400 pounds.
Pros
Strong, durable material

Puncture resistant (anti-leak technology)

Long lounging time

Provides excellent comfort and support

Easy to setup

Comes with a ground stake

Waterproof
Cons
Comes in only two color options

Can be a little loud (when inflating it)
5. FRETREE Inflatable Lounger Air Sofa Hammock
The FRETREE is another top contender for the best inflatable lounger with many parallels with pop culture. It offers four stunning colors to choose from, which enables you to relax in style in your desired location.
Although it weighs only 3 pounds, the weight capacity is rated at 400 pounds. So it's meant to be shared with one or two other persons depending on their weight. The metal ground stake helps to increase the stability of the hammock and prevent accidental slippage. 
The construction is made of military-grade ripstone fabric consisting of a waterproof outer layer and anti-leak inner plastic that helps prevent air leakage. The material is not only durable but also easy to clean and doesn't give off any odor. Being waterproof means you can use this for a pool float. 
With enough wind, you can inflate the lounger in a minute or even less; all it needs is two scoops of air. And you can enjoy up to 5-6 hours on it before another refill.
The lounger also features large pockets on the side to secure your stuff while it's in use. These can hold items like books, sunglasses, and phones. A carry bag is also provided for easy transport. 
Pros
Doesn't require a pump

Comes with its own stake

Features a spacious mesh pocket for magazines

Comes with a strap for holding drink bottles

Ergonomic wave headrest for increased comfort and stability
Cons
Not the easiest to inflate
6. SEGOAL Ergonomic Inflatable Lounger Beach Bed
The SEGOAL inflatable lounger features a high-grade single port nylon fabric, making it superior to traditional recliners in terms of comfort and usability. Thanks to its double sewing technology, it offers high durability without water seepage.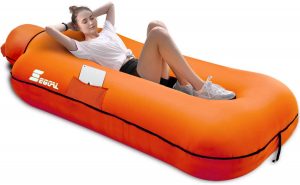 We also found the lounger to be extremely comfortable. It is soft, which is expected since it's made of nylon. That said, it also features a concave headrest design, which is not something you will see often. This recessed design provides better shoulder and neck support and tends to be more stable than the square design of most conventional headrests. 
A few customers complained that it's a bit difficult to inflate, but it's nothing you can't get the hang of with a few practices. As earlier indicated, this is a single port, so it's still easier to use than a traditional sofa. 
To set it up, simply unlatch it, open it wide, and run against the wind. You don't need to run in circles. Once filled, close the pocket and fasten the buckle. It's a lot easier to fill up when you have a lot of wind. 
For the weight capacity, this SEGOAL sofa offers a massive 440 pounds, which makes it suitable for two people. It weighs only 2 pounds and has a package dimension of 12″x 8″ x 4″.
Pros
Non-plastic durable construction

Odor-free

Lightweight and highly portable

Comes with a carry case

Single-layer fabric
Cons
7. Orsen Inflatable Lounger Air Sofa
For budget buyers who want a couch with decent quality, the ORSEN inflatable lounger is a great choice. It packs a lot of the features you will normally find in more expensive models. 
Starting out, the lounger is pump-free, so you only need to be in the open to inflate it. Once filled, it can last for up to 5 hours, which is 2/3 times what you get with many other loungers. 
It is also very easy to take down and has a compact design that easily fits into the little travel bag provided for storage. There's no doubt you will enjoy the convenience this provides compared to using a typical camping hammock or beach blanket. 
For the construction, this ORSEN couch uses ripstop fabric with three layers of stitching to make it leak-free. It is also waterproof, which is a plus if you plan to use it as a pool float.
In terms of capacity, this lounger can support up to 500 pounds of weight which is equivalent to 2 people or maybe 3 depending on their size. There are two large mesh pockets on the side – perfect for storing your accessories. You can use it as a chair, hammock, sofa, or pool float. 
To provide you with more comfort, the lounger also features a headrest at one to support your head. I would recommend this to those who visit the beach often. 
Pros
Comfortable headrest 

Versatile design

Comes with spacious mesh pockets

Doesn't require a pump

High weight capacity
Cons
Not the easiest to inflate (you may need to run)
8. Mockins 2 Pack Inflatable Lounger Air Sofa
For under $100, this 2 Pack Inflatable Lounger from Mockins is undeniably a winner for budget buyers. Not only that, but it's also one of the best names out there when it comes to quality and class.
With an improved design (from the 2019 version), this Mockins lounger can holds in more air, which enables it to last longer. It takes less than 30 seconds to set up, and you don't need any tool or pump for this. 
To fill up the lounger, just open and sweep it through the air. Of course, a little breeze will greatly help. Repeat a few times till it fills up. Once filled, turn over the edges and secure them in place with the peg provided. 
You can use the lounger, the beach, camp, pool, and anywhere you need to relax. It can also be a suitable replacement for a bean bag chair.
Another thing we like about this air sofa is that it's spacious. Once inflated, it has a dimension of 73″x16″x31″. But when folded, it reduces to only 13″x7″x7″, which offers compact storage. 
Moving on, the bed is crafted with polyester material, which makes it lightweight and tear-resistant. The rated weight capacity is around 300 pounds. 
You will find three pockets on the sides of the lounger for keeping various items. Pegs are also included to help you hold the bed against the wind. 
Pros
Very comfortable

It comes with a travel bag for easy portability

Quick and easy to inflate

Sturdy construction 

Long-lasting inflation

Available in vibrant blue and green colors
Cons 
Not completely waterproof (not the best for pool float)

Can be difficult to inflate for some people
9. KOR Outdoors Inflatable Air Lounger/Sofa
If you need a decent outdoor lounger and you're not on a tight budget, then this inflatable lounger couch from KOR will make a great choice. 
KOR is made by a US-based company, which says a lot about its quality. It seems to have been designed for the beach but is also great for camping, festivals, garden, and generally, anywhere you need to lounge under the sun.
With only 3 pounds weight, this is undeniably one of the lightest air sofas out there. When packed, it has a dimension of 14″x9″x4″ which easily fits into its small carry bag. You will also find the double mesh pockets on the side quite useful for keeping stuff. 
When it comes to the weight capacity, this KOR lounger can support up to 400 pounds weight, which should be enough for two persons in most cases. However, you can still manage to sit three people on it at the same time. 
In addition, the lounger has a solid construction that features risptone on the outside and inner liners made of thick plastic. When inflated, it can last for up to 6 hours. 
The headrest design saves the trouble of carrying an extra pillow and offers incredible comfort and support to your back, neck, and shoulder.
It is very easy to unfold and inflate as long as you follow the instructions. However, things can get harder on non-windy days or in small yards. 
Pros
Durable construction

Travel-friendly (comes with carrying bag)

Doesn't require a pump (self-inflating)

Comes with headrest for superior comfort

Storage bag is included

Comes with stakes for increased stability
Cons
Not suitable for more than two adults

A little harder to fill on non-windy days
10. CleverMade Inflatable Lounger
On the CleverMade! Just as the name suggests, this lounger enables you to create a chair out of thin air, just like that. And it takes only a few seconds to do this. 
Like the other models on our list, this one doesn't compromise comfort and can be used in various outdoor conditions. 
It is made with nylon Ripstop fabric, so you can expect it to last. Also, it doesn't puncture or tear even when used on rocky terrains. This doesn't mean the lounger is indestructible. You still need to use it cautiously if you want to get the most out of it. 
It will also interest you to know that the lounge chair is "self-inflating," so it doesn't require a pump or fan to fill it up. Like many others, it works on the same "scoop" system, where you scoop in air by sweeping the lounger in circles. In other words, you do a full circle (like a spin) while holding out the chair. Don't worry; it only takes a few minutes.
You can use the chair in recliner style and lounge on it, or you can just sit upright. The mesh seat is incredibly comfortable and has a liner that makes it highly breathable. This helps to keep the chair cool and minimize sweat on hot days. 
Once filled, the lounger holds in the air for hours without leaking. 
There are two pockets on the side where you can store items like your phone and even drink. 
Other things you can expect include a carrying case for easy transportation and two ground stakes to stabilize the lounger in windy conditions. 
Pros
Rugged design with ripstop nylon construction

Up to 500 pounds weight capacity

Lightweight (less than 3 pounds)

Very easy to inflate 

Can be used both indoors and outdoors

Super compact storage with carrying bag
Cons
Only a few color options to choose from
Buyer Guide
Now, you know what the best outdoor loungers are. But before you hit the purchase button, it might help to run through the buying tips below. Knowing these things will help make it easier to find a product you can call your own. 
So what are the things to consider before putting out your money for a lounger?
Weight Capacity
A blow-up couch will definitely struggle when subjected to more than the normal weight it can bear. It will likely not hold up for too long. 
Most outdoor loungers are usually designed to support more than one person. However, you need to pay more attention here if you plan on using the lounger with one or more persons. 
Weight capacities of 400-500 pounds tend to be pretty common. This could be great if you're planning on using the lounger with someone (ideally, a kid), depending on your individual weights. I would recommend going for something more robust for two or more adults – 650 pounds is perfect!
Size
The dimension of the lounger is essential for several reasons. 
First, it determines which type of user can lounge in it – tall or short. Secondly, it determines whether or not it can accommodate a number of persons. Thirdly, if you mapped out a specific area where you wish to set up the couch, then you want it to fit in properly. 
Luckily, most hammocks have design options that allow you to choose different sizes. These include loungers for 5 footers to those that can accommodate over 6 footers. 
Inflation Process
Even the most sophisticated lounger is of little use if you can't correctly inflate it. In the same vein, if you're going to spend all day setting it up, then what's the use?
You need a lounger that doesn't take too much time or effort to set up. This is why hammock-style loungers are mostly recommended, especially when it comes to portability. Their self-inflating mechanism only requires you to scoop up air into them.
On the other hand, manual inflatable loungers often require you to blow them up with a pump. 
Except you don't mind carrying a pump with you every time you visit the beach or park, then this can work. But if you wish to travel light, then a self-inflating lounger will be the more convenient option. 
Even with hammock-style loungers, some people might still find it a bit tasking to complete the setup. This is often due to a wrong technique. So make sure you learn the right method, and you will likely get better at it.
Extras
There are certain features that are optional but can be a huge advantage to you. 
A good example is the side pocket. These usually come in twos and are used to store personal items like phones, sunglasses, and magazines.
Others are a carrying bag for compact storage, a headrest for increased comfort, and a bottle holder for holding your drinks.
As earlier indicated, these features are optional, but having them will increase your comfort and convenience.
Construction Material
The build quality of any lounger is mainly dependent on the type of material that was used. 
There are many materials out there, but nylon is often the preferred choice due to its resilience, comfort, and durability. Specifically, ripstop polyester nylon is known to be one of the best materials out there. It is designed not to succumb to punctures and tears, which is a big deal as far as durability is concerned. 
So, to be on the safe side, I advise you to stick with a lounger made of ripstone polyester. As you can see, all the products mentioned above use this material. 
That said, the choice of ripstone by itself doesn't make a lounger a badass. Other factors like the stitching and number of layers (double layer is great) will ultimately determine the overall strength of the fabric. 
Water Resistance
The outer layer of some loungers may be treated to make it resistant to moisture or, in some cases, completely waterproof. This makes it possible to use the couch near the pool or even on top without compromising the durability. 
Most people think all inflatable loungers are water-resistant by default. But this is not always the case. Instead, it's usually common with the best outdoor loungers.
Inflation Time
A lounger that only lasts half an hour before it pulls down is probably not worth your time and money. The minimum you should aim for is 2 hours. 
Most of the products on our list can last up to 5-6, which is enough time to relax or even nap on the air couch.
Be wary of sales gimmicks. Some loungers don't usually live up to expectations. This is where checking out customer reviews on the product can help.
Item Weight 
Since you'll be carrying your lounger most of the time, it makes sense to choose something lightweight and portable. 
The deflated weight usually depends on the type of construction material, size, and thickness. I recommend sticking with models that weigh 2-4 pounds for the best convenience. But feel free to go for something thicker and heavier as long as it has good quality. As long as you can bear the extra weight, it will still be worth it.
Conclusion
There you have it – the best outdoor inflatable lounger for 2021. To get the most from your air couch, make sure you go for something comfy, portable, easy to set up, and durable. All the loungers reviewed above are worthy candidates, and you won't go wrong with any one of them. 
They are all made from decent materials and offer various color options to suit your style. You can lounge with them anywhere and at any time. We love the Wekapo and AlphaBeing inflatables because of the vibrant color options, anti – leak design, and extended storage (inflation) time. However, preference and need varies but you can't miss what you need in our list of the best outdoor inflatable loungers for 2021.