Last updated on July 25th, 2022
If you like the golden brown color of teak, you won't find the silvery-grey patina of old teak appealing. Unfortunately, it is inevitable for your outdoor teak furniture to weather and become grey if left untreated and exposed to the elements. You are in the right place, though. Read along to discover how to refinish teak outdoor furniture to look its best.
The best way to refinish your teak outdoor furniture is to apply an even coat of water-based teak sealer or protector on it. Start by cleaning the wood with a teak cleaner and pressure washer on its lowest setting, then allow the wood to dry overnight. Once the furniture is dry, sand it down with fine 150-grit sandpaper, clean out the sanding dust with a dry rag before adding the sealant. 
How to refinish teak outdoor furniture
Your new pieces of teak outdoor furniture come in a tawny golden color. This is teak's natural state. The color will start to fade away after a few days or weeks of leaving the furniture outdoors. 
You can preserve this golden brown shade by refinishing your teak wooden seats, as we will see in this guide.  
The first thing to do is clean and prep your wood before sealing it to refinish it. To prep your wood furniture for refinishing, you'll need to clean and polish its surface. 
Step 1 – Cleaning the wood furniture.
A quick way to clean your outdoor furniture is to spray it down with your garden hose. If the seat has stayed outdoors for long and sustained a lot of dirt and stains, you may want to use a power washer to clean it. 
Now, you may wonder whether power washing is safe for your teak. The answer is yes, power washing will not damage your furniture.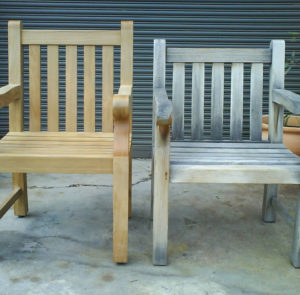 The teak does not have any protective coatings that you could remove by power washing in its natural state. On the contrary, you need water pressure to release that faded layer of teak wood to reveal the colorful golden part underneath. 
Here's something you need to understand. Teak is naturally infused with protective oil from the inside. Its oil content is highest when the wood is freshly cut, giving the wood surface its characteristic golden glow. 
When the teak is exposed to the sun's UV rays outside, this protective oil evaporates from the outermost layer of the wood. The longer your furniture stays outdoors, the more its outer layer loses its protective oil. 
Cleaning a faded teak wood with a high-powered hose only removes this faded outer layer. In the process, you reveal the subsequent layers that still have their protective oil and the beautiful golden-honey color. 
Once you have washed the furniture, allow it to dry thoroughly before proceeding to the next step.
Step 2 – Sanding down the wood to remove rough patches
Washing your teak will not always remove all the fading. For that, you'll need to sand it down with a suitable sander. We recommend using 150 grit sandpaper alongside a random orbital sander to even out the surface, making it nice and smooth.
A piece of sandpaper will come in handy in sanding those hard-to-reach areas where your sander won't fit. 
When you are done, wipe down all the surfaces with a clean, dry rag to remove sawdust and prime the wood for the sealer.  
Step 3 – Applying the wood sealer.
The reason for sealing your teak wood is to preserve its beautiful brown color. Ideally, you want a layer that will protect the teak from the harmful sun rays without altering the wood color. 
There are many products in the market to choose from. In our case, we recommend using a semi-transparent water-based wood sealer for the best results. It is light and closely matches the color of natural oiled teak wood.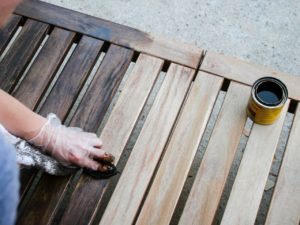 Consider using a paint sprayer to apply the wood sealer. It is quick to use and applies the sealer evenly across all the surfaces – reaching those nooks and crannies with desirable precision. The sprayer can cover significantly large surfaces pretty fast. 
It is important to work in an open space, with a large plastic drop cloth covering the ground where you are working. It should be large enough to provide room for your pieces.
Start applying the sealer from the underside of each piece of furniture, and finish at the top. You may want to have a couple of wooden blocks on the drop cloth for anchoring your tables and chairs while spraying. 
You could also consider keeping pre-filling extra paint containers by your side to save time. It will be quicker to simply switch them up rather than have to stop to refill a container. 
Be sure to adjust the flow of your sprayer accordingly before you begin your project. You can always test it on the underside of your furniture or a piece of wood, adjusting it until you get the desired coverage.
For your protection, always remember to wear a disposable respirator or mask, gloves, and safety goggles. 
Once done, use a clean rag to wipe any excess product off the surface and let the furniture cure for approximately 48 hours. This should be enough time for the surfaces to fully dry so that you don't stain your cushions with the sealer.
What is the best finish for outdoor teak furniture?
You may be tempted to believe that teak oil is the best finish for your outdoor teak furniture. After all, it will be replacing the dried-out protective oil that comes naturally with fresh teak wood, right? 
Wrong!
Teak oil won't cut it.
The 'teak oil" you buy from the stores is not exactly oil from the teak tree. It is a linseed-oil-based compound designed to replicate the benefits of natural protective teak oil. Only it doesn't do the job perfectly. 
It will make the teak color pop when you apply it, but this will only last a few weeks, if not days – before the wood starts fading again. 
The worst part is, that the oil encourages mold and mildew growth on the wood surface. Eventually, your painted chairs and tables will develop unsightly black spots.
Paint will hide the beautiful color of your teak.
Secondly, you wouldn't want to apply a layer of paint on your teak furniture. While paint will shield the wood from harmful UV rays, it will also hide the natural color of your teak – the very color you are trying to preserve. 
That leaves us with only a teak protector or sealer. 
The market is awash with great teak sealers and protectors that you can choose from. The Golden Care Teak Protector, for instance, is a great pick. It boasts a water-based formula that will seal off the surface of your teak without being visible. This way, the original color of your teak wood will pop while the protector acts as an invisible sunscreen. 
A teak sealer will work in almost the same way. Like the protector, you can find a suitable water-based formula for your teak sealer, preserving your wood color while protecting it from harmful UV rays for much longer. 
While you can use a spray gun to apply your teak sealer, you can also use a sponge to apply the protector. Be sure to apply an even coat in every area and wipe off excess product. 
Let it sit for about 24 to 48 hours for the protector to cure before using the furniture or putting cushions on it.
Should I use teak oil or teak sealer?
Teak oil, as we have mentioned, is a bad choice for a finish. It will restore the furniture when you apply it, making the wood look instantly beautiful. However, it wears out in a matter of weeks and gives way to fading and greying. 
If you choose to use teak oil, you would have to reapply after every few weeks to maintain the color. 
Teak oil also encourages the growth of mold and mildew that feed on it. Other than give way to fading after only a few weeks of use, it will cause black spots and discoloration on the furniture.  The oil is just not a long-term solution.
A teak sealer, on the other hand, offers much better protection. It typically shields the wood from harmful sun rays, salt, moisture, fungus, and mildew. 
Teak sealers are also low maintenance and can last a year without requiring reapplication in between. 
How do you restore weathered teak wood?
Weathered teak wood is typically ashy-grey, sometimes with black mildewed spots. 
The grey color remains after the wood's outermost layer has lost the natural teak oil responsible for the golden shade.  
Since this protective oil exists from the inside, you can restore the lovely golden color of teak by getting rid of the ashen outer layer.
There are two ways to remove this layer:
Sand all the surfaces with a sander, then wash the furniture and allow it to air dry, or;

Power wash the weathered teak wood furniture, allow it to dry, then give it a quick once-over with a sander.
After exposing the fresh wood inside the furniture that remains saturated with teak's natural protective oil, you want to apply a teak protector or sealer to shield it from the elements. This protective layer will help keep the golden brown color from fading too quickly.
Option number one above is viable but reasonably time-consuming compared to the second approach. So it's only natural that we go with the second, quicker option.
Step 1: Cleaning the teak wood 
Start by spritzing the furniture you want to restore with water to get it wet. Then use a clean rag to apply the teak cleaner to the entire piece. Allow it to sit for up to 5 minutes before power washing. 
To clean your furniture with a pressure washer, put it on the absolute lowest setting, although you can increase the pressure with one unit if the wood is deeply weathered.  
Always practice on the underside first, keeping your nozzle about 3 to 4 inches away from the wood. Be sure to move steadily, going with the wood grain when possible. 
Once you have power-washed your teak, let it dry overnight before proceeding with your next step.  
Step 2: Sanding
Once the furniture is dry, use 150-grit sandpaper to even out the surface and make it soft and smooth to the touch. 
Go over every inch of the wood surface with a dry rag or sponge to remove any sanding dust before you can seal it. 
Step 3: The finishing 
Your furniture is now ready for the final stage of its restoration. 
You can use a spray gun to apply your desired water-based teak sealer or apply a Teak Wood Protector instead. Either of these will do a tremendous job preserving the golden honey appearance of your restored teak.
Maintenance tips for outdoor teak furniture
Teak requires very little maintenance, which is one reason it is such a popular choice for outdoor enthusiasts. 
Still, you need to scrub it with a soft-bristled brush occasionally to remove stains, dirt, and grime. Please do not use any scouring tools or harsh chemicals when cleaning furniture with a teak sealer or protector on its wood surface. 
Be sure to clean spills as soon as they happen or as soon as you become aware of them. This is a great way to avoid staining the wood. 
To remove accumulated dirt and grime, use a diluted mixture of Marine SimpleGreen or a mild solution of soapy water to clean the furniture. You can use a sponge or soft-bristled brush to do the washing.
Always rinse the chair or table thoroughly to remove all soap residue after scrubbing. A garden hose on the standard setting should get the rinse job done perfectly. 
If your furniture has grease sport, scrub lightly with a de-greasing agent – making sure to follow the recommended instructions. 
Finally, always take your teak indoors away from weather elements during the offseason. 
Conclusion
The right refinishing project can help preserve the lovely golden shade of your outdoor teak furniture. 
If you have timeworn teak, throwing it away is not the best thing to do. Consider using the methods in this guide to restore and refinish your weathered teak and save the money you could have spent on replacement.