Last updated on March 24th, 2022
It gets pretty dark after sunset, and outdoor lights can somewhat minimize the darkness. If you need enough illumination for visibility and safety, grab one of the best outdoor lamp posts. You can use these lamp posts to place lights in your driveways, walkways, backyards, or patio. These posts and the lights are not only for security, but they also enhance your home's exterior décor.
There are many options of outdoor light posts in the market these days. They come in different sizes, shapes, designs, and materials, so you can pick one that best suits your needs. However, searching for the best outdoor lamp post can be challenging if you don't know how to go about the process. And, even worse, if you never shopped for the same.
We know how stressful this can be because we've been through the entire journey, and we want to make yours easier. We have reviewed some of the best outdoor lamp posts to help make your shopping experience a breeze.
Let's delve in.
10 Best Outdoor Lamp Posts
1. Westinghouse Lighting Lantern Post
When it comes to outdoor lamp posts, the Westinghouse lantern pole has the competition beat. It makes a beautiful accompaniment to any exterior like the solar lamp post lights, and you can install it by the walkway, driveway, or stairway.
The post is made of durable material and suitable for outdoor lighting. Its timeless design features a black finish on steel. In terms of size, the Westinghouse lamp pole measures 84-inches long and 3-inches wide.

It also has a metallic cross beam that can serve as a ladder-rest to hang plants and other outdoor decors. On either end of the decorative arms are brass-colored spherettes to provide visual interest. This also complements your outdoor décor by adding a touch of class.
A ground convenience power outlet of 120V AC is attached to the pole for easy connection of your holiday lights and lawn tools. It's located about a foot from the bottom to make it safe for all weather conditions.
Besides, it comes installed with an energy-efficient photocell sensor. The dusk to dawn photoelectric control sensor saves you time by automatically turning on a light at nightfall and off at sunrise. However, the light fixture gets sold separately.
With the Westinghouse lamp pole, you get a 5-year warranty against quality and defects in the material. It is tested and proven with Underwriters Laboratories for safety.
Product Features
Traditional black finish.
Durable and sturdy steel materials.
Ground convenience power outlet.
Auto On/Off sensor.
Pros
Five-year warranty
Easy to mount and comes with instructions manual.
It's straightforward to install a light fixture.
Its UL listed for safety.
Use it with fluorescent, LED, and incandescent bulbs without any issues whatsoever.
Cons                                                                                                                                                  
It doesn't have a motion sensor.
It isn't sturdy enough to hold a mailbox.
2. Modern Outdoor Direct Burial Post Light Pole Black Cast
Designed and built by John Timberland, customers buying this exterior lighting can rest assured of its quality, just like the case with other products on their catalog.
This lantern post measures 84″ high and is rated for residential use. It makes an excellent accessory for the exterior house, outside deck, garage, driveway, lawn, walkway, porch, patio, garden, etc.
With its cast aluminum construction, the modern post light is durable and ideal for outdoor lighting. It has an elegant minimalist design and is finished with black paint to provide a clean, modern look.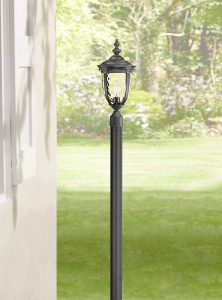 Even better, mounting this modern exterior post is straightforward and effortless. It supports direct burial installation that needs you to dig a 16″ hole. Adding cement gives it a solid base to make it more robust and sturdy.
This outdoor light post comes without a top light. However, it has a wide top mounting surface measuring 3″ wide. That means it's capable of accommodating all sizes of the standard post-top lantern.
Connecting the pole to a power source isn't challenging because it has a side opening to feed the electric wires. The opening is located about a foot from the bottom and is suitable for wet locations.
Product Features
 It has a maximum compatible wattage of 600 Watts.
Elegant black finish with a minimalist modern design.
Direct burial installation.
Good quality with durable aluminum construction.
Wet location outdoor rated.
Pros
It can accommodate all standard-size outdoor post lights.
Mounting the pole is easy because it's direct burial to the ground.
Ground convenience side opening for wired electricity.
It's a strong and sturdy pole.
Cons
It lacks a ladder rest.
It's sold separately with a top pole lantern.
3.    Madison 5″x5″ Vinyl Lamp Post     
Our third product is the Madison 5"x5" vinyl lamp post. As shown in the name, this outdoor light pole measures 5 by 5 inches and is 72-inches high. That means you can comfortably use it on your exterior without any issues.
The Madison lantern post offers an understated elegance with its modern design. Its effortless simplicity adds illumination and sophistication to compliment any pathway, driveway, yard, or garden.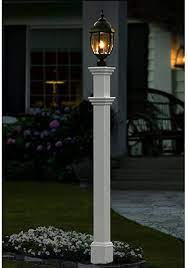 You can use the outdoor lighting pole to express yourself with its simple charm and timeless design. When placed next to the house, the Madison lamp pole makes a perfect beacon to welcome you home for years to come.
One of the coolest features about the Madison lantern pole is that it's maintenance-free and built with long-lasting materials. It's crafted from premium weather-resistant vinyl that can withstand the elements.
You can rest assured that the pole won't crack, yellow, warp, or fade, and the manufacturer gives a 20-year warranty on this.  To make sure your lighting post gives you years of service, you can paint or stain it with an extra coat to reduce the UV inhibitor though it voids the warranty.
Installing the Madison exterior lighting post is easy, and anyone can do it. The pole doesn't come with extension anchors to secure it to the ground but can be mounted over an already existing post.
Note that when you buy this outdoor post lights lamp it doesn't include a light fixture. However, it has a 3" universal collar that's fit to accommodate any standard hardwired or solar lamp. You can mount your preferred top light on its cap effortlessly.
Product Features
Maintenance-free.
Timeless design.
Any standard solar or hardwired lantern can fit its cap.
Pros
It's sturdy and eye-catching.
It's constructed with durable all-weather material.
It's built to last for many years to come.
Comes with a 20-year warranty
Cons
The lamp isn't included in the package.
It lacks an auto-on/off functionality.
4.    Hepworth Traditional Post Light Pole
The Hepworth traditional light pole is another masterpiece from the John Timberland exterior lighting collection. It's a line that comes in various styles. It features unique glass treatments and hand-applied finishes.
Your garage area, porch, driveways, and walkways can get that classic look with this traditional outdoor light pole. The pole comes in an attractive veranda bronze finish and has a decorative base that features fluted segments with a gold finish.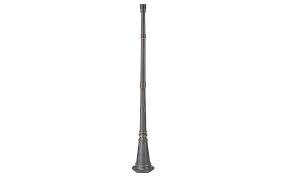 Matters shipping, the unit weighs about 7.7 pounds and arrives in four separate pieces. This includes the base, lower mid-section, upper mid-section, and top cap. These parts screw together effortlessly without any threading issues.
When assembled, it's 76.75-inches high and suitable for residential utilization. The top cap is 3" in diameter to provide a top light mounting surface that can easily fit any standard size light fixture.
Besides, it has a wide base surface measuring 10.25" for maximum support. It makes the pole sturdy when mounted onto concrete or other surfaces. Mounting it may need a little skill, but it's easy to set the mounting base if you take your time.
It's also wet location rated, meaning you can have it outside and never worry about different weather conditions and other outdoor elements. The rust-proof solar light outdoor pole can give you years of service without getting damaged.
Product Features
Wet location outdoor rated.
Veranda bronze finish.
Decorative gold finish at the base.
Traditional, classic appearance.
Pros
It's made of weather-proof materials.
It can accommodate standard size post lights.
It has a broad base that makes the pole sturdy.
Easy to assemble and mount.
Cons
No top light fixture is included in the package.
It doesn't have an auto light switch.
The Solus SP7-C-BZ 7' lamp post is a commercial quality outdoor lighting accessory. It is a clean, useful lantern pole that you can use to light up the walkway, yard, driveway, porch, garden, or even as a solar street light post.
The coolest thing about the Solus outdoor lamp is its dusk to dawn photocell. It automatically turns lights on at dusk and off at dawn and comes with an inconspicuous appearance. The photoelectric control is reliable and easy to replace.
With its elegant and straightforward design, it complements your exterior like no other. Its traditional design features a textured powder-coated aluminum mate. It's given a durable finish that prevents chipping and is corrosion-resistant to hold up year-round in all outdoor elements.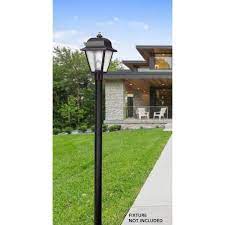 Besides, the Solus lighting pole comes with a sleek 15" cross arm available in white, bronze, or black. The ladder rest measures ¾" wide and is perfect for hanging plants, flowers, signs, and other decorative items.
When it comes to installing the Solus outdoor lantern post, you'll find it easy. This standard 7-foot lighting pole brightly lights up your compound when fitted with any standard 3" post top fixture.
It features a 120V ground convenience power outlet and an inlet hole for attachment. The pole is built to last and has a protective shield to protect it from harsh outdoor conditions when not in use.
Product Features
120V Ground convenience power outlet.
Outlet protective shield when not in service.
Simple traditional design.
15-inch cross arm.
Dusk-to-dawn light sensor.
Pros
Easy to replace photocell.
Durable finish to prevent rust.
It allows holiday lighting capabilities.
Direct burial mounting for maximum support.
Cons
It allows only direct burial installation and doesn't support surface mounting.
6.    Hepworth Outdoor Post and Cap
When it comes to creating and celebrating outdoor designs, nothing beats the John Timberland brands. The Hepworth outdoor post and cap is among the company's collection of exterior lighting accessories.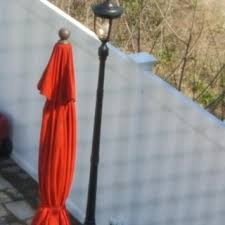 It's a lighting pole made of long-lasting materials, such as glass panels to give many years of service. Even better, the pole is wet location outdoor rated, and its aluminum construction makes it highly durable and reliable.
The lighting post has a black iron finish and decorative fluted segments on the base to give your home a classic look. Its 76.75" height gives a bright look to driveways, garage areas, yards, pathways, gardens, and more.
With a 10.25″ hexagonal base footprint, the Hepworth lighting pole is very sturdy. You can mount the light pole onto a concrete or other surfaces, and its broad base will provide maximum support.
You can install any standard top light on the Hepworth outdoor lamp pole without facing any issues. The pole offers a 3-inch-wide surface that perfectly fits and accommodates most light fixtures.
Product Features
Aluminum construction.
Black iron finish.
Wet location outdoor rated.
Hexagonal base footprints.
Decorative fluted base segments.
Pros
It's made of durable material.
It gives a classic look to your home.
All weather-resistant.
It's a high post and comes with a broad cap base.
Cons
It doesn't come with a light fixture in the package.
7. Mayne 5835-BK Signature Lamp Post
With the Mayne 5835-BK signature lamp post, your home exterior will never look the same. It adds glamour and complements your home with a modern look compared to the previous lamp post. You can place it along driveways, walkways, porch, and more.
The lighting pole is made from rigid, high-quality materials that are 100% polyethylene. It also has UV inhibitors within the vinyl to protect from sunlight and offer long-lasting fade-free performance.
You can enjoy the Mayne 5835-BK signature lantern pole all-year-round with minimal winter preparations. It's shock-resistant and weather-proof to light up your exterior in all four seasons.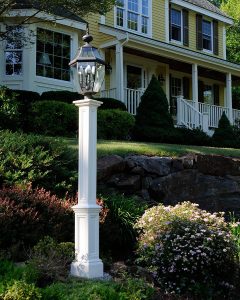 One of the best things about this lighting pole is low maintenance. The plastic Mayne lantern pole makes a great solution to your residential lighting needs. That's because it doesn't chip easily and is rust-free.
In the package, you'll find the 6-foot decorative pole and a steel ground mount conduit. There aren't wiring materials or light fixtures included. The steel conduit is 3″ in diameter and 89″ high and can comfortably accommodate most residential post lamps.
When it comes to installation, the product offers ground mounts made of steel. It comes with an aluminum pipe that allows new installation. Set the pipe in a hole of about 15" deep and leave 74" above ground and fill the hole with concrete to secure it.
Product Features
100% Polyethylene construction.
In-built UV inhibitors.
Steel ground mounts.
Made in the US.
It has an ultra-tough construction that's shock-resistant.
Pros
It has less maintenance.
It's weather-proof.
Fade-free and durable.
Stable
15-year warranty for residential and 5-year warranty for commercial application.
Cons
It doesn't have an auto light sensor.
8.    Design House 579714 Outdoor Lamp Post
Our next recommendation for a perfect home exterior lighting pole is the Design House 579714. It's a great accompaniment to any home entrance, garden, yard, patio, and more.
The exterior post lanter comes in a black finish to match any wood paneling, stones, brick, and aluminum sidings. It also adds glamour and complements your outdoor décor with a classic elegant look.
With a height of 80-inches, the Design House outdoor lighting pole allows illumination of driveways, pathways for appearance and safety. It also has a standard 3″ diameter that can support most top light fixtures.
This lighting pole includes a cross-arm detail made of plastic tubing with end ball caps to offer visual interest. You can use it to hang outdoor decorative items, holiday lights, and lightweight plants.
You can use the Design House outdoor lamp pole in all weather conditions because it's ETL listed for use in damp areas. Besides, this product comes with a 10-year warranty to protect against workmanship and defects in the material.
Product Features
Black finish.
Classic design.
Cross arm.
ETL approved for damp location use.
Pros
It's weather-resistant.
It can be used in wet areas.
It's made of robust and durable material.
Easy to mount and install.
10-year limited warranty.
Cons
It doesn't include a light fixture.
It lacks a photocell sensor.
9.    Design House 501817 80-Inch Lamp Post.
Whether you want a high-quality exterior lighting post for your driveway or pathway, the Design House 501817 is one of the best outdoor lamp posts you should check out. The pole is made with industrial leading merchandising solutions and innovative programs.
It has a height of 80" that's suitable for residential use. When fitted with a top light fixture, the outdoor lantern pole illuminates your home exterior with a bright light for appearance and safety.
The Design House 501817 lamp pole is given a black finish to add glamour to any outdoor décor. It matches aluminum sidings, stone, brick, and wood paneling to add to the curb appeal of your home.
Made of aluminum material, the outdoor lighting post is very sturdy and makes a great outdoor light accessory. However, it comes with a plastic hanger arm to hang plants, holiday lights, and other decorative items.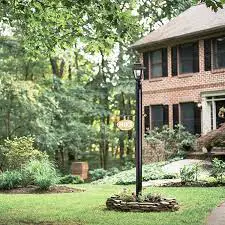 You can use the Design House 80-inch outdoor lantern pole anywhere. It's approved and listed with UL for use in wet areas and protection against harsh weather conditions. The pole is rust-free and doesn't chip easily.
Any standard light fixture can be mounted on this lighting post – it's that versatile. It has a 3" wide top to support and accommodate your desired light fixture. It also has provisions to add a separate photocell sensor since it doesn't come with one.
Product Features
Black finish.
Traditional design.
Hanger arms.
UL listed for wet areas utility.
10-year limited warranty.
Pros
The pole is made of all-weather material.
It's dimmable and energy-efficient.
It's constructed with heavy-duty metal.
It accommodates most top light fixtures.
Cons
It doesn't come with a light fixture.
Its cross arm is made of plastic and isn't strong enough.
10.  Livex Lighting 7709-14 Outdoor Cast Aluminum
When a light fixture gets mounted to this exterior lamp post, it illuminates light to your front area, backyard, pond, and walkway in an exquisite way. It's one of the features that makes it one of the best outdoor lamp post in the market today.
Drawing its design from traditional furnishing and décor, this lantern pole perfectly blends with your outdoor decorations. Its black finish incorporates a classic, timeless design to add a touch of elegance to your home.
The Livex 7709-14 outdoor light post is built with high-end materials. It comes in four different parts made with cast aluminum to make the pole stronger and lighter at the same time.
It's built to withstand exposure to harsh climatic conditions and other mechanical damages; the light post is highly durable. You can use the Livex light pole even in areas with a lot of moisture because it is rust-resistant.
When it comes to installation, this lantern post is easy to mount. It has a broad base footprint to offer maximum support when mounted onto a concrete or other surfaces. You'll find instructions to assemble the pole in the package.
Product Features
Traditional design.
Cast aluminum material.
Black finish.
120V outlet.
Pros
Easy to assemble.
Broad base for maximum support.
It's weather-resistant.
It complements any home décor.
Cons
Top light isn't included.
There's no auto on/off switch.
The Ultimate Buying Guide for the Best Outdoor Lamp Posts
While Outdoor lamp posts can improve your curb appeal and make an excellent first impression, you can either make or break it at the point of making a choice. You need to understand factors to consider when buying outdoor post lights.
What Factors Should You Consider When Choosing the best outdoor lamp post?
The higher the outdoor light pole, the further the light fixture will spread your bulb's brightness. A shorter height means concentrated lighting. Keep in mind how you want your compound illuminated at night. This helps you to know which option best suits your needs.
This simply means checking out what's contained in the lantern pole you want to buy. Check for power outlet holes, cross arms, photocells, and more. Photocells regulate lights, outlets hold bulbs, and you can hang decorative items on cross-arms.
The type of material used to construct the lamp post should be solid and of a high quality. The right pole should be built to last for years without chipping, fading, or breaking.
You need to check on the affordability of the lamp post you want and avoid spending a fortune on it. If you spend wisely, you'll surely get the best value for your money.
What are the Features to look for in the best outdoor lamp post?
While there's a wide range of different exterior post lights that can match your style, only a few essential features need your attention. Here are the most critical areas to look out for:
Since you're looking for a lighting post that will stay outside your compound, you need one that can withstand all outdoor elements. It should be weather resistant and doesn't chip throughout the four seasons of the year.
Ideally, you want an outdoor lantern pole that's quick and easy to install. You should check if the pole has direct burial options or requires mounting on concrete or other surfaces. Also, check for a power outlet and inlet hole to confirm their effectiveness and ease of handling.
Type of Finishes and Material  
The outdoor lighting post's material and finish determine how well the pole blends in with your landscape and home exterior. It's good to search for luxe metallic finishes that are stylish and hardwearing to give the pole an expensive antique appeal.
An outdoor lighting post with photosensors can help save energy. If you want an ideal outdoor lamp post, make sure to get one with a light sensor to save you time. Once the timer is set, no human intervention is needed as the lights will turn on and off automatically.
Quick Tips
Ensure your light post is weather-resistant, fade-free, and corrosion-resistant.
Find a pole with a wide top mount surface to accommodate most light fixtures.
Check if the post's finish complements the exterior style of your home.
Outdoor light poles with auto on/off switch are time-saving and energy-efficient.
Know where to place a lantern pole before choosing one.
Conclusion
From our discussion above, our experts shed light on the best outdoor lamp posts.  The top 10 list comes in handy. For anybody looking to enhance their outdoor or take their landscaping skills a notch higher, we highly recommend the above. These lamp posts can used both in residential or commercial setups.
We also highlight key areas that are vital to help you purchase the correct one. Our detailed buyer's guide will help you avoid the hassle of searching for an ideal outdoor lighting pole.
FAQ About Outdoor Lighting Poles
Q: What size lamp base is suitable for my top light fixture?
A: If you want to know how to choose the best lantern post for your top light fixture, you'll need to dig deeper. Most outdoor light posts come with a top surface measuring 3-inches for which standard top-light fixtures can get accommodated.
Q: Is it possible to drill my light pole for an extra outlet?
A: Well, it's recommended that you look for a light post with your required specifications to avoid additional drilling. However, suppose you already acquired one but feel the need to add an extra outlet. In that case, most outdoor posts are made of durable materials. They won't get damaged with the right tools.
Q: How does a light pole photocell sensor operate?
A: Most outdoor lamp posts come with a built-in control panel that offers users the platform to set the photoelectric sensors' timer. It's most preferred that you set the timer from dusk to dawn. Once it's set, the light sensor will automatically turn on the light at nightfall and off at sunrise.   
Q: Can I do the wiring of my outdoor lamp pole on my own?
A: Several light poles arrive with installation instructions in the package. If there're guidelines on the electrical wiring of your outdoor lamp post, then you can follow them. However, it's highly recommended that you seek professional guidance, especially when dealing with the mains.
Q: Can you point the light in the desired direction?
A: Most lights poles are designed to accommodate top light fixtures. You can find those that can rotate 360°, and it's possible to alter the light direction. It's also possible depending on the design of the light fixture.