Last updated on March 24th, 2022
The adage "The first impression is as good as the last" rings true for business signs. An attractive outdoor sign with prominent illumination will draw customers to your business premises.
Gone are the days when illuminated signs meant dingy neon lights or using energy-guzzling halogen and incandescent bulbs. The best outdoor solar lights for signs will enhance the visibility of your outdoor sign or billboard and add character.
Apart from commercial use, the best outdoor solar lights for signs also have residential and domestic applications. You can use them to light your home address, statues, sculptures, or even landscaping. Outdoor solar lights for signs are better than electric ones because they cost less to install, operate, and don't incur bills. They also have a lower carbon footprint, can be installed in off-the-grid places, and are not susceptible to power outages.
Given the efficiency of solar powered sign lights, there are plenty of them in the market. Saying that shopping for them is gruesome is quite an understatement.
That's why we took our time to come up with this list of the best outdoor solar for signs according to features such as flux, weatherproof rating, and efficiency below. We have also included a shopping guide for the best outdoor solar lights for signs for your convenience.
Top 8 Best Outdoor Solar Lights for Signs
LITOM 12 LEDs Solar Landscape Spotlight
The versatile LITOM LED spotlights allow you to illuminate signs installed either on a wall or the ground. The lights have a stake with a pointed end that makes it easy to drive into the ground. They also come will wall-mount screws for installation on a wall.
When you purchase it you get, a pair of lights each with 6LEDs making a total of 12LEDs. Each light has a beam angle of 120◦; combine the pair and you can illuminate up to 240◦.
The lights can also be tilted to an angle of up to 90◦ giving you installation flexibility. Note that both the light and the solar panel tilt in the same direction. If you tilt the light upward, the solar panel will not get charged.
These are among the best outdoor lights for signs in terms of brightness. Their brightness is an amazing 6500 kelvins and produce cold white light. This is the brightest you can go on the Kelvin spectrum.
The lights have two lighting modes; low light and high light. While on low light mode, the lights are shine less but stay on for up to 12 hours.
High light mode is very bright and the solar-charged battery lasts up to six hours in this mode. You can use these outdoor solar lights for signs as well as security lights while on high mode.
Another convenient feature of these solar powered sign lights is that they are photosensitive hence support the dusk-to-dawn feature.
The lights have a 1800mAh 18650 lithium rechargeable battery that supports the two power modes. The battery takes only 4-5 hours to charge on a bright day and 6-8 hours on an overcast day. The battery is charged using a monocrystalline silicon solar panel; the most efficient solar panel in the market.
Regarding durability, these are the best outdoor solar lights for signs. They have an ingress protection (IP) rating of 67.
With IP ratings, the first digit denotes protection capacity against solids like dust, pollen, and sand. Solid protection ranges from zero (no protection) to six (maximum protection).
The second digit represents protection against liquids and ranges from 0-8. A rating of 7 means that the lights can withstand immersion in 15-100cm of water for up to 30 minutes.
Key Features
2 lights per pack
IP67 outdoor rating
Lights made from high-impact ABS plastic material
120◦ beam angle
90◦ adjustable angle
1800mAh rechargeable battery
Monocrystalline silicon solar panel
Certifications: FCC, CE, RoHS, MSDS, UH38.3
Pros
Very bright
Made from high-quality impact-resistant material
Two super easy installation options
Convenient dusk-to-dawn feature
Weatherproof and can withstand snow, sun, and rain
45-day money-back guarantee
24-month warranty
Cons
The solar panel and the lights tilt the same way
BAXIA TECHNOLOGY BX-SL-101 Solar Outdoor Lights 28 LED Wireless Waterproof
With a total of 28LEDs that produce ultra-bright light, the BAXIA BX-SL-101 outdoor solar lights for signs offer flawless performance. The solar lights produce 400 lumens of light. Lumens refer to the amount of light the eyes can see; 400 lumens is equivalent to a spotlight.
The lights have a canopy solar light design. This is important because it allows for versatile applications and a wide beam angle.
These lights have a 120◦ beam angle each and there are four lights in the set. You can place them around different signs, or combine them for optimum illumination around one outdoor sign.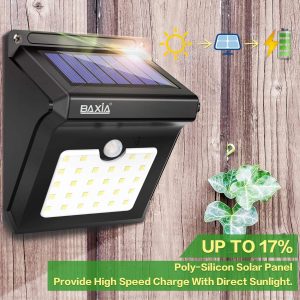 Each light in the set has a 1200mAh rechargeable battery that takes around eight hours to get fully charged by sunlight. While 1200mAh is average for a rechargeable battery, it works pretty well for this model.
The lights are also efficient even in cloudy conditions.
These lights are among the best outdoor solar lights for signs in the market durability-wise. They have an outdoor IP rating of 65. An IP 65 rating means that the lights are 100% protected against dust.
The second digit (5) means that the lights are also protected against low-pressure jets of water coming from all directions.
The lights are quite easy to install on a wall as the installation screws are included in the package. You can also use gorilla glue to install if you are using them in a rental or would just rather not puncture your wall.
Apart from illuminating your outdoor signs, these outdoor solar lights double as security lights. They have a motion sensor with a 3-5 meter range and come on for 30 seconds when they detect movement.
You can use them to keep critters away; especially if you are in the food business.
Key Features:
4 canopy lights per pack
128 LEDs
400 lumens
1200mAh rechargeable battery
120◦ motion angle
1P 65 outdoor rating
Acrylonitrile butadiene styrene material
Motion sensor with 3-5 meter range
Pros
Easy to install
Heat-resistant lights
Commendable weatherproof rating
1-year warranty
Sufficiently bright
Made from extremely durable acrylonitrile butadiene styrene material that is heat, impact, shock, and scratch-resistant
30-day full refund
180-day limited product guarantee
Cons
The lights only come on when motion is detected
Complaints of some of the lights failing in a short time
DBF Solar Lights Outdoor, Upgraded 18 LED waterproof Solar Spotlights
If the outdoor sign, mural, or sculpture you intend to illuminate is closer to the ground, buy these lights. These are the best outdoor solar lights for signs that blend with landscaping.
The lights come as a pair and have a spotlight design with a total of 36LEDs and an adjustable solar panel each. The spotlight design produces focused concentrated light rather than dim diffused light.
Another feature that makes these the best outdoor solar lights for signs is the different light color options. If you feel the typical LED cool white color is harsh, you can buy either the warm white or the seven-color light options.
The lights have a total luminous flux of 600lm which is equivalent to lighting 50 incandescent bulbs.
The best feature of these adjustable solar lights is adjustability. The spotlight is adjustable by up to 90◦, and the solar panel by up to 180◦. The joint between the solar panel and the light heat also has 360◦ swivel motion.
Combine the fully adjustable feature with the multiple mounting options and you have the best outdoor solar lights for signs.
The solar panel on these lights is made from monocrystalline silicon. Monocrystalline silicon solar cells are 15-20% more efficient than other solar cells, require less space, and are the most durable.
It takes the solar panel roughly six hours of exposure to sunlight to charge a 2200mAh battery to capacity. Note, 2200mAh is noteworthy battery capacity for a rechargeable battery.
The lights have two light modes, high light, and low light. With the former, the battery lasts for 6 hours and 10 hours for the latter.
The outdoor solar lights have an IP65 weatherproof rating and can withstand sunshine, rain, and snow.
Key Features
A pair of spotlight lights
Monocrystalline silicone panel adjustable by 180◦
Spotlights adjustable by 90◦
18LEDs
600lumens total
2200mAh battery
50000Hours projected lifespan
Light sensor
Acrylic material
In-ground and wall mounting options
IP65 waterproof
Pros
Easiest outdoor solar lights to assemble
Weather-resistant
Ultra-bright
Two lighting modes to suit your lighting needs
Dusk-to-dawn feature
The adjustable solar panel makes it easy to install in various places
One year technical support
Cons
Requires a bit more weatherproofing
120W LED Solar Street Lights, Outdoor Dusk to Dawn Pole Lights with Remote Control
If you want to illuminate a billboard or a large outdoor mural, this WisHomee outdoor solar light is your best bet. The light has a light bar design and holds 224LEDs.
This is the best outdoor solar light for signs in terms of brightness. It has a light color temperature of 7500K which is bright enough to light an entire parking lot.
The light can be installed either on a wall or a pole. Installation accessories included in the package are a steel mounting arm, pole mounting brackets, and nuts and bolts.
It is important to note that you need to install the solar panel on the light under direct sunlight for maximum exposure. The panel and the light can be installed remotely and connected with a compatible electric wire. You will, however, have to purchase the wire separately.
The light comes with a massive 30000mAh rechargeable lithium-ion battery. At full capacity, the battery can keep the light on for up to 16 hours.
Operating this light is a breeze thanks to the remote control that has a 40ft range. The light comes with a dusk-to-dawn feature on default but features nine adjustable lighting modes.
Because the light is sensitive to ambient light, it is recommended that you do not install it near other lights. This helps the dusk-to-dawn feature work more efficiently.
The outdoor solar lights for signs are IP65 weatherproof and can withstand extreme weather. The lights have a working temperature range from -25◦C to 60◦C (-13◦-140◦).
Key Features
Lightbar design
224LEDs
30000mAh battery
IP65 waterproof
Remote-controlled
9 brightness levels
Can bet pre-set to light for continuously for 3, 5, or 8 hours
Wall and pole mount
Mounting accessories included (pole note included)
7500K color temperature
Pros
Ultra-bright light
Convenient remote control
Dusk-to-dawn feature
Light and solar panel can be installed remotely
5-year warranty
Weather-resistant
Cons
If the battery dies, you will have to replace the whole lamp
Solar Landscape Spot Light, 6500 Cool White 18 LEDs Auto On/Off Spotlights
The lights' design features a spotlight head and an adjustable solar panel. It also comes with two sets of different length ground stakes and wall brackets for installation.
Apart from the flexible installation options in these lights their adjustable features also make them quite versatile. The light head can be tilted vertically by up to 120◦ while the solar panel has a 150◦ vertical tilt.
The joint between the solar panel and the light head also has a 360◦ swivel motion.
Between their 6500K bright light and their adjustable feature, these are the best outdoor solar lights for signs. A set includes four lights with a total of 54 LED beads.
You can position them to illuminate a signpost or a roadside sign to make the signs more prominent and beautiful.
The lights are powered by a 2200mAh lithium-ion rechargeable battery that is charged by the solar panel. The battery takes 6-8 hours to charge to full capacity and will light according to the set light modes.
The lights support both high and low light modes. High light mode drains the battery within 4-6 hours while low light mode lasts 8-12 hours at full battery capacity.
There is a manual switch that allows you to switch between the two modes.
Unlike with other solar units, the battery on these outdoor solar lights is replaceable. If it gets damaged or worn out, you can replace it with any 3.7V Lithium-ion battery.
The lights also have a high-strength ABS plastic housing and have an IP65 waterproof rating. They hold up well through the seasons all year round.
Key Features:
4 pieces per set
2200mAh battery, replaceable
18LEDs
120◦ vertical tilt on the light head
150◦ tiltable solar panel
In-ground and wall installation options
Installation Hardware: Long stakes, short stakes, wall-mount brackets, nuts, and bolts
600lm
6500K
High light and low light modes manually adjustable
Pros
Super simple installation
Bright illumination
Weatherproof rating
Adjustable head and solar panel make installation easier
The replaceable battery will save you the cost of replacing the whole unit
12 months warranty
Cons
Only available in one light color
This LITOM outdoor solar light is an exception to the rule that bigger is better. The lights may seem small but will offer better illumination for your outdoor signs than some multiple-set outdoor lights.
The outdoor light has a canopy design and holds 24 LED beads. It is brighter than other outdoor solar lights that have a 600lm luminosity.
One feature that makes this the best outdoor solar light for signs is its extra-wide beam angle. The light has a beam angle of 270◦; which is more than twice the standard 120◦ beam angle.
It also illuminates an area of up to 200 square feet depending on the height of installation. That is more than enough light to bring a highway billboard to life.
This outdoor solar light for signs also doubles as a security light as it features a motion sensor. The motion sensor can detect movement within a 33-36ft range and alert you according to the selected lighting mode.
The light comes with three light modes; medium light mode, dim light sensor mode, and sensor mode. The light mode does not activate the motion sensor while with the sensor mode, the lights only come on when motion is detected.
The dim light sensor mode combines the two modes above; the light stays on but shines brighter if motion is detected.
This is the best outdoor solar light for signs to keep critters and vandals away from your billboard or signpost.
The light is also FCC-certified. An FCC certification is awarded by the Federal Communications Commission to products that emit negligible radiofrequency energy. Such products are highly unlikely to interfere with public broadcast and other telecommunication services.
Key Features:
Canopy design with 24 LED beads
3 lighting modes
Motion sensor with 33-36ft range
2200mAh lithium-ion rechargeable battery ( charge it under direct sunlight)
270◦ beam angle covers 200 square feet
30000 hours projected lifespan
IP65 waterproof
High-strength ABS material
Pros
Doubles as a security light
Super bright light
Wide beam angle covers a larger area
18-month warranty
45-day money-back guarantee
Durable, weather-resistant design
Easy to install
Cons
If you put up a sign, mural, or sculpture, and you want it to be visible all year round. These OSORD outdoor solar lights should be your choice for the job.
The lights are made from high-strength ABS plastic material that has excellent impact, abrasion, and corrosion resistance. The lights are also IP65 waterproof hence can withstand snow, high heat, and rain without incurring the slightest damage.
The outdoor solar lights produce 600 lumens of warm white light. They have the same charming characteristic as incandescent bulbs but use much less energy.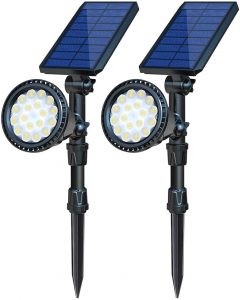 The landscaping solar lights are adjustable for convenience. You can tilt the solar panel up to 150◦ and light head up to 90◦. The joint that binds the 2 parts is also rotatable up to 180◦.
These adjustability features are quite handy because the solar panel has to be placed under direct sunlight for 6-8 hours. Otherwise, the battery will not charge to capacity and the light will not last through the night.
The lights have both high light and low light modes. You can select the lighting mode that will make your sign more appealing.
They are also sensitive to ambient light hence automatically come on at dusk and go off at dawn.
Key Features:
A set of two lights
Spotlight design with 18 LED beads per head
IP65
High-strength ABS material
600 lumens of warm white light
2200 lithium-ion rechargeable battery
High and low light modes
Photosensor
Pros
Simple tool-free installation
Weatherproof construction
Convenient dusk-to-dawn feature
Adjustable to trap maximum sunlight
Bright light
Cons
ROSHWEY Solar Lights Outdoor, 18 LED Path Lights Waterproof Solar Garden Lights
Outdoor solar lights need exposure to direct sunlight rather than just daylight so that they can operate optimally. That is why the adjustability of these landscaping solar lights is a welcome feature.
The outdoor lights have a 7.5" high-efficiency solar panel that charges a 220mAh battery. The 2200mAh rechargeable battery requires 6-8 hours of charge to reach capacity
The solar panel makes a vertical tilt of up to 150◦ and a horizontal swivel motion of 360◦. The light head also tilts vertically up to 120◦ way more than the standard 90◦ tilt for other landscaping lights.
If you want efficiency, this is the best outdoor solar light for signs to buy. Better yet, it is designed for two installation options, in-ground and on a wall. For the on-ground option, there are different length stakes to support your application.
You can use these lights to illuminate a signpost or even a wreath shaped like your logo or business name – the lights emit a bright white light.
The lights are built to last. Thanks to their IP65 waterproof rating, they can withstand both high heat and frost.
The manufacturer also offers a 12-month warranty to sweeten the deal.
Key Features:
Spotlight design
5" solar panel that tilts vertically and rotates 360◦
Adjustable lamp head tilts 180◦ vertically
2200mAh
Cool white light (not daylight)
IP65 waterproof
On-ground and wall installation
Switch located on the underside of the solar panel
Pros
Weatherproof
Dusk-to-dawn feature
12 months warranty
High-efficiency panel
Easy installation
Cons
Some complaints about the lights flickering
Light gets dimmer with elevated mounting
Buyers' Guide: What to Consider When Shopping for the Best Solar Powered Sign Lights
When looking for outdoor solar lights for signs, there are a few factors to consider. Let's look at some of them.
Design
Outdoor solar lights come in three main designs; spotlight, canopy, and light bar. The spotlight design is beat for on-ground installation but can also be installed on a wall. The canopy design is best for wall installations while the light bar is best for pole installation.
Select the design according to your lighting needs.
Light Color
The light color from a bulb refers to its glow. The light color is measured in Kelvins (K) and ranges from warm white (2700K) to daylight (6000K and above).
The light color dictates the glow on your sign. Select a light color that will compliment your logo colors if you are a business. If the solar lights are for residential use, such as highlighting one's address, they should be warm and inviting.
Lumens
Lumens denote the brightness of a light bulb. The higher the lumens, the brighter the light a bulb produces. For an outdoor solar light, you shouldn't go for anything less than 600lm.
Area of Use
Outdoor solar lights for signs can be used to illuminate anything from an exit sign to a billboard.  The area of use determines the type of solar lights to use and the number for optimum illumination.
The area of use will also determine the most practical mounting options for the solar lights.
Weatherproof ratings
The best outdoor solar lights for signs should withstand all weather elements. The best way to determine the weather-resistance level of outdoor solar lights is by checking their weatherproof rating.
An IP65 rating or above is great. You can also refer to buyer reviews for confirmation.
Material
In any object, the material used determines durability; it is no different for outdoor solar lights for signs. Both the light head and the solar panel should be made from strong durable material.
The best material for a solar panel currently is monocrystalline silicon.
Conclusion
Outdoor solar lights have several benefits. They save one money that would have otherwise been spent cabling, trenching, and paying an expert installer.
If you are crazy about the environment, solar lights are the way to go. They have a smaller carbon footprint compared to electrical ones and are more reliable.
When it comes to advertising your business, solar lights can also provide a catchy but pocket-friendly way to get noticed. And who doesn't want to save a coin?
We hope our list of the 8 best outdoor solar lights for signs will help you navigate the ever-growing sea of lights. And our buyers' guide will help you identify the right lights to illuminate your outdoor sign.