Last updated on June 21st, 2022
Outdoor resin wicker furniture is durable but still requires some maintenance to remain in good shape for long. These seats can become faded and brittle when exposed to direct sunlight over time. Their metal frames can oxidize and become chalky when exposed to salt and moisture. Therefore, it is crucial to know how to protect outdoor resin wicker furniture to get the most out of your investment. 
The best way to protect any wicker patio furniture is to keep it clean and dry at all times. Clean it regularly, and store it indoors away from direct sunlight during the offseason. You can also paint the outdoor wicker furniture or apply it with Tung oil to make it water-resistant. When not in use outdoors, consider covering the wicker chairs with appropriate fabric to shelter them from the sting of UV radiation.
Even if your resin wicker chair comes with a protective coating, it still requires these care techniques to avoid deteriorating quicker. The good news is, the upkeep for this kind of furniture is minimal, and following just a few simple tips will go a long way. 
What is resin wicker?
All-weather wicker, or resin wicker, is made out of synthetic material extracted from plant matter. These synthetic wicker chairs are designed to look and feel like natural wicker, except they are optimized for outdoor use. 
Unlike organic wickers that are not practical for use outdoors, all-weather wickers have more resilience and can withstand weather elements.   
Resin wickers come in various types, ranging from cheap plastics to premium High-Density Poly Ethylene (HDPE). You'll find these wickers in dining sets, outdoor sectionals, and daybeds.
Resin wicker is typically woven on aluminum frames. As such, your resin wicker furniture may be significantly lightweight. A tornado or strong wind could blow them away if it finds them in an exposed space outside.
What is the difference between wicker and resin wicker?
The apparent difference between wicker and resin wicker is, that the former is made from organic materials while the latter (resin wicker) is made out of synthetic resins.
Natural wicker, made from plant materials, is susceptible to rain, snow, sleet, moisture, and other inclement weather conditions. Exposure to these weather elements will cause a natural wicker chair to develop mold and mildew, making it deteriorate sooner.  
Synthetic wicker is the opposite. Because it is made of synthetic material, it can withstand harsh weather conditions for much longer.
Insects and tiny pests can also damage natural wicker. The wicker is subject to becoming dry and brittle by itself over time. When this happens, it will crack, and the weave may begin to unravel with time. 
Synthetic wicker is far more durable. Whether it is used indoors or outdoors, it will retain its pristine appearance for a long time. Pests and insects do not damage this kind of wicker because it is plastic. 
Compared to the natural wicker, resin wicker is easier to wash. It is also generally less expensive than natural wicker. 
How to protect outdoor resin wicker furniture?
By now, you know that resin wicker furniture is weatherproof. Still, it requires care and maintenance to prolong its value. Thankfully, protecting your synthetic wicker is easy, as you will see in the following guidelines. 
Keep your resin wicker clean
The best way to protect any wicker patio furniture is to keep it clean and dry as much as possible. Regardless of the season, dust keeps accumulating on surfaces. One way to prevent this dust from forming a sticky, stubborn layer is to vacuum it from time to time or whenever it becomes noticeable.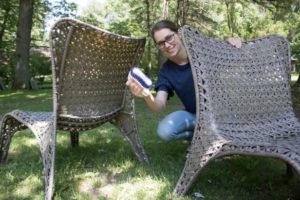 You can dust off the seats or use a vacuum with a brush attachment to keep the surfaces dust- and pollen-free. A soft-bristled brush should be sufficient most of the time. However, the vacuum becomes handy for removing dust in those hard-to-reach areas. 
For sticky dirt or grime, hose down the furniture and let it air dry. Always take care not to use too much pressure when hosing dirt off your patio seats. 
The pressure can force some of the weaving out of place. Anyways, you can always reposition any displaced weaving with your fingers. Just ensure you do this carefully not to cause any further damage. 
If you still notice dirt on the furniture after these initial cleaning methods, use a sponge and mild soap-and-water solution to scrub it clean. 
Ensure you thoroughly rinse off all the cleaning mixture before letting the furniture dry. 
Dust and other organic material can accumulate in the crevices of the weave. These can provide a foothold for mildew, which will damage even the synthetic fiber over time. Keeping your resin wicker furniture clean will help extend its life.  
Keep the resin wicker away from outdoor weather elements in the offseason
Resin wickers are touted as able to withstand extreme weather conditions. Some synthetic wickers are also treated to further withstand any weather. While all of this is true, radical climate changes can still damage the material.
Even with a protective coating, wicker will sustain some fading if left outside over time. It, therefore, helps to keep the furniture sheltered from direct sunlight when not in use.
Resist the temptation to leave your resin patio furniture outside during winter. Be sure to store it in the garage or any other indoor space away from the frigid weather outside. 
Paint the furniture for extra protection
Painting adds an extra layer of protection to your outdoor wicker furniture. Whether you prefer to make your purchases online or in-store, you will find paint that is specifically formulated for outdoor wicker furniture. 
Use this to cover the entire surface of the furniture, starting from the bottom, or underside, toward the upper side. 
Once you choose to protect your chairs with paint, ensure you reapply the protective layer after every three years. 
It is also recommended that you apply two coats of marine varnish to waterproof the furniture. To do this, ensure you complete painting the item first, then apply the layers of varnish afterward. 
Alternatively, you can just use the marine varnish alone without paint. In this case, you apply three coats of the varnish every two years. This is especially an option to consider if you don't wish to change the natural color of your furniture. 
Oil the wicker furniture to make it water-resistant
Like marine varnish, you can apply Tung oil on your outdoor wicker furniture to make it water-resistant. 
Notice that the oil only prevents the furniture from sustaining dampness, but it won't protect the wicker from the effects of extreme weather. 
You can use a soft cloth to apply the oil, preferably when you first put the furniture outside and at the end of the season before putting it away in storage.
Cover the outdoor furniture with appropriate fabric when not in use
Like any outdoor furniture, the synthetic wicker chair can benefit from custom-fit or pre-made wicker furniture covers. These covers are designed to shelter the outdoor wicker furniture from the damaging effects of UV rays, wind, rain, and damage from animals such as cats and squirrels.
Custom-fit covers are sure to fully protect the furniture by covering it in all parts. Still, you can choose a pre-made option that reaches all the way down, leaving no part of the wicker exposed to the elements. 
With such covers, you will no longer have to bring your furniture indoors even during the offseason.
What can you spray on wicker furniture to protect it?
There are several products that you can spray on your wicker furniture to give it an added layer of protection. In our case, we recommend using 303 Protectant. This spray offers superior UV protection while helping to repel dirt, dust, and stains. 
303 Protectant will also help protect your furniture from fading, oxidizing, and cracking over time. Make sure the area you are treating is completely clean and dry before applying the protectant. 
Consider using 303 Multi-Surface cleaner to prep your furniture for the protectant. The cleaner provides the ultimate cleaning power, removing dirt and grime safely without removing any protective coatings or finishes. 
To use this cleaner, spray it directly on the surface till wet. Then agitate with a soft-bristled brush or soft cloth, preferably microfiber. 
Wipe the stains along with the excess cleaner using a dry cloth, and repeat the process until the stain is gone.
Allow the surface to dry completely, then spray 303 Protectant directly on it. Then simply wipe the surface dry. 
Be sure to remove all of the excess 303 Protectant from the surface. If you do this simple task correctly, 303 will leave a matte finish without any oily or greasy residue. 
For maximum UV protection, the manufacturer recommends reapplying the 303 Protectant spray every 3 to 5 weeks.
Can you leave resin wicker furniture outside during winter?
All-weather wicker chairs require minimal maintenance and can withstand adverse weather conditions all right. However, leaving your furniture outside during winter is a bad idea. The extreme cold weather, snow, and frost can lead the outdoor wicker furniture to deteriorate faster than it should. 
Also, raging winds in the winter can lift lightweight aluminum frames and rub the chairs against other surfaces in the process. This can damage your furniture. Fortunately, you can prevent all of these by storing wicker furniture indoors when winter is approaching.  
How long does outdoor resin wicker furniture last?
The synthetic wicker material used in making a woven deck or patio furniture is fade-resistant, easy to maintain, and exceptionally durable. With normal use, the outdoor resin wicker furniture made out of high-density polyethylene will last 10 to 15 years. 
Other maintenance tips for outdoor resin wicker furniture
Because outdoor wicker furniture is plastic, it can become more elastic in scorching weather and brittle in freezing weather. Prolonged exposure to these extremes can result in premature wear. It, therefore, helps to shelter your patio seats under a patio roof.  
Keeping your outdoor wicker sheltered from direct sunlight will also help it retain its color best. Exposure to ultraviolet sun rays often causes the wicker to fade and lose its color prematurely.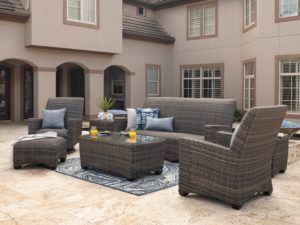 If you cannot keep the furniture under an overhead shelter, ensure you shield them with suitable covers designed for outdoor furniture – whenever they are not in use. This should help minimize their exposure to direct sunlight and extend their life. 
Make it a habit to inspect the weave of your outdoor wicker chair every once in a while. You want to make sure the weave is tight with no wide gaps due to shifting. In case of any shifting, carefully adjust the weave back into place with your fingers. 
If you have wickers at your barbeque area, consider positioning the seats at a safe distance away from the heat of your barbeque equipment. Because your synthetic wicker is plastic, extreme heat can damage it. 
The heat will soften the resin weaving and cause it to stretch. Overstretched weaving is likely to distort the shape of the furniture in the affected parts. Even worse, extreme heat can melt the plastic leading to a total loss.   
Keep an eye out for objects such as leaves or twigs that get lodged between the weave. If any, carefully pull it out and remove it before it causes damage to the weave. 
Finally, you can always touch up your wicker with spray paint if you notice its color is fading. There are several types of paint designed for this kind of plastic, so do your research to ensure you are getting the right paint for your wicker. 
Conclusion
Outdoor resin wicker furniture may be weatherproof. Nonetheless, it is not immune to wear and tear. Regular maintenance will go a long way in keeping it in great shape and looking newer for longer.
On the other hand, unprotected wicker furniture may warp and crack over time with continued exposure to the elements. 
While you can comfortably repair the damage that exposure to weather may cause, it is much easier to just prevent that damage in the first place.