Last updated on May 6th, 2022
No one can resist a hot cup of their favorite coffee. Just thinking about the bittersweet aroma can make your mouth watery.
But! Our focus today is not on coffee and its lustre. Instead, we will be looking at something to place our coffee cups and mugs. I'm talking about a coffee table.
Do you agree that your outdoor living space is incomplete without a coffee table?
A coffee table can enhance the look and ambiance of your patio. Besides holding cups and other small items, it can serve as a resting place for your feet while you're seated.
In this article, we will look at ten of the best outdoor coffee tables with storage.
You can integrate any one of these into your existing decor by pairing it with loveseats or couches. And create a sacred place to enjoy your morning coffees.
Each unit is built to last and resist everyday wear and tear, with little to no maintenance.
We go over their merits and bad points and provide a buying guide to help you streamline your decision.
Without further ado, let's get cracking!
Why are outdoor coffee tables important?
Don't be deceived by the name; a coffee table can serve many different purposes.
Create the ideal recreation & entertaining spot
If you want to pull your patio space together and make it a relaxing haven, then a coffee table can help you achieve this. You can pair it with an umbrella or canopy plus chairs around to create a cozy outdoor living space and increase the value of your home.
Use as Desk for Outdoor Office Space
You can also convert a coffee table to a desk for your outdoor home office. But besides your gadgets and a coffee cup, you can also store magazines and games on the table.
Serve Beverages and Fruits
It's called a coffee table for a reason – because it's the perfect place to serve a cup of coffee. Not only coffee, but you can also serve other beverages and drinks, as well as fruits and snacks.
Best for Small Space
Besides using it as a desk, you can also convert your coffee table to a game and snack table. This saves you the extra cost of buying these tables, which does come in handy when you have limited outdoor space.
Complement Your Outdoor Decor
Whether you want to maintain a classic or modern style in your small outdoor home, a coffee table can help you realize this. They are available in various colors, designs, and styles, so you're most likely to find something that rallies with personality. It's hard to go wrong here!
What to know when buying outdoor coffee tables
Although we've researched the best products to find the perfect coffee table tailored for your needs, there are a few things you need to know. Let's go through each of them.
You should always prioritize quality when purchasing any outdoor furniture. Coffee tables are no different
So before you put out your money for any set, you should've resolved the overall quality.
By this, I'm referring to the quality of the materials used, not just the construction material but also the screws or adhesive and type of surface finish.
Thus, in gauging quality, we do not only focus on the physical aspect of the product, such as the look, size, and texture; we also consider the overall durability. That is how you get the most return on your investment!
To get a coffee table that will seamlessly fit into your outdoor space, you have to consider the size.
Ideally, you want the table dimensions to match the available space on your patio as well as the height of the chairs.
So, make sure your decision is not random. Check the spacing available and compare it with the size of the product. Only take the plunge if they fit!
Most people who have an outdoor living space are usually concerned about how each item fits into the setup. If this sounds like you, then the design and aesthetics of your coffee table should be a big deal.
Ideally, you want to invest in something that would match your existing decor. This is important as it affects the atmosphere or vibe in the area
The table color should complement what you already have. Also, the height should go well with the available seats.
Amongst other things, the table material determines its durability, weight, and level of maintenance it requires.
Some of the more common materials include aluminum, steel, teak, wicker, glass, and plastic.
Aluminum is a great choice – it's lightweight and won't rust or fade. On the other hand, steel is heavier and more durable but needs to be protected from rust. Wicker and wood are excellent choices when you're seeking a more traditional look. But they often require a sealant for extra protection.
Having a specific budget does help in reducing your options. However, always prioritize quality. So, you want to go for a coffee table with good quality within your budget.
It's worth noting that high price tags don't always guarantee that a product is suitable for you. However, you should always be willing to stretch your budget if needed. In the end, you want to get a high-quality table that will serve your purpose, even if it requires spending extra.
10 Best Outdoor Coffee Tables with Storage
The DIMAR Garden Outdoor Coffee Table is a sleek, modern-looking tabletop with a clean, wicker design and a hardened glass top. The nature variant wood-like design makes it ideal for combining with wooden furniture both indoors and outdoors.
Like most high-end patio sets, the table is made of high-quality weather-resistant materials. This includes multi-tested PE wicker, galvanized steel frames, and stainless steel screws.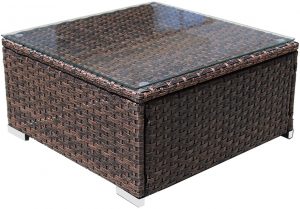 So, the entire body is rust and UV resistant (for up to 2000 hours), making it suitable for all weather conditions. You can flaunt it in your backyard, garden, porch, or by the pool.
The square shape of the table ensures it entertains more people compared to a round unit. This is possible despite its small size.
It has a dimension of 25.2″(L) x 25.2″(W) x 12.6″(H), which can conveniently seat up to four people. The overall weight is 24.8 pounds, so it's not too heavy.
Another thing we like about the table is that it's very easy to assemble and requires little to no maintenance.
The neutral mix brown color seems to go well with most surroundings, especially with plants around.
As earlier indicated, the tabletop is made of thick glass, which you can see through. It fits securely upon the rattan top and doesn't bulge, so it's pretty safe. Cleaning is very easy, so you don't need to dread accidental spills.
The glass top is also removable, so you can take it down when required.
The table also features adjustable footpads with anti-slip surfaces to prevent scratches on floors and tiles. Each pad is coated to make it resistant to wear and oxidation.
Overall, the Dimar Outdoor Coffee Table is a highly functional piece that offers a great combo of quality and performance. For the price, you might not find a better alternative!
Pros
Quick and easy setup

Weather-resistant materials

Smooth glass tabletop

Perfect for small spaces

Adjustable foot pads

Reasonable pricing
Cons
The Catriona Outdoor Coffee Table by Christopher Knight has a simple yet elegant design that is built to last in an outdoor setting. It includes a high-quality acacia wood top and an artisan-like metal frame that transforms your hotch-potch of patio furniture into a cohesive unit.
The table has a rectangular shape with a dimension of 27.25(D) x 45.75(W) x 18.00(H), which makes it ideal for patios with ample table space. Besides holding your drinks and snacks, it can also serve as a low display stand.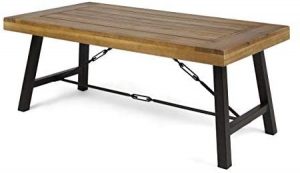 The tabletop is completely wood and has been layered in the middle, with larger pieces at the corners enveloping the smaller ones. It doesn't feature any painting – just a naturally looking teak finish.
Each leg is made of iron and has dark brown espresso color, not black as it often appears in photos. This gives it a laid-down artisan appearance that goes well with big spaces.
Overall, the table looks quite stylish with a classical vibe. So, it should look great no matter where you keep it.
The table also displays an incredible amount of strength, providing support for up to 300 pounds of weight. This makes it one of the heavy-duty options out there – a good indication that it's not only meant to hold coffee.
The superior strength is probably due to the use of acacia wood. Besides being very dense, the wood doesn't get scratched easily or soak up water. So, it's built to withstand the elements without depleting in appearance.
Overall, we are impressed with the quality of this table. It's beautiful, easy to assemble, and very sturdy. At the current price, you can't ask for more!
Pros
Rugged construction

Looks very beautiful

Perfect as a display stand

Built to survive the sun and rain

Easy to assemble

Huge weight capacity
Cons
Requires oiling to maintain look and durability
Like Catriona, the Sorrento Acacia Wood Coffee Table has a rectangular shape, making it ideal for an outdoor sitting area or anywhere you could use an extra table space.
As the name suggests, it is crafted with solid acacia wood and features a tempered glass top. The boxy frame consists of smooth side slats secured by metal fasteners to give the table a contemporary look. It blends easily with other outdoor pieces to create a cozy open room.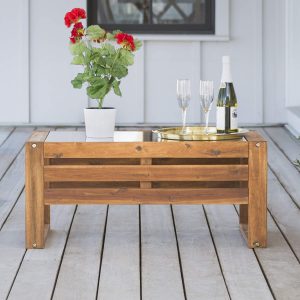 A perfect place to host your drinks and snacks while spending time with family, especially during summer
Another thing we like about the table is that it's weather-resistant, so it holds up well against the elements. You can leave it in the sun or rain all day, every day, and it won't bulge. Thanks to the sleek style of the glass, you don't need to do much maintenance. All it requires is a routine application of teak oil to maintain the beautiful color of the wood.
In terms of the weight limit, the table can hold up to 75 pounds of weight. The dimension is 16″(H) x 36″(L) x 20″(W).
Overall, we are impressed with the unique design of the table, and its modern, clean finish, which goes well with most outdoor furniture pieces. Not to mention the long-lasting construction, which ensures it survives in all weather. It's no surprise it gets our vote as the best modern coffee table out there! 
Pros
Elegant, clean finish

Long-lasting construction

Perfect for a classic or traditional setup

Safe tempered glass top

Suitable for all kinds of weather

Reasonable pricing
Cons
Requires teak oil to maintain its color

Can only support up to 75 pounds of weight
The Elizabeth Pedestal Coffee Table is a premium option for outdoor patio furniture. It has a timeless design similar to a classy traditional cast iron table – though it's made from a different material.
The antique bronze finish and mushroom-like carvings give it a hint of old-world flair but with a clean look that stands out in a modern setting.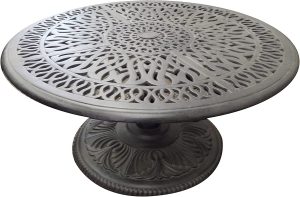 Thanks to its low profile, the table is just the perfect size and height for group seating to enjoy morning coffee with friends or family.
The construction material is cast aluminum, which is an ideal choice for exterior use. It is powder coated with an antique bronze finish which is 100 percent rust-free, from the base to the top surface.
The table retains a pristine look even when subjected to the blistering summer sun and drenching thunderstorms. It can also be left with kids and pets.
The overall weight is about 52 pounds, which is quite heavy but still lighter than cast iron. The heavy base contributes to the table's stability – it's not one to be tossed over by a strong wind.
In terms of the actual dimensions, the table diameter is 36″ while the height is 18″. It fits nicely with a group of chairs and provides enough space to serve dinners, and place flowers, magazines, and gadgets.
It is worth noting that even though the table can be used to serve dinners, it's not a dining table height. It is best used as a coffee table!
It also comes with an umbrella hole to fit a standard size umbrella to provide a shade from the blistering sun.
Overall, we are satisfied with the quality of the table. The inclusion of the umbrella hole is definitely a plus. We cannot recommend it enough.
Pros
Strong and durable construction

Elegant antique bronze shade

Comes with an umbrella hole

Weather-resistant

Easy to assemble
Cons
The Moncot Round Coffee Table is a cute accent table perfect for tying your patio space together. It is also perfect as a centerpiece for your indoor living room.
The table is quite small and sits really low, making it the perfect size and height for a small outdoor area.
It has a distinctive design that is very pleasing to the eye.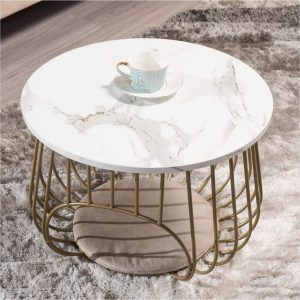 It combines two different materials to create a stylish accent piece that blossoms in a contemporary setting while providing a perch for your coffee mug and beer cans. This includes a tabletop made of marble with a beautiful pattern finish and a sturdy base made of brass gold-colored steel.
The cage-like design of the metal base enables it to serve as an open pet crate or extra storage space. In other words, you can use it as a pet house for your cat (or dog) or a holder for small items like magazines.
We also like the non-marring foot glides – it keeps your carpet and wooden floors protected from scratches.
The table weighs just 16.81 pounds, so it's pretty lightweight and easy to move about.
The assembly process is also easy and can be accomplished by one person. You are provided with clear instructions and all the hardware you need for the job. Once set up, the table can support up to 100 pounds of weight, which is quite decent.
The overall dimension is given as 21.65″(D) x 14.7″(H).
Pros
Multifunctional cage-like base

Easy to assemble

Cute design (perfect for decorating homes)

Fits a variety of decor styles

Easy to put together

Solid build quality
Cons
The Furrinno FG16504 illustrates a perfect combo of quality, price, and a decent amount of durability. The relatively simple design makes it an excellent choice for any outdoor setting.
It is the perfect fit for your space and budget, especially if you're not looking to spend much but don't want to compromise on quality.
The table has a multifunctional design made of natural dark red meranti wood that blends easily with any chair or decor. For the best fit, we recommend combining with the matching bench and armchair, also offered by Furinno.
The wood is treated with teak oil to make it more durable and water-resistant. So, you can use it outdoors, in your backyard, grade, or patio, without any worries.
The table weighs only 15 pounds while the capacity is 175 pounds. So, it's very easy to move about. The overall dimension is 35.2″(W) x 16.9″(H) x 17.3″(D).
Assembly is easy and takes less than 30 minutes. The main components are the steel bolts, tapped nuts, and table parts.
According to the instructions, the legs need to be re-tightened after a while. If this seems like a big job for you, then you can glue the joints. We also recommend adding more finish for additional weather protection and store the table indoor or cover it when not in use.
Pros
   

Natural color (matches with any outdoor decor)

   

Easy to build

   

Reasonable pricing

   

Multifunctional design

   

Durable construction

   

Lightweight
Cons
   

The legs wobble after a while
The Keter Corfu Outdoor Coffee Table doubles as a table and ottoman.  It has a stylish, contemporary design that will complement your outdoor living space.
It has an open weave design that looks like natural rattan, making it just as beautiful as traditional rattan furniture. However, it's made of polypropylene resin plastic which is stronger, waterproof, and easier to maintain than natural rattan.
As a result, the table is weather and UV-resistant and offers a surprising amount of hardiness and durability. The open weave texture doesn't fray or fade and is virtually maintenance-free.
The choice of resin plastic instead of metal or wood also means the table is rust-and-decay proof.
Keter also offers a Corfu armchair and loveseat, which you can pair with the table to create a perfect recreation spot.
There are two color options to choose from – graphite/charcoal or brown. The charcoal option tends to go very well with dark tones such as brown, black, and bronze.
The table weight is just 10.36 pounds, which makes it one of the lightest options out there. So, it's very easy to move or rearrange for storage.
Assembly is quite easy and super quick, with all the tools included. Each piece fits together, and no screwing is required. You might even end up not looking at the instructions.
The whole process shouldn't take more than five minutes. It's that easy!
Once set, the table looks very attractive and high-end and doesn't wobble. The rattan weave surface is also solid and smooth enough to hold your coffee cups and mugs without them falling over.
Pros
Versatile (can use as an ottoman)

Sturdy and easy to put together

Lightweight

High temperature tolerant

Beautiful rattan design

Perfectly leveled (doesn't wobble)

Great for limited spaces
Cons
This is one of the best patio coffee tables and an excellent addition to any modern outdoor setup. It comes with everything you can expect from a coffee table – elegant, sturdy, low maintenance, and easy to assemble.
It features a cast aluminum construction and a five-star powder-coated desert bronze finish. The weld is completely rust-free and is built to last for many years. It also requires low maintenance and can be used indoors or outdoors.
The rectangular shape of the table makes it ideal for a lounge area.
The overall dimensions are 42″ x 24″ x 17″, so it's quite large. So you can seat up to six people around the table. This makes it an ideal choice for large families.
Besides using it to serve snacks, fruits, coffee, and other beverages, it can also serve as an accent table that can be used both indoors and outdoors. 
There's an underfoot or stretcher on each side of the table which connects the frame. This helps in balancing the weight of the tabletop and provides a resting place for your feet, allowing you to sit for longer periods.
The table weighs around 32 pounds, so it's a bit heavy, which is a good sign that it won't get blown away. However, it's still easy to move around when needed.
Assembly is a breeze and doesn't take much time.
Some people might find the table a bit expensive, but this shouldn't be a big deal given the value it provides.
Overall, this is an excellent choice if you're looking for a coffee table to flaunt in your beautiful yard or patio. We highly recommend it for anyone willing to spend extra for a good coffee table.
Pros
Sturdy construction

Rust free

Suitable for indoor and outdoor use

Perfect for large families

Comes with underfoot for foot support

Doesn't require special maintenance

Easy to assemble
Cons
A bit heavy

On the pricey side
The Bradenton Outdoor Wicker Table comes with a beautiful, timeless design that adds flair to your outdoor space.
As the name suggests, it is made of wicker intricately woven over solid steel frames supporting a square tempered glass top. The tempered glass provides a smooth surface to place your drinks.
The elegant weaving, together with the covered edges, complete the look of the table. Though the design goes well with any decor, it is best paired with other wooden rattan seats to create a beautiful outdoor setup – perfect for your yard or patio.
It is worth noting that the wicker is UV resistant, so it's suitable for outdoor use. Also, the weaving of the steel frame protects it from direct sun exposure. So, the entire construction is not only stylish but also durable.
We also like the table's modular design as it provides you with more flexibility and allows you to fit in with other units to create a cozy setup.
Furthermore, the assembly process is easy and can be completed with any extra help. Just follow the clear instructions provided.
Some people might consider the table too small, but that's what makes it perfect for small spaces.
We recommend storing the table indoors (or covering it) when it's not in use for a long time, especially during the rainy season.
Pros
Perfect for small spaces

Solid steel frame

Smooth tempered glass top

Stylish weave design

Easy to assemble
Cons
Care Tips for Outdoor Coffee Tables
A dirty coffee table can rob you of the joy of backyard living. So, regular cleaning and maintenance is essential to keep your furniture in top shape
Below are some helpful care tips for an outdoor coffee table.
 

Clean the table regularly (at least once a week) to remove dirt and grime. In most cases, soap and water is enough.

To get rid of mold and other tough stains in wood, you can use a water solution of detergent or bleach and a soft brush. When scrubbing, make sure you follow the direction of the wood grain. You can also light sand for tougher stains.

Clean bird droppings and sunscreens as soon as they appear. Allowing them to settle can result in permanent stains and facilitate corrosion

For wood (such as acacia), we recommended applying teak oil occasionally to maintain its beautiful look.

If you're not going to use the table for a long time, especially during the harsh winter months, consider covering it. In order to prevent mold buildup, use breathable covers. 

If you don't want to use a cover, then consider storing the furniture indoors. This applies, even if the table is weather-resistant. Allowing it to soak up the rain is not the best way to test its quality.

Some tables often come with manuals that contain information on how best to care for them. Make sure you read and apply the instructions in the manual.
Conclusion
There's no better way to utilize your outdoor living space than adding a coffee table. However, don't be among the crop of people that settle for the cheapest (or most convenient) options. Or you will most likely miss out on more suitable ones.
Our list presents the best outdoor coffee table with storage currently available in the market. It is our earnest desire that you make an informed decision after perusing the list. 
The best patio coffee table will greatly enhance the look of your home while providing a resting place for your coffee mug and pitchers, as well as other small items. And more so, you can set it for the entire year.
So, what is it going to be? Invest in a good coffee table and start reaping the benefits today