Last updated on January 26th, 2022
There's no better way to bring a vintage style to your yard and create great summer memories than with some retro-style lawn chairs. These throwbacks are unrivaled when it comes to coziness, and are the perfect nostalgic gem for a real American family.
From barbecues and picnics to book clubs and Bible studies, these retro lawn chairs allow you to spend your summer season in style and comfort. They are super useful, compact, portable, and affordable. More so, they are available in a large dose of personality, so you can never run out of options.
In this article, we will look at the top 5 best webbed lawn chairs for outdoor space currently available.
Why webbed lawn chairs?
Besides providing a resting place for your butts, webbed lawn chairs also come with some other benefits.
Highly portable
Due to their compact size and lightweight, you can easily tote the chairs to the beach, park, or campground. These are some of the places you will more likely spend your time during summer.
Versatile
Although they are called lawn chairs, you can use them almost anywhere – patio, porch, backyard, or anywhere you want to relax. They are commonly used at barbecues, picnics, bonfires, and other small gatherings of family and friends.
Easy to store
Because they fold nicely, it's very easy to transport or store them away when not in use.
Lots of colors
This is probably the major highlight of webbed lawn chairs.
 Compared to regular camping chairs, webbed lawn chairs offer more expressive color options. This makes them unbeatable as far as styling and personality are concerned.
Affordable
Finally, these chairs are incredibly affordable compared to other seating options. You can get a decent unit for $20!
Factors to Consider When Purchasing the Best Webbed Lawn Chairs
Comfort
A webbed lawn chair shouldn't only look good; it should be comfortable too or else the real purpose for the chairs will be defeated.
So make sure you choose a unit that will truly help you relax and unwind for long periods of time.
Besides the texture of the chair fabric, another thing that can influence comfort is breathability. You want a chair that won't make you sweat, especially when sitting under the sun.
Size & Weight
Your lawn chair needs to be lightweight so you can tote it wherever you want. Ideally, it should have a foldable design to make it more convenient to store and carry.
In addition, you want to choose a size that not only fits you but doesn't take up much space in your garage. It is advisable that you check for the weight capacity of the chair and make sure you don't exceed it.  
Material
Webbed lawn chairs are typically made from metal, wood, and plastic. Metal is usually the most durable option and is ideal for outdoor use. Aluminum is commonly used due to its lightweight.
Plastic frames are also lightweight and the easiest to clean. However, they are not as strong as the other options.
Wood is a great choice for a traditional setting.
In addition to the frame material, also consider the type of fabric or nylon material used for the webbing. Besides choosing a weather-resistant material, you want something that is breathable and long-lasting.
Distance from the Ground
Webbed lawn chairs are commonly available in different styles ranging from picnic and normal heights to low back and high back.
Chairs that are lower to the ground are usually more relaxing and comfortable. They also provide easier access to items on the ground. However, getting up from them can be a challenge, especially for older folks.
If you're going to be getting up often, then you're probably better off with a chair that has a high back. 
Best Webbed Lawn Chairs for Your Outdoor Space
When it comes to quality, you will be hard-pressed to find anything like this Lawn Chair. Though a bit expensive, the value is several tiers above the "cheapies" commonly found in most local departmental stores.  
One of the things we like about the chair is that it comes in many design sizes. Thus besides the classic design, there's also magnum, picnic, high back, and low back styles.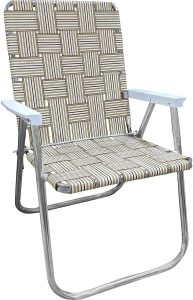 The magnum is probably the largest with a standard seating height. It is very roomy and can accommodate even wide butts without having to squeeze yourself in.
The chair is super lightweight, with a weight of only 4.2 pounds. This isn't surprising since the frame material is aluminum. You can easily fold it and jack it with one hand as you make your way to the park or beach.
However, since the chair is that light, it means it can get tossed by a strong wind.
The weight capacity is at least 200 pounds. Specifically, the magnum chair can hold up to 275 pounds weight while the other chairs can support up to 225 pounds.
The chair arms are solid plastic while the webbing is made of UV-resistant textilene material. So, it's perfect for outdoor use.
There's very little spacing in between the webbing; which provides ample support for your back and butts. We also love the fact that the webbing has its own unique connectors instead of rivets. This makes it easy to replace them without having to drill anything.
The chair comes fully assembled – just unwrap it and start using it. It is available in a variety of colors.
Pros
Super lightweight design

Available in different colors

Folds flat for easy transport and storage

Very sturdy

No assembly required
Cons
BUY ON AMAZON
2. Rio Brands BY055A-0138
The Rio Brands Webbed Lawn Chair has a lot of similarities with the Lawn Chair USA chairs. But, we still believe the latter has more superior quality.
The chair webbing has a blue color (which happens to be the only color available) while the plastic arms are white.
According to Rio Gear, the chair weighs about 5 pounds. However, we found it to be quite heavier. This is probably due to its steel frame and heavy plastic handles. So, older folks might not be able to carry it around.
The company probably knew this isn't a good attribute for a lawn chair, which is why they made it foldable. This makes it portable and easier to stash away when not in use. 
Notwithstanding, the chair is well-built and can support up to 190 pounds. This may seem a bit surprising given the weight of the chair. This can be attributed to the wide spacing between the stripes of the webbing.
The little design flaw makes the chair look a little cheap but the overall quality is still great. The price difference between this and the Lawn Chair USA isn't much but the latter has the upper hand in terms of performance and quality.
Overall, we think the Rio Brands BY055A-0138 has decent quality and fair price. If you're a fan of blue color, you will likely appreciate it. Otherwise, you might want to look elsewhere 
Pros
Decent quality

Folds for easy carrying and storage

Reasonable pricing

Elegant blue webbing

Perfect for the beach

Lightweight
Cons
 

Lawn Chair USA Webbing Chair (Low Back)
If you're on the shorter side and need a super small chair, then you will appreciate this low-back beach chair from Lawn Chair USA. The chair is conveniently lightweight and features UV-resistant webbing.
It doesn't offer many color options like other styles but it makes up for this with its compact design which folds up for easy storage. It sits very low to the ground, so you can reach items easily without having to stretch too far. 
With an overall weight of 3.2 pounds, this is one of the lightest models out there. You can conveniently tote it over long distances without getting tired.
The seat length and width are 14.5″ and 18.5″ respectively, while the back height is 16.5″. The chair has a maximum weight capacity of 200 pounds.
The frame material is made of aluminum which is responsible for the featherweight of the chair yet it's sturdy and very comfortable. It feels cool to touch which can be soothing when sitting under the hot sun.
Like other Lawn Chair USA chairs, this unit is made in the USA which says a lot about its quality.
Overall, we are impressed with the quality and performance. For small and short people, this is the perfect chair for the summer.
Take it to the beach, park, concert, tailgate, picnic,etc. It never goes out of style!
 Pros
Reliable quality

Super lightweight

Very compact

Affordable price

Weather-resistant fabric
Cons
Not suitable for larger or tall people
  Lawn Chair USA Webbing Chair (High Back Beach Chair)
The High Back Beach Chair from Lawn Chair USA is designed to fulfill any outdoor seating need. It is perfect for your patio, porch, backyard, and any social event. It is commonly used as a beach chair for lounging under the sun.
As the name suggests, the chair has a high back, which makes it more suitable for taller persons. It sits very close to the ground, which increases the overall comfort. The seat height above the ground is 10″ while the height of the back is 21.5″.
This is not the proper height for table use but it's perfect for the beach and lawn. Older people will find it easy to get in and out of the chair.
The chair weighs about 3.5 pounds, so it's extremely lightweight and suitable for long-distance hauling.
It uses a textilene fabric for its webbing. The material is UV-resistant, so it's perfect for outdoor use.
Like the other chairs we've reviewed so far, it has a tubular design made of aluminum. The choice of aluminum makes it ideal for uneven surfaces such as beach sand. It doesn't sink more than an inch and provides very stable support.
In terms of appearance, the red and white webbing looks elegant. In fact, it's actually nicer than the pics. You can always opt for other color options.
We also love how tight the webbing is – a lot stronger than what you get with cheapies. The strips are wider and are held with a clip not rivet. This makes it easier to replace them when the need arises. No need to drill anything; just but the replacement strips or clips from the manufacturer.
The chair arms are made of solid plastic and are quite comfortable. Just like the rest of the chairs, they hold up really well.
Overall, the High Back Beach Chair is a high-quality American-made webbed lawn chair. It doesn't have the cheapest price tag but it's built to last. The full height configuration makes it perfect for talk folks. 
Pros
Very comfortable

Highly portable

Folds for easy storage and transport

Perfect for taller people

Replacement strips and clips are available

Sturdy construction
Cons
The chair comes with a higher back and features a breathable web for increased comfort. It looks super nice and feels light. Like the other chairs we've reviewed, it has a foldable design, so you can easily fold it for easy transport and storage. It works for all seasons, not just summer.
It is a durable web lawn chair made from a sturdy steel frame. It weighs just about 9 pounds which is lightweight and ideal for outdoor activities.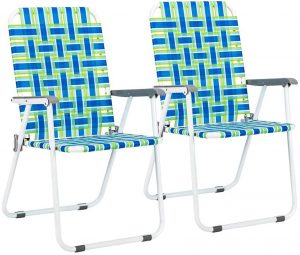 In addition to its sturdy construction, the chair features a nylon webbing that feels like it will last forever. It seems tight and stronger than the webbing on most beach-type webbed chairs.
We advise keeping the chair indoors when not in use, as over-exposure to the elements can cause the webbing to fail over time. 
Furthermore, the chair is equipped with anti-slip pads on the bottom to prevent slip on slippery grounds such as a poolside. It also protects your floors (wooden floors) from scratches.
The height of the back from the seat is about 23 inches.
In terms of setup, the chair comes fully assembled. So, there's no need to set up anything. Just unbox and start using.
Pros
Lightweight yet sturdy

Foldable design

Strong webbing

Reliable quality

Easy to put together

Multi-purpose and very comfortable
Conclusion
There you have it – our best webbed lawn chairs for outdoor space.
Of course, there are many other cool chairs we didn't mention, but the ones here will get you started.
If you choose carefully, you can find a throne among them and relax like royalty when next you hit the beach, park, or your patio.
We sincerely hope you found this guide helpful and choose a product that you like.