Last updated on August 25th, 2022
Spar varnish has long been used in the boating world as a coating for sailing ships. Nowadays, it's also used to protect outdoor timber. So, why spar varnish and not polyurethane or regular varnish? Simple – because the best spar varnish for outdoor furniture has the properties to be resistant to harsh conditions outside. It contains a UV inhibitor to counter sun fading, is water-resistant, and also produces shinier finishes than regular varnishes. 
Spar varnish is commonly used on boat decks and railings due to its ability to repel water from the wood. This means it can take on anything your yard hauls at it.
Thus coating your outdoor wooden furniture and decorations with a spar varnish is a great way to protect them from outdoor elements. And maintain their good looks for as long as possible.
However, finding the right spar varnish is not enough. You should also know how to apply it. We will be covering all this and more in this article.
Why use a spar varnish?
The real purpose of applying a spar varnish over an outdoor wood furniture is to provide optimum protection.
Outdoor furnishings are usually subject to external factors that can cause damages and shorten their lifespan. These commonly include inclement weather and harsh UV rays. Though regular varnishes may improve the appearance of the wood, they cannot withstand these external conditions for long without breaking down.
On the other hand, spar varnishes rank over polyurethane because they are developed for such rigorous conditions to safeguard the wood surface from damages caused by water and sunlight. In addition, they can impede the buildup of mold and mildew.
The major drawback of using spar varnish is that it takes time to apply it. So you will need to be patient. However, once done, it would be worth the stress.
How to apply Spar Varnish
Choose a Good Time
Due to the way varnishes dry, it is not advised to apply them in the afternoon. Although the sun will cause them to dry faster, it will affect the strength and gloss of the finish. The same thing happens in the evening when there's slower drying.  
Thus the best time to apply a varnish is during the morning hours when the dew has dried.
Wear Protection
Before getting started, we advise wearing some protective gear. These commonly include rubber gloves, glasses, and maybe an overall.
You may also need a respirator or face mask to protect your lungs from harmful fumes.
Prepare Your Tools
To apply the varnish, you will need a few tools, which are readily available in most local hardware stores.
These include:-
Spar varnish

A good bristle or badger brush

A clean wooden stick for stirring

A small cup for measurement

Thinner (optional)
Note:
Thinning is optional but highly recommended. You could use any paint thinner – such as mineral spirits or turpentine. Also, make sure you work with a clean brush. The brush should be soaked in water beforehand to make it damp.
Stir the Varnish
DON'T shake the can with the varnish. Instead, open it, and stir the liquid inside using the wooden stick. Make sure the stick reaches down into the varnish and stir slowly to avoid creating air bubbles.
Add a Thinner
Next, you can add a thinner to the varnish.
To do this, scoop a tiny amount of varnish with the measuring cup, or you can pour the varnish into the cup (whichever one you prefer).
Next, add the thinner or diluent to the varnish, and stir gently to mix.
The size of your project will determine the exact amount of varnish and thinner you need. But we recommend starting with a small amount and then add more as needed moving forward.
You can thin the first coat by 20-25%, while subsequent coats can be 5-10%.
Start Brushing
It's time to brush the varnish over the wood.
To do this, lightly dip the brush into the mixture containing the varnish and thinner, and apply it over the wood surface.
Start varnishing from one corner of the workpiece, and try to cover one sq. ft., then advance to the next portion and cover another one sq. ft. Continue doing this until you cover the entire wood surface.
The surface of the varnish should be tipped to avoid streaks and bubbles.
Note: Keep your brush wet by dipping it into the varnish continually while you work. Dip only the tip, not the entire brush. Also, when applying the varnish, rather than going back and forth like most people do when painting, follow the directions of the wood grain.
Apply the second coat
Once you're done with the first coat, allow it to dry. This usually takes 6-24 hours, depending on the varnish. When dried, apply the second coat.
After the second coat, we recommend sanding the surface before you apply the next coat. To do this, you can use 220 or 320-grit sandpaper. When done, clean up any excess, then proceed with the next coat.
Note: You don't need to sand in between coats, but it's highly recommended to do so, as it helps you achieve a more flawless result. This is because when sanding, you can correct runs, drips, and other mistakes.
Once you apply the number of coats you want, give the piece some time to dry before use. One of the signs that the furniture has dried completely is that it feels crude when you touch it.
Factors to Consider when shopping for the best spar varnish for outdoor furniture
Ease of Cleaning
Just like paints and stains, varnish usually leaves behind some mess after use. So, cleaning is an integral part of the entire application process.
It doesn't matter how meticulous you are; there will always be some drops of varnish to deal with.
Some varnishes tend to be runnier than others and thus create more mess.
For this reason, you want to choose a spar varnish that is easy to clean up. This ensures you spend less time cleaning and focus more on the actual job.
Such varnishes are usually free of harmful chemicals that can interfere with the cleaning process.
In addition to the ease of cleaning, also consider the ease of application. Some varnishes can be easily applied with a brush, while others are better applied with a spray. Check the product specifications on the best method of application. This is important, especially if you're a beginner.
Drying (Curing) Time
The drying time determines when the furniture will be available for use again.
You don't want to wait for hours, only to discover that the varnish is still sticky. Of course, this might not be a problem if you have a lot of time to spare, but it can be annoying for most people.
So to reduce the wait time, it's better to go for a varnish that doesn't take a long time to dry. This makes it easier to plan your time and stay ahead of schedule.
A good spar varnish shouldn't take more than 12 hours to dry between coats and possibly a day or two to cure completely.
Price Range
Having a specific budget helps to narrow down your options.
There are basically three things that influence the price of a varnish – quality (composition), size (volume), and brand.
Some varnishes cost as low as $19, while some cost as much as $180.
It's worth noting that a high price tag isn't always an indication of quality or that varnish is right for your project. The most important thing is to choose something that matches your needs.
Thankfully, all the products reviewed here are some of the most affordable ones in the market.
Oil or Water Based
There are two major groups of varnishes – water-based and oil-based.
An oil-based varnish is preferred when you want to obtain a darker hue. In other words, when applied, these varnishes will make the wood surface darker.
 On the other hand, water-based varnishes do not darken or lighten the color and texture of the wood.
Whichever one you choose depends on the effect you are trying to achieve.
Resistance to Sun Damage
Most spar varnishes are waterproof by default but may not offer sun protection.
Since your outdoor wooden furniture will be exposed to both sun and rain, you must choose a varnish that is resistant to UV
Best Spar Varnish for outdoor wood furniture
As the name suggests, the TotalBoat Gleam Marine Spar Varnish is developed to provide strong water resistance in marine applications. But it is also used in other areas, specifically for outdoor furniture and structures. It wards off the water, therefore, preventing swelling and rot in wooden pieces.
The main ingredient in the varnish is Tung oil, which is responsible for its tough resilience and longevity. When used on bare or previously varnished surfaces, it produces a clear warm amber finish that doesn't conceal the wood grain.
The varnish gives you a lot of options in terms of the shine you want to achieve. It also comes in different size options. So, you don't need to get more than you need for a particular project.
You have the option to choose between the gloss and satin finish. The gloss finish provides exceptional depth and clarity – and thus better sun protection. While the satin finish is great if you want to obtain more luster or enhance the texture of the wood.
We recommend the satin finish for indoor parts and the gloss finish for outdoor use.
With the gloss finish, you will need to apply 4-6 coats to get the desired depth. You can apply more for a better finish.
Once done, the coating can last up to two years before it's due for another coating. We recommend not waiting for two years; apply at least once per year.
Another major highlight of the varnish is that it's self-leveling. This means it's a lot easier to achieve a clean and level coating with the varnish. It also implies faster drying – at 72 degrees Fahrenheit, it takes only an hour to dry between coats.
You can apply the formula using a roller, brush, or spray.
 Pros
Suitable for interior and exterior applications

Fast dry time

Easy to apply with brush or sprayer

Blocks UV light

Doesn't turn yellow over time
 Cons
BUY ON AMAZON
 Rust-Oleum doesn't only make the best paints and coatings but also high-quality varnishes. This marine spar varnish is one of their best offerings so far.
Compared to regular wood varnishes, it offers twice as much shine and performance. It also doesn't alter the natural hue of the wood but adds a crystal clear sheen that looks very attractive.
Although the varnish is intended for boats, it can be used for other applications, including outdoor furniture.
Like other oil-based varnishes, it is made up of polymers that contract or expand when the weather changes. So, it's ideal for all types of climates.
 It takes the varnish around 2 hours to dry, so wait time is greatly reduced. The coverage is about 150 square feet so you can use it for virtually any high-end project.
The varnish is pretty thick, which is understandable since it's an oil-based varnish. The finish is high gloss and clear, so it doesn't hide the wood grain.
It provides protection from water, salt, UV rays, and mildew.
Application is pretty straightforward and can be done with a brush.
You can add a thinner if you want to make the varnish runnier. This is recommended if you plan to do many coats in one day. We recommend at least three coats for optimal smoothness and protection.
Our only complaint about the varnish is that it emits toxic vapors. So, make sure you wear a respirator and other protective gear while using it.
Due to the strong odor, it's not recommended for indoor use.
Also, the product has a very short shelf life, so make sure you use it within the first two months you buy it.
Pros
Brings the natural beauty of the wood

Prevents mildew buildup

Decent coverage

Ideal for all climates

Offers salt protection

Easy to use
Cons
BUY ON AMAZON
Unlike traditional spar varnishes, which require sanding between coats, RTB offers fast recoating that doesn't necessitate sanding. It stands alone with its unique design and doesn't try to mimic other finishes.
The varnish is water-based, which means it's very easy to clean with soap and water.
Unlike oil-based varnishes, it dries very quickly and doesn't release any toxic fumes. It looks milky-white when first applied but dries down to an ultra-clear finish.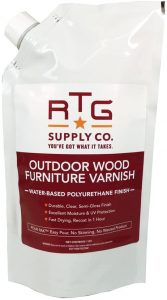 The varnish is an excellent choice if you want to maintain the natural beauty of the wood while protecting it from everyday wear. The finish is completely waterproof and is resistant to scratching, fading, chipping, and peeling.
It is commonly used for Adirondack chairs, swings, patio tables, benches, and other wooden pieces.
As earlier indicated, the varnish dries extremely fast – overcoats in just one hour at 72°F, given you're not standing between the build coats. This is great, as it allows you to apply multiple coats in one day and thus finish the project faster. So, you don't need to wait for too long before using your furniture.
You can use a brush, roller, or spray gun – it is very easy to work with any one of these. However, your work will be quicker with a spray.
We recommend at least three coats, but you can add more for extra gloss and protection. We will probably use six to eight coats!
Before you apply the final coat, wait at least 12 hours, then lightly sand the surface. Then apply the coat and wait for at least 24 hours to cure before using the furniture again.
The finish looks noticeably smoother and free of splinter and ready to go for one year without any blemishes.
The varnish also has very low VOC content, which makes it an ideal choice if you want a non-toxic varnish.
Overall, we can't complain about this varnish. It seems to offer everything, and for a very good price.
 Pros
Low VOC content

Easy to clean up with water

Dries quickly

Creates a beautiful shiny non-sticky finish

Doesn't crack or peel

Easy to put on
Cons
Varnish doesn't last very long on the shelf
BUY ON AMAZON
The System Three Clear Marine Varnish gets our vote as the best budget-friendly spar varnish in the market right now. Notwithstanding, it offers everything you can expect from a standard spar varnish and more.
As the name suggests, the varnish is specifically developed for applications where a clear finish is needed rather than something shiny or lustrous. So, if that sounds like your project, then this is the varnish for you.
The satin finish does produce some shine but not enough to change the original look of the wood. Instead, it improves the natural color or shade while creating a seal over the surface.
If you prefer something that would glitter in the sun, then choose the gloss finish.
The varnish is oil-based, so it can be applied with a brush or roller. However, using a spray gun will make things easier, especially when you're not using a thinner.
While the application doesn't take a lot of time, drying can take a while. Depending on the number of coats you use, you may wait for a day or two for the wood to cure completely.
Once cured, it takes on a matte or shiny look depending on whether you choose the satin or gloss finish.
The finish is highly waterproof and can withstand UV rays and salt. In other words, it is meant to survive in harsh conditions, which makes it the ideal choice for outdoor wood furniture and structures. However, the varnish is specifically targeted towards boats.
The only thing we don't like about the formula is the vapors. Even though the vapors are VOC-complaint, they are still harmful to inhale. So, make sure you wear a respirator and other protective gear while using the product.
Pros
Ideal for coastal homes

Provides UV and salt protection

Highly waterproof

Available in gloss and satin finish

Can be applied over an epoxy finish

Great pricing

Doesn't alter the wood color and texture
Cons
Strong smell

Takes a while to dry
BUY ON AMAZON
The Halcyon Marine Varnish is another high-quality varnish that produces low maintenance and a long-lasting finish. Like the TotalBoat Gleam, it has two variants – gloss and satin. The gloss finish is available in clear and amber color, while the satin finish comes in clear only.
The varnish comes in a sleek nylon bag that ensures no mess or wastage. There's no need to mix it.
To start using it, simply pour out the amount you need, and cap the rest for storage. You can apply with a stain brush, roller, or spray.
The varnish doesn't stink or leave behind any brush marks or bubbles.
It dries quickly and smoothly, so you can complete the job in a couple of hours instead of waiting for days or weeks. For outdoor wood furniture, apply 4-6 coats, while for indoor applications, use 2-4 coats. 
As long as you use a good brush, the varnish should level out perfectly with no bubbles or brush marks.
Once cured, it leaves behind a clear finish that provides protection from the rain, sun, bacterium, and scratches.
Interestingly, the varnish has very low VOC content, so it's a lot safer to use than most formulas. Since it's water-based, it's also easy to clean with soap and water 
You can apply it using a brush, roller, or spray.
Pros
Very easy to work with

Nice packaging (ensures no mess or waste)

Easy to clean up

Dries really fast

Provides UV and water protection

Low VOC level
Cons
BUY ON AMAZON
Pettit might not be a popular brand, but they also make good varnishes for bright work.
The Z-Spar captain is a high-quality water-based polyurethane varnish developed for projects that require a high gloss finish. It works for both indoor and outdoor applications.
This is a clear coat varnish. So it allows the grain to shine through and thus enhance the natural beauty of the wood while providing long-lasting protection. 
We strongly recommend adding a thinner to make the application a lot easier. You shouldn't have any issues applying it with a brush or roller, even if you don't thin it beforehand. The varnish has excellent flow and leveling characteristics, so it's quite easy to handle. 
Just one coat is enough; however, we do recommend applying up to three to obtain a deeper shine. You can add more if you wish. Make sure you allow up to a day between each coat to get the best results.
Once cured, it creates a robust waterproof layer on the wood surface that provides weather protection throughout the year. The varnish also features special UV inhibitors to prevent fading.
Though the coating can last up to a year, we recommend sanding (lightly) and reapplying it every six months.
You can apply the varnish on boats as well as outdoor wood pieces and structures.
Overall, we consider the Captain Varnish a nice decent varnish. It might not be the most popular option, but it does guarantee optimal protection on your outdoor furnishings. It gets our vote!
Pros 
Great waterproof protection

Contains UV inhibitors

Clearcoat glossy finish

Easy to apply

Suitable for interior and exterior applications
Cons
Takes a little longer to dry
BUY ON AMAZON
Conclusion
There you have it – our best spar varnish for outdoor wood furniture.
At the end of the day, it all boils down to your personal needs and preferences. But you can't go wrong with any one of these varnishes.
The best spar varnish will not only protect your outdoor furnishings but also beautify them. Make sure you wear protective clothing when handling any varnish.
If you have any more questions about choosing the best varnish for outdoor furniture, let us know in the comment section. Till then, happy varnishing!