Last updated on February 18th, 2022
The name "barstool" actually sounds misleading. Bar stools are not only meant for bars or anywhere wine is served. 
Depending on the style and look and how many they are in a set, you can also use bar stools in your home garden, patio, dining, kitchen, and even living room.
The best outdoor bar stools are made of high-quality weather-resistant materials, which are commonly wicker or powder-coated metal.  They also have a slim build and an attractive appearance. While some have a contemporary design, others often come with arms, backrest, and swivel function.
In this article, we will look at our top 10 outdoor bar stools in the market based on extensive research and expert recommendations. But before we hit the review, let's go over what you should know before putting out your money for any bar stool.
Factors to consider when buying outdoor bar stools
So how do you know which bar stool is suitable for you? Here are the key things to look for.
Material
Barstool frames are made from different materials. The more common ones are metal and wood. Wooden bar stools are great in traditional settings. A good example is a wooden patio deck. 
Metal frames are more suitable in modern settings. They are sturdy and long-lasting and often offer a high weight capacity. However, they can also be prone to scratching and rust when exposed to moisture. This is why the metal needs to be coated to protect it from the elements.
Iron and aluminum are probably the most popular options. Aluminum tends to be very attractive considering its lightweight. Bar stools made of aluminum are probably the easiest to move around and store.
In addition to the frame material, you should also consider the seat material.
Some of the common options are wood, wicker, teak, plastic, and metal. For exterior use, wicker, metal, and wood are commonly used.
Style
I don't know about you, but I can't stand an ugly piece of furniture in my outdoor space. So, in addition to selecting the right stool size for your space, you should choose a style that works for you. 
Style plays a huge role in the overall appearance of a barstool. It also determines how fitting it will look with your existing outdoor decor. 
There are various styles of bar stools, ranging from simple classic designs to luxurious modern styles. If you have a contemporary set up, then a simple design without much flair will work fine. For retro or traditional, crafted sets usually work best. 
Back Support
Bar stools with backrests tend to be more comfortable than those without them. They provide lumbar support, which can be beneficial to people with back pain. Thus they are the better choice if you plan on using the stool for extended periods.
However, they may not be as storage-friendly as backless stools except for those that are stackable. 
On the other hand, backless stools are better in terms of aesthetics and take up less space. They are also easier to store and more lightweight. However, they are not as comfortable as the backed stools and are probably ideal when seating for shorter durations.
Armrests
Like stools with back support, stools with armrests provide a resting place for your arms, making them more comfortable. However, they tend to occupy more space.
If you decide to go for a stool with arms, we recommend measuring the height of your table so you can get a unit with arms that can be pushed under the table.
Armless bar stools usually look cleaner and don't take up much space. 
Comfort
No matter how nice a bar stool looks; it's probably useless if it's not comfortable. Comfort is usually influenced by four things – armrest, back support, leg rest, and cushion.
We've already discussed armrest and back support. Most bar stools have leg rest. This leaves us with more things – cushion for your rump!
Sitting on a bar stool without the right cushion can be horrible. Ideally, you want the cushion material to be soft and comfortable. Some good examples are polyurethane and faux leather.
Specifically, polyurethane possesses excellent resilience and is easy to clean, making it great for outdoor use. Even if they get soiled, it won't be big trouble.
While cushions are great, some bar stools may still feel comfortable without them. These are commonly units with wooden seats. 
Swivel Function
In addition to armrests, you should also consider whether the chair has a swivel function or not. 
Outdoor swivel bar stools are generally more convenient and comfortable. They allow you to rotate the stool while seated. So, you don't have to get up every time you want to make a turn. However, these stools tend to weigh more than those without swivels. 
Number of Seats
The number of seats you need is highly dependent on the number of persons you expect to use the chair.
For a large family, a set of four stools can be handy. However, if you're single, then one or two pieces would be enough in most cases, except you have many friends coming over.
In addition to the number of persons, also consider the size of the table where you plan to use the stools. You want to allow adequate elbow space between the stools. We recommend 26-30 inches. If the stool is positioned close to a wall, then allow up to 14 inches between the wall and the center of the stool.
How tall are outdoor bar stools?
Standard barstools are usually 30″-36″ tall. This is the distance between the seat and the floor and doesn't include the height of the backrest (for bar stools that have a backrest). 
These stools are typically used with bar tables about 40-46 inches tall. They also fit perfectly at a standard bar.
Besides the standard bar stools, there are other bar sets with smaller heights, such as counter height stools and short stools.
Counter stools typically measure 24-29 inches in height, while short stools are shorter with a height of 17-23 inches 
Best Outdoor Bar Stools for your Outdoor Space
The Modern Square Adjustable Barstool is a sturdy, backed barstool with an elegant quilt covering that gives it a luxurious modern look. It comes as a set consisting of two bar stools, each providing a comfortable sitting experience.
One of the major highlights of the set is the price, which may seem like a misprint given their extravagant chic design. 
Each stool is outfitted with a polished chrome base and a 360° swivel. The overall dimension is 16″(W) x 15″(D) x 24″-31.5″(H), while the seats measure 14.5″(W) x 12″(H).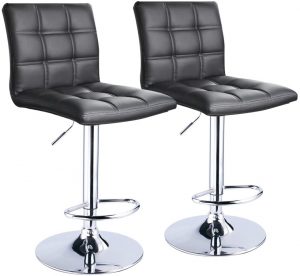 You can easily adjust the stool height using the air-lift handle. We recommend adding 1.5-2 inches to the height (24-31.5 inches) when determining whether the stool will fit your table. 
Although the stool is specifically designed for adults, it can still be adjusted to accommodate kids. However, you must be careful not to allow them to climb it to prevent it from tipping over 
In terms of comfort, the stool features high-density foam upholstered in black PU leather. The padding feels very comfortable even after sitting on them for extended periods.
As earlier indicated, the faux leather is quilted to give it a contemporary chic design. The stool is fairly lightweight, so you shouldn't have any difficulty moving it around. We also love the fact that you can just turn and step off from the chair without dragging – thanks to the swivel design.
In addition, the stool is equipped with a footrest for additional comfort. However, since it's a round bar, we found it rather slippery without a pair of slippers or shoes.
Installation is simple and quick. The instructions are pretty clear. It should only take a couple of minutes. 
Although the set is best suited for indoor use, it can also be used outdoors but make sure you take it in after use. 
Overall, we are impressed with the quality and performance of these bar stools. For the price, it's a steal!
Pros
 

Amazing price

 

Suitable for both indoor and outdoor use

 

Surprisingly stable

 

Perfect for kitchen or dining area

Easy height adjustment with airlift

 

Swivel design

Easy to assemble
Cons
The footrest feels slippery and uncomfortable barefooted.
The two-set outdoor wicker barstool by VIVOHOME is made of PE rattan material and features a heavy-duty iron frame for increased stability. As the name suggests, it's perfect for outdoor use and comes with a cushion for extra comfort.
Besides the two packs, the stool is also available in four-packs, which is great for a family. The unique casual design makes it perfect for dinner parties, date nights, or just spending time with friends or family. The seat color is black.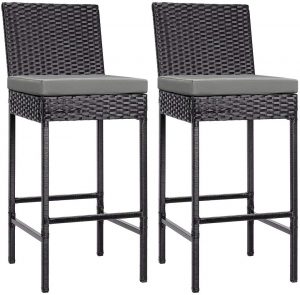 With regards to the actual dimension, each stool measures 17.7″x15.7″x 40.9″ and comes with a seat cushion. The height is perfect for a high-top patio table and cannot be adjusted.
The choice of rattan wicker makes the unit fairly lightweight, while the iron frame helps to provide stability against strong winds. Each seat comes with a dark grey cushion made of premium cotton material for ample softness. 
Despite having a lightweight design, the stool still feels very sturdy and can support up to 330 pounds weight. 
Assembly is easy but may take some time if you're inexperienced. This is mainly because the parts come in pieces, and you have to line up the screws in corners. To make things easier, we recommend inserting each screw into the corresponding hole before tightening everything.
It is worth noting that the stools are not overly large, so they won't fit everyone. Make sure you read the dimensions, so you know what to expect.
The addition of cushions definitely makes the chairs more comfortable. However, it also means more maintenance on your part. And don't think about using the stools without the cushions, as they will likely feel uncomfortable.
Overall, we think this is a decent bar stool for exterior use. It's definitely worth the price. We recommend storing them indoors when not in use for extended periods. 
Pros
Eco-friendly rattan material for weather protection

Great for smaller areas

Easy to assemble

Reasonable pricing

Sturdy iron frame

Large weight capacity
Cons
Setup can be time-consuming

Frame, screws, and legs are subject to rust if constantly exposed to moisture.
The Alpha Home 30-inches barstool is a set of two bar stools with an attractive modern design and an easy assembly process. They are sturdy, comfortable, and relatively affordable; in fact, they are not as expensive as they look. 
Each stool has a dimension of 17.71″(W) x 21.25″(D) x 38.97″(H) and is equipped with a leathaire seat and a sturdy metal frame. The overall weight is only 34 pounds, while the weight limit is 350 pounds.
The set is available in four colors – brown, grey, light grey, and dark grey. While the antique brown takes a more classic approach, the grey colors push the stools towards a modern direction. Regardless of which color you choose, they all blend beautifully with any decor or style. 
Some of the best places to use the chairs include your dining, kitchen, rest area, and patio. They are suitable for both indoors.
You can use the chairs both indoors and outdoors in your dining, kitchen, rest area, living space, patio, and so on. They are also suitable for offices, coffee shops, and restaurants.  
Setup is very easy. The instruction manual is pretty straightforward. All the parts and screws required are included in the package. 
The stools don't have armrests, which might be considered a downside by some people. 
No doubt, armrests provide comfort, but without it, the stool looks cleaner and has more of a modern silhouette. If you're going to be using these at a bar, you probably don't need the armrests.
The stools do come with footrests for extra support and comfort. Also, each leg is outfitted with anti-slip protectors (or pads) to provide more stability and protect your floor from scratches. 
Pros
Easy to assemble

Comes with anti-slip foot pads to protect your floors

Comfortable L-Shape seat

High-quality PU leather

 

Easy to clean

Sturdy metal frame
Cons
Doesn't comes with a cushion

    



When looking for barstools that offer the best combination of price and performance, Crestlive is one of the names that often pop up. This counter height bar stool from the company is another example that shows that you don't need to spend top dollar to get good quality outdoor stools.
The set is available in two beautiful colors – brown and beige – which are versatile enough to fit into any outdoor decor. You can use them anywhere outside – deck, patio, garden, poolside – and even indoors. Besides the two-set option, the set also comes in a pack of four.
The stools are pretty sturdy but surprisingly lightweight. You can even carry them about with just one hand. 
Specifically, each stool weighs about 17.6 pounds and has an overall dimension of 21.85″ x 25″ x 39.76″. The seat height is 27.5″, which is the perfect counter height for most tables. 
In addition, the fabric on the back and seat is made of textilene, which is oil and waterproof and easy to clean. The material is also UV resistant and highly breathable.
For the frame construction, the stool uses powder-coated aluminum, which makes it weatherproof. The choice of aluminum also makes it lightweight and robust. The addition of arm and footrests also provides additional comfort.
We also found the stools easy to assemble. The instruction manual is pretty straightforward, and it should take about 15-20 minutes to set up each stool. You will find all the tools and hardware you need for the setup in the package.
Pros
Super lightweight design

Easy to maintain

UV-resistant and waterproof

Assembly hardware is brass and stainless steel (rustproof)

Easy to assemble

Sturdy aluminum frame
Cons
Fixed height

Not suitable for people with large size butt
The bucket-back industrial style metal barstool from AC Pacific offers a moderate seating space and height of 24 inches. You can also opt for the 30-inch height (seat height) option if you have a higher table. 
The set excels in both look and function and offers up to seven color options to choose from.
Each stool weighs about 9.5 pounds while the overall dimension is 16.5″(L) x 33.5″(H) x 16.5″(D). The lightweight design means you can carry the stool around in one hand and store it away when not in use.
As earlier indicated, the stool has an industrial-style body that consists of a square bucket seat supported by four reinforced legs made of steel. The legs are stretched wide apart to increase the stability of the chair.
The choice of steel for the body construction makes the stools very sturdy. However, it also makes them less comfortable for prolonged use. You shouldn't plan to sit on it for more than an hour. 
Assembly is super easy. If you're fast, you can set up both stools in under 8 minutes. This is because they come almost assembled – the only thing left is to attach the backrests by screwing them in. 
Another thing we like about the stool is that it's easy to clean – just soap and water works fine.
The seats are not incredibly comfortable, especially without cushions. I wouldn't recommend sitting on it for a long time unless you add a cushion.
Overall, these might not be the most comfortable bar stools out there, but for the price, it's still a great bargain. It comes highly recommended for budget buyers.
Pros
Perfect for a farmhouse kitchen

Easy to assemble

Easy to clean

Highly affordable

Lightweight (highly portable)

Available in several colors
Cons
Not suitable for people with bigger butts

Doesn't come with cushions
The DHP Luxor 30″ set of two bar stools is a multi-functional urban counter stool consisting of an antique metal frame and a distressed wood seat. The classic industrial design makes it a perfect piece for dining or as a conversation seat.
Each stool weighs about 13 pounds and can easily hold up to 200 pounds of weight. 
The seat height is about 30 inches, which is a perfect height for restaurant bars and cafes, while the dimension is measured at 12″L x 12W. This might be too small for people with larger butts. 
Besides being highly portable, the stools are also compact and don't take up much space. You can stack them up for easy storage. 
Though the stools look beautiful on their own, you can paint them to whatever color you like, and they would still look lovely.
They also require minor assembly. Each package consists of the stools, the backs, and screws. To set up each stool, simply attach the back with the screws (four screws for each stool). It's as easy as that!
In fact, you can leave out the back and use the stool as it is. It will still work!
Our only turnoff is the screws. They don't have the same color as the base. It's not a serious flaw, but it's clearly noticeable.  
Despite this, the stools are still very appealing. In fact, they are more beautiful than comfortable. For a quick lunch or drink, I guess these would be perfect. It can get uncomfortable when you sit on it for long. 
We like the rubber stoppers on the bottom of the legs. They help to protect your wood floors from scratches. 
Pros
 

Ideal for both modern and rustic farmhouse kitchen

Compact and lightweight

Comes with rubber stoppers to protect your floors

Very sturdy chairs 

Easy to assemble

Easy to clean (with a wet cloth)
Cons
Not very comfortable

Not suitable for people with larger buttocks 
The Christopher Knight Firewood Barstool is a metal-backed bar stool with an amazing industrial style design perfect for a bar area, kitchen, or dining space.  
At first sight, you will notice the stool has a wood-like finish. In fact, many customers have confused this to be actual wood. But this is not the case except for the seat, which is made of fir wood and doped with an antique finish. The rest of the stool is iron, including the back and leg.
The leg has a black brush silver finish, while the back features a wood grain finish which is responsible for its wood-like appearance. As a result, the stool takes up both a chic and rustic appearance. 
The stool weighs about 24 pounds and can hold up to 300 pounds. It's somewhat inexpensive, so you can get as many units as you want. 
For the dimension, the stool measures 21″(D) x 17.5″(W) x 39″(H). The seat is about 15.75 inches wide and can be adjusted between 26 inches to about 32⅝ inches in height. So the stool can be used for both counter height and standard bar stool seating.
The legs are set wide apart to increase stability. So, the chair doesn't wobble both at the lowest and highest points. 
Assembly is very easy – just fasten the back of the stool to the base. 
Like the other bar stools on the list, you can use the stool outdoors. However, we strongly recommend taking it indoors or covering it whenever it's not in use. Leaving it exposed to the sun and rain would probably cause the frame to rust and wood to warp. 
Pros
Reliable quality

Super easy to put together

Very inexpensive

Remains sturdy at both lowest and highest points

Easy height adjustment

Versatile design 
Cons
Not super comfortable (no cushion)
The Christopher Knight Home Malibu Outdoor Barstools are an excellent choice for homeowners who want high-quality bar stools that are both convenient and affordable. They feature a slat-back design with a timeless style that blends in beautifully with any modern outdoor decor. 
The stools are crafted with the highest quality acacia wood, so they're very durable and won't easily get damaged by scorching sun or rain. Each unit can hold up to 250 pounds of weight.
Assembly is easy. As long as you follow every step in the instructions, you should end up with a chair that is sturdy and doesn't wobble. The package includes all parts you need for the setup. 
The stool comes in a pack of 2 and is available in dark grey and natural stain matte finish. They are great to have in your backyard, garden, or patio.
We don't know the exact weight of each stool, but we think it's about 10 pounds. So, you should be able to carry them around without any problem.
In terms of comfort, the stool comes with a slat back, which greatly increases comfort. In fact, for a hard chair (without any cushion), it doesn't perform badly. You can always add cushions if you want.
Our only complaint about the stool is that it tends to squeak whenever you sit in it. Also, it's not stackable, so it will require more space for storage. 
Other than that, this is a great bar stool to have. It's easy to assemble and comfortable without cushions. For its price, you will be hard-pressed to find a better alternative.
Pros
Lightweight design

Beautiful natural matte finish

Slat back for increased comfort

Comes with footrest

Easy to assemble

Reasonable pricing
Cons
Squeaks a little

Not stackable
The Conrad Patio Outdoor Bar Stools are another inexpensive wicker barstool set that offers decent comfort and performance. It comes in a pack of four with a sleek modern design and an attractive grey finish that blends in well with any backyard or patio arrangement. 
As the name suggests, the stool is equipped with top-quality wicker material and a powder-coated iron frame. The frame looks darker brown than grey, but they combine well with the grey wicker. The overall appearance looks more modern than a design entirely based on brown wicker.
The use of iron for the frame makes the stools quite sturdy. Each one weighs about 10 pounds and can hold up to 330 pounds. 
You can use them as part of your existing patio furniture or just on their own (preferably, by your patio bar). They look good either way.
They are also great for all kinds of outdoor events and hold up well against the elements.
It is not the easiest bar stool to assemble, but it's not the hardest either. Just follow the instructions, you will do fine. Expect to spend up to an hour setting up all four stools. To make things faster, we recommend building it with someone and using a hex bit and screwdriver drill.
The seat height is about 30″, which is just right for a bar stool. If you want, you can add cushions to make it taller. 
Like most wicker bar stools, these ones lack armrests but comes with a footrest.
Pros
Beautiful grey color tone

Lightweight and sturdy

Perfect for any patio or backyard

Suitable for outdoor use

Also available in two packs

Provides decent comfort
Cons
Not very easy to assemble

Not stackable 
The PHI VILLA Swivel Bar Stools Set is gorgeous all-weather patio furniture built with durability and comfort in mind. 
As the name suggests, the stool comes with swivel functionality and has a seat height of about 30″. The frame material is steel, while the fabric is Textilene.
The steel frame is powder-coated to make it weather resistant. So, it's perfect for all your outdoor amusements. 
Also layered on the powder-coating is a classic black finish which looks great together with the Textilene sling fabric on the back and seat.
The Textilene fabric is mesh style and thus has excellent breathability. It doesn't make you sweaty even when the sun is out and hot. The fabric is also easy to clean.
The stools also come with curved armrests and a footrest for added comfort. Each unit can hold up to 300 pounds weight.
Like many backed units, it has swivel functionality, which makes it more comfortable and fun to use. The swivel rotates 360 degrees, so you can turn the stool in any direction.
In addition, the back support is slightly curved to increase comfort and minimize pressure on the lumbar. There's also a footrest to provide support for your legs. This can be very useful when sitting on the chair for extended periods. 
The bar stools are great for both indoor and outdoor use. It is easy to put together and can support up to 300 pounds of weight.
Overall, these bar stools bring a lot to the table for a very affordable price. It is versatile, durable, and comfy. We cannot regard it enough.
Pros
Breathable mesh fabric

Durable construction

Full swivel function

Easy to assemble

Durable construction

Comes with a footrest and armrests
Cons
Conclusion
There you have it – our best outdoor bar stools for 2021. You can't go wrong with one of these. They all excel in aesthetics, functionality, pricing, and comfort. 
A lot of people are also saying nice things about them, which says a lot about their quality. So, you won't be the first to taste the luxury and comfort that comes with bar stools.
So what are you waiting for? Did we miss out on any stool you think should be on the list?
Let us know your thoughts in the comment section.