Last updated on March 23rd, 2022
Adding a table to your porch or patio is non-negotiable when stretching your living space outdoors. Amongst other things, you will need it to serve your food favorites and drinks. Now talking about the drinks – what better way to serve them cold than with a good ice bucket around the corner.
Tables with a built-in ice bucket ensure you have ice on hand for your drinks in the most stylish way. Believe me, there's no better remedy for hot weather than this.
So, in this article, we are going to look at the best ice bucket tables for stashing chilled drinks on your patio this summer.
Our list comes after a lot of research and testing. All the tables mentioned here do not excel in aesthetics but also in functionality. Whether you need ice for your favorite wine bottle or to whip up some aperitifs, these tables will fulfill all your chilling endeavors.
What are ice bucket tables?
Ice bucket tables are simply tables that are equipped with their own ice buckets. In other words, it's having a table and an ice bucket in one fancy, functional unit. This allows you to serve your cold drinks in a smarter and more accessible way.
These tables are highly versatile and suitable for any occasion. They are also commonly used as cocktail bars for serving chilled beverages on your porch or patio.
Luckily, the tables come in a wide variety of designs, so it's easier to find something that will suit your style and preference. These designs can also add flair and vibe to your existing outdoor decor. Some tables are best suited for a modern setting while others are designed for a more traditional or classical arrangement.
Ideally, you should aim for an ice bucket table with a cooler that can maintain chilled temperatures for a long time or the period you're outside. Also, the cooler should be able to hold a good amount of drinks. Another cool feature to look out for is a drain plug for easy removal of melted ice.
How ice bucket tables are ideal for your outdoor space
 Ice bucket tables are important accessories for outdoor spaces, especially during summer when a nice cool drink is a basic need.
The addition of an ice bucket to a table makes it ideal for preserving cold drinks for longer periods of time.
Ordinarily, without an ice bucket, a cold bottle might last for a couple of minutes before it becomes warm. But with a cooler stacked into the center of your table, you can keep the drink cool for hours or as long as the party is on.
Most ice buckets will handle up to three wine bottles or six cans with ice. In fact, most of the tables reviewed here actually hold more.
Besides their function, ice bucket tables are also a stylish fashion item for any patio or wherever you have chairs. Most units are versatile and can be converted into other uses besides storing ice.
Best ice bucket tables for your patio
The 3-Piece Bistro Furniture Set from Christopher Knight consists of two aluminum chairs and a table with a built-in ice bucket.
We are not sure about the individual weight of each item, but the entire set weighs about 35 pounds. So, they are very easy to move around. You can even remove the ice bucket.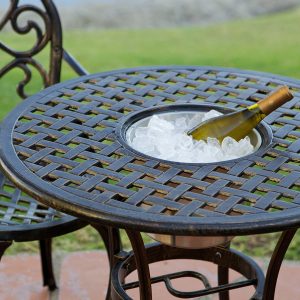 But despite being lightweight, the set is still pretty sturdy and won't get knocked off by the wind. We also love the beautifully distilled copper color, or you could say, brown with streaks of bronze. It works well outdoors and doesn't lose its shine over time.
Each chair can hold up to 250 pounds of weight. In terms of size, they seem more suitable for smaller persons.
To make the chairs more comfortable, you could add extra cushions, though we would leave them as they are.
The table diameter is about 27.25 inches, which looks small but is very cozy for two people. It is ideal for a small area.
Now to the best part – there's a built-in ice bucket in the middle of the table that is big enough for two big bottles and some ice. You can fit a decent size artificial plant in here when you're not using it to serve cold drinks.
The set is easy to assemble but can be time-consuming. You will probably need your own metric wrench and screwdriver as the ones provided aren't very good. It should take about 20-30 minutes to put each piece together.
Make sure to wear gloves while assembling and clean the furniture well before use.
We love the fact that you can adjust each leg of the table and chair to level them.
Overall, this Bistro set is a great addition to any backyard area. For the price, the quality is probably better than we expected. It comes highly recommended for both indoor and outdoor use.
Pros
Reasonable pricing

Very comfortable (even without cushion)

Nice color (looks very cute)

Perfect for homes with limited space

Not difficult to put together

Holds up well in the elements

Removable ice bucket
Cons
Too small for larger people

Not stackable
BUY ON AMAZON
2. Keter Pacific Cool Outdoor Patio Furniture
The Keter Pacific Cool Table Furniture is a 3-in-1 patio accessory for outdoor amusements and entertainment. It features an extendable tabletop and can serve as a cooler, coffee table, and cocktail table.
The bar is constructed with durable polypropylene resin with an elegant brown rattan finish. The resin material is weather-resistant, which makes it perfect for outdoor use. You can leave it outside and not worry about decay, rust, and similar issues.
As earlier indicated, the table is highly versatile. With a simple twist, it transforms from a modern coffee table to a sleek cocktail table suitable for any social occasion. Just lift the lid and twist the locking ring.
Once twisted, the lid stretches about 10 inches upwards above the rim (normal height).
Thus, the normal table dimensions are 19.5″(W) x 19.5″(D) x 22.5″(H) when closed, and 19.5″(W) x 19.5″(D) x 33.2″(H) when extended.
Once extended, the tabletop locks in place and keeps chilled drinks at your fingertips.
The sleek contemporary design blends beautifully with most indoor and outdoor decor.
The cooler has a storage capacity of 7.5 gallons, which can hold up to 12 oz. cans with ice. It comes equipped with double-wall insulation which keeps your drinks cold for up to 12 hours.
Assembly is very easy. And despite the bar not being heavy, it still feels sturdy. The legs are quite strong and greatly increase stability.
An adjustable drain plug is also included to make cleanup a breeze. 
Overall, we are impressed with the quality of this table. It's a worthy investment for a stylish and functional outdoor add-on.
Pros
Perfect for any social occasion

Beautiful brown rattan finish

Large gallon capacity

Multifunctional outdoor table

Easy to assemble

Weather-resistant material
Cons
    Drain plug is not very easy to use
If you're looking for a highly functional ice bucket table and the price is no object, then consider the Christopher Knight Home Belize.
The Christopher Knight Home Belize is a super nice wicker accent table that makes for a great addition to any patio. You can pair it with two chaise loungers or use it near a pool for easy access to cold drinks.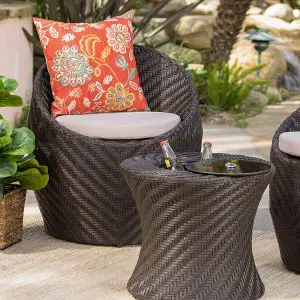 The table comes equipped with an ice bucket and ice cooler that can fit several cans and a few wine bottles.
It is made from polyethylene wicker while the frame material is iron. Layered on the wicker is a brown finish that ensures it fits any outdoor decor.
The table is built to last, and can be stationed in one place or used on-demand at the pool or anywhere a nice chilled bottle would be appreciated. The overall weight is only 13 pounds while the dimensions are 20.28″ x 20.28″ x 16.54″. 
The ice bucket is about 11″ deep which is more than enough to hold five wine bottles with ice.
Another thing we love about the table is that it comes fully assembled and ready to use.
Our only complaint is the price. It seems a bit expensive but it's still worth it. Also, we would have loved to see more color options besides the brown.
Overall, we think this is a nice, decent ice bucket table. Despite being on the pricey side, it still stands out for its many simple useful functions. We highly recommend it.
Pros
Large cooler capacity

Great value

No assembly required

UV-resistant material

Nice brown wicker finish

Lightweight
Cons
Only one color option

A bit pricey 
BUY ON AMAZON
The BLUU Outdoor Patio Cooler is a highly functional piece with a simple but exquisite design. It is probably the coolest thing you've seen for an outdoor table with an ice bucket. Add this to your patio and completely overhaul the area. The stylish wood barrel design ensures that it matches any outdoor decor.
The bar is made from upgraded polypropylene material and finished with an attractive wooden texture. There are no steel or iron parts, so there is no metal to bang-up.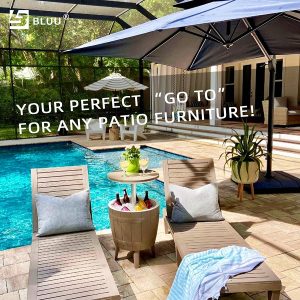 In terms of function, the table has a 3-in-1 design. It can serve as a wine cooler, coffee table, and cocktail table. The capacity of the wine cooler is about 10 gallons (38 L), which is enough to hold up to 50 12 oz. cans.
Despite the huge capacity, the unit is still compact enough to store in a deck box. You can move it to the poolside, deck, grill, or wherever you need cool drinks on demand.
Another thing we like about the bar is that it's very easy to set up. All you need to do is to attach the legs with the screws provided, and you're good to go. The instructions are detailed and shouldn't take more than 3 minutes.
Interestingly, you can adjust the lid, and consequently the cooler height, by up to 250mm. This makes the bar more convenient to use, as you can set it to a height that works for you.
Once you lift the tabletop, you can lock it into place. Then load your ice and drinks, and start enjoying.
When done, simply release the drainage plug at the bottom to empty out water from the melted ice. This is so much better than tilting the entire bar to pour out the water.
The ice in the cooler stays about 3 hours before it melts completely, which isn't bad.
Overall, we are impressed with the quality of the table. It might not be the most budget-friendly option but it makes up for this with the value it provides.
Pros
Comes with a built-in drainage plug for easy cleaning

Extremely easy to set up

Comes with four legs for increased stability

Multifunctional design

Large cooler capacity

Looks great on any patio or deck
Cons
BUY ON AMAZON
Last but definitely not the least item on our list of the best patio tables with ice buckets is the Keter Modern Cool Outdoor Bar. Like the Keter Pacific, this unit is stylish, sturdy, and multifunctional. It can serve as a bar table for coffee and cocktail, cooler, side table, raised hot tub table, and even flower stand.
It is an excellent addition to any modern patio setup – thanks to its sleek contemporary design.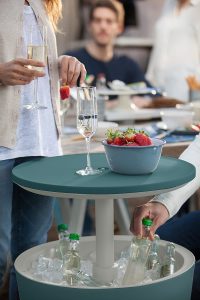 The bar is made from weather-resistant resin, polypropylene, or PP. So, it's perfect for outdoor use.
It has the same extendable design that allows you to pull up the tabletop and lock it in place.
Specifically, the dimensions are 19.5″(D) x 22.5″(H) when closed, and 19.5″(D) x 33.2″(H) when extended. In other words, you can adjust the lid up to 10 inches above the rim.
The bar has a hidden cooler that is revealed once the lid is extended. The cooler has a total storage capacity of 7.93 gallons, which is enough to hold up to forty 12 oz. cans with ice.
Cleanup is super easy – thanks to the drain plug feature. Instead of tilting the table any time you want to pour out the water, you can adjust the drainage plug, so the water goes out from the bottom.
Our only complaint about the table is that it's a bit short. If you're a tall person, you may have to bend down every time you want to grab a drink. But even this is not a deal-breaker.
We recommend checking the dimensions before taking the plunge.
Overall, we consider this bar a cool addition to any outdoor space. For its price, we can't recommend it enough.
Pros
Lateral latches for secure closing of the lid

Simple to use

Keeps drink cold for up to 12 hours

Easy to set up

Large storage capacity

Weather-resistant construction

Lightweight
Cons
A bit short for taller people
BUY ON AMAZON
Conclusion
There you have it – the best tables with ice buckets in 2021.
Having an ice bucket table doesn't only complement your outdoor space but also ensures you have cool drinks at your fingertips. It also helps to cut down your energy bills.
Luckily they are affordable (especially the ones listed here) and provide good value for your money. They are perfect for all social events – both casual and formal – and will fit your patio or yard, whether it's big or small.
Let us know if you have any more questions about picking a good outdoor bar table, and we will be glad to help