Last updated on June 16th, 2022
There's no better way to spend your afternoon or weekend than sitting in the outdoor space and stare at the beauty of the environment. The cool breeze, fresh air, and the ambiance of the surroundings are all you'd want to expose yourself to for self-regeneration. While at it, comfort is your utmost priority. There are numerous outdoor sitting chairs, but the best outdoor rocking chairs come at the top of the list.
Outdoor rocking chairs are not only comfortable for the outdoor space, but numerous studies have proven that the swinging/ rocking motion is very soothing and relieves your body of the stresses as a result of the hustle and bustle of life. The best outdoor rocking chairs in the market also have substantial health benefits.
Well, we all have different needs when it comes to comfort, and you'd want to shop around for the best outdoor rocking chairs that will fit your needs in the outdoor space. We have done our research to make your shopping experience easier. Read on to find the best outdoor rocking chairs that will be ideal for your outdoor space.
Product Reviews
Let's get started with some of the best outdoor rocking chairs that will fit your needs.
1. SUNCROWN Outdoor 3-Piece Rocking Bistro Set
This outdoor 3 – 3-piece rocking bistro set comes in three items; two rocking chairs and an elegant glass–top table. Interestingly, the table is customized with the color scheme of the chairs. The elegant, glass table gives you ample space to place your coffee table, whisky, or an evening book.
If you want the decorative feeling, the glass top table is designed to support a flower décor – this set justifies its inclusion among the best outdoor rocking chairs.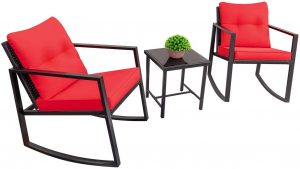 Part of the chair is a thick and soft cushion to make you feel relaxed and comfortable while having your time with a loved one, taking some wine, or just catching a nap. These cushions come with a zipper so you can always remove and wash the curtain covers.
Assembling these items is easy and fast; you don't need a technician to help out. And to ensure you don't incur replacement costs, these outdoor rocking chairs have a very strong frame to provide the desired support and durability.
The outdoor 3-piece rocking bistro set is made with high–quality resin wicker to withstand all weather conditions. You don't have to worry about the heavy rains, sunlight or cold conditions. However, you can always extend the lifetime of your outdoor set by placing these items in a sheltered place.
Pros.
Comes in a set of three.
Can withstand all kinds of weather conditions.
Thick, soft cushions to provide the comfort you need. These cushions have a zipper for easy cleaning.
You can easily assemble these items without the need for a technician.
Great glass table top suitable for a couple of glasses of wine, coffee, or just a book.
Strong frame to provide the desired support and durability.
Cons.
Takes a relatively bigger storage space.
This outdoor rocking chair is a stylish and inspirational French design that merges elegance, comfort, and durability. The wood isn't just designed in a stylish manner to soothe your aesthetics, the manufacturer also takes care of your scents. On customer ratings by feature, this elegant design scoops 4.8/5 on the comfort scale and 4.7/5 on the support scale.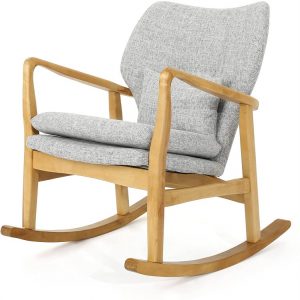 The fabric design comes in various colors to match your outdoor décor. Depending on the color of your garden or the recommendation of your designers, the fabric comes in Grey, Mute Blue, Muted Yellow, Light Grey, or just Grey.
If you have been frustrated by fabrics that peel or wear off after a short time, this outdoor rocker chair will offer you value for money. It's made with the highest quality of fabric to withstand harsh weather conditions and stay for longer.
The cushions are comfy, and the rocking space – the distance between the front space and the ground is averagely big so you can have your 'swinging moment' with ease.
And to bolster the comfort, there are two additional pillows to cover up for shorter people or anyone who has disabilities.
Pros
It is very durable.
It can withstand harsh weather conditions.
Stylish and inspirational designs.
Offers an array of colors to choose from.
Caters for shorter people and the disabled.
Cons.
Requires constant maintenance.
This resin wicker and eucalyptus rocking chair is made of Brazilian eucalyptus wood, making it stand out as one of the most durable and the best outdoor rocking chairs you will come across. It is beautifully finished with a brown umber stain that makes it blend easily with nature hence creating a perfect feeling.
This product is designed with high-quality HDPE all-weather woven wicker, which makes it carefree and comfortable. This chair has a very simple, elegant, and sturdy design that makes it rank the best in the market while at the same time offering a good load-bearing capacity of up to 250lbs.
The resin wicker and eucalyptus rocking chair sit at an amazing 21inches wide by 19inches deep and a back of 29inches high, which in reality makes it larger than it appears on online pictures. These specifications added to the fact that the chair has a curved seat and backrest, ensures that it offers a more free and comfortable sitting while you enjoy your outdoor experience.
The distance between the front space and the ground is relatively big, allowing you to have a smooth rocking feeling, enhancing your comfort as you relish your outdoor experience. All major components of this chair are fully assembled at the company.
Pros.
Very durable.
Strong with a load-bearing capacity of 250lbs.
Smooth, rocking feeling.
Very easy to assemble.
Curved seat and backrest for enhanced comfort.
Cons.
It is moderately difficult to put together.
This attractive POLYWOOD presidential rocking chair merges comfort and functionality. It has a contoured seat that offers a comfortable rocking experience. Added with runners that are gently sloped to provide a smooth rocking rhythm, this chair is a must-have in your outdoor space.
This chair is constructed using genuine POLYWOOD lumber, which is made to withstand a number of harsh weather effects such as hot sun, freezing rain, snowy winters, and strong coastal winds, making it one of the most durable rocking chairs you will ever come across.
The POLYWOOD material does not crack, splinter, peel, or rot. The chair does not require maintenance such as painting, staining, or waterproofing. It cleans easily with soap and water and is resistant to stains associated with food sauces and wines so you can enjoy your meals and wines without worrying about the spillage.
This chair has wide and vertical back slats providing this rocking chair with a contemporary look.
Pros.
Weatherproof.
Maintenance-free.
Easily cleans with soap and water-
Resistant to stains.
Offers a smooth rocking rhythm.
Cons.
They are heavier compared to wooden rocking chairs.
When thinking durability, think Fir. It competes Cedar as one of the best woods that strikes a balance between lightweight and stability; hence one of the best for outdoor furniture.
This antique wood rocking chair is made of durable fir tree that is sturdy and stylishly constructed to add décor to your outdoor space.
The chair has a contoured seat slat and high fan shape back that offers great comfort to your waist, bottom and back. This durable burnt treated Fir has two coatings of PU paint, which is weather-resistant so it can give you the longest service.
This antique wood, outdoor rocking chair is easy to assemble. It is also versatile and can be easily changed to log Adirondack or log armchair by knocking down its rockers – you can do this when you don't want to rock or when you want a taste of Adirondack.
It should be further stained or finished to last for many years, so the wood does not fade to silver gray when used outdoors.
Pros.
Weather-resistant.
Easy to assemble.
Easy to maintain.
Multi-functional.
Cons.
Loses its color when not maintained.
If you have a taste for products made of wood and you prefer your outdoor set up to have the same touch, this is the best outdoor rocking chair for you. It is made of hardwood-one of the notable materials known for natural beauty and durability.
The wood is painted with a specially formulated polyurethane paint, which adds an extra layer of extremely effective protection from outdoor effects. This chair also has a smooth matte finish, which makes its hardware rust-resistant.
This chair is partially assembled to give you minimum time to put it together. It comes with very simple care instruction; it only requires soap, water, and a soft-bristle brush for cleaning.
It's rated 4.4/5 for the number of customers that have reviewed this product.
This Vermont rocking chair has a seat size of 20.5inches and a height of 18.5inches that are sturdily joined together to bear a load capacity of up to 250lbs. The seat size allows you to be free from tight grips that can make you uncomfortable.
Pros.
Rust resistant.
Easy to maintain.
Larger seat size for a free comfort feeling.
Durable wood material.
Sturdily joined to bear a load of up to 250lbs.
Cons.
Easily cracks when subjected to overweight.
The finish suffers rain when left out for long.
It always feels good when you can comfortably sit and relax your back on a soft seating area and a backrest while enjoying that smooth rocking rhythm. Well, this chair has a padded seat and a backrest that ensures you get just that comfortable feeling.
This ACME furniture 59390 Sharan rocking chair is made of hardwood which confirms its durability and sturdy construction.
If you are a lover of styles and fashion, this outdoor rocking chair is the ideal fit. It is stylishly designed with a classic touch of art, giving it a beautiful and attractive contemporary look – just great for your taste. Added with the gently sloped rockers for a smooth rocking rhythm, this chair is just the real deal for your comfort.
This chair is easy to assemble, it comes with the back as one piece, the seat as another piece, two runners, two front legs, and two arms, which leaves you with only one job of joining them together with the basic tools provided.
The wooden parts of this chair do not attract dust or stains but should be wiped regularly with water to maintain its shiny finish, and the fabrics should be spot cleaned.
Pros.
Made of wood hence very durable.
Beautiful and attractive design.
Easy to assemble.
Padded seat and backrest for extra comfort.
Easy to clean and maintain.
Cons.
It is relatively heavy compared to other wooden rocking chairs.
For those who love classy products, this is the best outdoor rocking chairs you will ever get. This chair perfectly merges class and functionality.
This attractive rocker is made from high-performance solid HDPE lumber that does not crack, splinter, or rot, placing it on the top position as one of the most quality and durable outdoor rocking chairs.
The genuine POLYWOOD lumber material is resistant to extreme weather conditions such as hot sun, rain, salty water, and snow.
This Trex outdoor rocking chair does not attract stains associated with beverage or sauce and dust, so it is easy to clean with only soap. It is also very low on maintenance; no painting, staining, or sealing required.
The Trex outdoor furniture comes with easy-to-follow instructions on how to assemble and the basic tools that are included in the package making it very easy and faster to put together. The assembling process often takes 30 minutes and below to complete.
With its contoured seat and arms, this chair is the ideal match for your patio, deck, or front porch.
Pros.
Very durable.
Weatherproof
Stain and dust resistance.
Low maintenance.
Easy to assemble.
Cons.
The chair sits too low.
The back is a little bit too straight.
Best Outdoor Rocking Chairs Buyer´s Guide – What to consider when shopping for the best rocking chairs.
There are very many outdoor rocking chairs available in the market. However, not all of them will take good care of your comfort and relaxation needs, or you may not like certain designs or materials. Picking out the best outdoor rocking chairs can be a very tricky task, especially when you don't have enough knowledge about furniture.
It is important to know what features to look out for in an outdoor rocking chair. Below are the main factors which cut across all the outdoor rocking chairs, so these will help you make an informed decision.
Durability
Because you are going to use this chair in an outdoor setup, you will have to ensure that it is the most durable option that is not going to crack or scratch when a twig drops or scraps on the surface. If you plan to keep the chair outside, then you will have to ensure that the chair has a little bit of weight on it so that it won´t get blown away during a strong gust of wind.
Having some resistance to weather conditions such as snow, hailstorms, or rain is also a factor you should consider, especially if you want your chair to stay around for more than a few years.
Size
Size is a key factor when making a purchase decision among the best outdoor rocking chairs. You will definitely want the chair to have a seat that is comfortable depending on your body size – if the seat is too long for your legs, you will not be comfortable with dangling legs. Or when the arms are not proportional enough, then you will not enjoy yourself on the tight-fitting seat.
In addition, you will not want a chair that has a low back or a back that is very high. You want a comfortable rocking chair. So the taller you are, the longer you will want the back of your chair to be and vice versa.
When considering this factor, you should also consider the space where you will be using these chairs and how you are going to store them during the winter seasons. Will you have to store them in your house or cover them in a shed? Or do you want a rocking chair that you will leave outside during the winter seasons? These are important questions you should be able to answer before making that crucial purchase decision.
Cushioning
Most of the best outdoor rocking chairs do not have cushions that come with the chair. Normally, a rocking chair is a comfortable seating choice, and if you are planning to use it for hours at a time, then any hard surface will be uncomfortable.
For extra comfort, you can either buy chairs that have already padded seats and backrest or choose to buy separate cushions that blend well with your chair.
Preferably, buying a chair that has a padded seat and backrest will be a better option given that you will not incur the extra charges of buying cushions and even save yourself the hustle of looking for a cushion that fits well and blend with your chair.
Color
There are a number of factors to consider when you are looking for the best color of a rocking chair. If you prefer a wooden look, then you will have to choose the shade of the wood you'd want and the stain on the surface of the chair. And if you want synthetic materials such as wicker and HDPE, then you will have a variety of colors to choose from, ranging from bright colors, earth tones to brighter gems.
Choosing a color for your outdoor rocking chair also depends on the color scheme of your outdoor space. Whether the chairs are meant for your front patio, garden, or even verandah, the color you choose should add some décor.
Style
There are limited styles of outdoor rocking chairs, but you have to consider which options brings the best and blends well with already existing outdoor furniture.
For a more traditional style, you may want to go for chairs that are made from wood, but they can also offer a more classic look when blended well with the rest of your outdoor décor. Synthetic chairs are going to offer you a contemporary style with an array of stylish colors to choose from depending on your outdoor furnishing.
The intended use.
Rocking chairs have a lot of uses, and you can decide on which chair to buy according to the purpose you'd want it to serve. Rocking chair offers a good way of child care; rocking a baby to sleep has proven to be a greater way in letting these little ones zonk out when everything else seems not to work.
The soothing and calm act of rocking makes the body to release endorphins. Endorphin are hormones that reduce pain and boost pleasure resulting in a feeling of well-being. This, therefore, means that rocking chairs help in reducing stress and anxiety.
Imagine sitting in your garden with your friends catching up and having stories or just having wine in the beachfront with a loved one while rocking smoothly. These nice feelings and many more make rocking chair an ideal tool for socializing.
Frequently Asked Questions.
Where can I shop for these rocking chairs?
You can check out for these outdoor rocking chairs from the manufacturer´s warehouses, major furniture stores, or from the leading online stores such as amazon.
What are the materials used in making these chairs?
These rocking chairs are mostly made from three different materials; there are chairs made from wood, which can either be softwood or hardwood, there are those that are made from synthetic materials such as HDPE lumber, and others are made from plastics.
How should I take care of these rocking chairs?
Most rocking chairs have high-quality coverings and frames that are stain-proof and weather resistant. But if you experience any spill on it, then it is advised to clean using a damp cloth. Do not treat them with any chemicals.
Do I have to assemble them myself?
Yes, you will have to attach the legs, seats, and back by yourself. They are often transported when disengaged to avoid transportation damages as much as possible. There's no need to worry because you just need the manual to assemble these chairs.
How much do these chairs weigh?
The weight of these chairs varies depending on their shapes and sizes, but averagely they weigh 30-50lbs each.