Last updated on May 26th, 2022
Outdoor cushions act as both furniture ornaments and comfort layers. So, they are often added to patio chairs to improve their look and comfort, especially when the chairs are too firm or soft. If your outdoor chairs come with padded cushions, chances are they are going to slide off every now and then when you sit on them. So, you might be wondering how to keep outdoor cushions from sliding.
There are many different ways to stop outdoor cushions from sliding off different types of chairs. Some of the best ones include using non-slip cushion pads, applying Velcro, using cushions with ties, adding outdoor covers, and using a shelf-liner.
We will go over each of these solutions and answer a few more questions about using outdoor cushions outdoors.
Learning to keep your cushions from sliding or flying around ensures they remain comfy to sit on and maintain the neatness in your patio space. Read on to find out more!
Why Keep Outdoor Cushions from Sliding
Sliding cushions can be very annoying, especially when you're simply trying to relax. Besides making you feel uncomfortable, they make your chair appear disorganized, sloppy, and old. They can also pose a risk for kids and seniors when they get in the way. 
What primarily causes sliding is when cushions are not properly secured or held tightly in place. This happens as the cushions become old and thin and lose their original shape and size. The type of material used for the cushion and seat can also be responsible.
While a sliding cushion isn't necessarily harmful, it can take away your relaxation. You don't want to keep repositioning the cushions when you should be taking a rest. In the next section, we will see various solutions for how to keep patio cushions from sliding.
How to Keep Your Outdoor Cushions from Sliding
Here are five methods you can apply to stop your outdoor cushions from sliding.
Add Cushion Covers
Outdoor cushion covers are primarily used to protect cushions from the elements, especially stains and sunlight. Sometimes, these covers are made from a different material that is less "smooth" than the main cushion. So, using them can help with sliding. While this may not be very effective, it's still something worth considering.
If your cushion doesn't come with a cover, consider getting a new one or simply add sofa covers. Besides resisting stains and holding the cushions tight on each side, they can also give your furniture a new look.
Use Velcro
This is one of the easiest DIY hacks to keep cushions from sliding or blowing away. Just buy strips of self-adhesive Velcro online or from a local fabric store. Attach one half on your cushion and the other on the furniture; next, press the two surfaces together to keep the cushion in place.
This is possible because the Velcro has a two-sided textured surface with a sticky backing that sticks when pressed together. Notice, we said "self-adhesive" Velcro. 
If you're using the other type of Velcro, you may need to sew it onto the two surfaces you want to join, which in this case, are the cushion and furniture.
Once added (preferably along the edges of the cushion and seat), Velcro will keep your outdoor cushions firmly attached to their base frame. You will find them in many different colors and sizes.
A non-slip rubber pad is a non-sticky underlay used to keep cushions in place on furnishings. It can come pre-cut, or you can trim it to the correct size with scissors.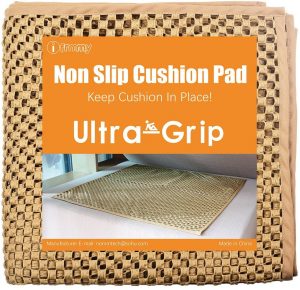 It is mostly used with upholstery chairs and benches. Simply place the mat between the cushion and furniture piece to prevent sliding and improve your overall comfort when you sit down to relax.
The product is typically made of rubber/PVC foam with reinforced edges that secure and hold the cushions tightly at all times.
The major advantage of this option is that it doesn't require any sewing or adhesives. It has a strong grip and thus does well by itself. It is the easiest way to prevent outdoor cushions from sliding!
You will find the pads in various sizes and styles.
Buy Cushions with Ties
Many cushions feature ribbon ties at the back or corners. These little ties allow you to tie on the cushion at the corners to secure it to the chair. Once tied, the cushion will remain in place until you decide to untie it. A good time to do this would be when you want to give it a quick wash or store it away for winter.
Use a Shelf Liner
Lastly, you can obtain a shelf-liner from a dollar store and place it firmly on the furniture before placing the cushion on top. The liner can be made of rubber or vinyl; it needs to be cut to a square shape a bit smaller than the base of the cushion. This method is very quick and inexpensive; it may not hold the cushion very long.
How to keep cushions from sliding off chairs
To keep cushions from sliding off your patio chairs, you can apply any other of the methods above or combine them.
These include attaching Velcro strips to the chair and cushion, using non-slip cushion pads, sewing pieces of non-slip fabric to one side (bottom) of the cushion, and placing shelf-liner under the cushions.
If you're using Velcro, make sure you measure the strips to ensure they align correctly when you place the cushion.
For the non-slip fabric, you can either use a sewing machine or sew it by hand. If you're using a sewing machine, try to leave up to ¼-inch from the edge of the fabric while setting the stitches. Once attached, the fabric creates friction against the seats, which helps to prevent the cushions from sliding. This method is very effective and seems to work better than using shelf-liners, but the latter doesn't require any sewing.
How to stop couch cushions from slipping?
Here are simple solutions on how to hold patio cushions in place on a couch
Non-slip cushion pad
The easiest way to stop couch cushions from sliding is to use a non-slip cushion pad. Simply place the pad between the cushion and couch – no need for Velcro or glue, and you don't need to sew anything.  Besides cushions, this method will also generally work for armchairs, sofas, loveseats, and chairs.
Sagging Couch Support
Another option that seems to work well is sagging couch support. This is mostly used when you have a sagging couch. As the name implies, it provides extra support to the sagging couch and the cushion on top of it while providing better posture. We recommend combining the couch support with an anti-slip pad for stronger grip and firmness. 
Use couch covers
Many homeowners use couch covers to shield their furniture from spills and preserve the appearance. One side benefit of using these covers is that they also secure your cushions in place. 
Nowadays, it's possible to get slipcovered sofas. When purchasing couch covers, it's essential you get the right fit. As such, you should measure the sofa first.
Also, make sure the cover material is durable, has a complementary style, and is slip-resistant. This is essential in preventing the cushions from sliding. Covers with drawstrings will also secure cushions better and provide more comfort.
Use Rings and Hooks
An alternative to using Velcro strips is rings and hooks. However, you need basic sewing skills for this method. Instead of sewing the rings and hooks directly on the couch, look for a piece of cloth that matches that of the sofa and sew it on the couch and cushion.  
First, sew the hook onto the fabric on the couch. Then, sew the rings on the material you added to the cushion. After doing this, you can pass the hook through the rings to secure the cushions and keep them from sliding. 
We recommend opting for plastic hooks and rings to reduce the risk of injury. Also, consider using stitches to make the hooks, rings, and fabric more secure and durable.
How to stop cushions slipping off Rattan furniture
One of the easiest fixes to stop cushions from sliding on rattan is to use non-slip rubberized mats. Just place the pre-cut mats under the cushion (i.e., on top of the rattan seat).
 This helps to secure your cushions to the rattan furniture. The advantage of this method is that it doesn't require any sewing. Also, the mats are pretty cheap and readily available in hardware stores.
 You can also use cushion grippers. These are tiny self-adhesive fasteners you can attach to the cushion and seat. You can apply two or three grippers on each corner of the cushion to secure it to the chair. The upside of this method is that you can remove the grippers whenever you want, and some can be reused.
How do I keep my bench cushions from slipping?
To hold bench cushions in place, consider using non-slip material such as anti-slip cushion mats. Place the mat between the cushion and the bench seat such that it's adhered to the bottom of the cushion or on the bench seat. This should be enough to prevent sliding. 
You can get pre-cut anti-slip mats from a local hardware store, or you can check online.
Another option is to attach grippers to the four corners of the cushion and secure them to the bench seat. You can also use double-sided tape in the place of these grippers, but it might look a little messy.
Whether you use furniture grippers or anti-slip mats, you will find that your cushions are more secure on your bench.
FAQS – How to Keep Outdoor Cushions from Sliding
Can You Leave Outdoor Furniture Cushions Outside
?
Yes, you can leave outdoor furniture cushions outside, but this shouldn't be done all the time as it can shorten their lifespan. While you can enhance their water resistance with a weather-resistant finish, it is best to store them indoors when not in use.
What is the loop for on patio cushions
?
The strips of hook and loop attached or sewn to the corners of patio cushions help to keep them from sliding out of place or looking disorganized.
Can you attach outdoor chair cushions with velcro straps?
Yes, you can attach outdoor cushions with Velcro straps. This is commonly used for cushions that do not come with ties. Holding outdoor cushions with velcro straps helps to keep them in place, so they don't slide or fly away.
Are outdoor cushions waterproof?
Outdoor cushions can be waterproof, depending on the material they are made from. A good example is a stiff, less porous fabric like an oilcloth. In reality, most outdoor cushions are made of a softer material such as polypropylene or polyethylene. These cushions are not waterproof but provide a certain degree of water resistance.
Conclusion
There you have it – how to keep cushions from sliding off chairs.
These are arguably the most workable ways of how to keep cushions on outdoor furniture. They are all simple DIY solutions, though you may need to purchase a few times.
Feel free to apply one or more of them as you deem fit. They are all effective and will hold your cushions in place.
Nothing beats a cushion that is secured; it will save you from stress and ensure your cushions really serve their purpose, which is to correct hard surfaces and provide comfort.