Last updated on October 12th, 2022
Whether you have noticed a few signs of wear on your outdoor steps or you simply want to spruce up your outdoor space, one crucial project is finding the right paint for the job. To simplify this task for you, let's look at what paint to use on outdoor steps. 
The best paint for the outdoor steps project is semi-gloss paint. It is the most widely used paint for stairs because it dries to a more rigid, damage-resistant finish. The paint is durable and has more luster making it easy to clean. While at it, make sure to go with semi-gloss paint that is 100 percent acrylic or acrylic-latex. Either of these will give you the highest quality paint that is sure to withstand the weather elements and high traffic characteristics of the outdoor stairs.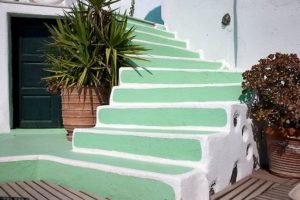 While acrylic-latex blends compare to pure acrylic paints in terms of results, the former is more applicable for concrete than wooden outdoor steps. If you have wooden steps, 100 percent acrylic paint is what will give you the best results. 
Enamel and oil-based paints do not give when they cure. Using them is almost sure to result in cracking in your paint surface as the wood expands and contracts due to humidity and temperature fluctuations. 
Naturally, latex paints never fully cure. They, therefore, have more give that would accommodate the expanding and contracting wooden stairs. But you don't want to go for 100 percent latex because this won't stand up to the heavy traffic. 
Acrylic paints are made of plastic polymers, just like latex paints. They are therefore equally flexible, only better because they are much more durable. 
You'll be happy to know that acrylic paints are resistant to mildew. Acrylic latex resin paints expand and contract with changing temperatures and work well for heavy rains. They also take considerably less time to dry compared to oil-based paints. This should make your paint job a bit easier in cold weather. 
Why paint outdoor steps
Changing weather elements such as the sun, rain, and snow can have a severe toll on your exterior staircases. So, painting your outdoor steps is a quick and cost-effective way to up the curb appeal of your home. A good choice of outdoor paint can go a long way in mitigating the effects of these potentially damaging weather elements. 
Protection from rot and infestation
Whether the outdoor steps are new or old, wood or concrete, painting can provide the much-needed prevention of rot and infestation from molds and mildews.
Quality outdoor paints are designed to seal off the surface and prevent water damage, splintering, or sun damage. 
For wooden steps, the protective coat of paint helps ward off infesting pests and moisture. Pest infestation is associated with wood rot that can quickly cause the wood to deteriorate, leading to irreversible damage to your outdoor steps. 
Moisture seeping into your wooden steps would be just as damaging. It causes problems such as mold and mildew, and wood rot, all of which are costly to resolve. As such, painting is a prudent way to keep all these from happening to your wooden steps.  
Unpainted outdoor steps can quickly become unsightly with the high traffic. It is even worse for wooden steps that absorb moisture. The harmful sun rays may also discolor the outdoor steps with time. Without that protection from weather elements, the boards will likely warp, crack, or even twist without warning. 
A fresh coat of paint is a great way to enhance the appearance of your outdoor steps and ensure it continues to look as good as new. 
For weathered or aged outdoor steps, the right layer(s) of paint will effectively mask the flaws in your wooden or concrete steps, making painting a great option for steps that have seen their better days. The fresh coat of paint should do a great job restoring your old steps to a like-new condition.
Factors to consider when choosing paint for outdoor steps
When shopping for the best outdoor paints, you definitely like to make the right choice the first time. So here are a few pointers to tell you what paint to use on outdoor steps.  
Consider reputable brands
Admittedly, reputation may also mean that the paint is going to cost more than the rest. But price should not be a bummer for you. While the product may cost more money upfront, it will stay on for much longer than a cheaper option would. This means you won't have to worry about painting again for a long time, saving you money and time in the long run.
A cheaper option would mean you have to repaint every so often. This kind of thing can become very costly in the long run. 
A quick way to identify quality from the pack? Select a reputable brand when shopping for outdoor paint. It is essential to work with brands known for delivering quality rather than run with something that is not tried and tested yet. 
KILZ.

This American brand has been in the market since 1974. The company is famous for its superior quality outdoor paints such as the KILZ Interior and Exterior Latex Floor Paint, an all-purpose paint ideal for outdoor application such as painting patio, outdoor steps, and decks. 

Rust-Oleum.

Rust-Oleum is known for its rust- and water-resistant range of paints which they have been providing for nearly a century. Their paints are trusted for just about any outdoor application – both in commercial and residential setups.   

Sherwin-Williams.

This company is top-rated in terms of customer satisfaction and affordable, top-quality paints. 

Benjamin Moore.

Of these four brands, Benjamin Moore has the most years in the market, at well over a century old. This leading paint company is the manufacturer of some of the very best paints for asphalt, tile, wood, and metal surfaces. If you want the best outdoor paint, Benjamin Moore has it all. 
As already mentioned, choosing a better quality paint means that you'll paint fewer times than when you use lousy paint. With the improvements in paint technology, you can be sure that good quality paint will last for years before showing any signs of deterioration.
A cheaper paint brand will save you money upfront, but you will definitely pay more in the long run. 
When you have your paint and primer separately, it means you must wait for the primer to dry before applying the paint. But having the primer and paint together means that your paint job is simplified—no waiting for the primer to dry. Once you have chosen your desired paint color, you are good to go. 
The richness of your paint color
Some colors are richer than others. By a richer paint color, I mean the kind of paint whose color will remain vibrant for years down the line.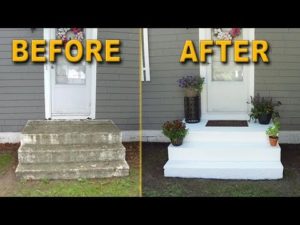 This is the part where you can take advantage of technology and professional advice. Once you have decided how to match up your colors, you can always bring in a sample of the permanent materials in your home to the paint shop for computer color matching. 
Today, software applications will help you choose an initial color then recommend options for matching or coordinating colors. Such software should simplify your choices.  
Your overall color palette 
The color of your exterior walls, railings, roofing shingles or roofing, pathways, driveways, and just the overall hardscape will determine your color choice for the outdoor steps. 
Do you want to match them up or go a different way? Whichever direction you choose to go, keep in mind that the choice should help tie in each element in an attractive, even fascinating way. 
Keep in mind that the permanent materials in your home are there to stay and will 'have a say in how you choose to paint your outdoor steps. The existing brickwork, patio, stone foundation, all these things will play a part in influencing your choice of paint for the stairs. 
If your outdoor steps are concrete, you may want to look for paint with the kind of texture that will add traction to your steps. Concrete can be pretty slippery. Slippery surfaces are prone to skidding and falling. 
When going to shop for paint for your outdoor concrete steps, look for the anti-slip property. You will be grateful for the amount of traction it adds to your stairs, keeping your family safe. 
This gritty, non-slip texture becomes much more vital if you live in a rainy area. Wet surfaces can be quite slippery. However, an anti-slip paint can ensure there is more traction to that surface regardless of the season. 
What Paint To Use on Outdoor Steps – the types?
First and foremost, outdoor concrete steps are outside. That means the choice of paint must be weather resistant. Over and above that, concrete steps tend to be slippery, so skid-resistant paint should be at the top of your list of products to choose from. 
1. FIXALL Skid Grip Anti-Slip Paint 
FIXALL is a 100 percent acrylic paint with skid-resistant properties. This acrylic textured anti-slip paint is designed to turn any surface into a skid-resistant surface – just what you need for your outdoor concrete steps. 
The coating is durable, ideal for outdoor use, particularly the high traffic outdoor steps where durability is a premium. 
The high-grip finish helps prevent falls. This equals added safety for your family and friends who will be using the stairs.  
Not to mention that the paint is designed to adhere to most surfaces in both commercial and residential setups. This provides the assurance that FIXALL skid grip anti-slip paint will adhere to your concrete steps and provide aesthetic beauty and safety for years to come.  
Talking of aesthetics, you'll be happy to know that the paint is available in multiple colors. As the manufacturer puts it, you shouldn't let the textured surface become an eyesore. Instead, choose from a wide variety of colors, including Camel, Crimson, Cobalt, Emerald, Plain, Jet, and Slate. 
2. INSL-X Sure Step Acrylic Anti-Slip Coating Paint
This water-based paint from Benjamin Moore offers the best grip you can wish for. The paint is specifically designed to eliminate slipping and skidding, making it great for making your outdoor steps safer. 
It also helps eliminate ponding water, which can usually lead to skidding. If you live in a place that experiences heavy precipitation, then this is the ideal paint for you. It will be sure to make your steps safer in all seasons. 
It is formulated to resist scratching and peeling from everyday use. 
This anti-slip paint comes in more than six (6) colorful variations, so you can be sure to get a color option that works for you. 
It is important to note that the INSL-X multi-purpose paint is designed for concrete, metal, and wood. Because it is compatible with concrete surfaces, it is an ideal choice for your outdoor concrete steps.  
3. Rust-Oleum EpoxyShield professional floor coating kit
Here is a urethane-based epoxy coating from one of the industry-leading players, Rust-Oleum, that is guaranteed to get the job done perfectly. The EpoxyShield was originally designed for use on garage floors. 
Because of the product's superior adherence to concrete surfaces, people now commonly use it on their driveways and other outdoor concrete surfaces. I couldn't imagine a better coat for your outdoor concrete steps. 
The superior quality comes with an equally hefty price tag attached. A kit with enough paint to cover 300 to 400 square feet will set you back at least $116. That's no small amount of money, but the value will be worth it. 
This paint has the most superior durability against weather, wear and tear and can withstand the most adverse abuse. It also gives you the option to add decorative flakes, which would only improve the traction further. 
4. Floor -Tex 40 Textured Concrete Coating
With an Amazon rating of 4.9 out of a possible maximum of 5, you can tell that this product delivers value for every penny. 
If your outdoor steps have sustained a few imperfections over time, this custom color paint is the ideal choice for you. It is king at hiding imperfections, discolorations, and stains in your concrete steps and any other concrete surface that you would want to use it on. 
More importantly, this decorative paint offers a non-slip finish. It creates the much-needed traction that helps make your outdoor steps safer to walk on.
Because the Floor -Tex 40 Textured Concrete Coating is acrylic paint, it provides a durable finish that prevents the growth of molds and mildew. It also safeguards your outdoor steps from damage that oil and grease stains may cause.  
A single coat will appear sufficient, but the manufacturer recommends using a double coat for enhanced protection. You'll need only one pail to cover a 300 square feet space with a double coat of this superior surface cover. 
Do I have to sand my stairs before painting?
You will need to sand your outdoor stairs before you apply any fresh paint to them. Be sure to remove any old paint from the surface to prime it for the new color. It is recommended for a relatively rough surface to use 80-grit sandpaper to even it out first, then make it smooth with regular fine sandpaper.
For wooden steps, be sure to use a suitable detergent to clean the wood down. Rinse it well to remove all soap residue before you let it dry in readiness for painting. 
All this is very important if you want your paint job to give the best results. The surface that you're painting needs to be clean and dust-free. Whether they are wooden or concrete steps, be sure to use regular soap and water to wash them down. Then allow them to dry before you start painting. 
Maintenance tips for painted outdoor stairs
Outdoor steps are a high-traffic area that takes more abuse than just about any other flooring surface in the house. When painted, the need for a particular kind of upkeep for the stairs just doubles. 
Here are a few things to do to ensure your painted steps retain their aesthetics for the longest time possible: 
Use a soft broom every time you sweep the stairs to avoid unnecessary scratching. 

Soak up and dry any wet footprints or spills as soon as they occur or as soon as you notice them, so the water does not stand on the painted surface.

Do not drag any objects such as chairs on the painted area. Lift them instead. 
Conclusion
A good paint job will enhance the beauty of any outdoor space. The job, however, does not end there. 
Once you have diligently followed through with the process of selecting the best paint for your outdoor steps, bought the right product, and painted your stairs, ensure you take good care of them. This is a sure way to ensure that you are happy with your painted steps for the longest time as desired.