Last updated on February 1st, 2022
New eucalyptus wood has a beautiful reddish-brown color that weathers to a grey patina when left outdoors for a while. If you love this reddish-brown color, it is essential to know how to restore eucalyptus outdoor furniture to this original color when it greys. 
To restore your eucalyptus outdoor furniture, start by sanding it down to remove the weathered outer layer. Next, clean it, oil it, and coat it with a protective finish such as varnish or oil-based polyurethane to make it look good as new.
Why use eucalyptus for outdoor furniture
When choosing furniture for outdoor use, you must consider its resilience and ability to weather outside adverse conditions. Eucalyptus is one such wood that will hold well against the damaging elements outside. 
Here are some reasons you may want to consider eucalyptus for your outdoor furniture. 
Eucalyptus is a tropical hardwood that ranks very close to teak in durability. It is pretty resilient and will last up to 25 years in your outdoor environment. This is such a long time; you could pass the furniture down a generation. 
Thanks to the wood's robust nature, outdoor furniture made of eucalyptus will not break easily. They have the resilience to withstand the rough and regular activity expected in the outdoor living space.  
While eucalyptus and teak are nearly the same in terms of durability and physical characteristics, teak is way more expensive. You can get eucalyptus outdoor furniture at a fraction of the price of equivalent teak outdoor furniture. 
This makes eucalyptus a far more affordable option. It is not a surprise that many teak fans frequently flock to eucalyptus furniture stores to furnish their decks and patios. 
Eucalyptus is resistant to rot and decay.  
One of the reasons eucalyptus outdoor furniture can last for so many years is its ability to resist moisture and other weather elements. 
The wood is laden with protective oils in its structure that make it repel moisture. This characteristic gives it antimicrobial and antifungal properties, making it inherently resistant to rot and decay. 
Your eucalyptus garden furniture will also resist garden pests while weathering harsh weather conditions. 
So, while the furniture will experience discoloration over time from prolonged exposure to the elements, it will repel moisture and water and remain sound for several years to come. Eucalyptus outdoor furniture will not warp and can prove cost-effective and an excellent investment to any homeowner.
The furniture is easy to maintain 
Furniture made from eucalyptus requires little maintenance, especially if you are partial to its weathered grey color. 
One of the ways to keep the furniture from greying is to sand and oil it from time to time. But being a fan of the grey color takes the sanding out of the equation. To keep it clean, all you have to do for maintenance is dust and wipe dirt off its surface as often as possible.
Other than that, it will resist and withstand moisture and water, meaning you do not have to worry about bringing it indoors anytime the clouds begin to gather. 
Eucalyptus is sustainable 
Because the wood is fast-growing and renewable, you can count on its steady supply. Unlike teak that grows slowly and can drop in supply in the market, you can be sure you will get your eucalyptus outdoor furniture when you need it. 
They are also eco-friendly due to their renewable nature. A eucalyptus tree is typically ready for harvesting as soon as it reaches maturity. 
Once the trunk is felled, new growths erupt from the stump, ensuring continuous growth and eliminating the need for fresh planting.  
Why does eucalyptus outdoor furniture turn gray?
Eucalyptus outdoor furniture slowly turns gray over time as it loses its inherent protective oils from the outside in.
The wood naturally contains a lot of protective oils that give it its moisture and water-resisting properties. But with prolonged exposure to the elements outside, the wood will gradually dry out and lose these oils to evaporation. 
Over time, the reddish-brown color of the eucalyptus wood will disappear as the wood turns silvery. The silvery color is essentially on the outermost layer of the wood, where the oils evaporate first. 
You can still sand and oil the wood to restore it to its reddish-brown tint. If you were wondering how to restore eucalyptus outdoor furniture, then you have your answer right here. 
Notice that the slow but steady color change of eucalyptus wood from reddish-brown to a silvery patina is natural and unavoidable. But with frequent oiling and proper maintenance, you can still maintain the reddish-brown color from fading and extend your furniture's lifespan. 
How to restore eucalyptus outdoor furniture – 4 steps
You likely already know that eucalyptus is a leading choice in outdoor furniture. One of its most appealing features is the beautiful reddish-brown color. 
But, like any wood, eucalyptus eventually fades to grey while accumulated dust and dirt can cause significant discoloration on the furniture. It is usually not the end of the road for your beloved outdoor chair or table when this happens. 
As long as you know how to restore eucalyptus outdoor furniture, you can return its former glory and continue to enjoy using it.
This section walks you through the process of restoring your eucalyptus outdoor furniture step by step. 
The supplies you will need for this process.  
Before you get the ball rolling on this task, you will need to put together the needed tools and materials. Here is a list of the things you will need. 
An orbital sander

Protective hand gloves

Safety face mask 

150 grit sandpaper

80 grit sanding discs

Microfiber cleaning cloth or rag 

Tarp 

Scrub pad

Teak oil or teak sealer
Steps to follow 
Here is how to get this job done step by step. 
Step 1: Prepare your workspace. 
You will likely be working outside since you are restoring an outdoor piece of furniture anyway. The first thing to do is to put all the items you will need within reach. More importantly, spread a drop cloth to cover the ground under where you will work.
You don't want to mess up your lawn or patio by getting the sanding dust all over it. So start by covering that surface with a drop cloth to protect it. The tarp will collect the sanding dust, from where you can quickly dispose of it. 
Also, wear your protective face mask and hand gloves before you start sanding. You should not approach the task without protection and risk inhaling the sanding dust. 
Step 2: Sand away the weathered exterior 
Begin the task by getting rid of the weathered outermost layer of your furniture. Often, this layer will have the discoloration that your furniture has weathered over the years from accumulated dust and dirt. 
If you had been taking good care of the furniture, it would likely have the silvery patina but little discoloration.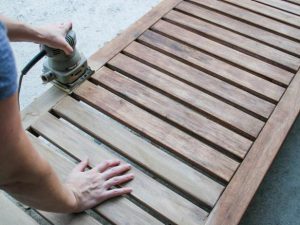 Start by sanding this off the wood surface. Whether you want to oil, stain, varnish, or paint the furniture, sanding will provide you with the much-needed clean slate to work with. 
Be careful not to sand too deep into the wood. Feather it gently with your random orbital sander and 80-grit sanding discs, keeping the pressure evenly across the entire surface. Ideally, you should get about a millimeter deep or so of the tired-looking exterior. 
Once you have covered the entire surface with the 80-grit sander, switch to sanding by hand using 150-grit sandpaper. 
The handheld sandpaper should allow you to cover those nooks and crannies that the electric sander may not reach. When you are done with this, the wood surface should be nice and smooth to the touch.
This nice and smooth surface is ready for clear-coating, staining, or painting. But first, there is some cleaning to do. 
Step 3: Clean the sanded surface 
Use a microfiber cloth to wipe out all the sanding dust from your eucalyptus outdoor furniture. 
You could also use a blower or hair dryer on a low heat setting to blow out any dust trapped in the crevices. 
Once you have cleaned the dust off the furniture, proceed to vacuum up the sanding dust on the tarp around the table or chair. You want to ensure the dust does not risk adhering to furniture after you refinish or stain it.
Since the sanding has already exposed the bare wood and left it clean, thorough detergent cleaning is not necessary. 
At this point, you could proceed to the next step once you have vacuumed the sanding dust from the drop cloth. 
Alternatively, you may dunk a tack cloth in mineral spirits and use it to wipe the furniture clean. If you opt for this final cleaning, ensure you let the furniture dry completely before refinishing it. You will know it is dry when it will have returned to its original color.
Step 4: Treat the wood to protect it
Even though eucalyptus is significantly weather resistant, it is just not weatherproof. Without a protective coat on its surface, it can quickly deteriorate when exposed to the harsh elements outside. Also, you want to treat it to make it easier to maintain. 
You can choose to stain it, clear coat it, or varnish it—whatever works best for you. However, if you wish to restore its color and give it a reddish-brown tint again, it is best to oil it.
Oiling your furniture 
Most experts recommend teak oil for this purpose, even though we find that not all teak oil is the same. 
For the best results on your eucalyptus furniture, consider the Starbrite Premium Golden Teak Oil. It tends to do a great job restoring the color and an even greater job maintaining it afterward. 
Staining your furniture 
It is not a brilliant idea to stain eucalyptus outdoor furniture with your regular wood stain. The wood is high density, making it less porous and an unsuitable candidate for staining. 
Also, it is loaded with natural resin inside it. The natural oils in eucalyptus wood occupy the pores that wood stain needs to occupy after staining. 
Nonetheless, if you must stain your eucalyptus furniture, ensure you use a high-quality natural-bristle paintbrush to apply the product. 
Also, choose a penetrating stain that will likely have a better shot at penetrating the wood's grain. And don't forget to wipe out the excess stain with a microfiber rag.
For outdoor furniture, we highly recommend a stain with varnish or sealing agents included in its chemical formula. 
Otherwise, if you stain the furniture with a product that does not include a sealer in its formula, your next and final step is to apply a clear coat of sealer. This should make the wood impervious to moisture by sealing its surface. 
You can use a wood varnish or oil-based polyurethane; choose what you prefer for your furniture. Here are some facts to guide you. 
Most wood varnish types leave a light amber tint on your wood surface upon curing. Varnish is essentially robust and will make your wood surface scratch-resistant, moisture, and water-resistant. 
It is also more durable than most other finishes, including polyurethane. The only downside of varnish is probably the amount of work involved in applying it; you may need a minimum of six thin layers to achieve that optimum efficiency.
That takes quite a bit of time to apply and dry. 
Polyurethane pros and cons 
This liquid plastic-like product is the other most popular finish for outdoor furniture. It forms a hard protective coat on the surface of the wood when dry. 
Like varnish, polyurethane makes a wood surface waterproof and scratch-resistant. Surfaces with a polyurethane coating are also resistant to chipping and cracking and hold well against occasional spills.
Polyurethane finishes come in oil-based and water-based varieties, but oil-based varieties are the recommended choice for outdoor applications. 
The biggest advantage of oil-based polyurethane over wood varnish is that it requires only one to two layers to protect the wood surface fully.
As a limitation, oil-based polyurethane will take relatively longer to dry and leaves an amber shade on your wood surface when dry. 
Can you leave eucalyptus furniture outdoors?
Absolutely! Eucalyptus wood is inherently resistant to moisture and water and will hold well against harsh weather elements. Thanks to the wood's high protective oil content, it will not rot or decay even when subjected to damp conditions. 
With these considerations in mind, you should comfortably leave your eucalyptus furniture outdoors without a problem. 
Does eucalyptus wood need to be treated?
Yes. While eucalyptus has significant resilience and resistance to harsh weather elements, it is not completely weatherproof. 
Leaving your untreated eucalyptus wood furniture outdoors will lead to faster deterioration which could be prevented when you treat the wood with a suitable protective finish.
What is the best stain finish for eucalyptus outdoor furniture?
The best stain finish for eucalyptus outdoor furniture is one with wood varnish or sealing agents included in its chemical formula. Eucalyptus is highly dense and will not work too well with regular wood stain. 
What is the best oil for eucalyptus outdoor furniture?
The best oil for eucalyptus outdoor furniture is a penetrating oil such as Tung oil, linseed oil, or Danish oil. Even better, you could use Teak oil that is often derived from Tung oil or linseed oil and does a better job at penetrating the eucalyptus wood and restoring its color.  
Eucalyptus outdoor furniture care tips
Knowing how to restore eucalyptus outdoor furniture is not enough if you are going to let it wane soon after. So here are a few essential care tips to help you maintain your eucalyptus outdoor furniture. 
Protect it.

Clear coating or varnishing your furniture makes it more resistant to water, moisture, UV light, scratches, and staining from spills. This is a great way to extend the lifespan of your furniture.  

Clean it regularly

. Removing animal droppings, spills, and food particles from your eucalyptus chair or table as soon as they occur will prevent them from discoloring it.

Cover it when not in use

. Since it is not always practical to bring your outdoor furniture in whenever you don't use it for long, you can use protective covers to shield them from dirt and other weather elements like rain and the sun.

Keep the furniture from direct sunlight

. The sun's UV light can be quite damaging to any furniture. It will cause your eucalyptus outdoor piece to turn grey quickly, but you can slow this process by keeping the furniture out of direct sunlight.
So, how do you restore eucalyptus outdoor furniture? 
If you just bought a set of eucalyptus outdoor furniture at a throwaway price or have some that have seen their better days in your home, you can help restore their lost glory. 
Start by sanding them down to remove the weathered exterior. Next, wipe the sanding dust, clean up the furniture, stain them or treat them with wood varnish or oil-based polyurethane finish.