Having a patio with outdoor furniture is part of homeownership, and it isn't just for the sake of having a beautiful backyard. The main purpose of patio furniture is to extend the comfort and function of your living room into the outdoor space. But the problem with most outdoor furniture nowadays is that their designs are massively produced and the materials used in making them degrade in a few years.
So what should you do to own an outdoor furnishing that's unique, stylish, and would last for more than a lifetime? The answer is simple: Look for vintage Woodard patio furniture. You might haven't heard of this furniture style yet. Don't worry. We'll discuss how to identify vintage Woodard patio furniture so you'll know the right product during your furniture-searching endeavors.
We'll also share where to buy vintage wrought iron furniture made by the second and third-generation members of the Woodard family. But first, you must learn the history behind the Woodard family name and what made their creations so popular and highly in demand even to this day.
What is Vintage Woodard Patio Furniture?
To understand this type of patio furniture, you first need to know its history and the name Russell Woodard. So who is Russell Woodard? He was a furniture designer who focused on Mid Century Modern Movement. He came from a family of furniture makers. But it was his name that became synonymous with wrought iron patio furniture.
Lyman I, their grandfather, was the first in the furniture industry as in 1866-1867, he bought a lumber-planing mill in Owosso, Michigan. Along with his three other siblings, they created Woodard Brothers – a company focused on making pine-box caskets, blinds, window and door sashes, and wood furniture.
After Lyman Woodard died, his son Lee, the father of Russell, Lyman II, and Joseph, took over the company. But in 1938, the latter four started Woodard and Sons – another furniture business. This time, they would be focusing on using metal due to the scarcity of Michigan pine, hardwood, and the Great Depression of 1934.
Lee pioneered the idea of using wrought iron for outdoor furniture-making. He, along with Russell, designed most, if not all, of the wrought iron furniture the Woodard and Sons created at the time, and they received national recognition for it.
Russell, Lyman II, and Joseph were the ones that made Woodard and Son's wrought iron furniture popular on both the national and international stages. Despite being a vintage concept with its pioneer and marketers long gone from this world, Woodard patio furniture is still being made. It continues to be well-known in the home improvement and outdoor furniture industry.
The Woodard family name has been tied to craftsmanship and furniture-making since the 19th century. They are highly experienced and trusted in the industry. As a result, their wrought-iron line of furniture, especially the ones designed by Lee and Russell Woodard, became more than just outdoor chairs and tables. Nowadays, they're considered vintage and timeless art by furniture collectors and homeowners.
Why is Vintage Woodard Patio Furniture Highly Sought After?
Like other types of vintage furniture, Woodard patio styles are sought out for their rarity and durability. But what makes Woodard's creations stand out are their unique designs and high-quality manufacturing practices. It is also said that the metals used in Woodard outdoor furniture have been molded using special metal mixings that don't rust easily with age or when weathered.
You may pay a wrought iron furniture maker to produce one set for your patio. But they are less likely to deliver a style that's the same or similar to Lee Woodard's design vision. Let alone a durable set that would still look new for the years to come.
How to Identify Vintage Woodard Patio Furniture
Because wrought iron furniture made by the Woodards are rare, you won't recognize one unless you know the usual markings. To answer the question, How can I identify vintage Woodard patio furniture? Keep on reading.
1. It's made of metal
Woodard Brothers started making furniture using metals in 1934 – a year after the Great Depression. But it was Woodard and Sons who focused on making patio furniture using wrought iron. At the time, hardwood and pine were already popular. But the materials were scarce and expensive.
Lee Woodard and his sons had to make do with what was highly available and affordable. As a result, all the outdoor furniture they made from 1938 to 2013 came from wrought irons.
2013 was when Woodard acquired WhiteCraft – an outdoor furniture specialist that emphasized using rattan. Putting things simply, all vintage patio furniture made by the second and third-generation Woodards are made of metal.
2. Attached paper labels
The oldest wrought iron furniture, or the ones designed by Lee and Russell, had paper labels glued to the underframe of the cushions. Sometimes the sticker indicates "Woodard." Other times they are very detailed with the factory photo, handwritten name of the owner, their address, set number, and finishing color.
3. Welded metal labels
On wrought iron furniture made after World War 2, the Woodards ditched paper labels as manufacturing marks when they realized those could easily be damaged by weather or time. Instead, they welded small metal sheets with the name "Woodard" engraved to their furniture's seat frames or angle bars.
4. Embossed names in frames
As time passed, the Woodards realized that the welded metal labels weren't subtle manufacturing marks to look at. They then embossed their brand names into the frames that hold the cushions in place. If you don't know where that is, look under the chair, and you'd usually find a "Woodard" marking somewhere along the crevices.
5. Build quality
The Woodards take pride in their work as high-quality wrought iron furniture manufacturers. You will never see a metal rod bent differently, welded without following accurate spacing, or any sign that the tables and chairs were made in a hurry.
Each piece is an art, and just by touching and looking at the product, you can say that Woodard employees assembled it with passion and perfection in mind.
6. Style
Lee Woodard and his son Russell had different design visions. While Lee created chair designs with more flat metal bar components and Russell made net-looking weaves on chairs out of thin rod wires, they all agreed that Woodard patio furniture must be easy to maintain and artistic.
At first glance, you'll immediately notice that Woodard patio furniture cannot collect rainwater or leaves, and they're all handcrafted. Their designs are so intricate that it's impossible to imagine machines did most of the work while manufacturing them.
7. Rust
It may sound discouraging, but there is no other way to know that a Woodard patio furniture set is vintage unless it has some rust. We're not talking about a level of rust that would classify the furniture as junk. We mean that the rust is visible but would also make you say, "This one got weathered for 20 years and held itself pretty well."
How is Vintage Woodard Patio Furniture Made?
The Woodard outdoor furniture set designer sends a list of metal components they need to their iron production branch. Each part has specific forge types and measurements such as bend angle, length, thickness, and metallic composition.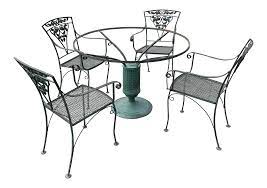 When the order is fulfilled, components are delivered to the assembly branch, where all pieces are welded together by Woodard factory employees. Each furniture piece is carefully inspected.
Once a part passes quality control, it will be moved to the painting area.
The wrought iron is first coated with a primer. After the primer has dried, the furniture gets spray painted and cured.
Sometimes, the furnishings undergo multiple spray painting and curing processes to ensure that they can be left outdoors and last for years without rusting.
Once the final curing process is done, the furniture sets are displayed in a furniture gallery or sent to the households that ordered them.
Where is Vintage Woodard Patio Furniture made?
Since 1867, the Woodards never moved their wrought iron furniture factories out of Owosso, Michigan. Although they opened manufacturing facilities in North Carolina and California, the vintage collections were made in Owosso.
Where to Look for Vintage Woodard Wrought Iron Furniture?
Once you know how to identify vintage Woodard patio furniture, the best place to look for them is online. There are plenty of Woodard furniture sold on eBay. But you can never find vintage collections in furniture galleries or home improvement stores.
The ones you'll find are recently-made. You'd be lucky to visit a home with Woodard patio furniture that has an owner looking to sell their set.
Facebook marketplace and furniture groups on social media are also a great way to find interested Woodard wrought iron furniture sellers. However, don't expect any immediate responses as only a few genuine owners recognize or remember that the Woodard company made their patio furniture sets.
3 Tips to Save Money When Buying Vintage Woodard Patio Furniture
1. Haggle
Because vintage Woodard wrought iron garden furniture are aged items, they are only sold by owners and collectors. If you want to get a discount when buying a set, you'll need to haggle or negotiate well. Don't know how to bargain effectively?
Start by finding some flaws in the item. For example, if you see rust on the vintage patio furniture, don't hesitate to ask for a lower selling price because of the additional costs to restore the chair or table.
2. Barter
The best way to save money when buying something is not to use cash, which is only possible through a swap. Find something of equal value from your possession that the Woodard furniture owner is interested in or is actively looking for. This item must have low or no significant value to you.
3. Why not both?
Compared to bartering, haggling isn't an encouraging way of getting a discount from a seller. This is why you should do both to sweeten the deal as a last resort. For example, if the seller won't settle for a $100 markdown, then include something else of similar value that you no longer need.
Never underestimate the power of haggle-bartering. Some don't know they need an item until they see it.
FAQs
What makes vintage Woodard patio furniture so special?
Wrought iron patio furnishings made by Woodard older than 20 years aren't like anything one sees in vintage furniture collections. Their designs are unique. The build qualities are very durable. All measurements are strictly followed. And the materials used in the wrought irons don't rust easily.
Where can I buy vintage Woodard wrought iron patio furniture?
Currently, eBay is the only online platform where you can find authentic vintage Woodard wrought iron furniture. However, you can join furniture-related social media pages or post a listing on marketplaces to look for people interested in selling their Woodard wrought iron garden furniture sets.
How much does a vintage Woodard furniture typically cost?
The price for a set of vintage Woodard furniture varies a lot. Some cost around $1,000 and upward, and others are usually in the $400 to $900 price range. But there are some listings on eBay that start at $275. It all comes down to how old the furniture set is and how eager the owner is in selling it.
Is it worth owning vintage wrought iron furniture?
Yes, it is, especially if you're looking to resell your set for profit after many years. But we wouldn't recommend that. Vintage Woodard collections are designed timelessly, durable, rare, and should be kept as a family heirloom.
At what age does furniture become vintage?
A set of furniture becomes a vintage once it gets past the 20-year mark without severe damage or rust after being purchased from the manufacturer. This 20-year milestone is one of the tips on how to identify vintage Woodard patio furniture.
Conclusion
Vintage Woodard wrought iron furniture is a great addition to your backyard patio. It's handmade by a coveted patio furniture company that stood tough against the tests of nature and time. Not only is Woodard furniture durable, but each set of collections is designed beautifully while not compromising on comfort, function, and ease of maintenance.
Get your Woodard furniture today by visiting eBay or posting a "Looking For" on social media. Then be prepared to negotiate so you can get a discount. But remember always to check the old and handmade furniture in person first, and find the manufacturing marks to ensure that what you're about to buy is an authentic vintage from Woodard.