Outdoor cushions are generally believed to be water-resistant but not waterproof. And being exposed to the elements means they can lose their water-repelling qualities over time. One of the best ways to save them from damage is to apply a waterproof spray.
Sadly, not all waterproof sprays are created equal. While some are very potent, others are not as effective as they claim to be. For the best results, you must choose a spray that is designed for your particular fabric, which in this case, is your outdoor cushions.
In this article, we will look at ten of the best waterproof spray for outdoor cushions in 2022. These products not only repel water on patio cushions but also do so without damaging the fabric. In fact, some of them also offer UV protection, thus maintaining the pristine look of your cushions.
But before we delve into the review, let's find out what a waterproof spray is and why you shouldn't do without it as far as outdoor cushions are concerned.
What is a Waterproof Spray?
As the name suggests, a waterproof spray is a spray used to create a barrier on the surface of objects to repel water from the surface. In other words, the spray helps to keep your cushions dry by making them water-resistant. Thus, it's commonly used to protect outdoor gear from the elements or replenish old items.
The market has a wide pool of fabric waterproofing spray with varying levels of protection for different types of surfaces and materials. So, before choosing any option, you need to consider the nature of the surface or material you wish to waterproof.
Besides protecting outdoor items from water damage, the best waterproof spray maintains breathability and doesn't lock condensed moisture in.
Many waterproof sprays will work for most types of outdoor gear and fabrics, including cushions, backpacks, clothing, pillows, boots, etc.
It's important to realize that waterproofing your patio cushions doesn't make them indestructible. The cushions can still get wet, especially during a torrential downpour in the wetter months.
Water sprays usually come in spray bottles and aerosol cans. Before using any product, make sure you check the manufacturer's instructions so you can use it in a way that won't harm your fabric.
Can you spray outdoor cushions?
Yes, you can spray cushions and other outdoor fabrics, in general, to protect them from bad weather and liquid spills. This includes cushions that come with waterproof coating and those that do not. In either case, a waterproof spray can add or reinforce the water repellency of the fabric.
Make sure you choose a spray specifically made for your cushion material; anything less might not give you the kind of result you want.
Also, don't use spray indoors or near open flames, as most waterproof sprayers are flammable.
Why Use waterproofing spray for outdoor cushions
Prevent Water and Bad Weather
The main reason for waterproofing patio cushions is to protect them from the rain.
Outdoor fabrics are frequently exposed to bad weather, liquid spills, pollen materials, and even harmful UV rays. By treating them, you will ensure they are safe all the time.
Protection from Stains
Besides providing comfort, outdoor cushions can also serve as ornamental objects. As a result, you want them to keep looking pristine.
However, as you continue to use them, they get exposed to a lot of stains ranging from accidental spills to surrounding dust and grime. Besides making the cushions look unsightly, these stains can ruin the fabric and decrease their useful life.
A waterproof spray can come in handy in such situations. When applied to cushions, it makes it difficult for stains and dirt to penetrate the fabric. So, using it is one of the best ways to keep your cushions looking new for a long time.
Increase Durability
When cushions don't get soiled or wet often, they tend to last longer. So, waterproofing your outdoor cushions will increase their durability and make them usable anytime.
Having said that, it's still recommended to bring the cushions indoors for storage or put them under a cover during the wetter months.
How to waterproof outdoor cushions with spray
Follow the steps below to waterproof your outdoor cushions.
Make Sure Cushions are Clean
Don't spray dirty or wet cushions, or else you will end up sealing in dirt lying on them. So, before waterproofing, wipe down the cushions if you notice any spot or stain on them. You can use a fabric cleaner or warm soapy water.
By removing dirt and grime, cleaning ensures the glue adheres well to the cushion. So, don't skip this step.
If you are dealing with new cushions, this step is probably unnecessary.
Make Sure Cushions are Dry
If you followed the cleaning step, your cushions are likely damp by now. In this case, you need to give them enough time to dry.
It's best to air dry cushions on a sunny day. Never waterproof a wet cushion except the product recommends it, or else the spray might not be effective.
Prepare Your Workspace.
The next thing you want to do is prepare the area you will be working in. Choose an open area with a lot of ventilation, especially if you're using aerosol glue with a strong smell.
The place should be located away from pets and plants, or else you can cover nearby plants with a tarp or newspaper. Some good choices of places to use are your driveway, patio, deck, etc.
We also recommend picking a mild day to work. Check the local weather forecast and make sure there's no rain.
Spray the Cushions
Now, you are ready to spray the cushions. Before anything, lay them out on the table or floor or wherever you choose. We recommend placing a newspaper or canvas underneath to avoid leaving any sticky residue.
Now, spray the cushions following the instructions on the product label. In most cases, this will involve holding the bottle at least 6 inches away and spraying the cushions evenly in a crisscross pattern until they are wet.
You can wipe off any excess spray with a damp cloth.
Dry the Cushions
Now, all you have to do is wait for the cushions to dry naturally. This can take anywhere between 6 to 48 hours or even more, depending on the weather and the spray you're using. In any case, we always advise allowing cushions to dry for at least a day before testing.
You can add a second coat or more if you want, but it should only be after the first coat has dried. The more coats you add, the more protection you will likely get.
Note: Before using any waterproof spray, remember always to give the bottle a good shake. 
Best Waterproof Spray for Outdoor Cushions
Here's a list of our top 10 waterproofing spray reviews.
1. Scotchgard Heavy Duty Water Shield
Scotchgard Outdoor Water Shield, Water Repellent Spray for Outdoor Gear and Patio Furniture, Fabric Spray for Protection Against the Elements, 10.5 oz, 2 cans
WATER REPELLENT SPRAY: Two Scotchgard Outdoor Water Shield Sprays, 10.5 oz cans, that protects fabrics against the elements
IDEAL FOR MANY OUTDOOR ITEMS: Water repellent spray is ideal for use on tents, outerwear, rain gear, umbrellas, patio furniture, outdoor gear, backpacks, luggage, canvas tarps, boat covers and more
SAFE FOR MANY FABRICS: Use this fabric spray on polyester, nylon, polypropylene, cotton, leather, suede and more
BREATHABLE: Water repellent spray does not impede fabric breathability
ODORLESS: Fabric spray dries odorless
To kick off the list, we have one of Scotchgard's best offerings for waterproofing outdoor cushions – the Heavy Duty Water Shield.
As the name implies, the product is formulated to protect fabrics from water damage. It creates a strong, durable shield that repels water and keeps items dry even while in storage.
Another thing we like about the spray is that it's easy to apply. It is packaged in an aerosol can.
Simply press the small top nozzle on the aerosol can to release a fine mist. Move your hands in a sweeping manner and keep the spray 6 to 8 inches away from the cushion. Let it dry for 2 to 6 hours before using it again. That's it!
One container can cover up to 60 square feet. This is if you're applying a single coat. So, if you're working on a lot of cushions, you will need to order more than one can.
While most waterproofing spray only works for liquid spills and little rain drizzled, Scotchgard can withstand harsher elements such as heavy rain and snow. It's not called "heavy-duty" for no reason. If you plan to use it this way, you will need to apply multiple coats of spray.
Also, you need to be consistent in reapplying the spray when it wears out.
Luckily, it dries to a non-visible finish, so there's no sign the material has been sprayed. It looks neither shiny nor dull; just the same look once completely dry, so you can't tell if anything has been done on the fabric.
The product is safe to use on various materials ranging from polypropylene and nylon to cotton and suede. Besides cushions, you can also use it on umbrellas, canvas tarps, backpacks, outerwear, boat covers, and patio furniture.
Pros
Heavy-duty protection
Versatile (safe for different materials)
Doesn't affect fabric breathability
Easy to apply
Suitable for harsher elements
Considerable coverage
Cons
Expensive
No (or not much) UV protection
Rust-Oleum is a household name, so it needs no introduction. The Shield H20 tops the list of their waterproof spray; this may also apply generally. It can be used for almost any outdoor fabric, including cushions.
The spray uses superhydrophobic technology to create an invisible coating that stops water from seeping into your fabric and causing damage.
In order words, the product is designed to ensure water beads up and runs off on your cushion instead of soaking in. This way, your cushions stay dry. However, the spray is temporary, just like other waterproofing sprays. It will eventually wear out, and your cushions may start absorbing water again. So, you need to reapply it again.
However, the spray is not to be used on interior carpet and upholstery.
There's no silicone in the product, making it safe to use.
To apply it, spray in a sweeping motion until damp, holding it 6-9 inches away from the cushions. Allow it to dry for at least 24 hours before using the cushions again or exposing it to water.
One bottle covers 20-60 square feet depending on the cushion material. You can get more bottles depending on the number of cushions you want to waterproof.
One good thing about the spray is that it doesn't change the look or feel of the cushion material. And once dry, it keeps your fabric dry for a long time without affecting the fabric's breathability.
Pros
Keeps your cushions breathable
Easy to apply (comes in a simple trigger spray)
Suitable for different surfaces
Provides superior coverage
Dries clear
Provides long-lasting protection
Cons
The smell is a bit strong
A bit pricey
The 303 Fabric Guard is a popular choice for patio umbrellas. But it can also be used on outdoor cushions. Luckily, it comes in various sizes, so you can find a spray for even the biggest cushion and furniture pieces.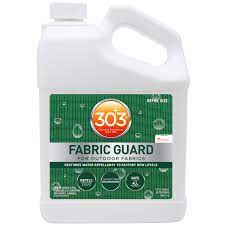 The two major highlights of the spray are its water repellency and stain resistance. If you have an old cushion that has lost its water repellency, Fabric Guard can help rejuvenate it. Once applied, it leaves behind a protective coating that provides an active defense against water and other liquid spills. It also shields the fabric from both oil and water-based stains.
In addition, the spray dries clear. It's practically invisible, and you won't tell the fabric has been treated. In other words, using this product will not alter the color or feel of your fabric. Likewise, it won't affect the breathability or flammability.
The product is best applied in a zigzag pattern, and it only requires a thin layer. Spray the cushions until they are evenly wet but don't oversaturate or apply too much on one spot. After spraying, wait at least six hours for them to dry. It might take 12-24 hours for them to cure completely.
Make sure you choose a warm, airy place outdoors to work. According to the manufacturers, weather not less than 70 degrees will be ideal. So, check the local weather forecast and pick the best time to work.
In terms of coverage, the 32 oz. bottle can cover around 80 to 150 square feet depending on the texture of the material and how you spray it. Compare this to Rust-Oleum; you will see that 303 is cheaper and more cost-effective.
Interestingly, the spray works on all fabric types. These include both natural and synthetic fibers.
Pros
Very versatile (safe for all fabrics)
Extensive coverage (cost-effective)
Easy to use
Leaves less troublesome bubbles than Rust-Oleum
Long shelf life
Prevents mold and mildew
Maintains fabric color
Cons
The scent is very strong
Doesn't have UV protectant
The Marine Fabric Guard is another high-performance product from 303 designed to keep fabrics safe from water and UV damage. It creates a protective layer that prevents oil- and water-based stains from taking hold on your cushions.
One of the main things we like about the spray is that it doesn't alter the natural color of fabrics. And these include items made of both natural and synthetic materials. So, if you're looking for a product that will keep your cushions looking new, you won't go wrong with this one.
The spray also maintains breathability while inhibiting mold and mildew growth. It doesn't affect the natural feel of the fabric.
We found the bottle very easy to use. It features a trigger sprayer which you can press to dispense the mist. To apply it on any surface, hold it 6-9 inches away and spray in a crisscross pattern. Spray until it's wet but don't oversaturate.
Then allow it to cure completely. This can take anywhere from 12 to 24 hours, depending on the weather. Once cured, the cushion should be water and stain repellent. Depending on how much exposure to water and sun the cushions get, you will need to reapply the product after some time.
For the best results, don't place the treated cushions in an area where they can get rained on or dew while still drying. Instead, place them where they are protected until curing is complete.
The coverage is the same as the previous product we reviewed. The 32 Oz. container can cover anywhere from 80 to 150 square feet.
Besides the 32 oz bottle, 303 is also available in 16 oz, 32 fl oz, and 128 fl oz. While some people might find it a bit expensive, we think it's well worth the extra cost.
Pros
Doesn't alter the color or feel of fabrics
Suitable for a wide variety of fabrics
Long shell life (up to two years)
Repels both water and oil-based stains
Comes in different sizes
Very easy to use
Cons
Might take up to a day to cure
Pricey
The Scotchgard Sun and Water Shield is an upgrade of the predecessor. Instead of just water-shedding, it offers both water, sun, and stain protection. So, if you are looking for the best waterproof spray for outdoor cushions all through the year, then the Sun and Water Shield will make a great choice.
The spray doesn't only work for patio cushions but can also be used on umbrellas, grill covers, tarps, spa covers, awnings, and even boat covers. It is equipped with a UV protector, which helps to minimize color fading.
It comes in an aerosol can, which makes it easy to use. To apply, just press the nozzle to release the mist on the surface of the material.
The coverage depends on the weight/density of the fabric. On light fabric, such as nylon, it can cover up to 60 square feet. But on heavier fabrics, it can cover around 20 square feet.
Another thing we like about the spray is that it dries odorless and doesn't affect the color of your fabric.
While a thin layer of spray will work in most cases, you can apply more coating if necessary. Like all other water seals, it's not a permanent solution. So feel free to reapply it after a period of time and wear it.
Overall, we are impressed with the quality of the spray and the ease of application. For its price, you may not find a better alternative!
Pros
Provides water and UV protection
Works for different materials
Dries odorless
Super easy to apply
Prevents fading and yellowing
Cons
Not suitable for indoor use
The Kiwi Camp Dry Heavy Duty Water Repellent is another top contender for the best waterproof spray for outdoor cushions. But it's not only limited to cushions and outdoor gear. It is also ideal for boat covers, boots, backpacks, tarps, tents, hunting apparel, and even leather.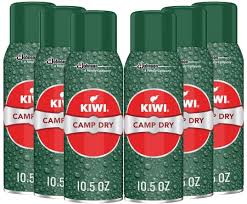 It offers long-lasting protection from water, spills, and stains and only requires you to apply a little for it to do its job.
You can apply a double coat for extra protection. In this case, give it four hours apart for the best result.
The product is a silicone-based waterproof spray and comes in an aerosol container. As a result, it's meant to be applied to dry items. So, don't use it on damp cushions, or else you may not get the kind of result you want.
Be careful not to inhale much vapor from the spray while using it. This is why you should work in a place with good ventilation, preferably somewhere outside the house.
Due to the strong chemical smell, don't allow pets or kids to come near the area you're working. Even after spraying, the smell doesn't go away immediately. You have to wait for a day or two for the cushions to dry. If you still notice the smell after drying, don't worry; it will eventually fade with time.
It is worth noting that the product can darken some materials. So, we recommend spot testing before use.
Overall, we are impressed with the quality and performance of the Kiwi Camp Dry. Despite its low price tag, it's still one of the best waterproof sprays out there. We cannot recommend it enough!
Pros
Very effective waterproofing solution
Long-lasting protection
Perfect for outdoor cushions and breathable fabrics
Easy to apply
Works on various surfaces
Cons
Offensive chemical smell
It can take up to 48 hours to dry
The Unisex-Adult Silicone Waterproofer from Sof Sole is designed to extend the service life of outdoor fabric. And it does this by creating an extra barrier over the material to repel moisture and provide a UV shield.
As the name suggests, this is a silicone formula, so it's pretty effective. Once applied on cushions, it creates a waterproof bond that resists oil, water, and dust. This ensures your cushions stay dryer for a longer period.
The product comes in an aerosol spray, making it easy to apply. Make sure you follow the instructions on the label to apply it. You will need to wait for at least 24 hours for the cushions to dry fully.
NOTE: The spray can darken some items, but this usually appears as an improvement in most cases. This is commonly the case if the item is leather.
The spray has a strong chemical smell, which is pretty common with silicon-based sprays. So, it's best to use it in a well-ventilated area, ideally, outside the house. You should also cover your nose and mouth while using it.
Overall, the Sof Sole Waterproofer is something to consider if you want to keep items protected from water, oil, and dirt for long periods. It is perfect for wet weather and will work on different outdoor gear and apparel.
Specifically, it's ideal for outdoor apparel, cushions, work gear like boots, and outdoor equipment. It will also work on trucks, cars, and boats. Don't use on athletic shoes to avoid discoloration.
Pros
Heavy duty water protection
Leaves no residue
Can be used on patent leather
Suitable for outdoor use
Very effective (contains silicon)
Cons
Has a strong chemical smell
The Star Brite Waterproofing Spray is a solid option, especially when you need to reinforce an already waterproof material. It will work for a wide range of outdoor gear, including patio cushions. It offers waterproofing, stain, and UV protection, making it a solid all-around option.
So besides cushions, it also finds application in tents, boat covers, nylon, canvas, sail covers, car covers, awnings, backpacks, jackets, sunbrella, and even polyester materials.
Like most premium options, it doesn't change the feel or color of fabrics. But helps to keep them looking pristine. It has an odorless application and doesn't affect the fabric quality or breathability.
So, it's great to use on new cushions and will significantly extend their service by providing both sun and water protection.
Don't apply spray-on dirty cushion, or you will end up sealing in the dirt. Rather, clean the fabric with a fabric cleaner, ideally, the Star Brite Sail and Canvas Cleaner. Once the fabric is clean, allow it to dry properly before spraying and brushing/sponging. Make sure the surface is thoroughly wet before allowing it to dry.
Treated cushions should be allowed to dry for at least 6 hours before using them. Choose a well-ventilated area to work and don't use the cushions until they are properly dry. You can check the local weather forecast before picking a day to work.
It's worth noting that the spray has a strong smell, so we recommend wearing a respiratory mask while working with it. You may still notice the smell after drying; don't worry, it should go away after a few days.
The product is available in different sizes: this includes the 1-gallon option (128-ounce), 22-ounce spray bottle, and 64-ounce. The 1-gallon option can cover up to 465 square feet, while the 22-ounce can cover up to 80 square feet, depending on how much spray you apply per square foot.
With over seven thousand reviews on Amazon alone, there's no doubt this spray is a done deal!
Pros
Available in different sizes
Provides excellent waterproofing
Has UV and stain protection
Doesn't change color or breathability
Fast drying
Cons
The Thompson's WaterSeal is another good waterproofing spray that promises excellent waterproofing for fabrics.
When applied to cushions, it creates a watertight seal on the surface without changing the appearance or texture of the fabric. In other words, even after using the spray, your cushions will look pretty much as they did before.
While we recommend the product for outdoor fabrics, you can also use it on indoor fabrics. For instance, when sprayed on indoor pillows, it makes them water-resistant and thus suitable for outdoor use. In addition to water protection, the spray also provides UV protection and will make your cushions fade-resistant.
It also helps to prevent stains, which comes in handy if you have kids or pets around.
As earlier indicated, the spray will not change the texture of your cushions. This should come as a relief since many products can make soft cushions stiff. So, it doesn't affect the comfort of your cushions or pillows. If they were soft before, they would remain soft after treating them with the spray.
Make sure you allow the cushions to dry properly before using or bringing them indoors. Also, choose a well-ventilated area to work, preferably outside the house, not an enclosed space. The spray leaves behind a lingering odor that can be irritating, especially if you have a sensitive nose. It may take a whole day to dry, depending on the weather.
Overall, this is a decent fabric protector. It might not be perfect, but it gets the job done. It doesn't change the color or texture of your fabric. For its price, it comes highly recommended.
Pros
Doesn't affect fabric texture and color
Suitable for both indoor and outdoor cushions
Allows fabric to breathe
Repels spills and stains
Provides long-lasting water protection
Cons
Better Boat is a water-based spray made in the US, which says a lot about its quality. It's not only effective but also safe for most fabrics. So it won't damage your cushions.
It's a water-based spray, so it doesn't contain any silicone and thus won't erode your fabric like the solvent-based formulas. Using it on your cushions won't affect breathability.
With just one application, the spray promises to add and restore repellency to fabric and vinyl. Simply apply it to your cushions, allow it to dry completely, then watch what happens the next time there's a spill or a light downpour. The water just beads up and wicks away from the surface of the fabric. The good part is that it dries very quickly.
However, during heavy rainfall, your cushions can get soaked. So, beware!
One coating is usually enough in most cases.
It will also interest you to know that the product is non-hazardous, so it can be used both indoors and outdoors. However, it can be harmful if ingested or inhaled excessively, so keep it away from pets and children.
Besides waterproofing, the product also acts as a stain guard, repelling stains from your fabric. A single application can last a season.
It can be used on a wide variety of fabrics ii including canvas, nylon, and even polyester. Examples of surfaces you can use it on include boat covers, tents, outdoor cushions, boots, jackets, boots, RV canvas, etc.
Pros
Very versatile
Non-hazardous and effective formula
Super easy to use
Doesn't cause discoloration
Odorless application
Cons
Not as durable as solvent-based sprays
How to choose the best waterproof spray for outdoor cushion
Finding the best waterproof spray for outdoor cushions can be a crapshoot if you don't know what to look out for. In this section, we will look at the top five factors to consider when choosing a waterproof spray.
Level of Protection
While all waterproof sprays are designed to repel water, not all of them offer the same level of protection. In other words, not all sprays are created equal. The level of protection differs with each product.
Thus one product is designed to waterproof and outwear for occasional rain, while another is designed to waterproof a tent for extended periods of rainfall. Here, we can see that even though the primary function is to repel water, the level of protection offered by both products is not exactly the same. Thus the ingredients will not be the same.
Some products may also offer UV protection, while some may not.
In addition to the level of protection, you should also consider how long the coating will last once applied. Will you need to reapply the product after a couple of weeks, or will it last through the season? These are some of the things you need to resolve.
Type of Surface or Material
All sprays are not created equal, so their content is not the same. As a result, most sprays for better suited for certain types of materials.
One product may work best for boat covers. This doesn't mean you can't use it on anything else; however, it may not be as effective on certain types of surfaces.
With this in mind, it's always recommended to check the product label to know which materials you can use it on. And in the case of outdoor cushions, you have to be sure the spray is compatible with the fabric.
If you don't see anything in this regard on the label, you can test a small portion of the cushion with the spray to see if it's safe to use or not. A spray is best effective when used on the recommended suitable materials.
Fabric Alteration
A common problem with many waterproofing sprays is a possible fabric alteration which can be a small color change or texture. This can occur even with the best products through the change is usually temporary, so there's no cause for alarm.
Just to be sure, test a small portion of the fabric.
Apart from the spray itself, not using the product correctly can cause unequal color distribution. To avoid this, be careful to apply the spray evenly and don't overspray, or else the breathability of the fabric can be affected.
In addition to color change, the smell is another thing to be concerned about. Silicone-based sprays usually have the strongest odors compared to water-based sprays.
Ideally, you want a product that will not have any odor after drying. Most times, this is not the case. To deal with this, choose a well-ventilated area to work.
Safety
Waterproof sprays contain a lot of chemicals. Depending on the product, some of these chemicals might be harmful to you, especially when ingested or exposed to your skin.
So, before options for any spray, make sure you check the composition and make sure it doesn't contain harmful chemicals. You don't need to know every ingredient on the list. You can always research them just to be sure they don't pose any serious risk to your health.
However, regardless of the chemicals the spray contains, it's also important to take precautions while using it. Protect your hands with gloves and your eyes with glass. Also, wear the right clothing to cover your skin.
Ease of Use
In order to save time, it's extremely important you choose a product that is easy to use.
There are two main types of waterproof spray applicators: spray bottles and aerosol bottles. Most people prefer aerosol spray bottles because they are easier to use.
The bottles are usually pressurized, and the content is released in very tiny droplets or particles via a top button or nozzle. This gives you better control over the content inside the bottle.
For the best results, spray the fabric in a crisscross pattern and keep the container 6-9 inches from the fabric.
Also, before you start using the spray, check the label for instructions. 
Conclusion
Using the best waterproof spray for outdoor cushions will enable you to save money and maintain the integrity of your cushions. It is nothing compared to the amount you have to spend to purchase new cushions.
Luckily, you don't have to comb the market for the best waterproofing spray because we've already done that for you. Any of the ten products listed here will make an excellent choice, and most will work for both indoor and outdoor use.
Besides providing waterproofing, they also help to maintain the color, feel, and breathability of the fabric.
Let us know if you have any more questions about treating patio cushions for bad weather. Until then, happy waterproofing!
FAQs – Outdoor Cushions Waterproofing Spray
Can waterproof spray damage cushions?
Yes, waterproof spray can damage your outdoor cushions if you don't apply it correctly. Likewise, using the wrong spray can cause problems.
Even the best products can cause discoloration if you use them the wrong way. So, be sure to follow the proper instructions when using any spray.
Does waterproof spray expire?
Yes, the best waterproof spray for outdoor cushions usually expires. But the timing depends on the particular product. Most products usually have the expiry date written on the label at the back of the spray can. Make sure you check this to know how long you can use the spray.
Some products may not have their expiration date written on the bottle. For such products, one way to tell they are due for disposal is that they stop being as effective as they used to be. This can be seen in the results they produce.
How Long Does Waterproof Spray Last on Outdoor Cushions?
This depends on a few factors, such as the climate in your area, the particular spray you're using, and how well the spray was applied. However, most sprays will last anywhere between 3 weeks to 3 months or even more.
You can find more information about this on the bottle label, as well as the best time to apply the spray.
Can you spray wet outdoor cushions?
No, you can't. Most manufacturers advise against spraying outdoor cushions while still wet as this can make the spray less effective. In order for the coat to stick and be even, the cushion must be clean and dry.
But is a waterproofing spray washable? Yes, it is!
How far should waterproofing sprays be applied?
This depends on the particular spray you're using. But in most cases, it's usually between 6-9 inches. We recommend keeping to this range to ensure the spray is effective. Also, make sure the surface is clean and dry so you can get a uniform coating.
How do you protect cushions in the rain?
One of the best ways to protect cushions in the rain is to use the best waterproof spray for outdoor cushions. This is highly recommended, especially for cushions that are not water-resistant. Apply the spray after washing the cushions.
If you don't want to spray cushions, you can use waterproof cushion covers. In the case of adverse weather or prolonged rainfall, it's best to bring the cushions inside. You can put them in a deck box or a dedicated storage room like a closet.