Last updated on March 23rd, 2022
Plush outdoor cushions add comfort, style, personality, and character to your patio, deck, porch, and other outdoor spaces. They also put up well against weather elements. Advances in fabric waterproofing technology give outdoor cushions weather protection features from outdoor elements like rain and moisture. So, with the water-resistant capabilities, can outdoor cushions get wet?
Yes, despite such waterproof features, outdoor cushions still get wet, especially when left in the rain. The fact that most outdoor cushions are labeled as water-resistant, shower-resistant, and water-repellent means that outdoor cushions can resist getting drenched to a certain degree. However, these terms do not mean complete impermeability to water and other fluids.
Outdoor cushions need protection from moisture and water, which can damage both cushion cover and cushion stuffing. Learn how to take care of them to ensure they are durable. 
Under What Instances can Outdoor Cushions Get Wet?
Outdoor cushions can get wet when left uncovered during rain. The water-resistant fabric from which most outdoor cushions are made can only resist water penetration up to certain levels. If the rain persists, the cushions will get wet. However, the rule of thumb for all outdoor cushions is not to leave them wet for extended periods.
Outdoor cushions can also get wet from spillages of liquids. The extent to which it gets wet depends on the amount of exposure to the liquid. However, the rule of thumb for all outdoor cushions is not to leave them wet for extended periods. 
Types of Outdoor Cushions and What to Do When They Get Wet
Outdoor cushions have many classifications. Since our focus is water resistance, we will classify them by cushion cover and cushion core material because these are the components of a cushion that get damaged when a cushion gets wet, hence the need for protection.
Below are some of the most commonly used outdoor cushion cover fabrics and outdoor cushion cores. We also have tips on how to dry each outdoor cushion type.
Sunbrella Outdoor Cushion Covers
Sunbrella is a patented high-grade fabric that is dyed to the core of its fibers using a solution of acrylic. The dying process creates a high-performance material that is waterproof, UV – resistant, mold and mildew-resistant.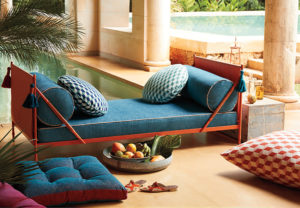 Sunbrella outdoor cushion covers hold up pretty well even in extreme stormy weather. Rainwater tends to bead up and roll off Sunbrella cushion covers during rainfall. 
However, when the rain stops, ensure you shake off the excess water rigorously and wipe the cushion cover. You can also wet-vacuum the cushion cover to get rid of the excess water.
Leave the cushion to air dry afterward.
Sunbrella fabric is chlorine-tolerant hence ideal for use in making outdoor cushion covers for poolside furniture. If you want Sunbrella-quality outdoor cushions, check out the Classic Accessories Ravenna Patio Chaise Lounge Cushion.
Textilene Outdoor Cushion Covers 
Textilene is waterproof and mold-resistant. It behaves much like Sunbrella fabric when exposed to rain. After the rain, blot the excess water with a clean cloth and leave the cushion to air dry. In case of spills, blot out the liquid immediately. If a stain is formed from a spill, clean it with recommended cleaners from the outside in.
Textilene outdoor cushions covers can be used by the poolside because they are not affected by chlorine. 
The Pillow Perfect – 667140 Outdoor is our Textilene cushion recommendation. You can also check out the Pillow Perfect Outdoor/Indoor 44 x 19 Inch Topanga Stripe Lagoon Tufted Loveseat Cushion.
Vinyl/PVC Outdoor Cushion Covers
Vinyl/PVC is a non-woven fabric that is also waterproof and resists mold and mildew. Vinyl fabric is woven in such a way as to prevent water from penetrating the fabric strands.
However, water droplets pool on vinyl outdoor cushion cover surfaces during heavy rain. Wipe the pools of water down from the cushions after heavy showers and leave the cushions to dry in the sun. 
Drying in under the sun prevents the formation of mold and mildew.
Cotton Canvas Outdoor Cushion Covers
Cotton canvas is the oldest fabric used for outdoor applications. While the fabric itself is not naturally waterproof, it is usually artificially treated to make it water-resistant.
Cotton canvas outdoor cushion covers can repel rainwater. Wipe off the excess water and leave the cushion cover to dry in direct sunlight after a rainy episode.
Olefin/Polypropylene Outdoor Cushion Covers
Olefin is waterproof and can withstand fluid, mold, and fungi. It behaves much like Sunbrella fabric; hence can be dried using similar procedures to Sunbrella when wet.
The Classic Accessories Montlake Water-Resistant 80 x 26 x 3 Patio Chaise Lounge Cushion is a fantastic olefin-covered outdoor cushion.
Cushion Core Types and What to do When They get Wet
During extreme circumstances like days of heavy rain and flash floods, water may permeate water-resistant cushion covers. In such cases, the cushion core gets wet too.
To further expound on the question, "Can outdoor cushions get wet?" We will now look at different cushion tuft types. We will also look at how to dry various kinds of outdoor cushion fillings. 
Polyester fill is not the traditional foam but rather blown polyester fibers often sewn inside fabric. It dries faster than other types of outdoor cushion tufts.
Polyester filling outdoor cushion covers can either be air-dried under the sun or machine dried. When air-drying, ensure that the outdoor cushion is tilted vertically to drain it using gravity.
For machine drying, ensure that the drier is set at low heat. Second, fluff out the cushion before putting it inside the drier.
Put two tennis balls inside the dryer to fluff the pillow during drying. Take the cushion and fluff it with your hands at 15-minute intervals.
If you want quick-dry outdoor cushions, we have one fantastic recommendation. The Pillow Perfect Outdoor/Indoor Gregoire Prima Tufted Seat Cushions (Round Back), 19 x 19, 2 Count fits the bill.
Clustered/Compressed Polyfill
It is also made from compressed polyester fibers, with the only difference being the fiber arrangement. Compressed polyfill is arranged in small bundles for added firmness and support.
Compressed polyester filling dries way faster than standard polyfill. You can follow the same procedure for drying polyester filling cushions when drying compressed polyfill outdoor cushions.
We recommend the Amazon Basics Deep Seat Patio Seat and Back Cushion Set if you want comfortable quick-dry outdoor cushions.
It is the traditional foam found in mattresses. Polyurethane foam is not water-resistant, mold-resistant, or mildew-resistant.
It is, however, treated with a biocide to prevent the formation of mold and mildew. 
Air-drying is the best way to dry polyurethane foam outdoor cushions. You can use a fan(s) by placing it directly in front of the cushion. You can also prop the cushion up in a space with ample airflow.
Sun-drying is not recommended as UV rays break down the foam, causing rot.
Note that this air-drying exercise may even take a couple of days. Hence polyurethane foam cushions are best for outdoor spaces without direct water exposure, such as screened-in porches.
The open-cell foam features large pores in its structure to accommodate air and water flow through the foam. The advantage of this porous structure is that the foam does not retain water; hence dries fast, even when drenched.
Air-drying is efficient for open-cell foam outdoor cushions. Placing the cushion in a space with good airflow or using a fan will get the job done. 
The process should take less than 24 hours. You can also sun-dry open-cell foam cushions without damaging them because their larger pores resist sun damage.
The main difference between open-cell foam and closed-cell foam is that the latter acts like clay soil. Closed-cell foam resists water absorption; hence water only collects on the surface but does not drain into the cushion.
That is why closed-cell foam cushions are recommended for marine applications. If you own a boat, consider the Classic Accessories Montlake Water-Resistant 48 x 18 x 3 Inch Patio Bench/Settee Cushions.
If your closed-foam outdoor cushion gets wet, air-drying should do the trick.
Summary
Below is a general summary of what to do when outdoor cushions get wet
Dry or wipe off the excess water from the cushion cover's surface after heavy rain or a spill. Remember, timeliness counts.

Shake the cushion well to drain the excess water

Leave the cushion to dry either in the air or direct sunlight according to manufacturer recommendations.

If the water permeated the cushion cover into the filling, remove the cover if it is removable. This allows for the cushion core greater exposure to the drying agent (air/ sunlight.

If you have polyester fill foam, avoid removing the outdoor cushion cover

Prop the cushion foam so that gravity can aid drainage

Place the cushion in a space with good air circulation. Only expose it to direct sunlight if the manufacturer recommends doing so.

Ensure that the cushion is completely dry before putting back the cushion covers to prevent mold and mildew growth
Caring Methods to Prevent Patio Furniture from Getting Wet
Consider purchasing weather-resistant outdoor cushion covers to protect your cushions from sudden downpours when you are away from home. You can also place your outdoor furniture under retractable canopies and awning.
Spraying our outdoor cushions with waterproof spray regularly will help enhance their waterproof capacity and lengthen their lifespan. Vinyl adhesives also help with waterproofing.
During the off-season, store your cushion covers in a breathable cushion box in a room with ample circulation. This prevents the growth of mold and mildew.
Bottom Line
Can outdoor cushions get wet? Yes, they can. However, your outdoor cushions getting wet does not mean permanent damage. By following the tips above, you can protect them from permanent damage.
However, preventing them from getting wet is even more effective.