Now that the idea of spray painting outdoor patio cushions is becoming popular with most people, you could be wondering whether it is an ideal method for keeping your outdoor cushions from looking drabby and faded. So, can you spray paint outdoor cushions and evade the replacement cost?
The answer is yes. If you're keen on revamping your patio with a limited budget, spray painting is the way to go. It's an easy, fast and cost-effective process. The fun part of spray painting your outdoor patio cushions is that there are different spray paints for just any kind of fabric, which means it's really doable, no matter which type of patio furniture you have.
So today,  we'll focus on how you can transform your outdoor patio cushions' aesthetics with easy-to-follow steps. But first, let's get over the anxiety of acting out this idea.
Deciding To Spray Paint Your Outdoor Fabric
It's pretty normal to get nervous about trying out something new. There are chances you might bungle up the project, create a costly mistake or damage your outdoor fabric.
To be sure you hack it without creating a costly mess, take a couple of old patio throw pillows and do a little test run. Spray at least three layers for the trial run to achieve an impressive outcome.
That's more than enough to give you the confidence you need to spray-paint the rest of the cushions. You can add another two coats of paint to get the perfect results.
Why Spray Paint Outdoor Cushions
We shouldn't overlook the fact that there are other ways you can revitalize your outdoor cushions. You can add new cushion covers or replace them altogether.
So why spray-paint patio cushions? Because tucking fabric over faded outdoor cushions is a tedious routine and replacing them costs a fortune. For a long time, a medium-sized cushion cost less than $50 until recently, when the price shot up.
For the creative DIYer, this is nothing to worry about. Spray painting your outdoor patio cushions is a better, more budget-friendly, and hassle-free way of making your patio cozy and attractive.
Again, unless you're a great seamstress, the idea of making new cushion covers may not sound so appealing. Personally, I can easily sew simple pillowcases and curtain panels but cannot make eight great-looking cushions with piping and zippers.
Another reason why you should consider spray painting your outdoor cushions is that the paints are formulated to withstand harmful weather conditions.
That means you'll be adding an extra layer of protection over your cushions while maintaining a vibrant look: win-win. And the project is not only easy but effortless and reliable in the long run.
Factors to Consider When Choosing Outdoor Cushion Paint
Before running with this idea, you need to consider a few things. It gets more fun when you know exactly what to expect. So, here's what to expect throughout the spray painting process:
1. The first two coats of paint will look horrible: This is for sure, but don't panic or get discouraged. And no, it's not a waste of time and money; add between 3-5 coats and see just how impressive the outcome will be.
2. The texture of your fabric will change completely: Paint is paint, and the fabric is fabric. There's a big difference, and once you spray paint your cushions, they will not be as soft anymore. It might feel more like a screen print on a t-shirt. That's okay. After all, they're outdoor cushions, and they don't need to be as soft as your indoor couch cushions.
3. Avoid using sandpaper between coats: This is something that doesn't work for most people. Some complained that even after investing in fine-grit sandpaper and employing a delicate balancing act during the process, the sandpaper only snagged their cushions. If you experience the same problem in your first trial, you might want to switch to 0000-grade steel wool, which softened the cushions and enjoy a hassle-free process.
4. You'll need to dampen your fabric a little before painting. This helps the paint absorb all the fabric grooves and not just stay on top, making them less stiff. This step is crucial, so be sure not to miss it. You'll notice a big difference in the third coat with damp fabric since it comes out more evenly.
5. The fabric patterns and prints won't be erased completely: For example, you may have outdoor cushions with red and white designs, and after five coats on each, you'll still notice the dim outlines of the patterns. If you were tired of the original designs on your outdoor fabric, you might find it a little disappointing. Sorry.
6. You'll need a few extra cans of spray paint: Depending on the patterns of your cushion fabric, you should expect to spray at least three coats of paint. That means a few extra cans, not two or three.
7. Only the best spray paint will bring the best results: Now, let's discuss the ideal spray paints. Most people always go for the easy way out of using regular spray paint, water, and at least six bottles of fabric medium.
This method is cheap, no doubt. But it can damage the fabric of your cushions, so the temporary satisfaction is not worth it. And this combo of water, paint, and fabric medium requires a minimum of six coats, and most of them aren't even formulated for outdoor use.
There's also the risk of corrosion and adverse effects on your skin should you come in contact with it.
Acrylic craft paint is also great, but it's better to consider some of the best paint recommended for outdoor use and avoid regular spray paint to be on the safe side. Here's a guide on the best spray paints for outdoor cushions to give you some ideas. Consider using latex paint mixed with fabric medium for maximum effect when you spray paint patio cushions.
How To Spray Paint Outdoor Cushions
Whether yours are faded patio cushions, or you're looking to revamp your outdoor furniture, here's the step-by-step guide to getting you started.
What you need for painting your patio furniture:
Spray gun or several cans of spray paint ( minimum 7-8 depending on the number of cushions)
Spray bottle
Water
Fabric medium
Latex paint (choose your favorite color)
Step 1: If you have removable cushion covers, the easiest way to get started is to remove them. Otherwise, the first step is to clean your cushions. For removable cushions, machine wash them or wipe carefully to remove all stains and place them in direct sunlight until fully dry.
Step 2: Mix paint, fabric medium, and water. To get the best quantity of each, follow the instructions on the fabric medium. Measure two parts of paint against a single part of fabric medium and a minimal amount of water. Otherwise, you can mix your paint directly in the paint tray. Note that this method applies to painting your cushions with foam rollers. If you're spray painting, you can skip this step.
Step 3: Dampen one section of paint with water. Be careful not to make it soaking wet, just a little damp.
Step 4: Use the foam roller to apply the mixed paint. When spray painting,  simply use as many cans of paint as you need to create the perfect surface. Leave out to dry before applying the second coat of paint. This will take at least 2 hours between each coat. (Yeah, it's a weekend DIY, so you'll need the time).
Step 5: Remember I mentioned that you should spray a minimum of 3 coats of paint? You can also increase the costs to four or five depending on the patterns and prints of your outdoor cushions. Otherwise, even two coats for a simple solid color would do.
Step 6: After applying the final coat of paint, do light sanding on the painted surface of each cushion with 220 grit sandpaper. Sanding helps keep the paint smooth, if not a bit stiffer.
And that's how you transform your old cushions into new.
One significant advantage of spray painting your faded outdoor cushions with latex paint is that you don't need wax or a similar top coat to keep the paint sealed up.
Once your cushions have dried up, you won't fail to notice a huge improvement. And even if the final outcome leaves the cushions a bit stiffer, you'll enjoy the new aesthetics of your front porch.
The Pros and Cons Of Spray Painting Outdoor Cushions
The merits and demerits of painting outdoor cushions will become apparent from the onset, influencing your decision on whether or not to proceed with it. Let's delve into the pros and cons to help you weigh your options.
The Pros of Painted Cushions
If you follow the above steps and select only the best paint for your patio furniture, you'll undoubtedly be impressed with the huge improvement on your patio furniture. The longer your patio cushions stay in use, the higher the chances you'll grow tired of seeing the printed pattern on the old cushions. This happens to all of us.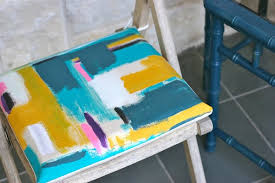 Eventually, even the once most favorite color or design gets less and less appealing as the cushions get older. The painted surface can only get more inviting and inspiring with spray painting.
This project is also more cost-effective than other available options. On average, you can use at least two quarts of paint and not more than five small bottles of fabric medium. That's about  $40 on the lower side, enough to paint at least eight cushions. Compared to new cushions costing $50 per piece, painting your cushions is definitely worth it.
Here's the best part: the painted surface of your patio cushions creates a waterproof barrier that makes maintenance much more straightforward. It also prevents rain from getting deeper into the cushions past the surface. You can easily wipe off any spilled water or stains without the rigors of extensive cleaning.
The Cons of Painted Cushions
The texture of your cushions will change when spray-painted. To mean your fabric will feel stiffer than before it was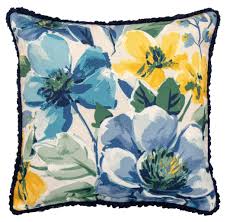 painted. It will not feel like canvas, and soft fabric like it used to. However, you can use 000-grade steel wool in between coats to make the texture a little soft and prevent the scratchy feeling (fine-grit sandpaper may not work for everyone).
The floral pattern on your cushions will not completely fade away no matter how many coats of paint you apply. You should expect this and not feel too disappointed in seeing the dim outlines of the patterns after applying the final coat.
Typically, when you sit down on a cushion, the pores on the fabric release the air, making the pillows a little flat. You'll notice this when you sit on the newly painted cushions (after they have dried).
By using latex paint to renovate your patio cushions, expect it to create an air-tight barrier around the fabric, leaving no air outlet. It may feel like sitting on an overinflated pool float that may not be comfy. But it gets better with time, or you can slightly unzip the covers of each cushion to make them a little more comfortable.
Can You Spray Paint outdoor Cushions: FAQs
What Kind of Paint Should I Use for Painting Outdoor Cushions?
There are different types of paint specifically formulated for outdoor furniture. Latex is more durable and reliable, and you don't need to add any topcoat to seal up the paint. It's also visually appealing and comfortable.
How Do I Choose The Spray Paint Color?
You can go with your favorite color or brand. However, the quality depends on the fabric you want to paint. Different spray paint colors and textures create different looks depending on the fabric. Check out this guide on the best paints for spray painting outdoor cushions ( Link).
Will Rain Wash Away Spray Paint?
Of course, rain can wash away wet paint if you leave your cushions outside before they're completely dried. If you're experiencing rainy weather, it's best to keep your painted pillows in a cool, dry place and only leave them outdoors once fully dry. Otherwise, painted cushions are waterproof when dry.
Where Should I Place The Cushions When Painting Them?
You can place the cushions on a large canvas paper, or cardboard spread out in the yard. This helps the cushions dry faster, making the process less messy and more manageable.
Can I Use Rustoleum Spray Paint on Fabric?
Absolutely. The Rustoleum spray paint is one of the best options for spray painting outdoor cushions. It's more reliable, flexible, and formulated for different types of outdoor fabrics.
Conclusion
Spray painting outdoor cushions is becoming a thing. The more popular it gets, the more people are curious about how it works. In this piece, you can quickly tell it's a cost-effective, easier way to transform your tired patio with new cushions.
If you have the time and patience, it takes a few hours off your weekend and less than $100 off your pocket, and you're good to go. Once you decide to go with this great idea, the trick is to do a test run on a single cushion and then proceed with the rest.