Your outdoor cushions should be many things – fitting, stylish, inexpensive, and of course, comfortable. They are the buffer that stands between your soft buttocks and seemingly hard chair seats. Unfortunately, even the best cushion material can wear down and become less comfortable as they age. That doesn't mean you should toss out the entire couch or furniture.
You may be wondering, how do I make my chair cushions more comfortable?
There are different ways to spruce up your outdoor cushions and make them more comfortable. The best ones include:
Give them a good shake.
Replacing the padding.
Removing buttons and embellishments.
Recovering torn parts.
We will go over each of these solutions and answer a few other questions relating to cushion comfortability in your outdoor space.
Without wasting any more time, let's delve straight into how to make outdoor cushions more comfortable.
What makes a cushion comfortable?
Two main things contribute to knowing how to make outdoor cushions more comfortable – foam material and the type of insert. Thus, choosing cushions with the right material and insert can make all the difference.
Nevertheless, it's also important to realize that everyone's need is different, and what might be comfortable to one person might not be as comfortable to another. For instance, some people prefer soft cushions, while some prefer something firmer with good "bounce ability." Thus, to an extent, comfort is "variable," just like style and aesthetics.
Luckily, there are various cushion materials to choose from, ranging from firm closed-cell foam to soft open cell foam. We also have semi-hard materials like polyurethane.
4 Ways to Make Outdoor Cushions More Comfortable
There are four main methods we found to be effective for increasing comfort in patio cushions in your outdoor space. We go over each one below:
Give Cushions a Good Shake
One way to loosen up "pancake-looking" cushions or ones with flat spots is to shake them out.
Stuffed cushions, especially those whose filler materials are loose fiber or feathers, can become malformed over time. Shaking such cushions will help break up compacted spaces while adding more fluff.
The process is pretty simple. Simply detach the cushions or pick them up, then shake them out thoroughly.
Replace the Padding
Sometimes, cushions can be so flat that they cannot be fixed. This is commonly the case with old cushions. Rather than spin the wheels and worsen the issue, you can replace the padding.
Check if the cushion has a zipper. If it does, simply unzip it and take the cover off. If there are no zippers, you can open up the back seam using a seam ripper. Take out the existing padding and then cut a piece of foam and cotton batting to size.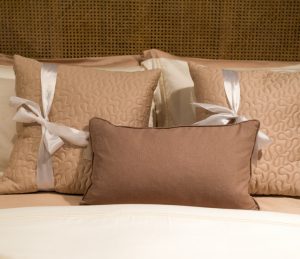 Spray a coat of adhesive on the upholstery foam, then place the batting on it. Make sure you use a waterproof spray. Finally, slip the foam-batting padding into the cushion cover and zip up/stitch up the seam.
Remove Embellishments
Some cushions often come with decorative buttons or nailheads for aesthetic purposes. While such embellishment can be attractive, they can quickly become uncomfortable when you sit or lean back on them.
This is a common issue with tufted cushions or sofas.
If you have such cushions, the best way to resolve the problem is to remove the buttons or embellishments. You can do this with a seam ripper using slow motion.
You might want to keep a sewing kit close in case you over "rip" the fabric.
Recover Torn Cushions
If your cushions are made of leather, they can become scratchy and uneasy on the skin when torn or scratched. To fix this, you have to recover the damaged area.
To do this, get the dimensions of the cushion – width, height, and depth – adding 1 inch to each side. Take off the old covers and replace them with the new covers.
How can I make my seat cushions softer?
To know how to make outdoor cushions more comfortable, you need to get softer as you use them, but this might take a while, depending on the density of the foam. However, you can speed up this process by applying a few tricks.
Sit on the Cushions More Often
One way to squish your outdoor couch cushions is to sit on them as much as you can. This means getting on the cushions many times throughout the day. To hasten things, bounce on the cushions a few times; this will help compress them and loosen the fibers and foam insert a bit.
Also, to ensure the cushions soften evenly, get in the habit of shuffling them around and flipping the sides from time to time.
Note: Take care when bouncing on your cushions. Some materials like leather tend to rip when too much pressure is applied.
Walk Over the Cushions
Walking over your cushions is another way to loosen them up. Simply lay them out on a flat surface. Put on your socks (make sure they are clean) and walk over the cushions, every one of them. Do this for a few minutes, then flip the cushions to the other side and repeat the process. Now, place the cushions back on the furniture and feel their softness. If you are not okay with the texture, you can repeat the process.
Get new foam inserts
Another thing you can do to soften your patio seat cushions is to change the foam inserts. With this method, it's much easier to achieve the level of softness you want. This is because the market is filled with outdoor foam cushions with varying degrees of firmness. So, you can simply choose one that will give your cushion the desired softness.
How can I make my outdoor cushions firmer?
One way to make a soft cushion firmer is to add some denser foam material. A good example is closed cell foam. If you prefer a medium-hard foam, then consider polyurethane foam. However, when firmness is desired, closed-cell foam is the best choice.
It's up to you to decide how much you want to add to your cushion. This can be a piece or more, depending on the level of comfort you desire.
To add the extra foam, unzip the cover, stuff in the foam pieces, and zip it back on.
If the cushion material is so bad that it doesn't get better when you add extra foam, then consider replacing the whole foam. You can order online or visit any local home improvement store. If you're purchasing online, make sure you measure each cushion and order foam that will fit, not larger or smaller.
What Is The Best Outdoor Cushion Material?
Usually, your comfort level and the climate in your area will determine which cushion material will work best for you.
If you live in a place that gets a lot of rainfall, then closed-cell foam is highly recommended. It is firm and tends to last very long.
For dry or sunny climates, polyurethane foam is a great choice. Though it's not very soft, it's not as hard as closed-cell foam.
If you prefer something softer, then opt for open-cell foam. It works for all weather types, so you can use it all year round. However, it's usually the most expensive option.
For outdoor cushion covers or fabric, polypropylene seems to be the premium choice. It is UV-resistant, stain-resistant, and dries very quickly, making it extremely durable. It's a synthetic material and is obtained from petroleum. Before now, it has been used for marine applications.
Another outdoor fabric that does well in outdoor weather is acrylic. It's also UV-resistant and mildew-resistant but often comes with a high price tag.
We don't recommend polyester cushions for outdoor use, except if you're using the cushions under a shade or roof. This is because the material can fade very quickly if exposed to the sun for long.
How to Choose the Most Comfortable Outdoor Furniture Cushions
While knowing how to make outdoor cushions more comfortable is essential, it is not the only thing to consider when choosing cushions for outdoor seating. Below is a breakdown of other areas to consider.
Size and Shape
Choosing cushions that are too big or small can disrupt your comfort. So, it's important you choose the ones that will fit your patio furniture. Thus before making any purchase, you need to measure the size of your patio furniture, especially with respect to the seats or where you wish to place the cushions. This will enable you to obtain the best fit for the furniture.
Again, don't put out your money for a poorly fitted cushion regardless of the color or material it's made from. It is not good for comfort, and you might end up regretting it.
Foam Thickness
Sizing is such a big deal when it comes to comfort but so is the thickness or depth of the cushion. In fact, anything besides a deep cushion would be undesirable.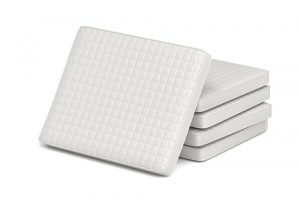 A thick cushion doesn't only improve comfort but also ensures the foam lasts longer. Consequently, quality is often linked to the cushion thickness.
So, what is the ideal thickness for your own outdoor cushions? Well, most standard outdoor cushions have a thickness of 19-23 inches, which is great. However, if comfort is your priority, you might want to go a bit higher. In this case, cushions that are 24 to 26 inches thick are perfect.
Fabric Type
Next, consider the cushion fabric. It's a good idea to go for something that will blend in with your outdoor decor and style. But it's more important you choose an outdoor fabric that can withstand the conditions outside and is easy to clean. Specifically, you want a fabric that is UV-resistant, water-resistant, mold-resistant, and easy to clean in case of liquid spills.
Some of the most popular options include sunbrella, olefin, vinyl, cotton canvas, duck cloth, and so on. Each of these materials has its advantages and disadvantages.
Type of Filling
Your cushion filling plays a huge role in the comfort level. Depending on your personal preference and the type of cushions.
If you want something that will give you the softest feel, then go for feather fillings. On the other hand, if you want something firm, the foam would make a great choice.
Other types of filling you can consider are fiber (great for people allergic to feathers) and batting (combines foam and Dacron to provide a firm and smooth feel).
Pricing
Like any other patio element, outdoor cushions are offered at a wide price margin. This means you can almost find both cheap and expensive versions of whatever cushion you want.
Thus, your budget is what will determine which product you eventually end up with. However, it's important to know that the more expensive cushions are usually made of better materials and tend to outlast the cheaper ones.
This doesn't mean there aren't good cushions that are affordable. On the contrary, the market is filled with many affordable, high-quality cushions. You just need to know where to look.
While having a fixed budget helps to reduce your options, always prioritize quality over everything else.
FAQs – How to make outdoor cushions more comfortable
Does high-density foam soften?
Yes, it does soften, but this happens over time. Although the comfort level and support in high-density foam is much higher compared to regular foam products (especially commercial-grade polyurethane), it tends to soften over time. But the process takes much longer, usually after several years of use. On the other hand, cushions or couches made of low-density foam may soften up after a few months.
Is high-density foam the same as memory foam?
No. While high-density foam is made of a blend of polyurethane, memory foam is made of polyurethane and other chemicals that increase its density and viscosity. Thus high, density memory foam is usually denser than normal high-density foam.
How can you tell the quality of foam?
One way to ascertain foam quality is via its density. And this can be obtained from the weight of the foam. Specifically, a one-foot cubic block sample cut from the foam will give the density of the entire foam material.
A high-density foam means more material and fewer pockets of air. Thus, such foam will feel firmer and stronger and will take a longer time to break down compared to foam with low density.
In essence, the denser the foam, the heavier the foam, and consequently, the better the quality.
How do I plump up my outdoor cushions?
There are two main ways you can plump up patio cushions and avoid replacing them.
First, you can place them in a dryer or just lay them out in the sun (recommended for bigger cushions) to remove trapped moisture. If you're using a dryer, wait for 15-30 minutes but for sunlight, give it at least 3 hours.
Secondly, for cushions that cannot go into a dryer, you can take them off for a massage. While massaging, make sure to knead deeply and plumb the sides.
What is the best filling for scatter cushions?
Down feather is arguably the best filling for decorative scatter cushions. It is arguably the most popular and premium option and has the softest feel. Besides offering incredible comfort, it is cost-effective and can be plumbed or reshaped. The other type of feather filling is duck feathers, which are mostly used for sofa cushions.
For people allergic to feather fillings, fiber can be a great alternative, or else consider foam if you want something firmer and don't want to spend too much time getting the cushions plumped.
Conclusion
Nothing beats lounging on a comfy couch with cushions that make you feel relaxed.
If your existing cushions do not provide the level of comfort you desire, you can spruce them up by following the tips on how to make outdoor cushions more comfortable above. All four methods are simple, inexpensive, and, more importantly, effective.
Let us know if you have any more questions about making outdoor cushions more comfortable. Till then, get going and put more comfort right in there!