Outdoor furniture can be made from different materials. Some are metal, others are wood, and there are those from recycled plastics. Each has its disadvantages and advantages. But there is one type of outdoor furniture created from recycled materials to look like lumber – POLYWOOD®.
Contrary to what you're thinking, POLYWOOD® is not just a product. It is also a company that provides quality outdoor furniture by recycling post-consumer waste.
Since plastic is a malleable material, you might be wondering if they're good for making patio furniture. But we were talking about POLYWOOD® here. So the better question to ask would be: Is POLYWOOD good for outdoor furniture?
Yes. POLYWOOD is a great material for outdoor furnishings due to its highly durable characteristic. But what are the materials the company recycles? Where is the company based? Where and how is the recycling done? Where do they get the plastic? And is POLYWOOD® furniture durable against human, machine, and weather-induced stress?
Then, we will compare POLYWOOD® with outdoor furniture made of metal and real lumber in terms of style, durability, and pricing. Without further delays, let's get straight to it.
What is POLYWOOD® Furniture?
POLYWOOD® is a Syracuse, Indiana-based company and type of furniture material made from high-density polyethylene (HDPE) found in the ocean and landfill-bound post-consumer wastes.
Most of the garbage they recycle are liquid containers with caps, such as detergent bottles and milk jugs. The company collects the trash from landfills or goes on cleanup drives in the river and coastal environments.
After that, collectors bring the trash into their Syracuse facility, where Polywood is made. Sometimes they buy high-density polyethylene containers from plastic junkyards.
POLYWOOD® would then process the HDPE garbage, turning them into POLYWOOD® lumber. Once the high-density polyethylene has taken the shape of lumber, they are cut and assembled into patio furniture sets before being sold to consumers.
Is POLYWOOD Good for Outdoor Furniture?
We now know that poly lumber is great for the environment because of its sustainable manufacturing practices. In the following sections, we'll discuss the pros and cons of POLYWOOD® outdoor furniture and how it compares to other patio furniture types.
Is POLYWOOD® Furniture Weather Resistant?
Because Polywood lumber is made from recycled plastic containers, it is a given that they are tough against whatever nature throws at them. It's not an over-exaggeration to say that POLYWOOD® outdoor furniture are virtually indestructible versus heavy rain, extreme heat from direct sun exposure, and all varieties of storms.
Another thing. Unlike genuine wood furniture, POLYWOOD® is solid and very heavy – almost as heavy as wrought iron furniture.
In the cases of blizzards, hurricanes, cyclones, and typhoons, you can expect your set of POLYWOOD® outdoor furniture to stay in your backyard and not migrate to your neighbor's (just remove the cushions).
POLYWOOD® chairs or tables might tip over during strong winds, but they will never fly away – unless there's a tornado.
When it comes to patio furnishings, the main concern of homeowners is that the color of the chairs, tables, and cushions will fade when exposed constantly to the sun after a few months. This isn't the case for poly furnishings.
Polywood lumbers undergo a coating process that allows them to be UV-inhibited. As a result, it would take years for the furnishing colors to fade even when left outside to the sun and heat.
Is POLYWOOD® Outdoor Furniture Durable?
In strength and drop test videos, POLYWOOD® furniture, especially their Adirondack chairs, can carry as much as 1,100 lbs and be dropped from 25ft. without breaking a single leg. Once again, we are not exaggerating. Watch the videos provided in the links above, and you'll see how tough POLYWOOD® outdoor furniture is.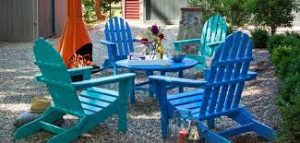 It will also take 50 to more than a thousand years for the plastic in POLYWOOD® to completely break down. Couple this longevity with a solid, non-porous design, and you'll have an outdoor furniture set that won't rot, chip, peel, crack, or splinter over the years. Not even if you leave the entire collection outside all year round.
Wrapping things up in the durability department: It's safe to say that you can flip your POLYWOOD® patio furniture out of rage, let a heavy person sit on it, and never take it inside your home from the day you've bought it without worrying about the Polywood chair to be damaged.
Are POLYWOOD® Outdoor Furniture Mold and Mildew Resistant?
As mentioned, POLYWOOD® outdoor furniture designs have no hollow and porous areas. There is a small chance for mold to grow if water and moisture are collected on the surface's very thin artificial crevices.
If you want to remove all the crevices and make your furnishings completely mold-proof, you can make all HDPE wood surfaces undergo a sanding process.
You don't need to worry when this happens. Unlike mold growth on wood furniture, the fungi will not cause the plastic to rot and decay. Simply speaking, POLYWOOD® outdoor patio furniture are mold-resistant but not completely proof against it.
Is POLYWOOD® Furniture Expensive?
Compared to metal and wood furniture, a poly furniture set has a price that ranges in the middle. It's more expensive than real lumber furniture but is cheaper than metal varieties, especially ones made from wrought iron. A single piece of POLYWOOD® outdoor furniture typically costs $200 to $3,000.
Prices vary based on surface texture, design, color, and size. Please remember not to make any purchase decisions that rely heavily on cutting costs. All patio furniture are expensive because they're all made from materials that can withstand harsh weather conditions.
We encourage you to buy pricey sets because higher prices mean higher quality. You can buy cheap poly furniture set for your outdoor space but don't expect it to last for more than a few years.
How Does POLYWOOD® Compare to Other Materials for Outdoor Furniture Making?
In terms of environmental benefits, poly lumber wins. POLYWOOD® actively takes non-biodegradable trash from the earth and recycles them to create great outdoor furniture.
Unlike other furniture makers who cut trees, mine metal ores, disrupt local biodiversities, and speed up climate change, the Indiana-based company helps make the planet a cleaner, safer, and better place to live in.
Sturdy-wise, POLYWOOD® outdoor furniture can carry 1,100 lbs without breaking a single leg. Their Adirondack chairs won't even splinter if dropped from 25 ft. If these experiments were done on weather pieces would break or shatter upon stress and impact. In contrast, metal patio furniture would be dented or bent in some areas.
When subjected to the elements for a few years, the natural fibers in wood furniture become weathered and brittle and will decompose as a result of fungal growth and biodegradation.
Metal furniture will rust but will not immediately crumble under its weight. For poly-wood, its surfaces will flake, but it would still stand, serving its purpose as a piece of outdoor furniture.
Is Polywood worth it for your outdoor space? Absolutely. Polywood outdoor patio furniture gets the best properties of wood and metal furnishings.
They are equally or more durable than wrought iron, have the aesthetic of wood furniture, and are sold at a reasonable price. And the last best thing? They require very little maintenance to keep them clean and in pristine condition.
Custom-Built vs. Factory-Made POLYWOOD® Furniture: Which is Better?
It depends on which furniture attribute you're willing to sacrifice to get what you prefer. Custom-built would mean that you'll own an outdoor furniture set that mirrors your taste but lacks the original build quality of the POLYWOOD® company.
The problem with this choice is that POLYWOOD® isn't obliged to give you a 20-year warranty.
Factory-made would make you own authentic POLYWOOD® furniture set with a 20-year warranty. Still, your patio furniture's design wouldn't be unique. Our recommendation would be to pick the latter to get your set repaired or replaced for free if it doesn't hold up to its promise of being sturdy within the 20-year warranty period.
However, if you're handy with tools, know a lot about furniture design, and can build functional, sturdy furniture sets on your own, we recommend going the custom-built path.
Cheap Ways to Own Outdoor Furniture Out of POLYWOOD®
Speaking of custom-built Polywood outdoor furniture, it is one way you can own a set without paying the store price – which can be expensive. You need to go to the POLYWOOD® factory in Syracuse and buy the high-density polyethylene lumber you'll need to create your own outdoor furniture set.
Once the recycled materials are sent to your home, you can start making Polywood Adirondack chairs, dining chairs, rocking chairs, tables, or anything your creative mind can come up with.
You can also buy used poly furniture on eBay or social media marketplaces. And the condition of what you're about to buy won't be that much of a problem given that this furniture type is new on the home improvement market.
Caution: Always check the goods in person before buying furniture online to avoid being scammed. POLYWOOD® outdoor furniture is durable, but some people will want to earn a quick buck by selling their warranty-voided human-damaged sets.
Where is POLYWOOD Sold?
Brand new POLYWOOD® outdoor furniture sets are sold in various showrooms all over the United States. They are even available for online purchase in Home Depot, Amazon, Wayfair, Target, and Lowes.
If you're looking to buy POLYWOOD® lumber for at-home crafting, it would be best for you to visit their headquarters in Syracuse, Indiana, or talk to a representative.
Tips for Maintaining and Cleaning POLYWOOD Furniture
POLYWOOD® outdoor furniture requires low maintenance to keep its brand new look. However, the surfaces of the lumber can have mold growth, especially in the crevices. If this happens, don't panic.
You can clean it with soap and water. Start by mixing one part soap and two parts water into a pail. Then lather the furniture using a sponge or microfiber cloth.
Allow the soap and water to soften the molds for a few minutes before wiping them off using the cleaning tool of your choice. In case of stubborn molds, you can remove them through brushing or a power washer.
The same goes for stains. If the stains are severe and cannot be dealt with with a detergent, water, brushing, or a power washer, you can use a 1/3 bleach and 2/3 water mixture.
Let the bleach water sit on the stained area for about 20 minutes. Then, wipe the mixture off with a clean cloth. Bleach won't affect the look of the POLYWOOD® outdoor furniture – even if the lumber was manufactured with darker colors.
POLYWOOD® Outdoor Furniture FAQs
How much does POLYWOOD® furniture usually cost?
A piece of brand new POLYWOOD® outdoor furnishing such as a chair, typically costs around $200 to $500. When bought in sets (one table with two or more chairs), the price would be around $1,500 to $3,000.
Is it easy to clean POLYWOOD® furniture?
Yes. It's easy to clean and maintain a POLYWOOD® outdoor patio furnishing. You'll need a sponge or clean cloth with soap and water, and you can also use a power wash if you want to speed things up.
Do POLYWOOD® pieces of furniture have warranties?
All POLYWOOD® furnishings have a 20-year warranty and aren't just limited to a single chair or table. This is a sign of confidence from the Indiana-based company that its products are built to last for years.
Can you paint POLYWOOD® furniture?
If you want to, you can paint your POLYWOOD® furnishing with any color or design you want. This is a great idea to increase the UV-resistant property of the lumbers. But before painting, make sure that the paint you'll use has UV inhibitors, and your action won't void the 20-year warranty.
How long does POLYWOOD® last outside?
Polywood is made from a highly durable material against the forces of nature and heavy loads. An outdoor dining chair or dining table made from Poly-lumber could last for more than 6 decades with minimum damage. Not like wood or metal that would collapse or rust when left outside for 1o years.
Conclusion
Buying a piece or set of POLYWOOD® furnishing is the best and only choice if you want to save money, are looking for something long-lasting, and want to make the world a better place.
Each piece of HDPE outdoor furnishing comes from trash that pollutes our land and oceans. They aren't made from real trees, and you can paint every chair or table to your liking.
By choosing to own a patio furnishing set made of poly lumber, you're saving ocean life and land life while improving the experience of your backyard patio life. And as the last point, being a poly lumber furnishing owner won't give you too much responsibility as a homeowner. It's because HDPE wood is very easy to clean and maintain.